HONDA CIVIC Car Review
An ideal family hatchback
It may have the image of a car more associated with an older generation but the Honda Civic is nevertheless an ideal family hatchback.

The Civic may be a Honda but its built in the UK and has been aimed firmly at delivering what British drivers want. Its distinctive design shocked buyers when it first came out because it's a little bit on the racy side for a Honda.

It's the same story on the inside where the split level dashboard has a slightly futuristic look about it, but as you'd expect from a Honda it is totally practical. The plastics and finish are well put together, but some of the materials have a grey and cheapish feel to them. But the cabin is roomy and comfortable for four tall adults, with a deep boot with split folding seats that add to its versatility.

Despite the sporty looks the Civic engines are no more than average with 1.4 and 1.8 petrol engines offering from around 40 to just below 50 mpg, the new 1.6 diesel is a useful performer and very good on economy at between 60 and 70 mpg but it sounds unrefined under hard acceleration.

The Civic handling and comfort package will suit the average driver, it's a typical Honda because it's very competent without ever getting exciting (which will be provided by the Civic Type R).
* Sporty design * Futuristic cabin big on comfort * Good fuel consumption *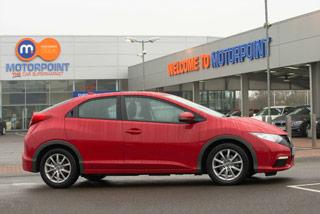 ---