Motorpoint appoints new General Manager in Newport
14 February 2017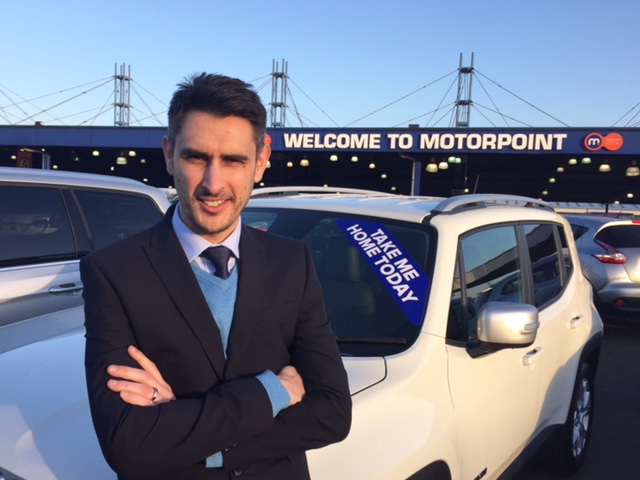 Photos © 2020 Motorpoint
Motorpoint, the UK's leading car supermarket, has appointed Chris Brown as General Manager in Newport
"I am thrilled to be given the opportunity to lead the team and build on our well-earned reputation for providing choice, value and service to the thousands of customers that purchase from us here in Newport every year"
Chris, who until recently was the Sales Manager, will oversee the 50-strong team based at the company's branch near the Newport Retail Park. He replaces Russell Louth who has been promoted to the position of Head of Group Operations at Motorpoint. Chris, who is married with two young children, has worked for the company in a variety of customer facing roles since early 2007.
Motorpoint, the principal sponsor of the world-renowned Motorpoint Arena Cardiff, has been based in Newport for over a decade. Located on the Queensway Meadow Industrial Estate, it has transformed the way in which motorists across South Wales buy used cars with its no hassle, no haggle approach. It currently stocks over 500 new and nearly new low mileage cars from 30 different vehicle manufacturers with access to a further 6,000 plus cars in group stock. Open seven days a week, and until 8pm weekdays, it provides ample free parking, free Wi-Fi together with a Café.
Chris Brown, General Manager of Motorpoint Newport, explained: "I am thrilled to be given the opportunity to lead the team and look forward to working closely with my colleagues to increasing Motorpoint's market share across South Wales and South West England and, in the process, build on our well-earned reputation for providing choice, value and service to the thousands of customers that purchase from us here in Newport every year."
Mark Carpenter, Managing Director of Motorpoint, added: "Chris is yet another example of promoting from within wherever possible. He demonstrates passion and energy in all that he does and is a welcome addition to the senior management team at Motorpoint."
Press releases
For all media enquiries please contact Stephen Wright, PR Manager on 01332 227239 or 07825 308326. Alternatively by email.