Flummoxed by the super-cool Scandi brand's range of motors? Our comprehensive guide is here to help!
There was a time when Volvo's cars were better known for their boxy practicality and brute-force safety than anything else. These days the brand from Gothenburg, Sweden, is famous for making super-stylish cars that use lots of clever tech to make them among the safest on the market. The full Volvo range includes SUVs, saloons and estates, as well as full electric cars, plug-in hybrids and mild hybrids. 
This guide will show you every car in their range, and then go on to answer some frequently asked questions. Let's go.
Volvo SUV range
XC40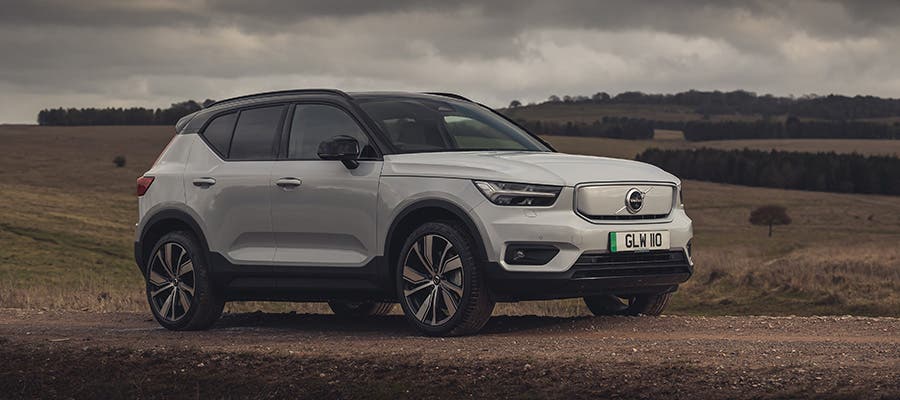 The XC40 is the most affordable way into Volvo ownership, but that doesn't mean you'll find yourself missing out on features from Volvo's more expensive cars. It's the smallest SUV in the company's catalogue, but it's cleverly designed interior still packs loads of space for a family of four, and the 450-litre boot space is noticeably bigger than in a regular hatchback such as the VW Golf (although the boot shrinks if you get a plug-in hybrid or EV version of the Volvo).
The XC40 is available with mild-hybrid petrol engines (most of which are front-wheel-drive, with one 4x4 option), or there's the XC40 Recharge line-up, which encompasses plug-in hybrid petrol engines as well as a pure electric version, which you can get with either one or two motors. The real-world range of the pure-electric version is a shade over 200 miles, and the dual-motor version is seriously rapid, with a 4.9-second 0-62mph time. Perfect for those school run drag races… said no one ever.
Check out our range of used Volvo XC40 models.
C40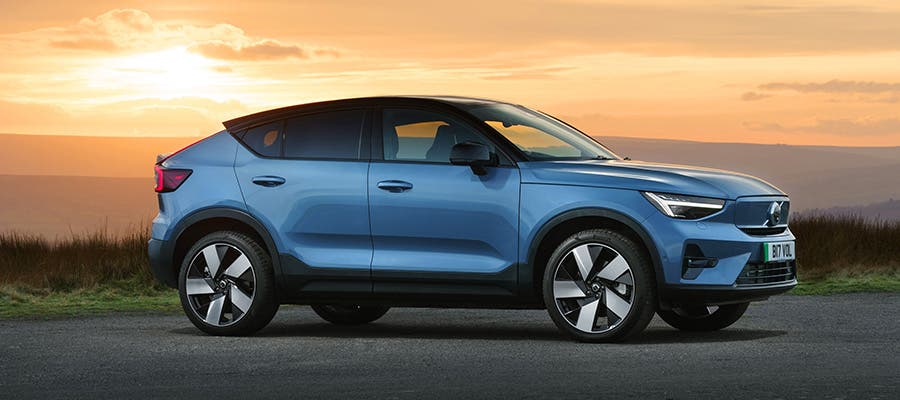 The Volvo C40 is the newest addition to the Volvo range, and you can think of it as a sportier-looking version of the XC40. Its curvy roofline may look gorgeous, but it does reduce headroom for tall adults sitting in the back seats and the boot's the same 413-litre space as on the electric XC40. The C40 is unique because it's the only Volvo model that's only available as a full-electric car, and it can go about 220 miles on a charge. There are no petrol or plug-in hybrid options for the C40 – just pure electricity. Weirdly it can tow 300kg more than the electric XC40, with a 1,800kg towing limit. Perhaps this is the small EV for towing caravans – if you can live with a range of just 105 miles when towing…
XC60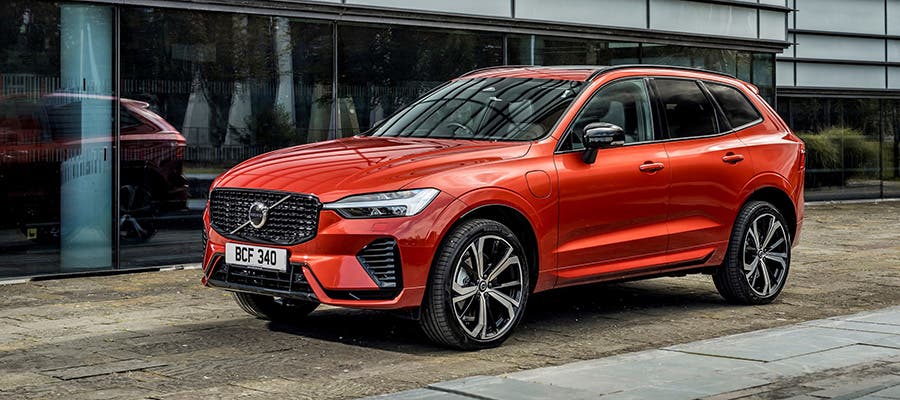 We jump up a size here to the XC60, which at 4.7 metres long is a good 30cm longer than the XC40. This gives you a noticeable boost to rear-seat legroom space, and you get 470-480 litres of boot space, depending on whether you get a plug-in hybrid XC60 or not. 
The plug-in hybrid (PHEV) models are called the T6 and T8 – the T6 is less powerful than the T8, but more affordable and more efficient than the 400hp T8. Both are all-wheel drive. If you don't want a PHEV then the mild-hybrid XC60 lineup gives you a range of four-cylinder petrol engines in a mix of front-wheel and all-wheel drive. 
Like every other car in the Volvo range, the XC60 gets a cool portrait infotainment screen that's a delight to use. But if the XC60 isn't quite big enough for your family, then you'll want to check out the…
Find a used Volvo XC60 at Motorpoint
XC90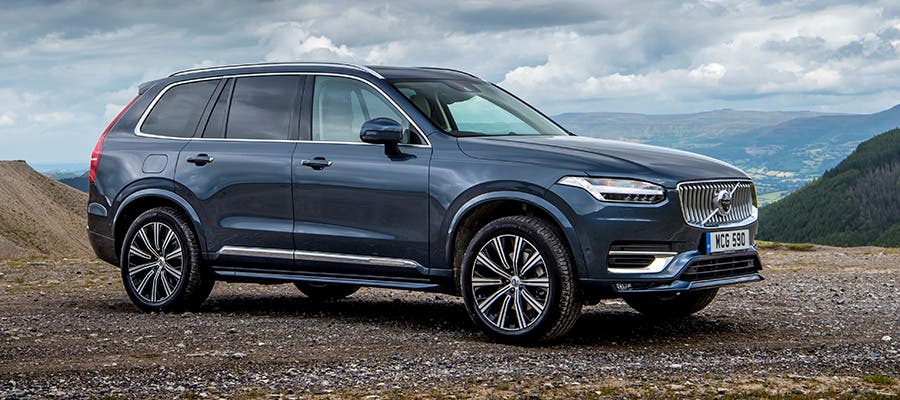 The king or queen of the Volvo range, the 5-metre-long XC90 is the brand's flagship car, and it's a seven-seat SUV. It's stunningly designed, supremely comfortable (so long as you don't get one with huge optional wheels) and has a faintly ludicrous 680 litres of boot space if you fold down the third row of seats. With all seven seats in place you'll have 302 litres of space, which is still a useful amount – and much more than you get in the Land Rover Discovery.
Like the rest of the Volvo range, the XC90 doesn't get anything sportier than four-cylinder petrol engines, although there is the XC90 T8 plug-in hybrid, which will get you about 30 miles in electric-only mode. It does have 400hp, so is another weirdly fast family SUV. 
Search our range of used Volvo XC90 models
Volvo estate car range
V60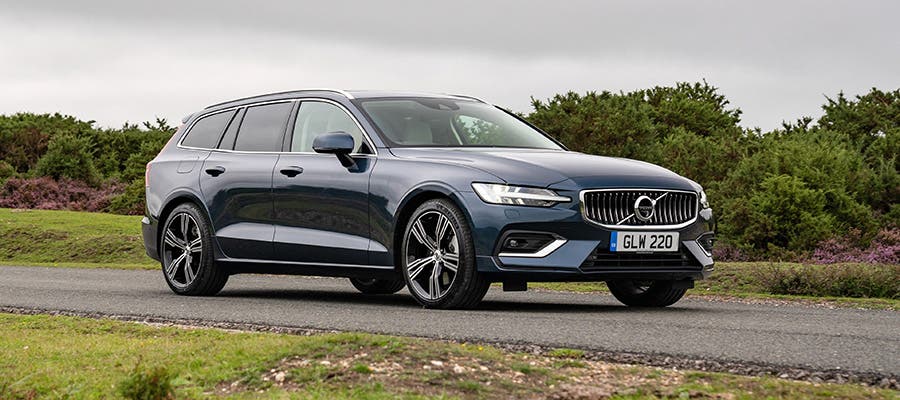 Moving over to things-that-aren't-SUVs, the Volvo V60 is the brand's smallest estate car, although at 4.7 metres it's the same size as a BMW 3 Series estate, so hardly small. That means the Volvo has a decently proportioned 529-litre boot, and despite having a beautifully swooping shape, your back-seat passengers won't feel cramped.
In terms of engines, the V60 is available with a mix of front-wheel-drive mild-hybrid petrols, or the T6 all-wheel-drive plug-in hybrid system, which can technically get you 33 miles on electric power alone (but likely less in the real world). 
If you want a non-PHEV all-wheel-drive V60 you'll want the V60 Cross Country, which also has slightly raised suspension, some rugged off-road plastic cladding around the wheelarches and is generally aimed at those who have to drive across muddy tracks to get to work. Don't think it's a full off-roader – it'll still scrape on the ground if you tackle anything more adventurous than a National Trust car park.
See Motorpoint's range of used Volvo V60 models
V90
If the V60's like an estate version of the XC60, the V90 is much like an XC90 given the wagon treatment. It's a shade under 5 metres long, has a 551-litre boot and if you buy a white one everyone will think you're an undercover cop. Excellent.
As you probably predicted, you can get it with petrol engines (powering either the front or all of the wheels), or as a four-wheel-drive T6 plug-in hybrid. As with the V60, there's a ruggedised V90 Cross Country, which would look excellent parked outside the house caked in a winter's worth of mud. A BMW 5 Series is a bit more fun to drive, but the Volvo's just as practical and has a more interesting interior. 
Find a used Volvo V90 that has your name on it
Volvo saloon car range
S60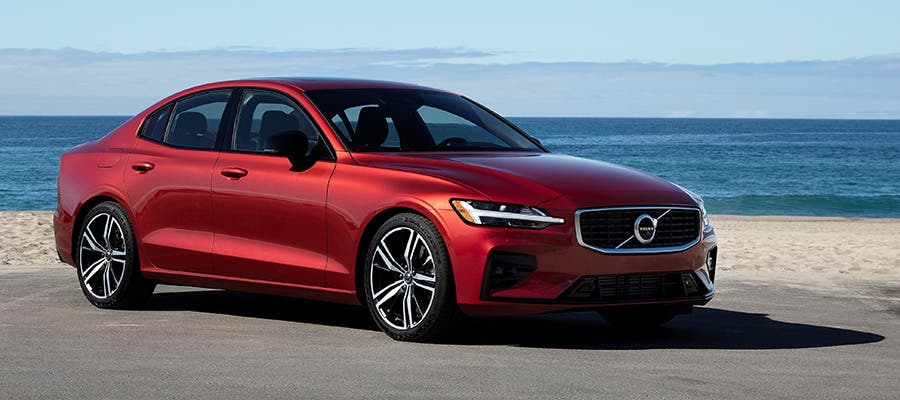 All of the things we said about the V60 apply to the S60… except for the fact the S60's a saloon version so has 442 litres of boot space (almost 100 litres less than the V60), and has a rear end that looks a lot like the back of a £140,000 Polestar 1. 
S90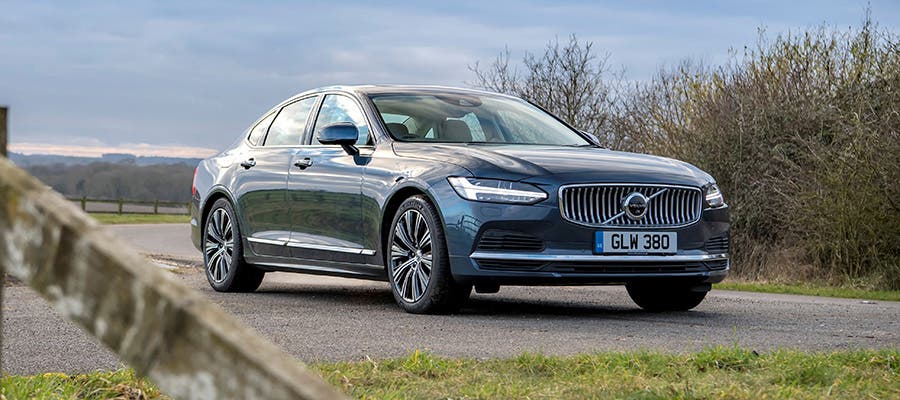 Are you still awake at the back? Well then – you've probably guessed that the S90 is a saloon version of the V90. The S90's 461-litre boot space is only smidge bigger than the S60's, but rear-seat passengers get a fair bit more room to stretch out. Stick a couple of flags on the front wings and you can do your best impression of a diplomatic envoy.
Fancy one? Find a used Volvo S90 at Motorpoint