Family SUV buyers are spoiled for choice these days. Almost every manufacturer has an option in this class, so picking the right one can be a challenge. For many, the Nissan Qashqai and Kia Sportage prove to be the best option, but which of these two is most suited to you?
It's worth pointing out that new versions of both cars were launched in 2021. That means buyers looking at nearly new examples are more likely to be shopping previous-generation models, so those are the ones we're going to compare here.
Nissan Qashqai vs Kia Sportage compared
Nissan Qashqai
Kia Sportage

Pros:

More affordable
Softer, comfier ride quality
Slightly more premium cabin

Pros:

A little sportier to drive
Larger boot and rear seats
Long warranty

Cons:

Tighter rear seats for adults
Easy but slightly boring to drive

Cons:

More expensive
Slightly cheaper-feeling interior
Styling and design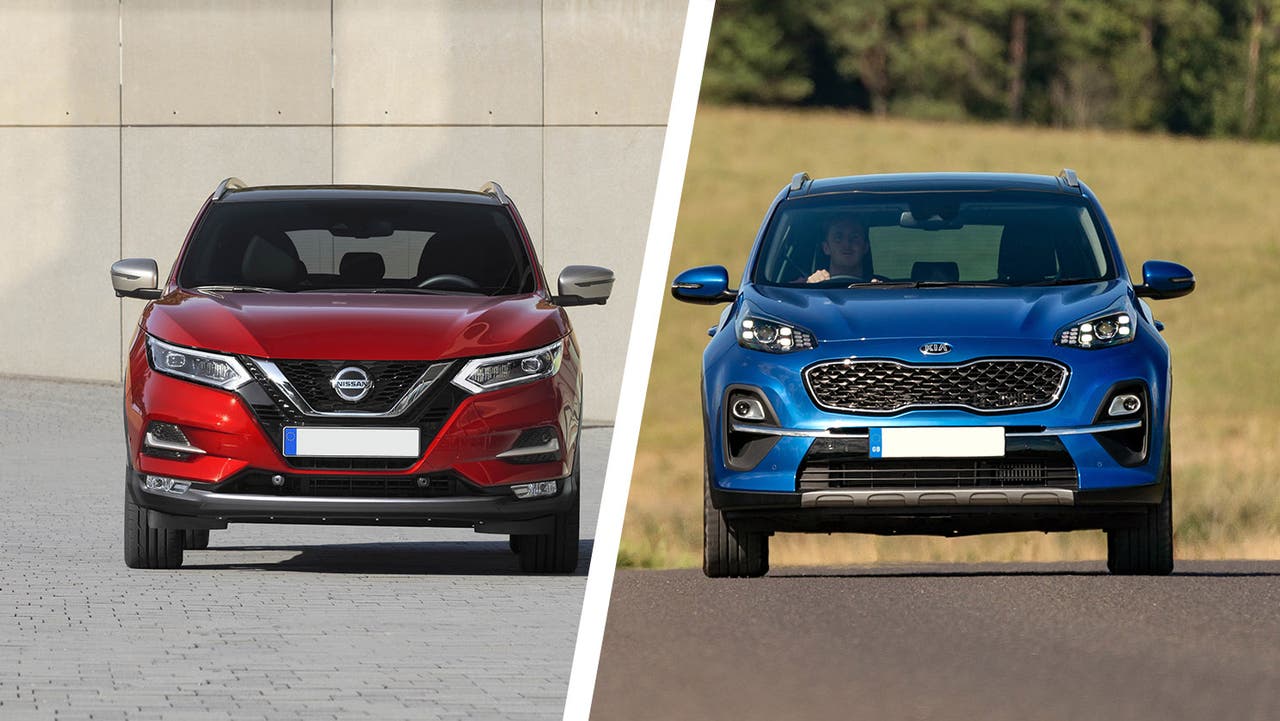 You'll probably already know which of these two SUVs you prefer the look of. The Qashqai has slightly busier styling with distinctive V shapes on its front end and deep creases down the side helping to break up the bodywork. It also looks more compact than the Sportage with a shorter rear side window featuring a sharp diagonal cut line. The overall feel is more like a large hatchback compared to the Sportage, which apes a more traditional SUV look.
The Sportage has a snout-like front end that was common on Kias until the brand's most recent models ditched it for a fussier, more angular look. It lacks the extra styling details you'll find on the Qashqai which, to some eyes, makes the Sportage look a little more plain in comparison. The general impression, however, is more bluff and upright than the Qashqai, which some SUV buyers might prefer.
Interior and practicality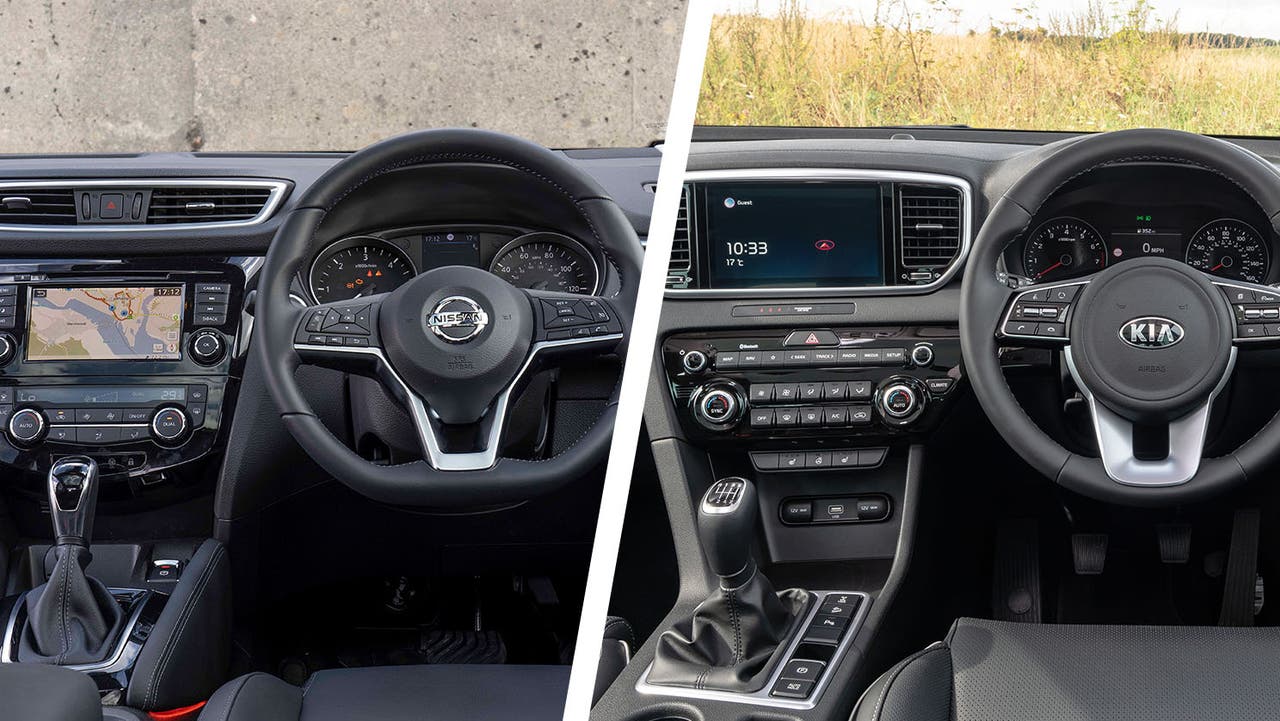 Stepping inside both cars lets you get a feel for what life will be like on the road. Immediately, the Qashqai impresses with the quality of the materials and squeak-free driving experience. The dashboard's design is restrained and could do with a little extra flair to lift the ambiance – a feeling exacerbated by the abundance of dark-coloured trim – but the general ergonomics and overall quality is essentially faultless.
Build quality in the Sportage is equally excellent, with no shakes or rattles when you hit a bumpy road. The materials do, however, feel a little more rough and ready than the Qashqai, with scratchier plastics making up more of the surface area. If we had to pick one, we slightly prefer the Sportage's overall design, however, because the positioning of the infotainment screen and air vents give the dashboard a more upright, 'Tonka-toy' like feel that matches the Sportage's chunky SUV appearance, whereas the Qashqai's cabin looks mostly the same as a regular hatchback's.
Both cars are family SUVs, so you can expect a decent level of practicality regardless of which you choose. That said, the Sportage's cabin is noticeably larger than the Qashqai's thanks to being 9cm longer and 5cm wider outside. All that extra space pays off in the rear seats, where there's more legroom and elbow room in the Sportage, plus a less claustrophobic feeling thanks to larger windows. Neither boot is small, but the Sportage takes the lead with 60 litres more capacity, while the Qashqai's more steeply raked rear windscreen makes it a little harder to load taller objects.
Engines and performance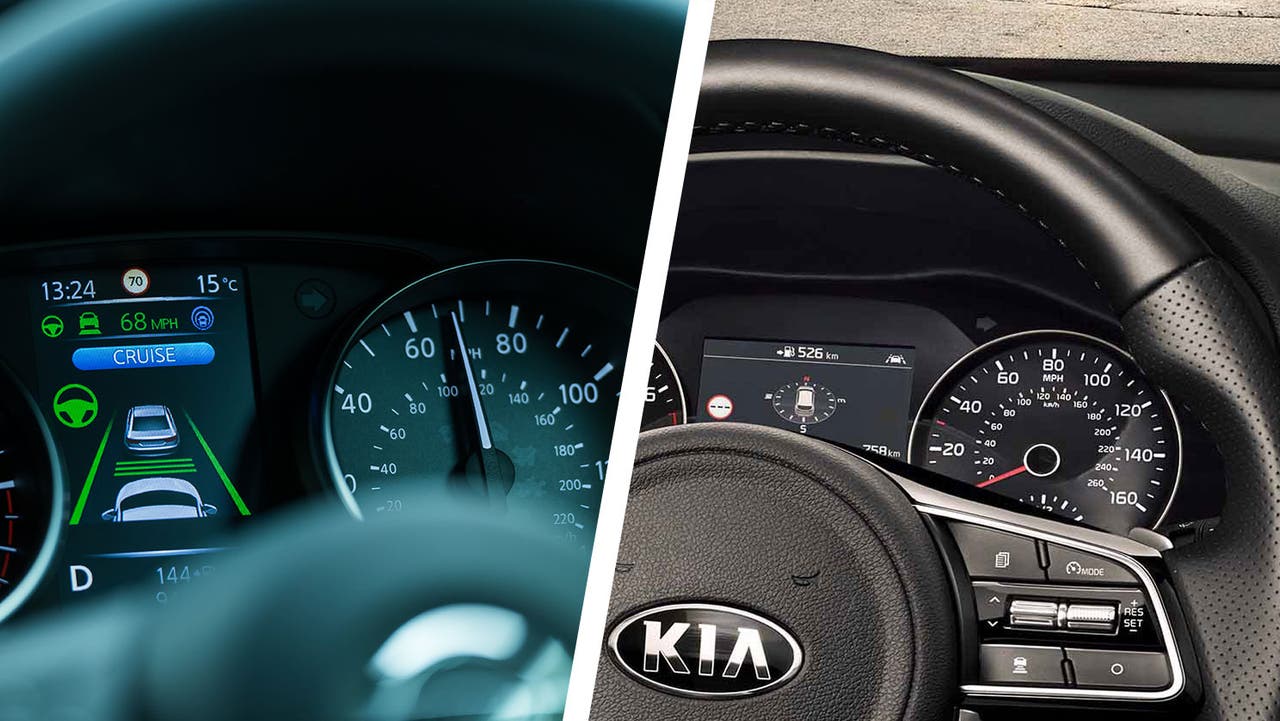 Neither the Qashqai or the Sportage have engine options that are likely to get your heart racing, but that's not the point of these family SUVs. Most nearly new Qashqai models are powered by a 1.3-litre turbo petrol engine with either 140 or 160hp. Both of these engines are smooth and refined, with plenty of turbocharged torque meaning you don't have to go hunting through the gearbox to accelerate. A 115hp 1.5-litre diesel is also available and can average more than 60mpg if you drive gently – this unit is a little grumbly but pleasingly responsive to use.
Almost all Sportage models come with 1.6-litre engines, with a choice of petrol, turbo petrol and diesel fuels. The entry-level non-turbo petrol makes 130hp and feels a little underpowered in the Sportage, needing quite a lot of throttle to overtake on the motorway. Upgrading to the turbocharged petrol boosts power to 174hp, with an even more significant jump in torque, helping it feel much more relaxed on the move and at higher speeds. The 134hp diesel can return more than 50mpg with a light right foot and feels strong enough to power the Sportage.
Driving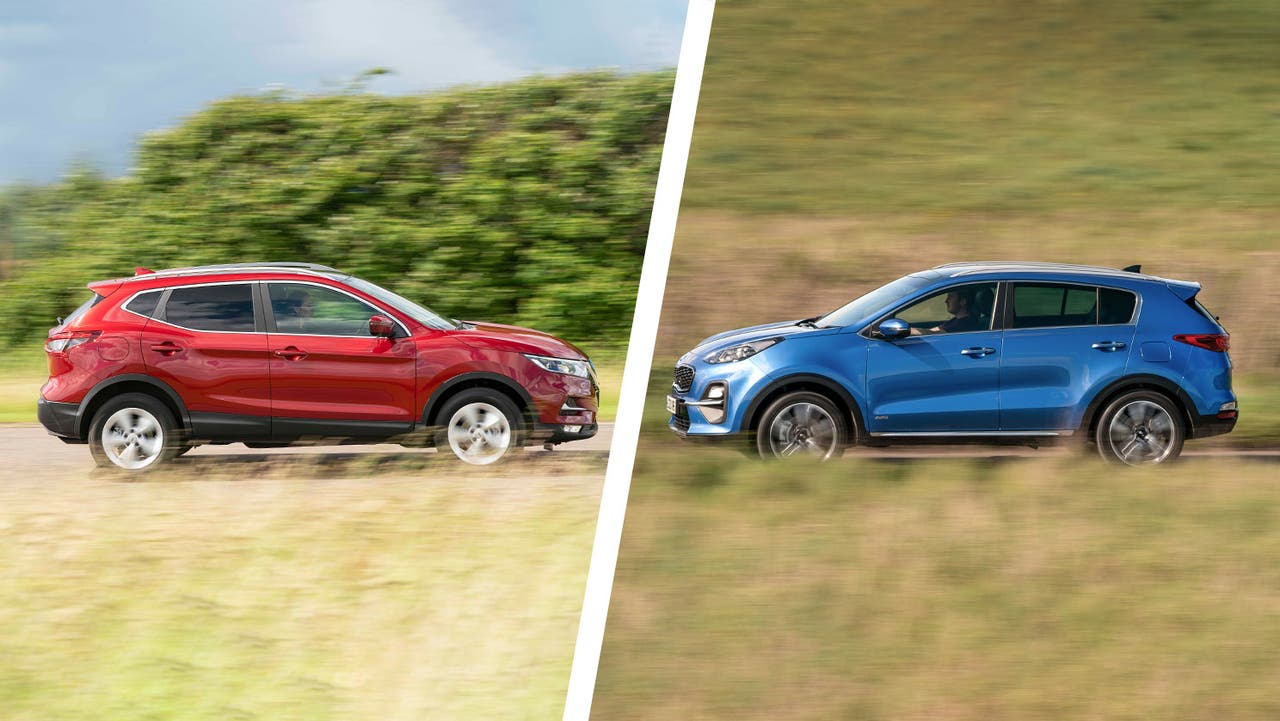 The Qashqai was developed on the UK's roads and that pays dividends when you start driving. Ride quality is superb, putting it among the comfiest models in its class with effortless body control over big bumps, and near-total isolation of the cabin from rough road surfaces. There's little here to excite keen drivers, with numb controls and a bit of body roll around corners, but the steering and pedals are intuitive and accurate, making it easy to drive the Qashqai smoothly.
You couldn't call the Sportage 'sporty' but, compared to the soft, grown-up Qashqai, it's firmer and more strongly resists body roll around corners. That makes it slightly more fun to drive down a twisty back road but also means you miss out on the Qashqai's ultra-smooth ride quality. The Sportage never crosses into being uncomfortable, but you feel more jostling over bumps and hear more road noise from the tyres and suspension.
Value and reliability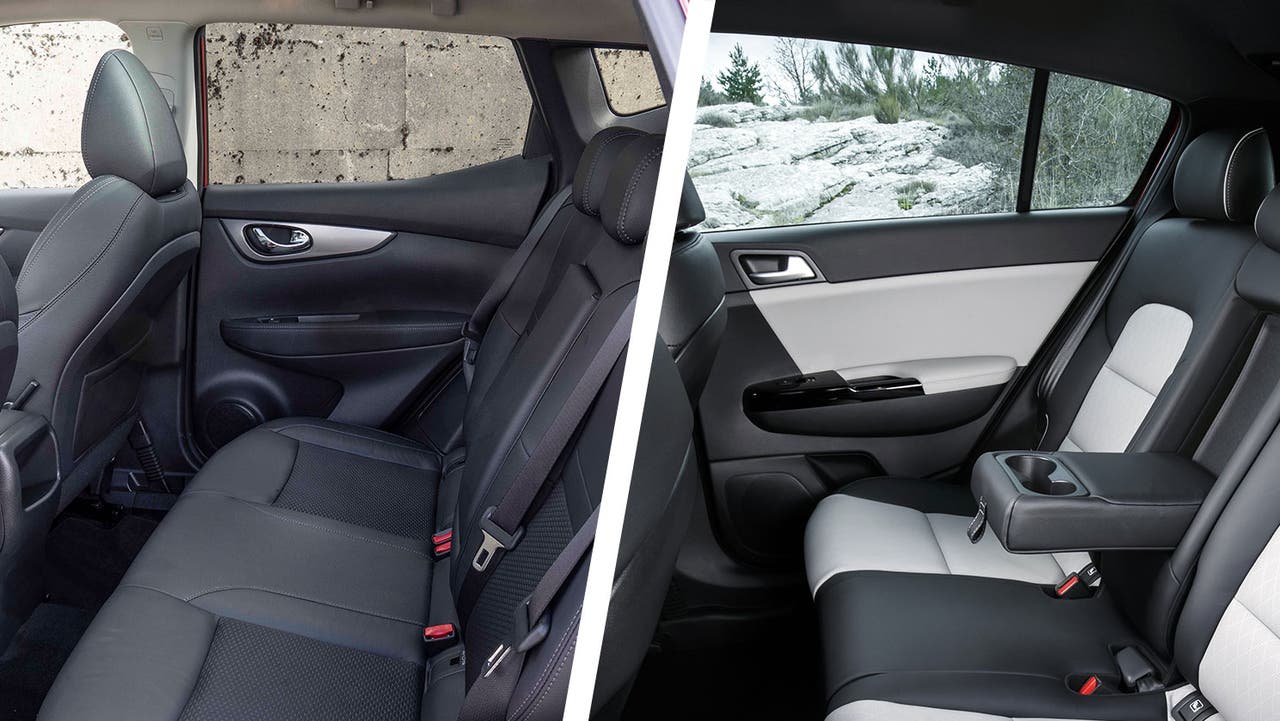 Looking at two different models from different brands makes a like-for-like comparison hard but, on the nearly new market, Qashqais tend to cost between £3,000 and £4,000 less than the Sportage. As a rough guideline, that'll add around £40 per month to a representative PCP finance deal if you pick the Sportage. Naturally, that makes the Qashqai a better choice if you're on a tighter budget, but you do trade away the extra practicality offered by the larger Sportage.
The Sportage also has another ace up its sleeve in the form of its fantastic seven-year factory warranty. It's so long that most nearly new buyers will benefit from warranty cover throughout their finance agreement. That long warranty is an indicator of Kia's confidence in the Sportage's reliability, which is backed up by the model's great reputation for dependability. The Qashqai should also prove to be relatively trouble-free but has only an industry-standard three-year factory warranty.
Which is best?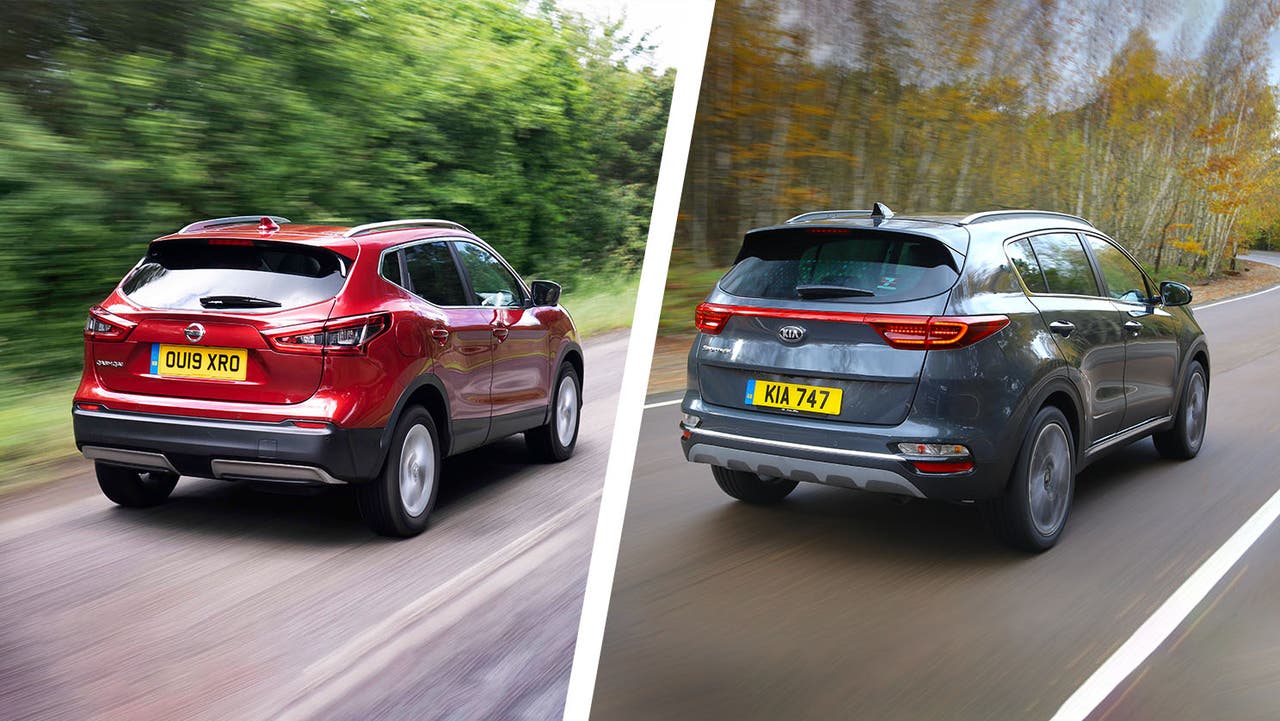 Your choice here might be determined by a number of factors – do you prefer the styling of either car, or is one much better suited to your budget? The Qashqai might be the choice for you if you prefer its more detailed styling, or its focus on on-road comfort, or the fact that it's a few thousand pounds less expensive like-for-like. It's also the better choice if you're looking solely at entry-level models because its 140hp turbo petrol engine is much nicer to use than the comparatively weak-feeling 1.6 non-turbo petrol in the Sportage.
Ultimately, however, the Sportage is the larger, more practical choice, so that might be the deciding factor for you. The extra space will prove especially handy if you have a tall family or need good access to the rear to convince wrigging kids into their car seats. Equipment levels are generous for both cars but the Sportage slightly edges the Qashqai here with heated front and rear seats on most models.
Which family SUV do you prefer?
If you've figured out which of these talented SUVs is best for you, check out Motorpoint's huge selection of nearly new Nissan Qashqai cars and nearly new Kia Sportage cars. For more choices, see our picks for the best used SUVs you can buy.
Nissan Qashqai vs Kia Sportage FAQs