Your car is loaded with sensors that will give you an early warning if something's not right. That gives you a chance to get a small problem fixed before it becomes a much bigger one.
Most cars use a set of common warning lights to flag up when they detect a problem. Often, the issue can just be a faulty sensor and a cheap fix, but warning lights can also indicate a more serious problem that could make it dangerous to continue driving.
We've put together the most common car warning lights you should know. Keep reading to find out what they mean and what you should do if you see one.
Serious warning lights
Your car's warning lights are colour coded to indicate how bad the problem is. A red warning light means the car has detected a serious problem – you should stop as soon as safely possible, contact roadside assistance and avoid driving again until the problem has been fixed. If it's amber, you should get it looked at by a mechanic as soon as possible, but it's fine to continue on your journey.
Brake system warning light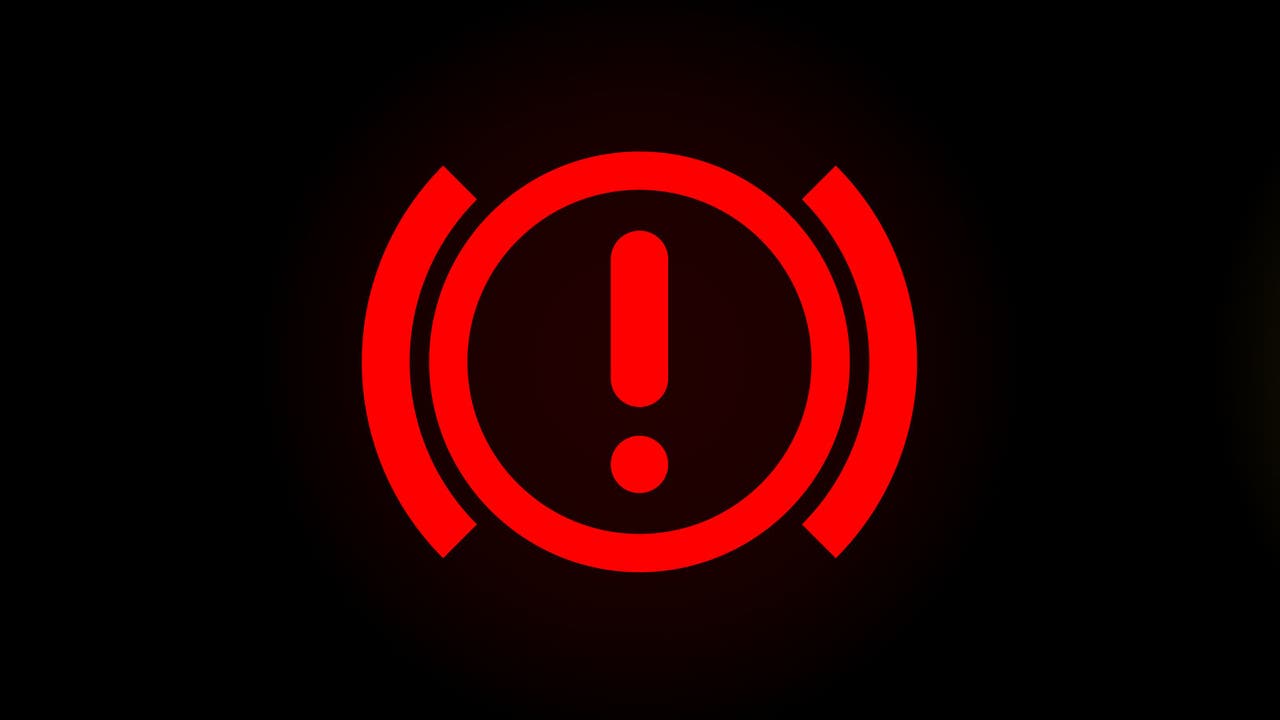 This light means the car has found a fault in your brake system. While it could be something as simple as a worn brake pad or a dodgy sensor, it could also indicate a brake fluid leak or that your anti-lock brakes aren't working. Brakes are a safety-critical part of any car so, if this light crops up, you should stop driving as soon as safely possible because you might not be able to stop in an emergency.
Oil system warning light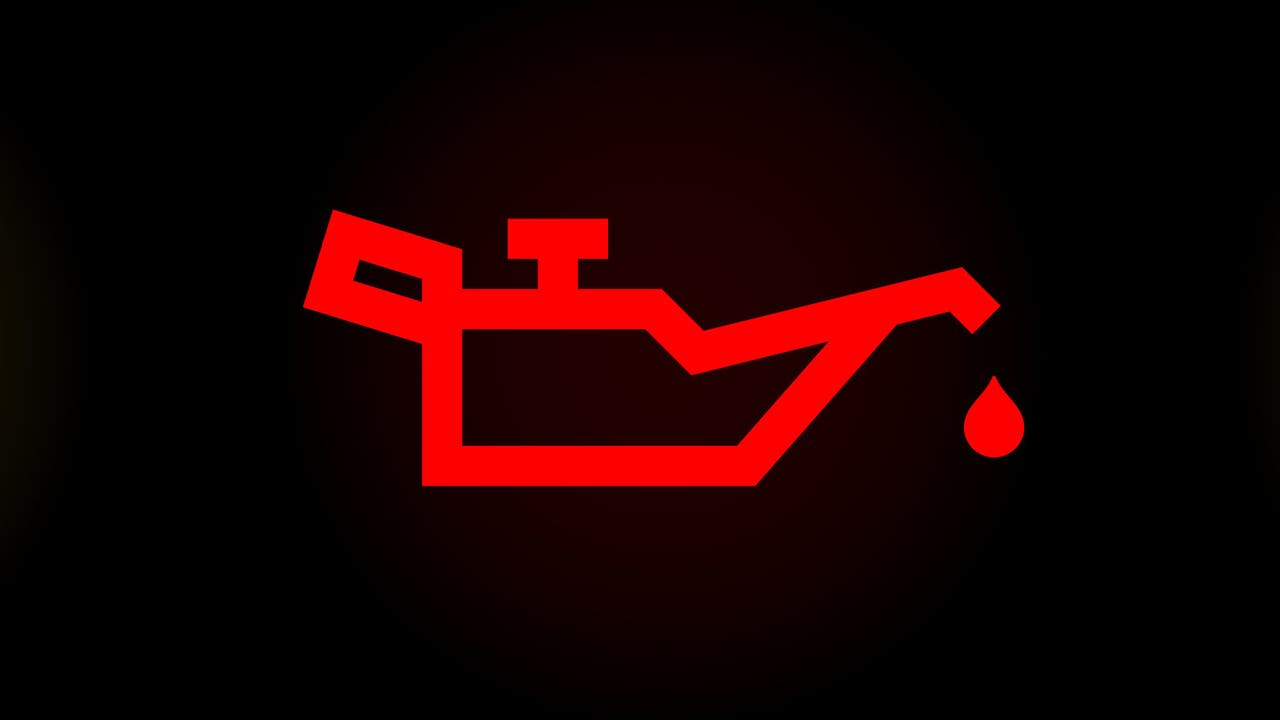 This light means the car has found a problem in the oil system. Again, while often the culprit is a faulty sensor, this could also mean you have a genuine oil leak or blockage in the system. Without proper lubrication from flowing oil, engines will fail extremely quickly so you should stop driving your car and get it checked by a professional if this light comes on.
Coolant warning light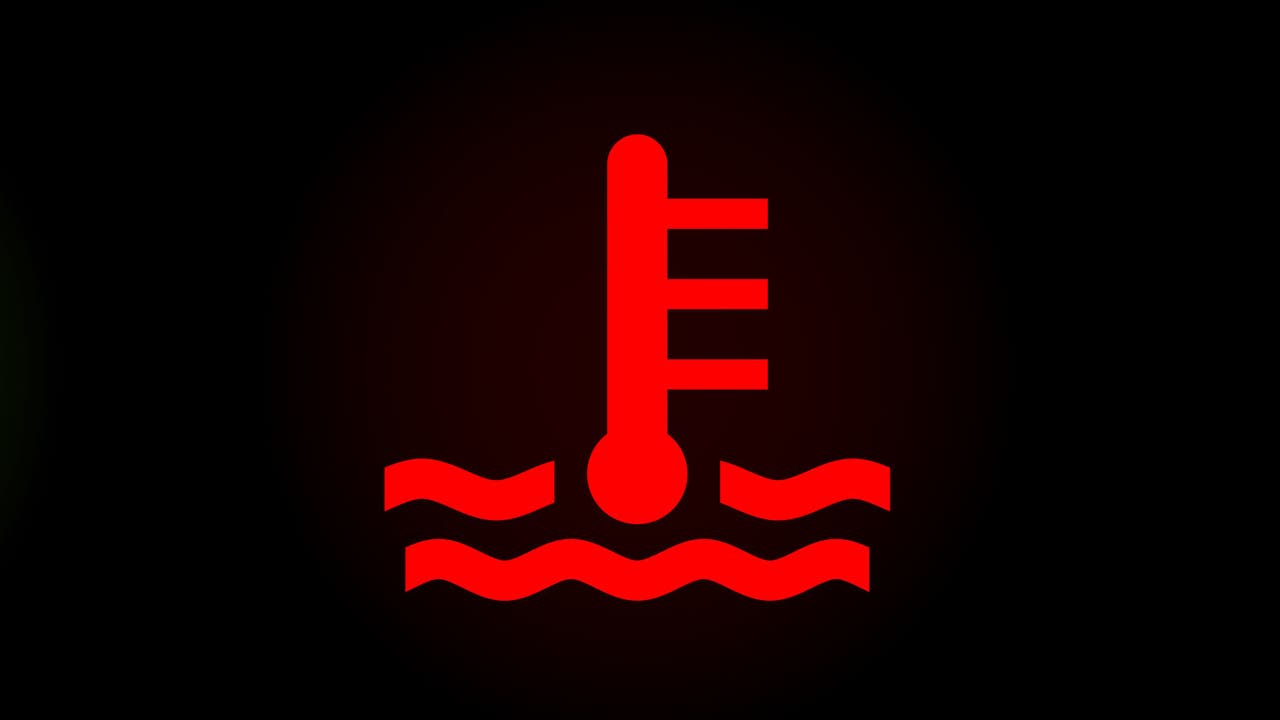 Coolant is another vital liquid for engines and your car will throw up a coolant warning light if it detects an issue here. You might have a leak in the system or a failure elsewhere in the engine might be causing the system to overheat. Again, to avoid permanent engine damage, you should stop driving if this light appears.
Battery warning light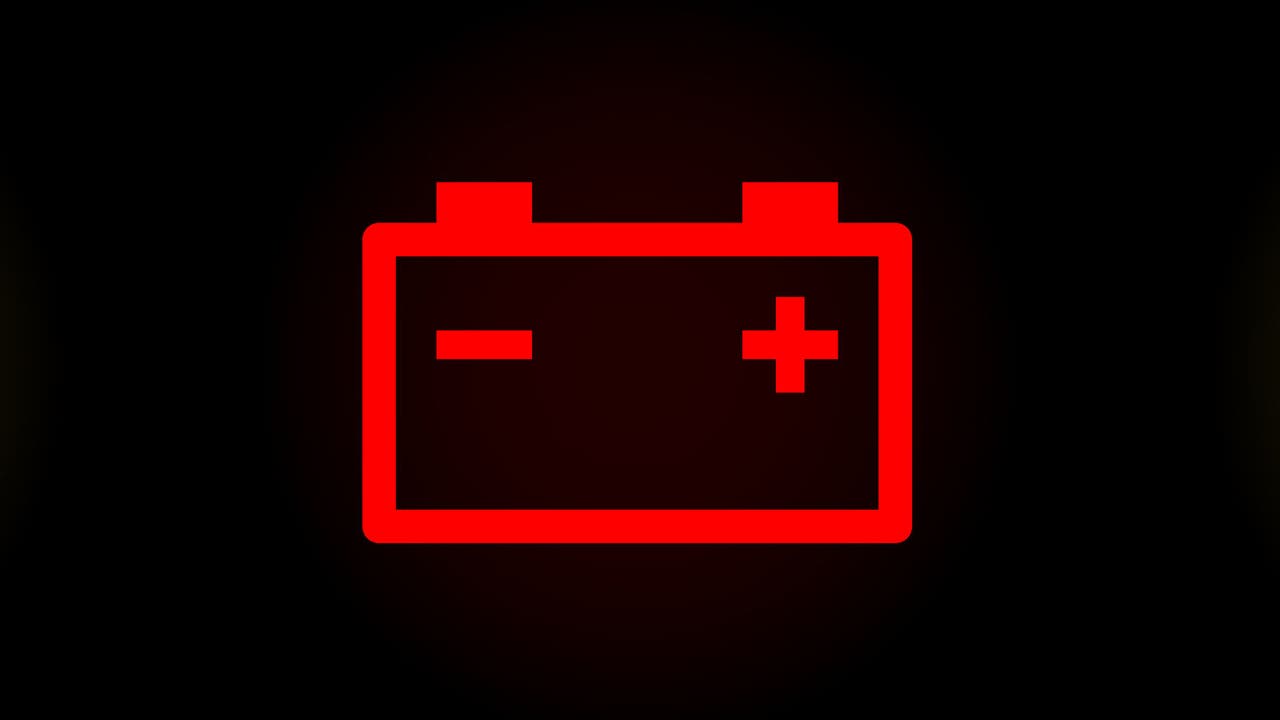 The battery warning light can indicate several different issues with your battery and the car's charging system. If your car is a little older, or if you've accidentally left the lights on, the battery might've drained to the point where it has a very low state of charge and it might struggle to start the car. If it comes on while driving, your alternator may no longer be charging the battery, which will quickly lead to the car being unable to fire the spark plugs and failing.
Seatbelt warning light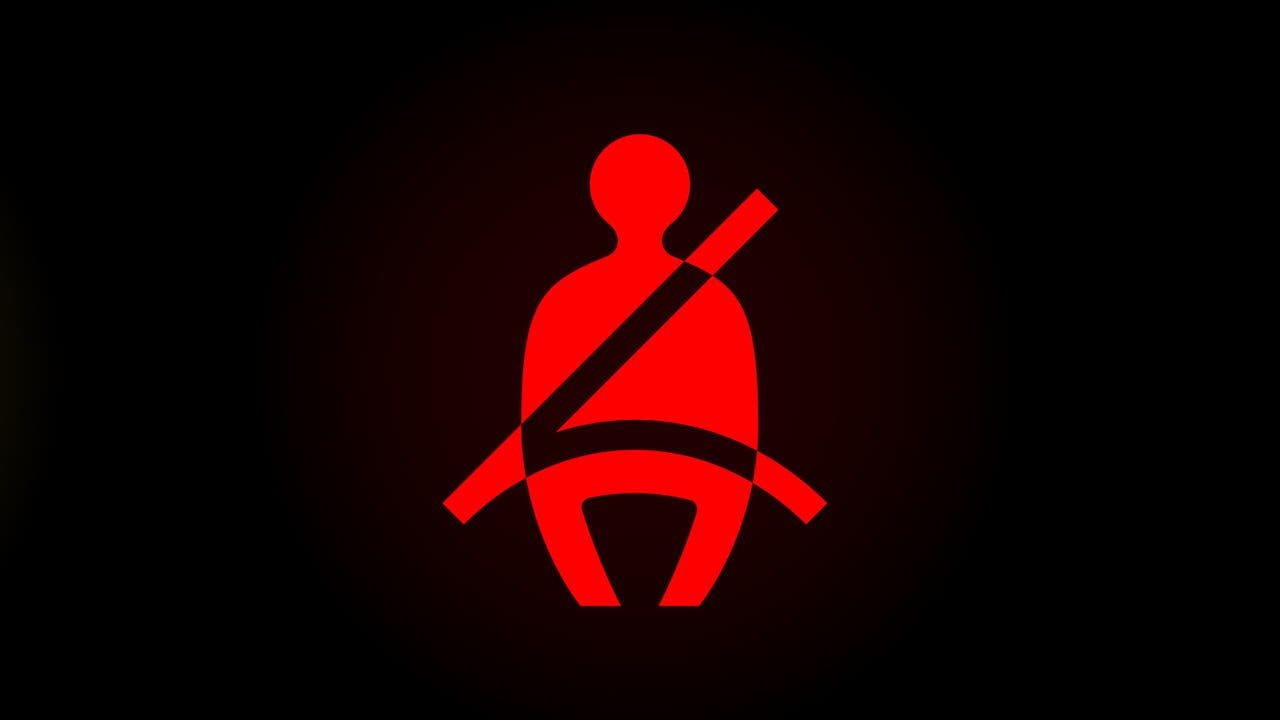 A seatbelt warning light usually indicates that the driver or one of the vehicle's passengers isn't wearing their seatbelt. Seatbelts are vital to avoiding serious injury in vehicle crashes and are a legal requirement when in a car. If this light comes on, make sure everyone's safely belted in – if it remains on, there might be a fault with the car's seatbelt sensors.
Airbag warning light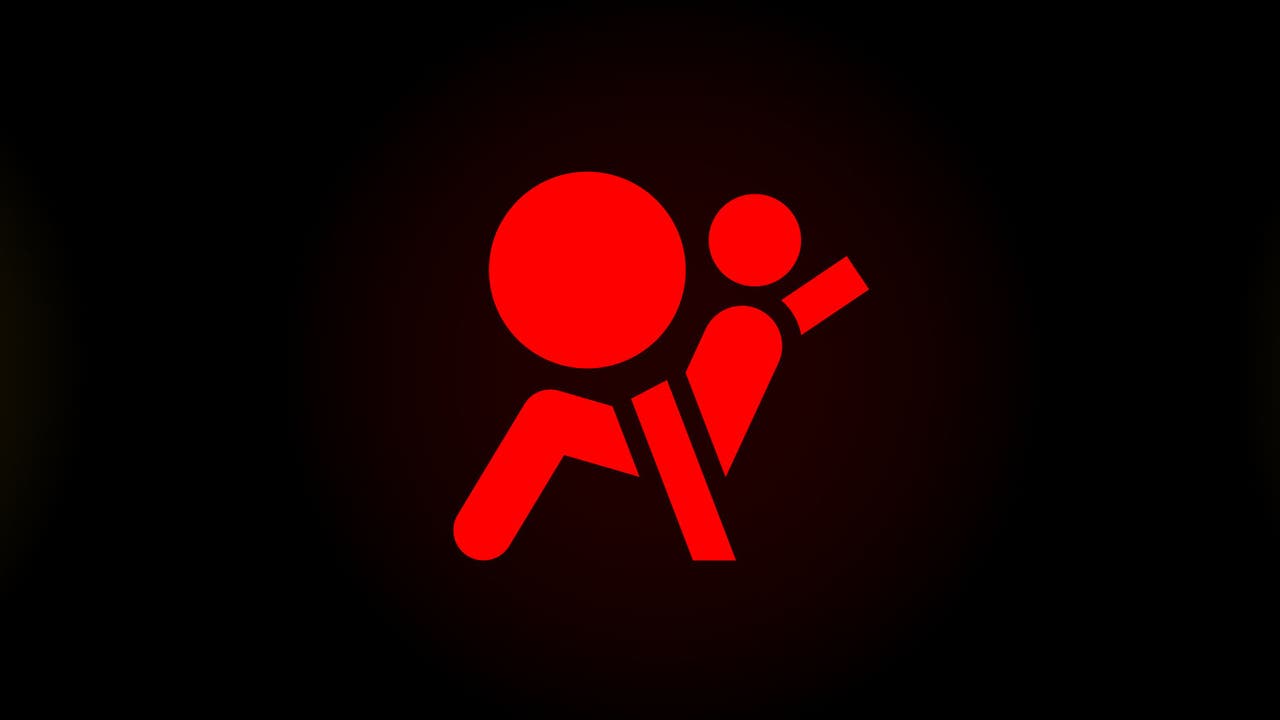 An airbag warning light indicates that the car has detected an issue with the system that manages the airbags. These safety-critical components help reduce the severity of impacts for cabin occupants so it's dangerous to drive without working airbags. This light may appear if you've deliberately turned the passenger airbag off – which you'll do if you have a rear-facing child seat on your front passenger seat.
Advisory warning lights
These lights are yellow as they're generally less severe than red-light problems. Nevertheless, you should get the problem sorted quickly before it risks becoming any worse. Yellow lights are also used to indicate factors the driver should be aware of but aren't necessarily dangerous.
Check engine warning light
This is one of the more feared warning lights, despite not being a red 'stop-as-soon-as-possible' indicator. A check engine light will flash up if any one of the dozens of sensors across your engine detect a fault. Sometimes the problem can be as simple as a failed sensor, but it could also point to a more serious long-term issue. You should contact your preferred service centre and get your car looked at as soon as possible to avoid damaging the engine.
Glow plug light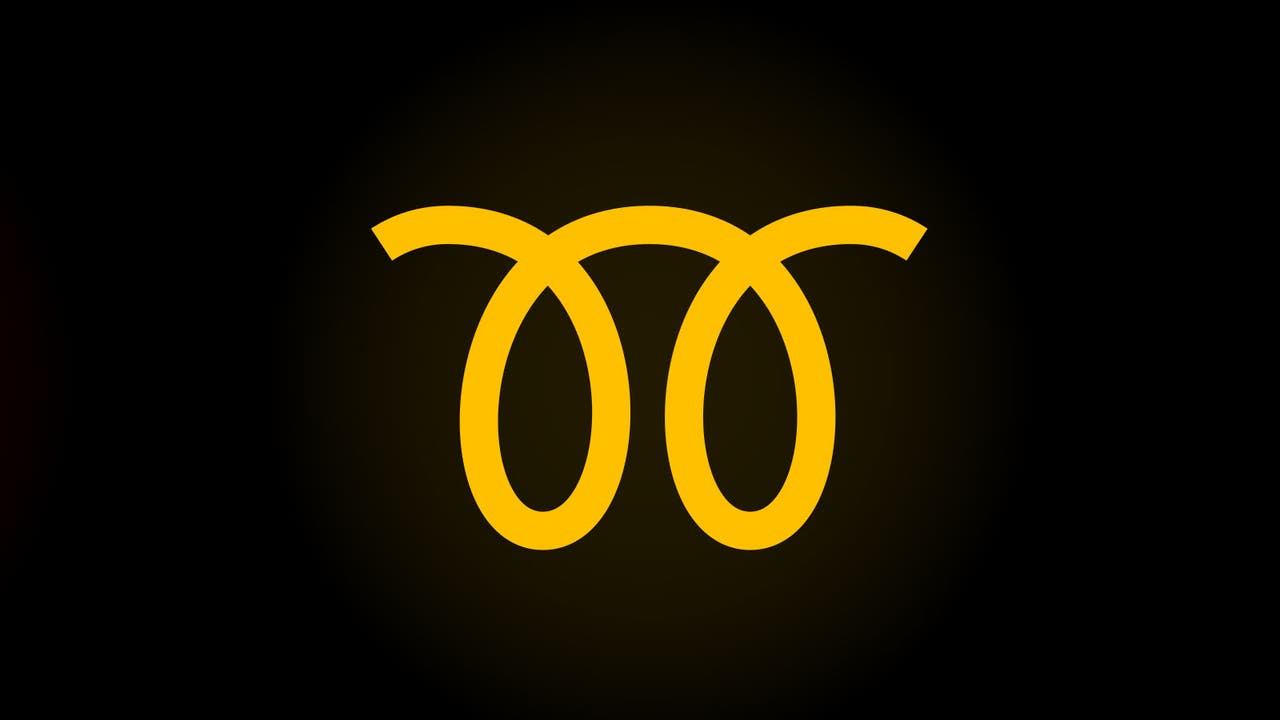 This light is only found on diesel cars. Diesel cars don't use traditional spark plugs but might use their glow plugs when starting up in cold weather. To help your diesel car start smoothly, turn your key to the ignition position, which will cause the glow plug light to appear, telling you that the plugs are heating the engine internals up. The light should go out after a few seconds, at which point you can start your engine. Modern diesel cars with push-start buttons will do this process automatically for you.
Fuel warning light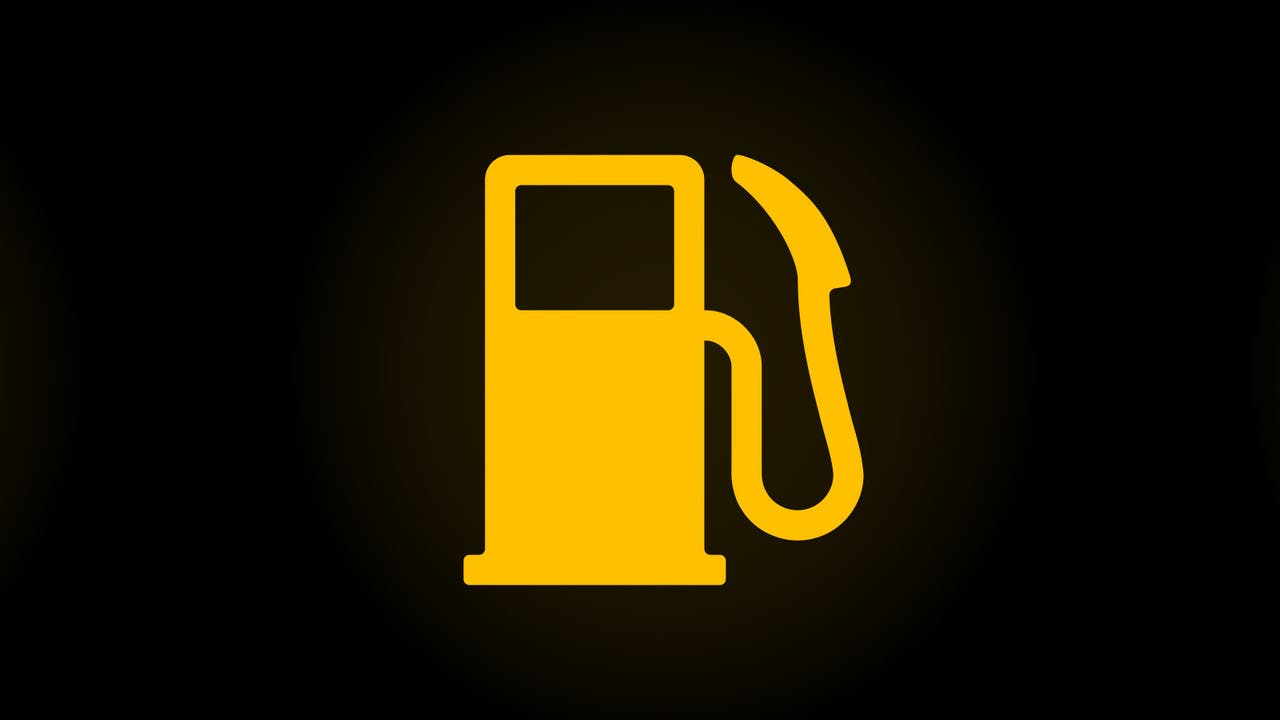 This light is fairly simple – it pops on when the car detects you're running out of fuel. If you're not already on your way to a fuel station, that light turning on should be a reminder to go and refill. Running your tank completely empty could damage your engine's fuel system and might leave you stranded in a potentially unsafe location. You can also be fined if you run out of fuel on certain roads.
DPF warning light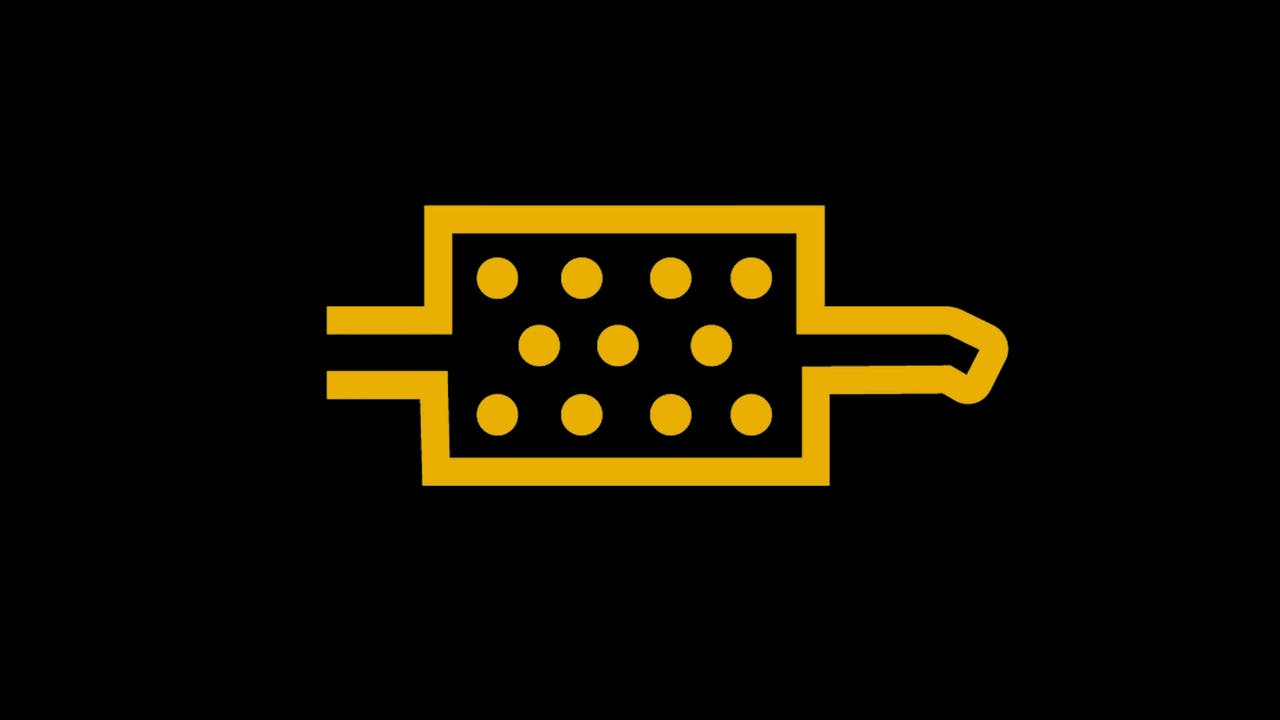 The DPF warning light will come on if the car detects that your diesel particulate filter is becoming blocked. If you notice the light quickly, you can try taking your car on a motorway drive for half an hour or so – this may allow the car to perform a 'regeneration' on the filter, causing the light to turn off. If you ignore the warning for too long or the blockage becomes too severe, however, your car might go into 'limp' mode to protect the filter. You'll need to get your car towed to a service centre if this happens. For more info, take a look at our full DPF guide.
ABS warning light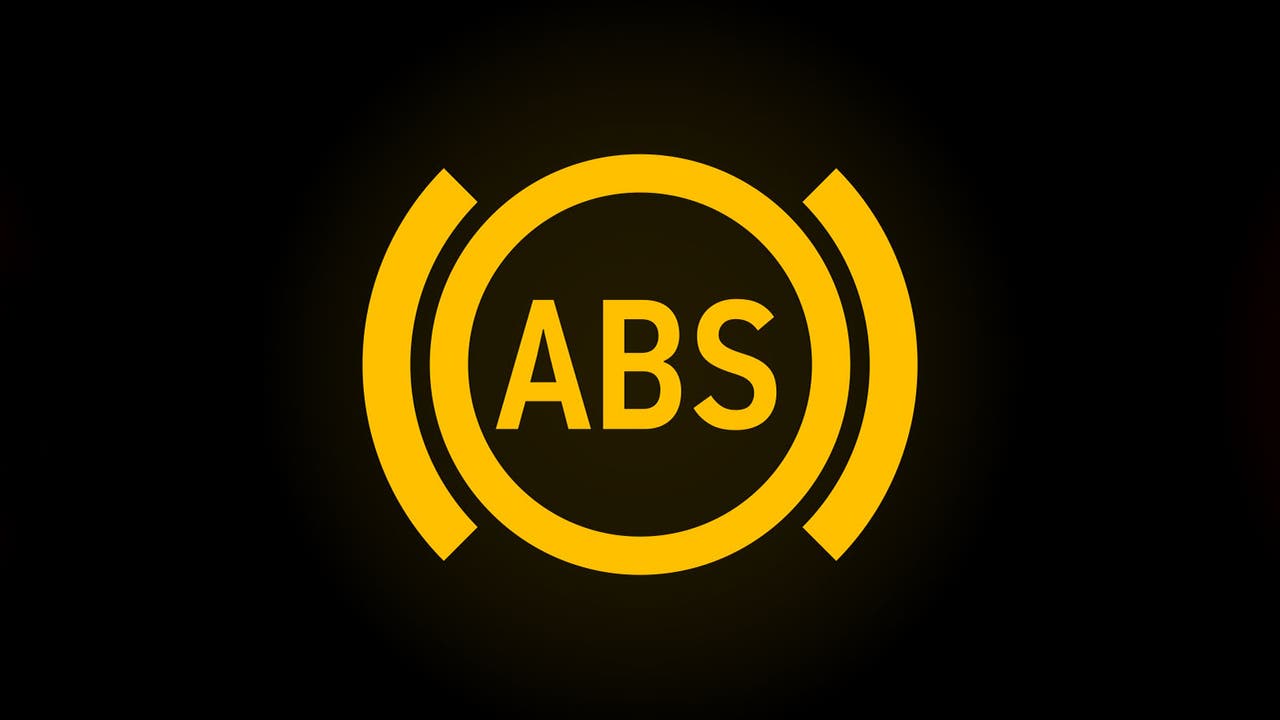 Your anti-lock braking system (ABS) helps you stop quicker while still being able to steer, especially in bad weather. The ABS warning light looks like the brake system warning light, but says 'ABS' to highlight the specific fault with that system. Assuming your main brake system warning light hasn't come on, you'll still be able to drive but your brake's anti-lock function might not work, so you should be extra careful when stopping and get the issue fixed as soon as possible.
Brake pad warning light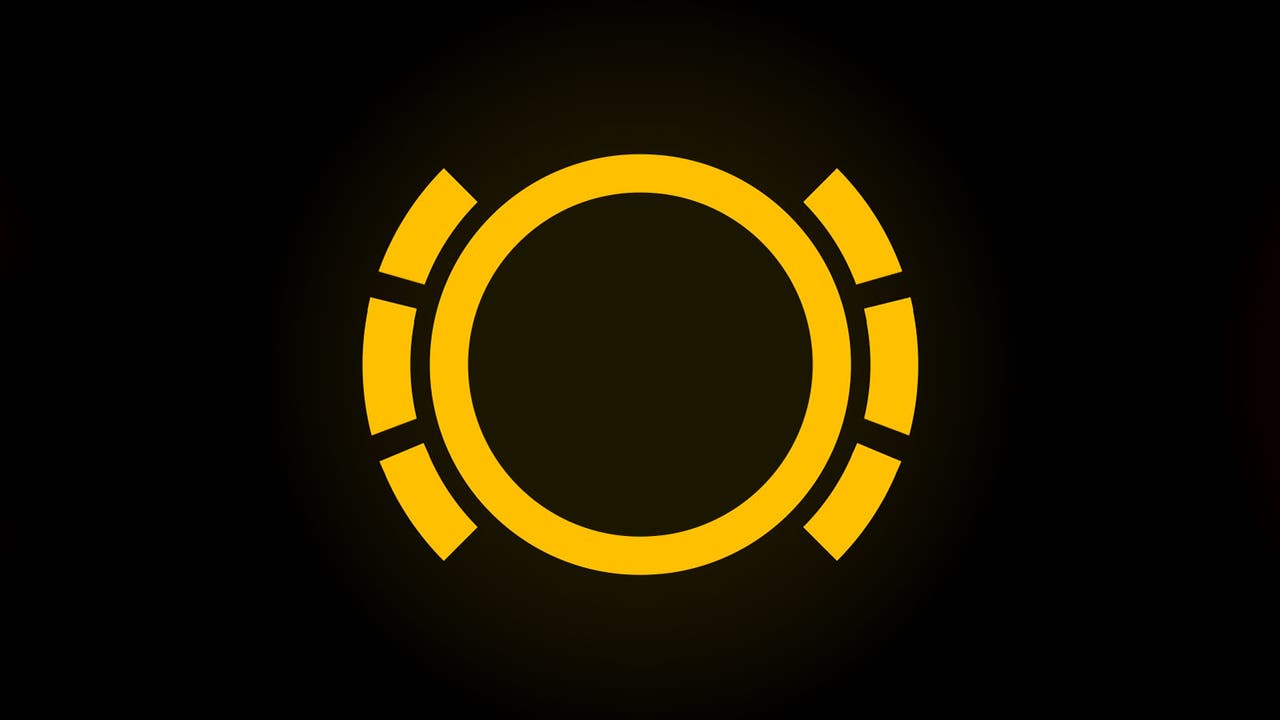 The brake pad warning light also looks similar to the main braking system warning light. In this instance, there's no specific symbol within the circle, and the lines to either side are slotted to highlight that the problem is with the pads. This light means your car has detected that your brake pads are worn out and need replacing. You'll be able to drive a little further with the light on but, because brakes are a safety item, worn pads should be replaced as soon as possible.
Tyre pressure warning light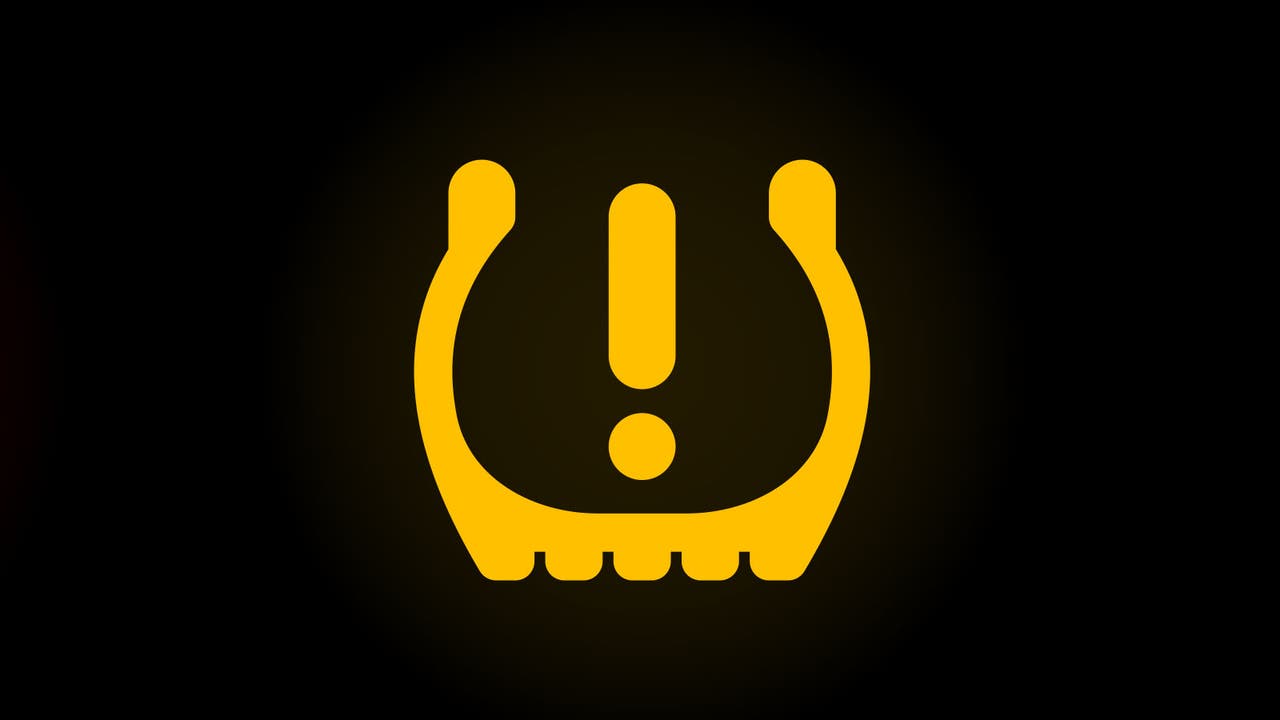 Most modern cars sold in Europe have tyre pressure monitoring systems as this has been mandated by the EU. These detect if your car's tyres are low on pressure and will flag up a warning in this case. Driving on under-inflated tyres will, at best, waste fuel and cause accelerated wear to the tyres' treads and, at worst, could cause you to lose grip and crash.
Stability and traction control light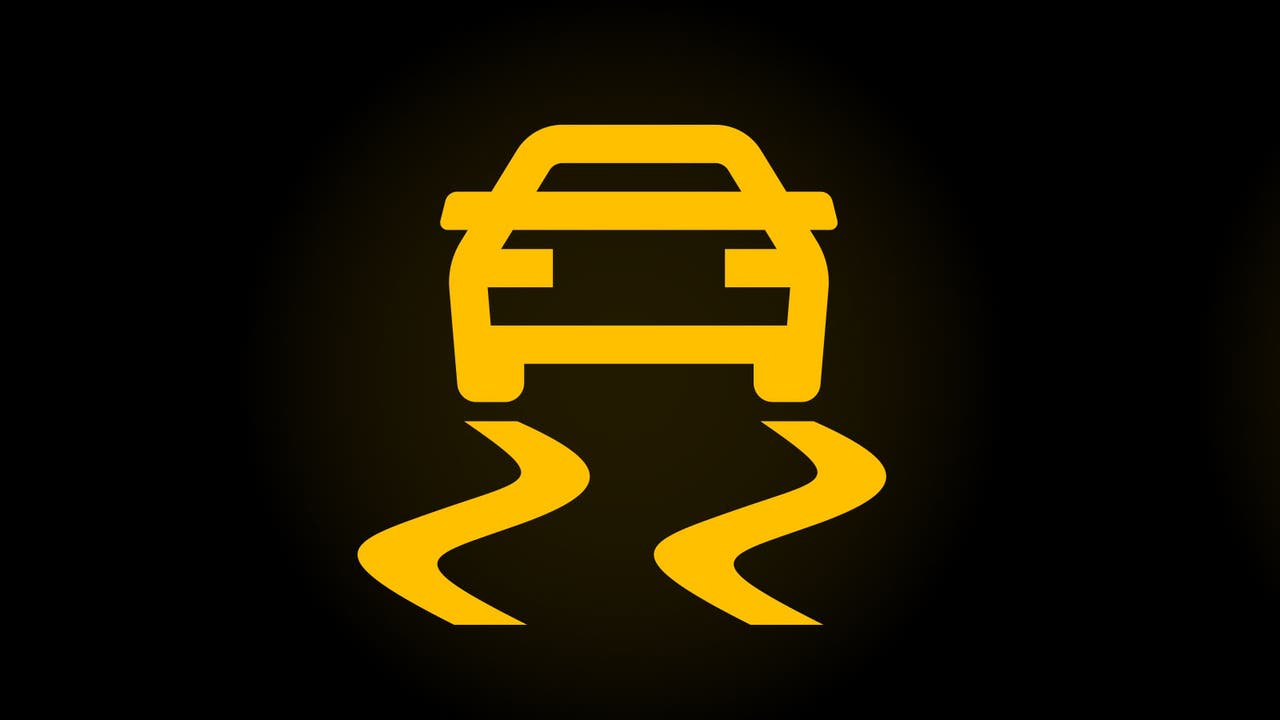 This light has two common functions. If it's flashing, that usually means your car's stability and traction control systems are intervening to help avoid wheelspin or a skid – this can easily occur in cold weather or if you're driving too fast for the conditions. If the light is on constantly, it means you've deactivated your stability and traction control, which you might want to consider in rare circumstances such as when pulling away on snow or ice – you should aim to turn the system back on as soon as safely possible.
Press brake light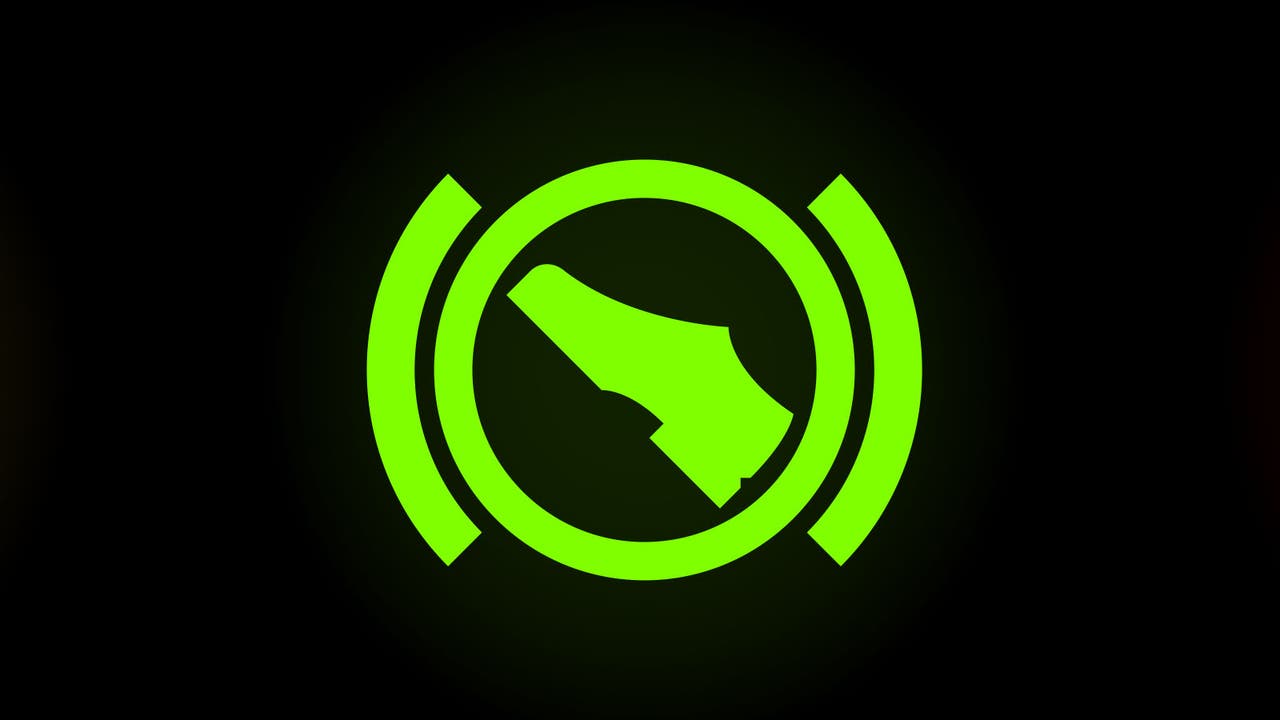 This light is a comparatively friendly green and is meant to serve as a reminder in automatic cars for the driver to press the brake pedal. Pressing the brake is often needed to allow the driver to shift to a new gear selection, or to start the car. This is also common in electric cars where the lack of engine noise can leave drivers unsure of what they need to do to get moving.
Time to trade to a newer model?
The best way to banish warning lights from your car's dashboard is to keep up with maintenance – read our guide explaining everything you need to know about car servicing. Alternatively, why not trade in for a great used car? Every car Motorpoint sells comes with warranty coverage.