Audi builds plenty of larger cars, but the company also has a rich history of compact models that squeeze premium quality and cutting-edge tech into city-friendly body shapes. Like BMW and Mercedes, Audi offers a family hatchback in the form of the A3, but it's the only one of the 'big three' premium German brands to also sell a supermini-sized hatch – the A1.
If your sights are set on a compact Audi, which of the two models should you pick? The A1 is more affordable, which means you might be able to get a higher-spec version for your budget, but the A3 offers more passenger and boot space. We'll compare them here so you can choose the best version for you.
Audi A1 vs Audi A3 compared
Audi A1
Audi A3

Pros:

Faster with the same engines
Cheaper to buy

Pros:

Slightly nicer to drive
A little more spacious

Cons:

Smaller back seats and boot
Standard touchscreen is a bit small

Cons:

Slower using the same engines
Higher price tag
Styling and design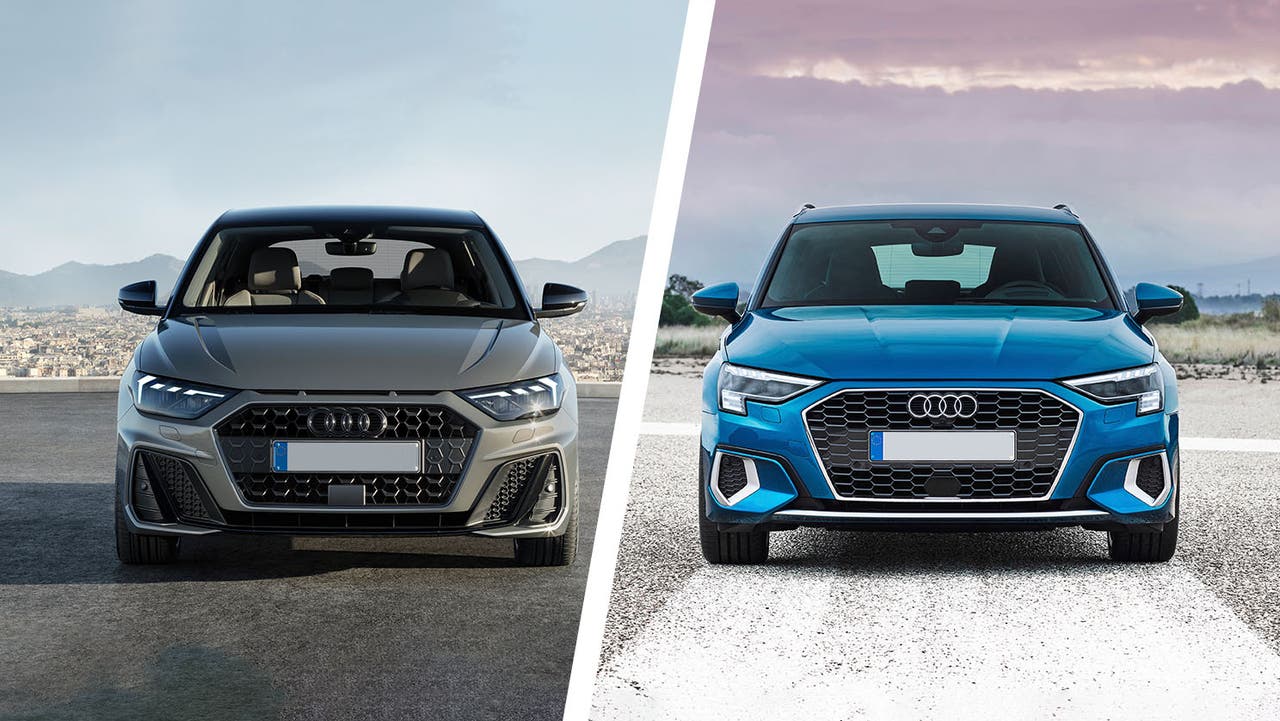 If you like the way Audis look, you'll like the styling of the A1 and A3. The brand has honed the image of its cars such that the family resemblance between the two hatches is obvious. You'll find a similarly bluff, hexagonal front grille and angular headlights on both cars, plus neatly styled bodywork with deep creases to make them look more athletic. Which one you prefer will be a matter of preference – in the metal, the A3 looks slightly longer and more elegant, while the compact A1 is a bit cuter with a more youthful feel.
The A1 comes in one form only – a five-door hatchback – whereas the A3 also gets the option of a four-door saloon version. From the outside, the A3 saloon is a more traditional shape, echoing the larger Audi A4 and A6 models, which will be a good thing or a bad thing depending on your personal taste.
Interior and practicality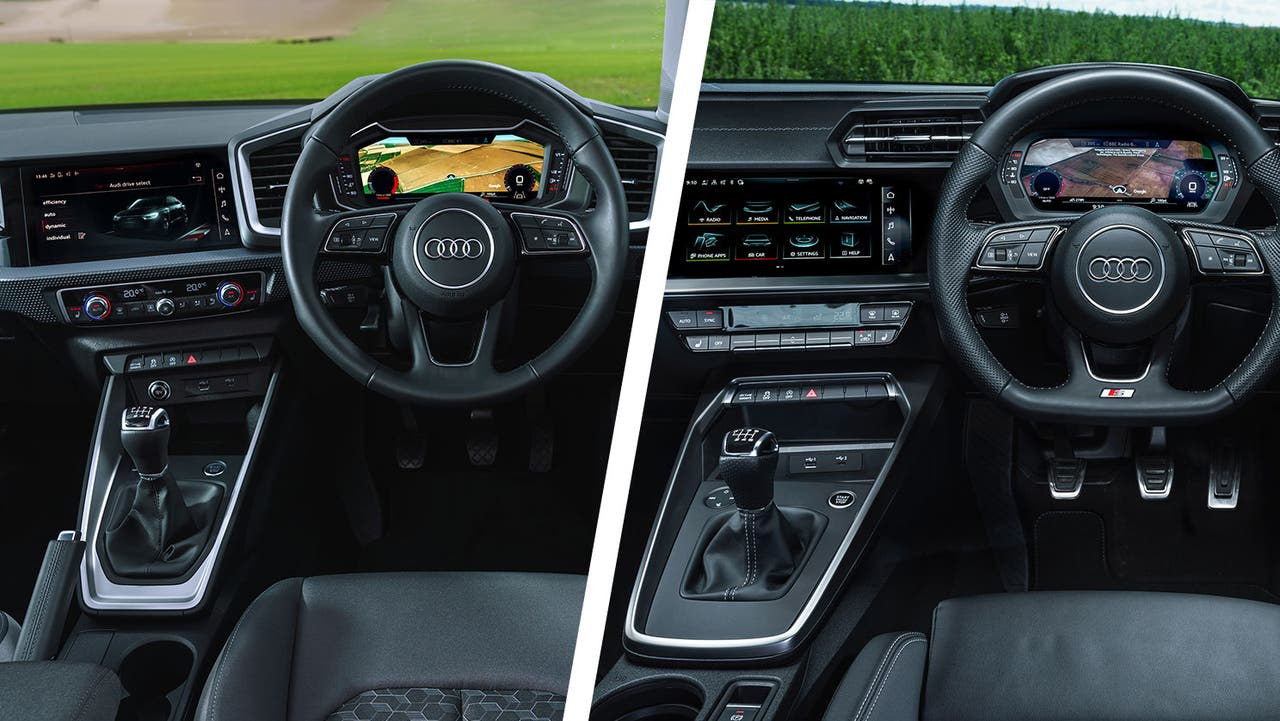 Audi enjoys a solid reputation for building top-quality cabins and both the A1 and A3's interiors meet the company's lofty standards. Soft-touch materials are widely used on the dashboard and surfaces you regularly interact with, and both cars' on-board technology is featured prominently. Pleasingly, both cars still have physical controls for the heater and air conditioning, which are easier to use on the move than the touchscreen-based setups found on some rivals.
Both models rely on a pair of MMI infotainment screens – a central touchscreen in the dashboard and digital driver's dials behind the steering wheel. The software is similar across both models, with a fairly clear layout and quick responses to inputs. As standard, A1 models get an 8.8-inch centre touchscreen with a widescreen aspect ratio. In use, this setup feels a little cramped, with too much information competing for what little screen real estate is available. The 10.1-inch screen that's included in the A1's Technology Pack is easier to use and is worth hunting out if you can. All A3s get the larger 10.1-inch screen as standard, making it easier to use.
Considering its small size, the A1 is impressively practical. You can sit two tall adults in the back seats without much complaint, and three can just about fit for very short hops. If you're going to be carrying rear passengers more regularly, however, the A3 is a better choice, with more leg and elbow room, plus a wider door opening for improved access. Again, the A1's boot impresses in isolation with enough room for a big suitcase and some soft bags, but the A3 just pips it with a slightly longer and wider load area. Plug-in hybrid A3 models, however, lose some cargo space to their battery pack, so actually have a smaller boot than the A1.
Engines and performance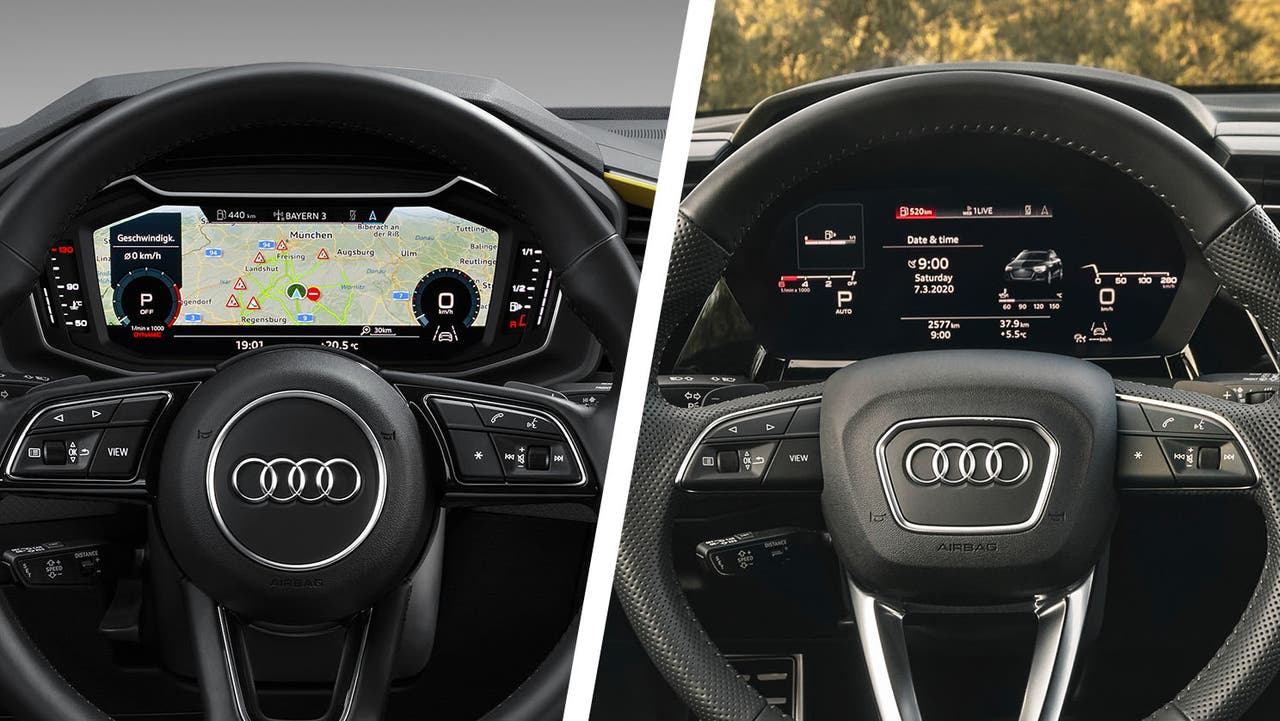 The A1 is the smaller, lighter and more affordable car, so its engine range lacks the pricey high-performance and frugal plug-in hybrid options you'll find in the A3. Entry-level A1s are badged 25 and make 95hp from a 1.0-litre turbocharged petrol engine – this is fine around town but does start to feel strained if you want to overtake on the motorway. We'd recommend stepping up to the 110hp 30 or 150hp 35 engine options, which have noticeably better acceleration and gain a sixth gear on manual versions, making motorway drives more relaxing.
Being the larger, more expensive choice, the A3's engine range starts with the more powerful 30 option, although this version feels a little lacklustre in the heavier A3. The 150hp 35 petrol engine is a much better choice, with the extra power somewhat disguising the weight difference between the two cars. Audi's S Tronic automatic gearbox is available across most engines on both cars and is one of the best of its kind, so it's well worth adding if you don't want to change your own gears. That said, manual buyers aren't hard done by because Audi's shifters have a wonderfully precise action that makes them a pleasure to use.
Company car buyers after a model with a low BIK figure, or shoppers looking for a high-performance option will be best off looking at the A3 lineup. You'll find the fuel-saving 40 and 45 TFSI e plug-in hybrids, which can cover around 36 miles on electric power alone, or average more than 200mpg if you make the most of the two power sources. If performance is more important, there's the rapid S3, which uses a 2.0-litre petrol boosted by an enormous turbocharger for 310hp and a 0-62mph dash in less than five seconds – well on the way towards supercar territory.
Driving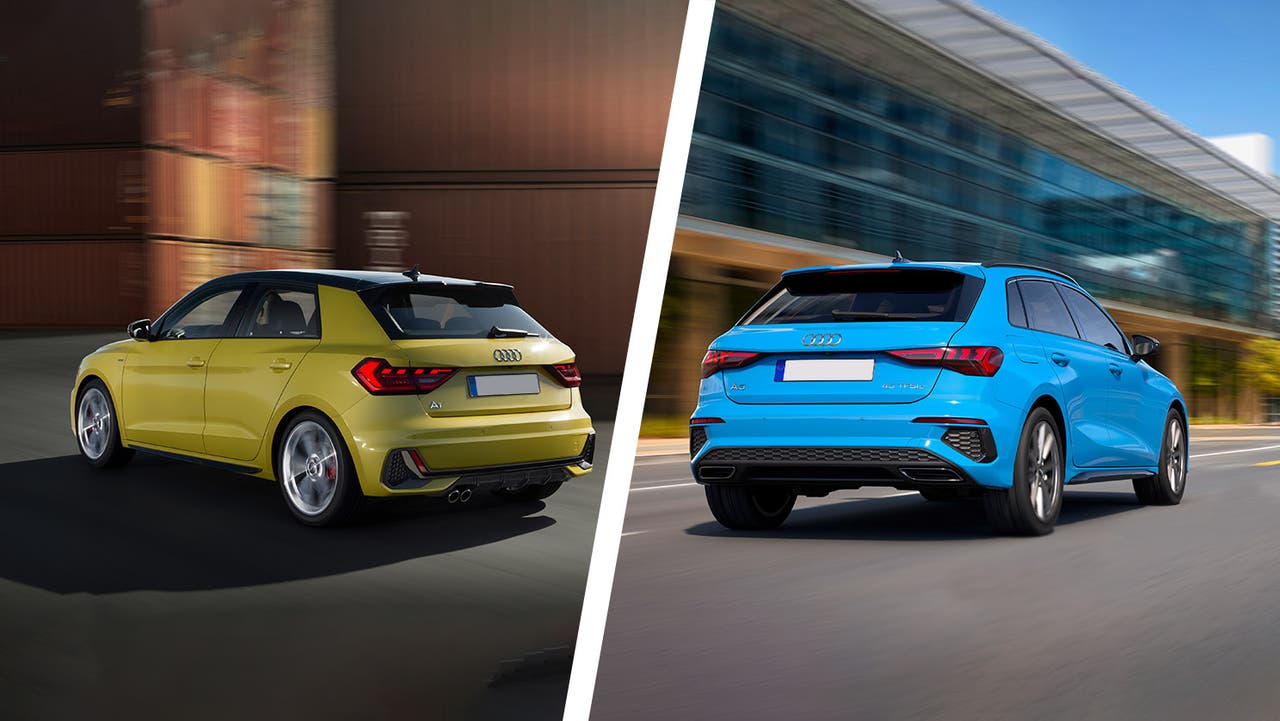 Audi might not quite challenge BMW for the title of 'ultimate driving machine', but its cars still drive with a composure and ease that makes them fantastically satisfying to guide down the road. This is especially welcome in the A1 supermini, which competes in a category that's rarely known for refinement and comfort. The driving experience in the A1 and A3 is remarkably similar, so most of the differences that emerge are a result of simple physics rather than variations in quality.
As the smaller, lighter car, the A1 feels naturally more agile and, being 4.4cm narrower including the door mirrors, you're more confident squeezing it through tight gaps in city traffic. Conversely, there's more distance between the front and rear axle on the longer A3, which brings a subtle improvement in ride quality, making the A3 a little easier to cover very long distances in.
Refinement is strong in both cars, with most of the noise and vibrations from the outside world and the cars' mechanical parts filtered out before they reach the passengers. The larger A3 fractionally outscores the A1 here, with a slightly quieter drive and a little more suppleness in the ride – but the differences are so small they're almost negligible, and neither car is hard work when tackling a long journey.
Value and reliability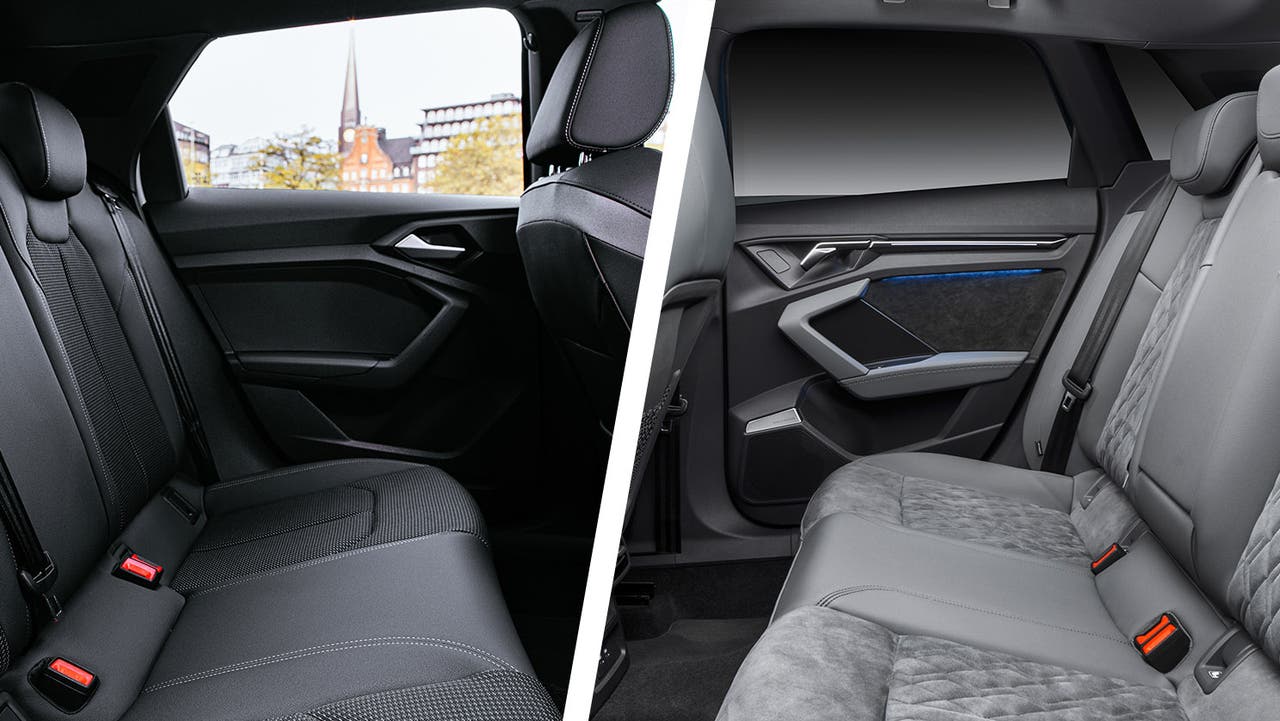 If you're on a tight budget but really want an Audi on your drive, the A1 is a great choice. You get almost all of the on-board tech and unshakeable material quality you'll find in the brand's larger cars, presented in a city-friendly, compact package that's easy to park and light on fuel. Plus, A1 prices are generally between £2,000 and £4,000 less than the A3's on a like-for-like basis. By that same measure, however, the A3 offers a boost in practicality and performance, plus better on-board tech for a relatively small increase in price. Plus, the price gap between the two is even smaller on the nearly new market, making the A3 look like better value for money in comparison.
Audi's performance in reliability surveys leaves a little to be desired. This is similar for most premium German brands and their rivals because they all include lots of on-board technology, giving them more potential points of failure compared with cheaper, mass-market brands. Engines and mechanical parts are widely available across the rest of the VW Group lineup so shouldn't prove too problematic in these Audi models. We'd suggest investing in an extended warranty if you're considering buying either car, for ultimate peace of mind.
Which is best?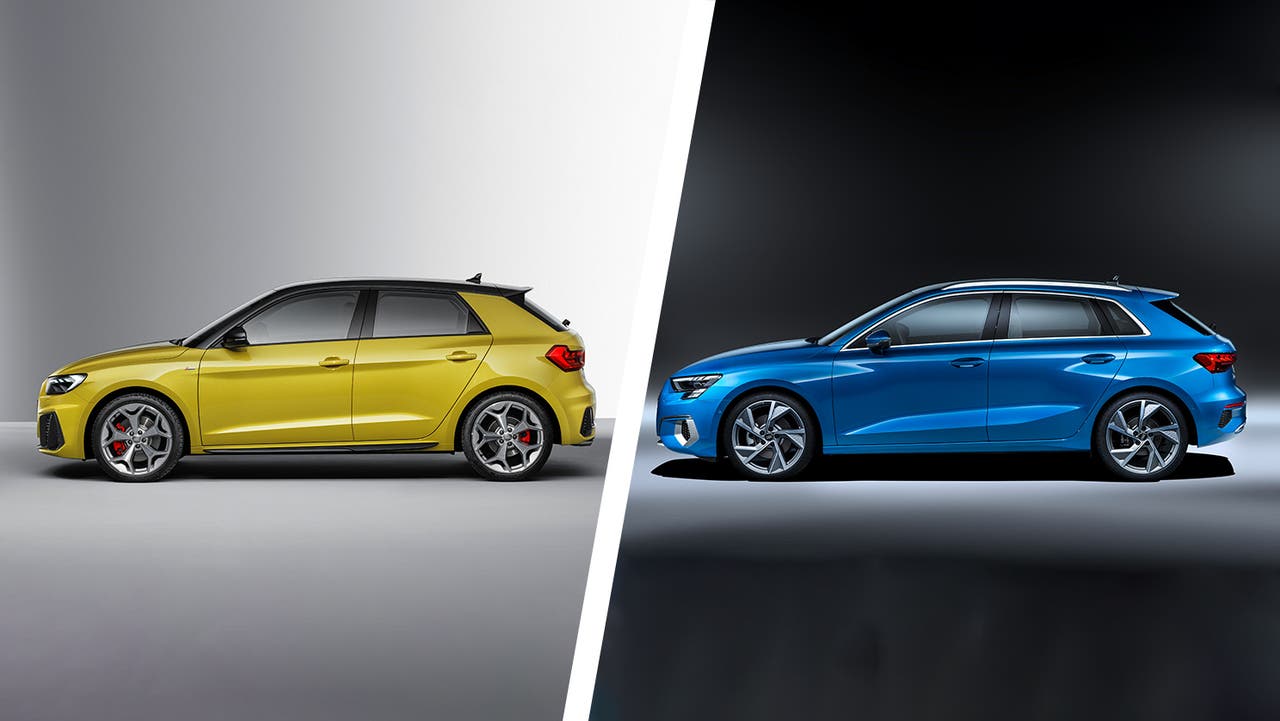 There is no weak option here so, if the only one of the two you can afford is the A1, you won't be getting a cut-price product. Its technology, design and refinement are all right up there with the very best in class and, if you add the Technology Pack's bigger screen and avoid the underpowered 25 engine, there are very few flaws you can reasonably point to.
Despite the A1's obvious quality, however, we'd choose to upgrade to the A3 if your budget permits it. You get more space, more power and a better screen as standard, for only a relatively modest increase in price – an increase that's even smaller if you buy a nearly new version. All that makes the A3 easier to live with on a day-to-day basis and represents better value for money.
Which Audi hatchback do you prefer?
If this guide has helped you make your mind up – check out Motorpoint's huge selection of used Audi A1 cars and used Audi A3 cars for sale. Take a look at our picks for the best family hatchbacks you can buy on the used market.