Car Of The Week
We have a car of the week to suit all drivers, whether you're looking for a family car, something a bit more economical, or the perfect car for your next staycation!
We have thousands of cars in stock, offering you the best choice and value. All our cars are quality checked and nobody beats us on price! Check out this week's car of the week
Superbly Safe Car Of The Week - Ford Kuga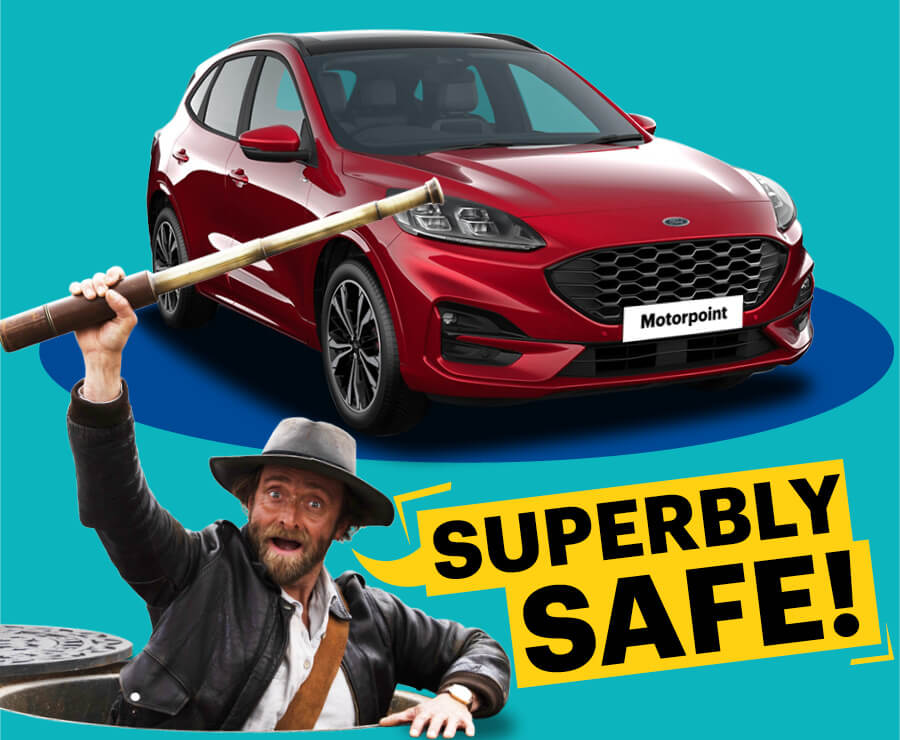 When it comes to reliability few brands have as strong a reputation as Ford. Over a century since the first model T rolled off the production line for Ford things have come a long way for the humble car manufacturer. One of the best selling manufacturers in the UK for decades, Ford have helped define the freedom and excitement that comes with driving for many new drivers, as well as helping growing families embrace their new adventures in their stellar hatchback and crossover ranges.
When it comes to choosing a flagship for Ford it's a difficult decision. From the Fiesta to the Focus, each model has a legacy for quality, affordability and style. With such a powerful legacy it's no surprise Ford often returns to it's roots and reinvents and refines previous models that faded the motoring hall of fame. It's likely you've seen their recent offering, the new Puma, powering down your local high street - but that's not the only car to rise back into the mix.
In the late 90s Ford were still in the throws of embracing their American heritage, with a range of coupe and performance models, like the Puma mentioned above. One such car was their attempt at introducing a long range touring coupe, the Cougar. Though the Cougar never achieved the heights of fame that other models managed to achieve, it did still mark a defining change in Ford's mindset. The Cougar saw a short run in the UK, with production ending in 2002 after only 4 years. However, this lesson taught Ford about the new emerging market, with a strong desire for family friendly SUV models.
Having laid the Cougar name to rest, Ford set to work reimagining the name for a new market, this rapidly expanding demand for space, comfort and practicality spawned a host of models across manufacturers, with the likes of the Nissan Qashqai and Hyundai Tucson. So, with Ford's team of skilled engineers they set about launching their own, and in 2008 delivered what would become their title SUV for over a decade. It was at this point the long forgotten name was resurrected for a new era - the Kuga.
With solid, robust proportions and expansive interior space the Kuga was an instant hit. Going toe to toe with it's competition it was a resounding success for Ford, helping them push further into the family car market. the Kuga was so popular in fact that little changed in it's core design all the way until 2019.
With a glowing reputation and a decade of success to follow the new Kuga had an impossible feat to deliver, and yet it manages it - to be a better, more practical, more impressive and more stylish SUV. The exterior of the Kuga has been completely redesigned. A more refined front grille and leaner headlights help to craft a striking and yet refined new styling approach.
Not only is the front end sleek and stylish, it's also designed with one key principle in mind - safety. The entire design around the Kuga has been moulded and sculpted to keep both passengers and pedestrians safe - all this adding up to a 5 star NCAP rating, the best that can be achieved. Interior passenger protection is rated at 92%, a class leading rating thanks to front and rear curtains airbags that protect passengers from side impacts.
Stepping inside the Kuga it would be easy to believe you're inside a prestige SUV from one of the German powerhouses. A futuristic digital dashboard sits front and centre housing all driver information, with a flat bottom, high quality steering wheel in hand, the driving position feels stable and secure. The seats are soft and shaped to achieve the most comfortable position possible, helping even the longest journey feel a dream. The Kuga truly shines when put to the test of a staycation, it's large boot easily accessible through the vast opening, comfortably accommodating a family set of suitcases.
Our pick of the range, the ST Line X Edition is packed with even more features to keep you safe, like Pre-Collision Assist, Lane Keep Assist and Driver's Knee Airbags. You'll also get plenty of high tech features like a Panoramic Sunroof and an electrically adjustable driver's seat.