Honda's largest SUV for the UK market has been unveiled, promising efficiency improvements and much more space
The current Honda CR-V is to be replaced later this year by a new sixth-generation version. The brand's focus on hybrid technology remains but, this time, the CR-V will also offer a plug-in hybrid engine with a bigger battery.
Honda's CR-V is a hybrid-only SUV that rivals the Toyota RAV4, Hyundai Tucson, Ford Kuga and Nissan Qashqai. It's a big model for Honda, with the outgoing fifth-generation car racking up 733,000 sales worldwide in 2022 – making it the fourth most popular car in the world.
2023 Honda CR-V styling
Honda says the new CR-V's styling is evolutionary, but almost every panel looks new. The front features slim headlights and a much larger grille than before, with much less chrome.
The image above features winglet-like add-ons to the front bumper and colour-coded wheel arches, which are likely to be exclusive to a higher-end trim in the same vein as the Sport trim on the latest Civic.
The side panels feature bold creases and the windowline is reminiscent of large Volvo SUVs. That likeness continues around the back, with L-shaped brake lights that follow the creases of the car and eye-catching LED elements.
Interior, technology and practicality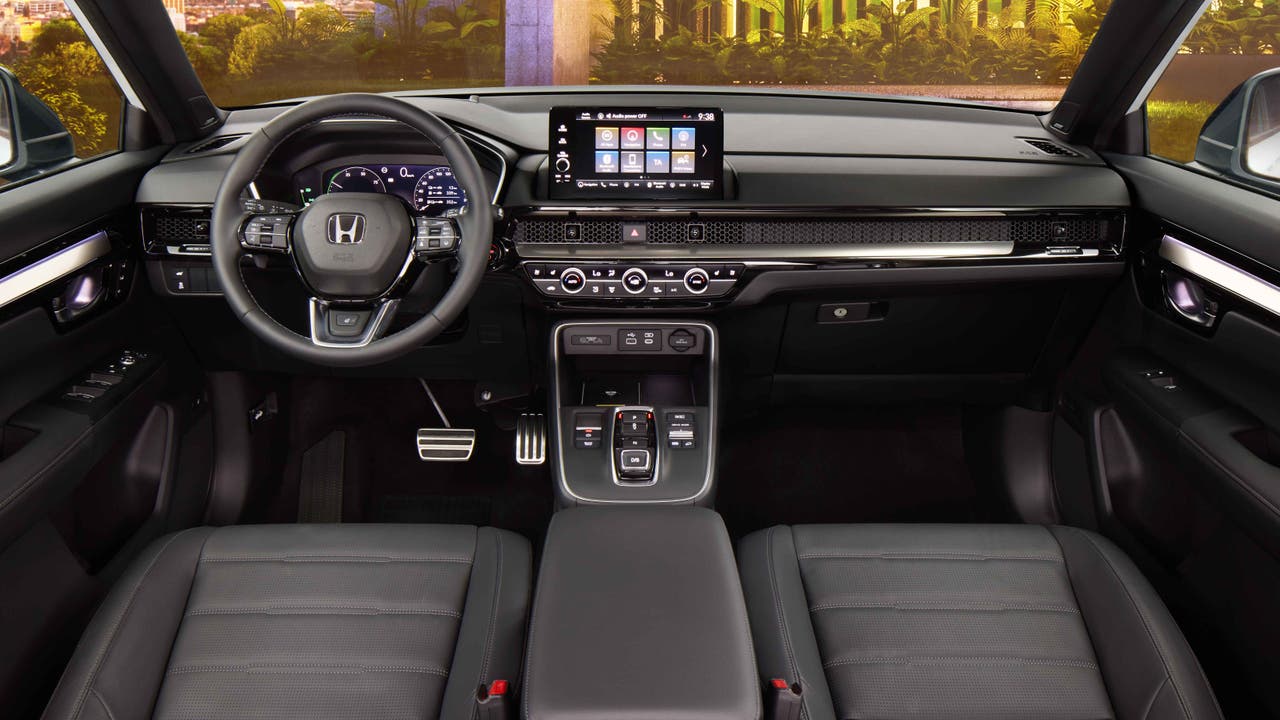 The dashboard design follows on from the latest Civic, HR-V and Jazz, with a full-width bar that hides the air vents. Above that is a nine-inch touchscreen with widget tiles and smartphone connectivity. In Honda's other cars, it's quite an easy system to use so should represent quite an upgrade over the infotainment system in the current CR-V.
Speaking of the outgoing car, its wide centre console and gear selector buttons have been retained for its successor. You'll also get proper knobs and buttons for the climate control functions.
The new CR-V has grown in every direction, with the wheelbase – the distance between the front and rear axles – measuring 40mm longer. According to Honda, the changes create 16mm more rear legroom and an 118% increase in luggage space. That's likely to mean extra storage spaces throughout the cabin as well as a bigger boot than the current car's 497-litre offering.
Engines
For the first time, the CR-V will be offered as a plug-in hybrid, which will join a standard hybrid engine that doesn't need to be plugged in. Both will use a 2.0-litre petrol engine, with the regular hybrid getting the same 1.05kWh battery as the latest Civic. This powertrain produces 184hp and is good for 58.9mpg, according to emissions test figures. We're told you can expect a total driving range of up to 590 miles from the hybrid.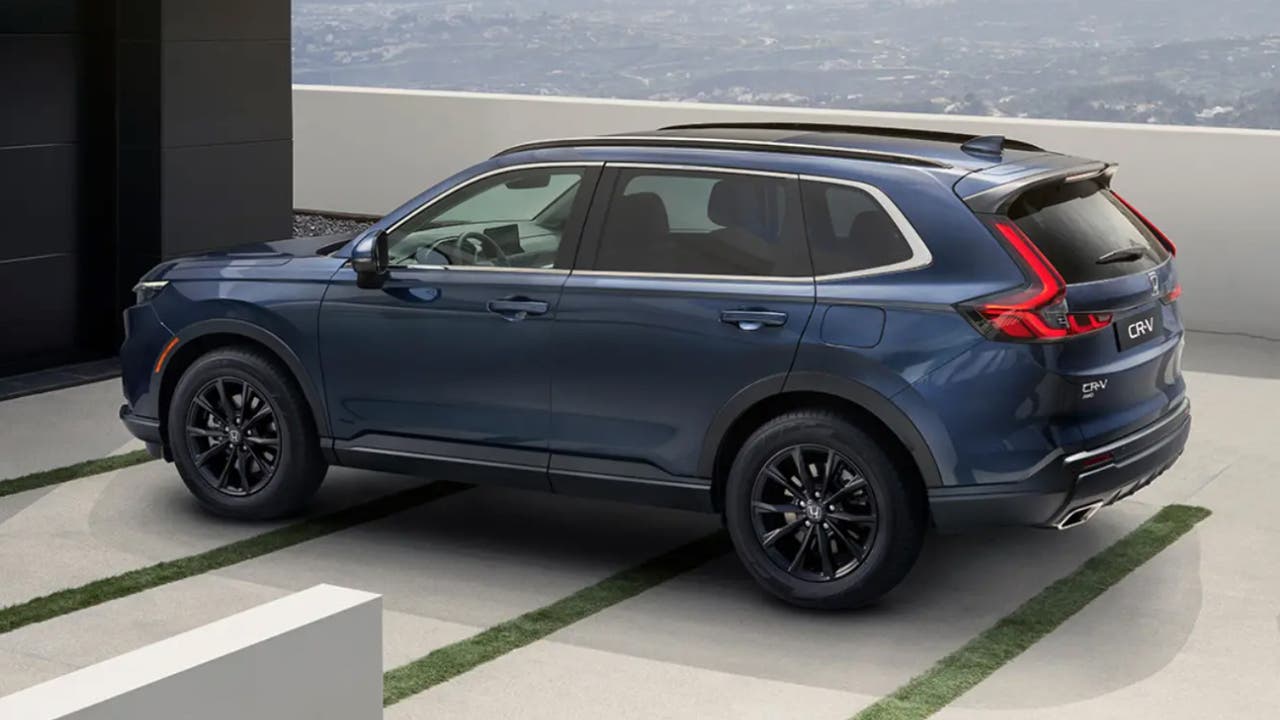 The new plug-in hybrid uses a much bigger battery that can be recharged from the mains. When it's full, you can travel up to 50 miles on electric power alone. It becomes like the hybrid engine when the battery is nearly empty, so it should still be quite economical on longer journeys. The battery can be charged in just two-and-a-half hours, and you can schedule when charging starts with a smartphone app.
Prices and specifications
Honda is keeping pricing out of our reach for now, but expect it to cost more than the current CR-V's £36,715 starting price. While we also don't have much information on trim levels, Honda says that features such as a panoramic sunroof, heated and cooled seats, wireless phone charging and a head-up display will be included on 'select grades'.
When will I be able to buy the new Honda CR-V from Motorpoint?
If the CR-V goes on sale later this year, it should be in Motorpoint stores in mid-2024. In the meantime, check out our used Honda CR-Vs for sale or read about our favourite hybrid SUVs.