What makes a good service station?
07 June 2018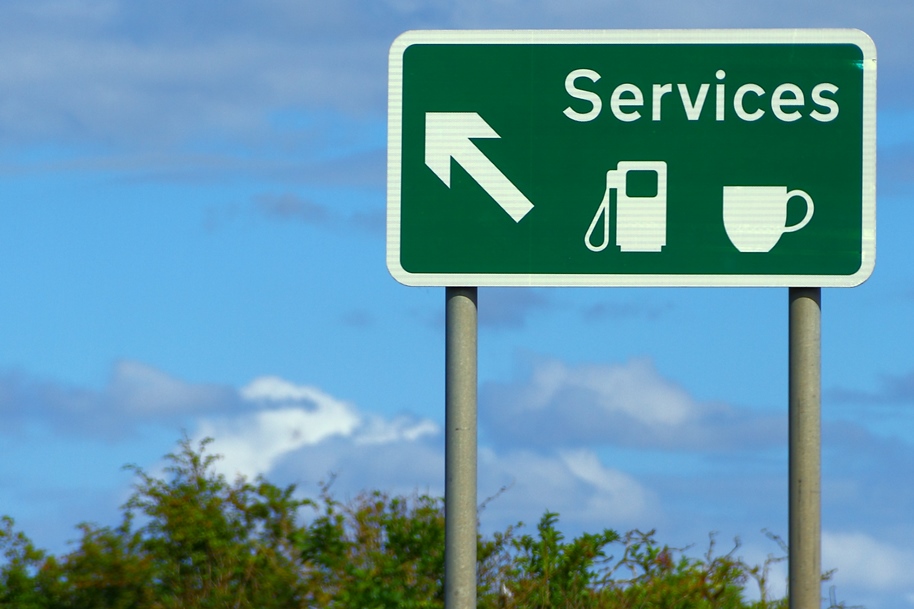 Photos © 2022 Motorpoint
What do we look for in a good service station? And which retailers do drivers choose when they visit? Motorpoint decided to investigate and ask that all important question – what makes you pull over on the motorway?
The Motorpoint Services Study
It's time to take a break. And in the world of motoring this often means stopping at a service station. These handy locations are about more than just refuelling, as they represent a chance to indulge in a cuppa, grab a snack or simply stretch our legs before the next stage of the journey (although don't stretch them too far as car parking is only free for the first two hours!).
As service stations are now such an intrinsic part of the nation's driving experience, the team at Motorpoint decided to dig a little deeper and find out what really makes us pull over. Is it the food, the drinks, the cleanliness of the toilets? The results proved to be very interesting.
The Best Motorways for Services
There are no hard and fast rules on distances between service stations but the common consensus is that it should ideally be 43.45 kilometres. However, based on analysis of some of the major motorway roads, the true average is more like every 50.71 kilometres. If you looking to make more frequent stops at the services then you need to head to the M6, where you'll find one every 21.98 kilometres on average, and avoid the M8 where there is one every 97.04 kilometres.
The Top Six are:
1. M6 – average distance 21.98 km
2. M1 – average distance 25.95 km
3. M4 (Wales) – average distance 27.65 km
4. M25 – average distance 47.07 km
5. A1 – average distance 94.25 km
6. M8 (Scotland) – average distance 97.04 km
Most Attractive Brands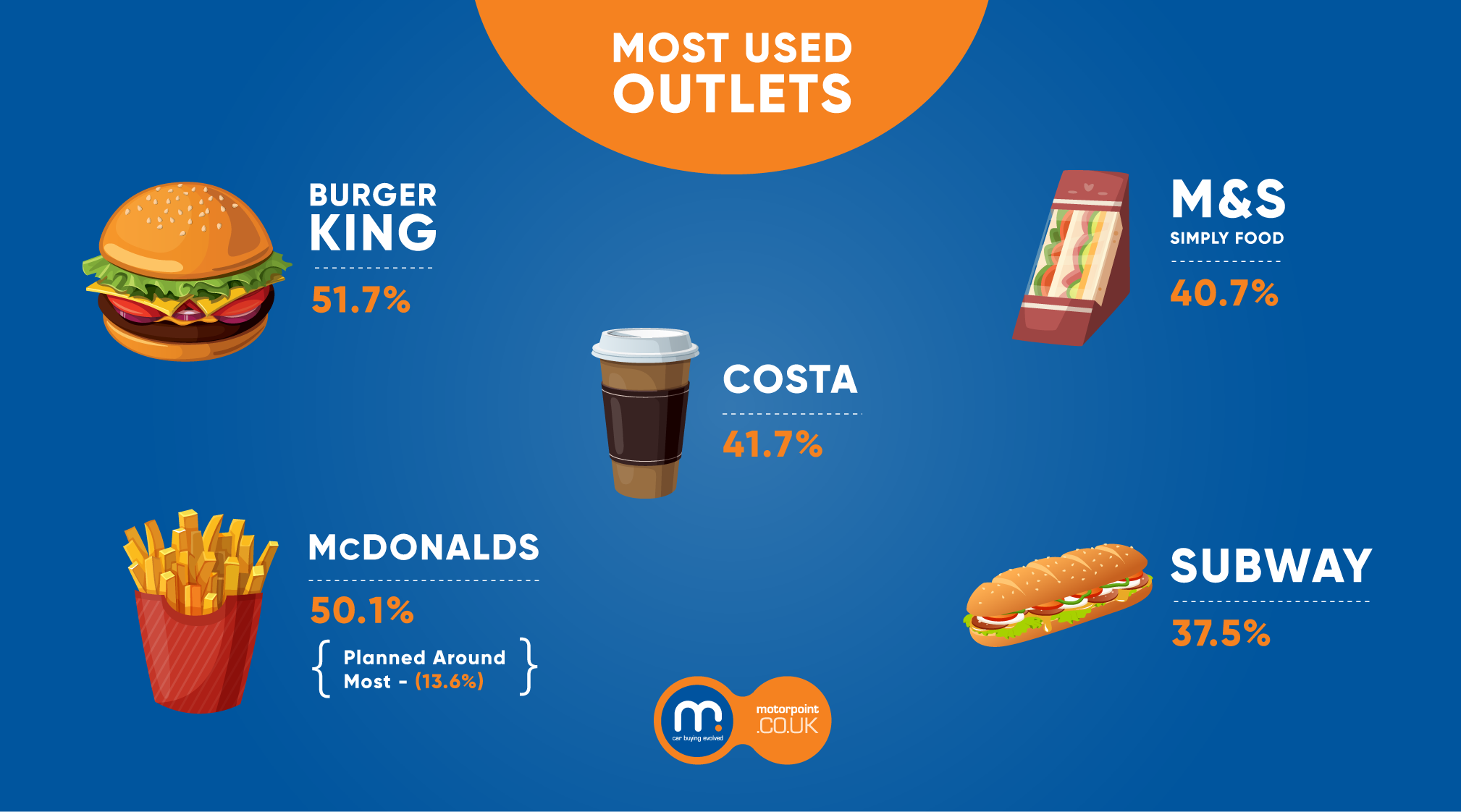 We also asked drivers which outlets they most preferred when they got to the service station. Interestingly, Burger King came out on top with over 51%:
1. Burger King – 51.7%
2. McDonalds – 50.1%
3. Costa/Express – 41.7%
4. M&S Simply Food – 40.7%
5. Subway – 37.5%
While Burger King may be the favourite, McDonald's has the greater pulling power, with many respondents (13.6%) saying that they would plan their routes around the fast food giant. In comparison, Burger King came in second, with only 9.2%.
Many of us also love getting our caffeine fix while out on the road, and it seems that Starbucks and Costa are the two big competitors vying for our attention. It turns out Costa (41.7%) is resoundingly more popular than Starbucks (receiving just 23.4% of the vote) when it comes to attracting thirsty drinkers at service stations.
Most Important Amenities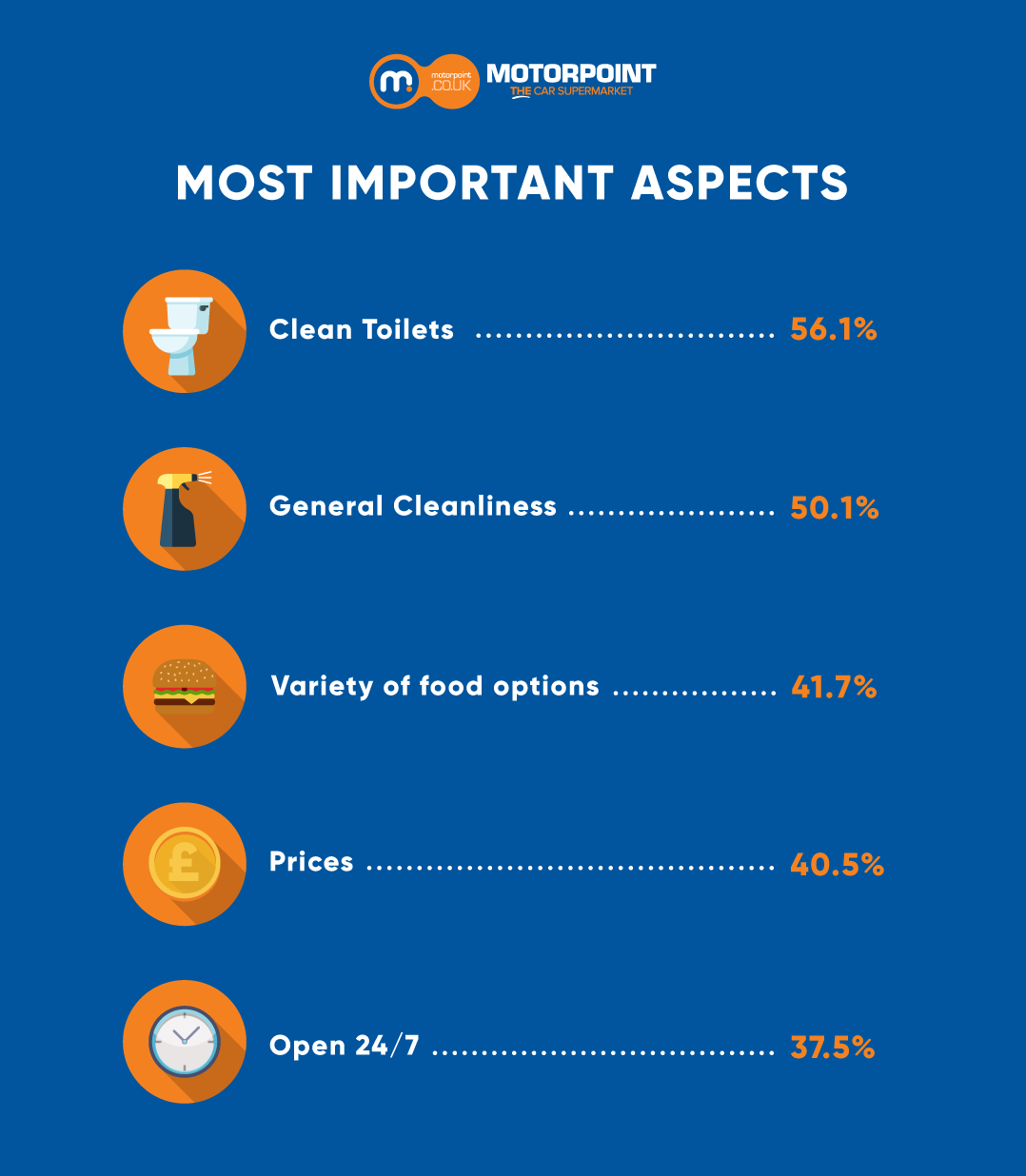 Clean toilets get us the most enthused when it comes to choosing a service station. This is closely followed by general cleanliness, a variety of food options, good prices and a being open 24/7 are equally important to motorists.
The research also found that the most wanted drive-thru outlets are McDonald's (49%), Burger King (42%) and Subway (39%).

Gender Differences
The favourite service station food retailer for men is Burger King (55.1%), while women tend to prefer McDonald's (53.3%). Both sexes enjoy a cheeky Nando's but women (23.9%) seem to appreciate their spicy flame-grilled chicken more than men (17.8%).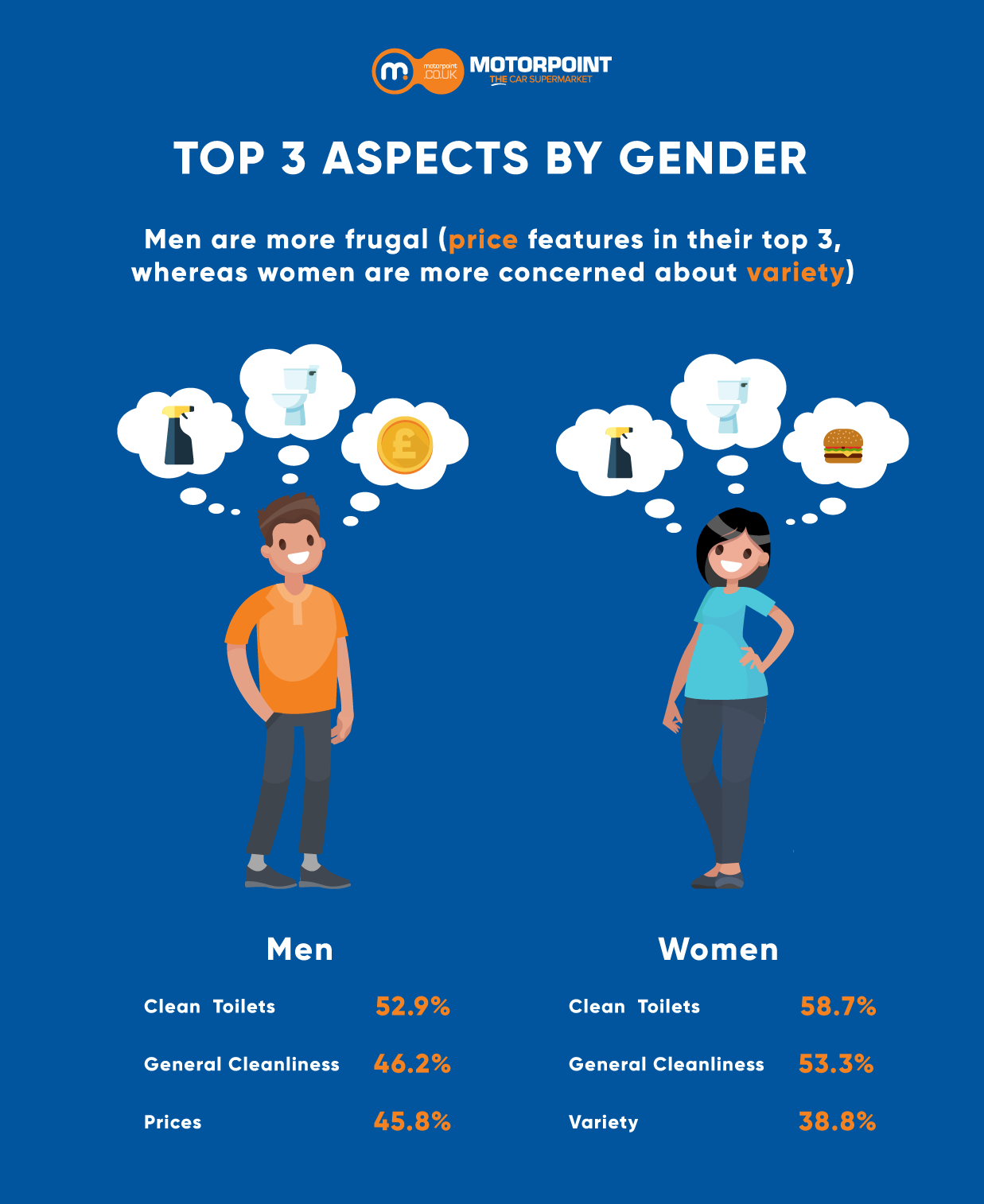 Both sexes seem to value cleanliness over everything else although men tend to be more focused on saving money, citing prices (45.8%) more often than women. However, women were more concerned about variety (38.8%), choosing this as their third most favoured attraction.
When it comes to food retailers, Greggs is the choice of the 45-54 age group (63.4%), while millennials in the 18-24 group opted for KFC (55.6%). The 55-64 group seems to appreciate the delights of a Cornish pasty more than anyone else, giving the West Cornwall Pasty Co. 20.4% of their vote, compared with just 3.7% from the 18-24 group.
Choices by City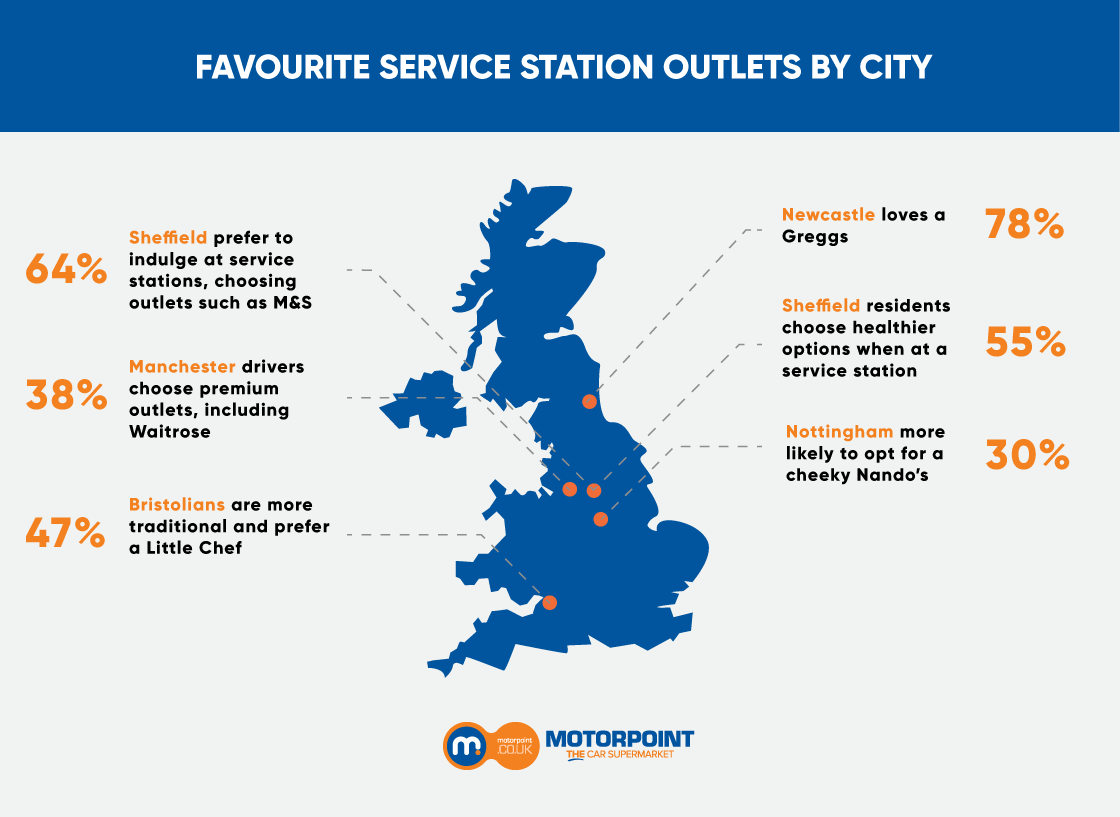 When looking at location differences, the city which can't get enough of Greggs is Newcastle, giving this food retailer an incredible 78.1% of their vote.
Those in Sheffield and Manchester favour high-end retailers like M&S and Waitrose, while people in Nottingham prefer Nando's. Bristolians were found to be more traditional, and prefer a Little Chef, whereas Sheffield residents were the most likely to opt for healthier options.
The most important consideration for those in Southampton is pricing (66.7%), while those in Glasgow are drawn to green spaces (42.1%).
At Your Services
Love them or loathe them, we can't do without our motorway services. And judging from the responses to our survey, they are making a good fist of offering something different for everyone.
If you are interested in motoring, feel free to bookmark the Motorpoint news page as we will be covering this and other topics in the future. Until then, happy driving, and don't forget to take breaks when you need them.
*Our research was informed by a national survey, which was completed by a panel of 1,000 UK-based participants