Planning a road trip to Europe? Don't forget those vital bits of kit to stay legal! We've compiled a checklist of everything you need for driving in Europe
Whether you're heading to Europe for work or leisure, you'll need to make sure you're up to speed on the laws of the countries you're travelling through. Some European countries have different and more extensive requirements than the UK and, whichever country you go to, there are some things that you absolutely cannot forget.
What driving documents do I need for Europe?
You'll need your passport – you won't get onto the ferry or the Eurotunnel without it – and you also need your driving licence. Both need to be valid and in-date. Those are obvious, but you must also take your V5C logbook (if you're the registered keeper of your vehicle) and confirmation of both travel and car insurance.
It's worth taking a DVLA check code with you, especially if you're going to be hiring a car abroad. Dig out your COVID vaccination certificates or proof of a recent negative test, just in case.
You won't need an International Driving Permit (IDP), unless you're going even further afield or are planning to stay in a country for a couple of months. If you have a UK photocard driving licence, you won't need an IDP for any EU country plus Switzerland, Norway, Liechtenstein and Iceland.
A Green Card that gives proof of insurance shouldn't be necessary, either, unless you're heading to countries including Albania, Belarus, Turkey and Ukraine. Bear in mind that you won't have comprehensive insurance cover on the continent unless it's specifically stated in your policy.
Towing a trailer or caravan? You need to make sure you have the 'BE' category on your driving licence. You may also need to register your trailer with the UK Government if it's particularly large.
What do I need to drive in Europe?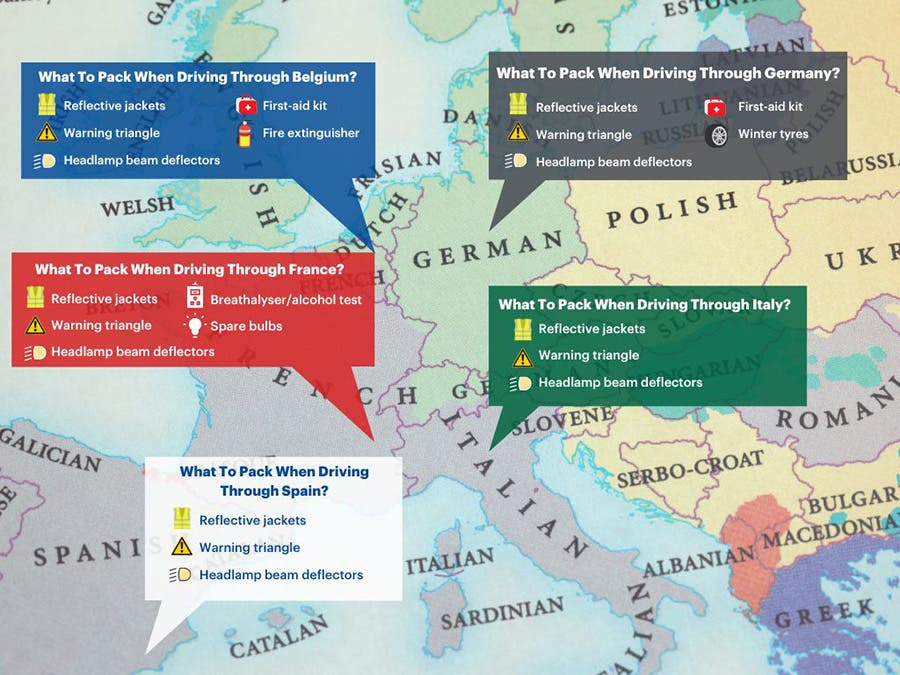 Make sure you've saved a little space in the car for some essential bits. Reflective jackets for each occupant should be kept inside the car, and you'll need a warning triangle in case you break down. If you're travelling through France, Germany or Austria, add a first aid kit to that list. You'll need to stick on headlight deflectors if your car doesn't adjust automatically – if you have a new-ish car with fancy headlights, you should be able to adjust the headlight beam direction in the infotainment settings.
Some French cities require you to have a Crit'Air emissions sticker, which will be a certain colour depending on the emissions of your vehicle. Cleaner vehicles can often enjoy preferential parking, while higher-polluting vehicles may not be allowed into certain areas. A Crit'Air sticker costs a few pounds and can be bought from the French Government, but it can take six weeks to arrive.
Some cities in Germany, Belgium and Italy have similar schemes.
Winter tyres or all-season tyres are required in Germany if you're travelling during cold and wet periods of the year. Meanwhile, in Belgium, a first-aid kit and a fire extinguisher are must-haves for Belgian-registered vehicles but optional for foreign ones.
If you are hiring a car and have children who need a car seat, you'll need to either take yours with you or pay for a rental one at the hire car desk.
Hopefully we don't need to tell you to drive on the right! The only European countries that drive on the same side as us are Ireland, Malta and Cyprus.
What sticker do I need on my car to drive in Europe?
You need a UK car sticker (not a GB one!) if your number plates don't have UK badging on them. In Spain, Malta and Cyprus, you need a UK sticker regardless, while you don't need one in Ireland.
Is UK car insurance valid in Europe?
Yes, UK car insurance is valid in Europe, albeit usually only third-party cover. That means you won't need to pay for repairs for another party in the event of a crash, but the costs for your car won't be covered. Some policies offer comprehensive European cover – check your policy closely. You might have to upgrade if you regularly drive on the continent.
The don't-forget list for your European road trip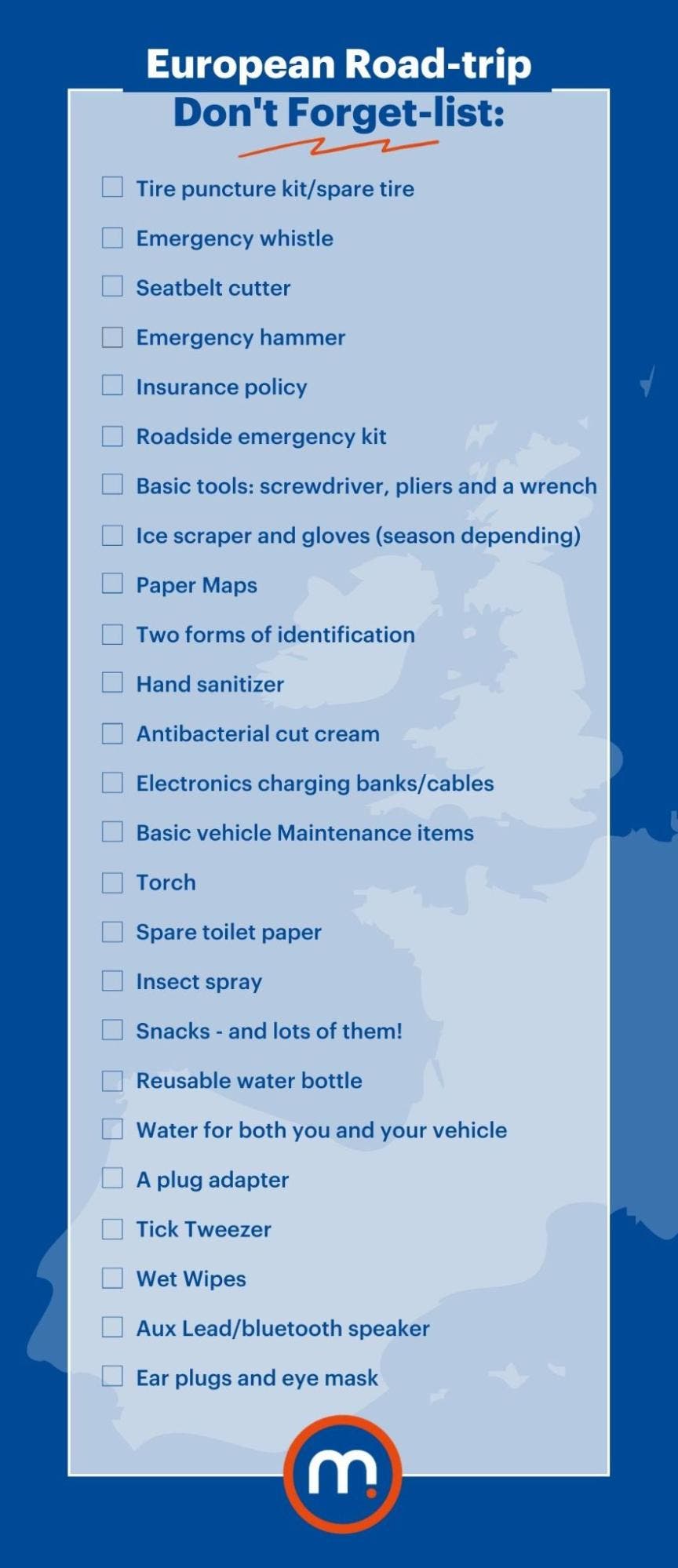 We all know we need to pack everyday items such as toothbrushes, sunscreen or spare underwear, and often people reminisce about the nightmare times they forgot these essentials. However, other beneficial items might not spring to mind when compiling your packing checklist such as the types of things you would only use on a road trip. We have created a don't forget list so you can be prepared for every eventuality when you set out on your European adventure!
Read our guides to the best cars for motorway driving and the best used cars with big boots to make your next family holiday easier.