What is Apple CarPlay and which cars have it?
01 March 2022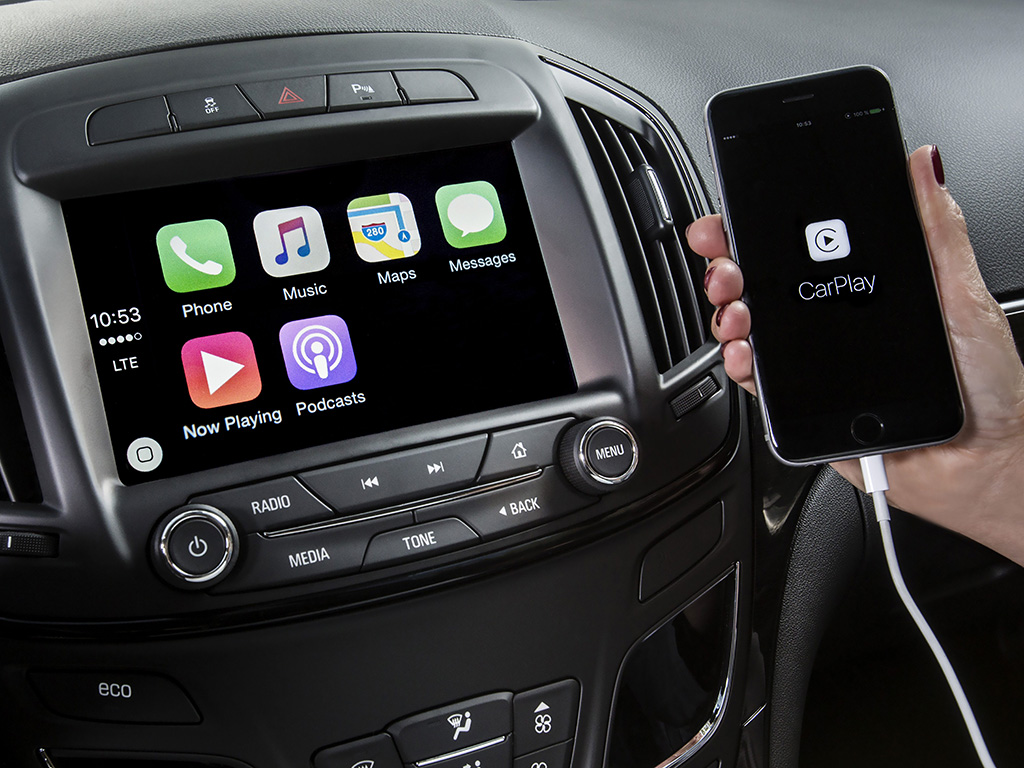 Photos © 2022 Manufacturer photos
Find out all about Apple's smartphone mirroring service and see which cars have it
Cars are often advertised as having Apple CarPlay, but if you're unsure exactly what Apple CarPlay is and what it does, worry not, because Motorpoint is here to help. Simply put, Apple CarPlay is a way to control your Apple iPhone 5 or later through your car's touchscreen infotainment system. It also switches to your car's speakers and microphone system for optimised audio quality.
It's a win on so many levels, because instead of picking up your phone, risking safety and breaking the law, Apple CarPlay lets you access key functions via the car's touchscreen, including Maps (including Google Maps!), Phone, Messages, Music and Calendar, plus other approved apps including Microsoft Teams and WhatsApp.
Digital voice assistant Siri adds to CarPlay's convenience and safety – in many cases you can simply ask Siri to do something for you, often by pushing the voice control button if your car has a multi-function steering wheel (ie steering wheel with buttons on). Or you can try shouting Hey Siri – this should be enough to allow you to dictate a Whatsapp reply without taking your eyes off the road.
For some cars you'll need to plug in your phone using a USB cable (just like you're charging it), but others allow a wireless connection with Bluetooth. Either way, you'll be automatically prompted to open CarPlay without having to dig around for it. Once it's activated, flicking back to your car's infotainment system is just as easy.
Read on to learn more about CarPlay's key functions below…
Maps
CarPlay is full of cool features, but we'd vote sat-nav its handiest, because even if your car isn't equipped with sat-nav as standard, CarPlay is your instant upgrade – all you need is a touchscreen. Apple CarPlay defaults to Apple Maps, but third-party navigation apps such as Google Maps and Waze are also compatible.

Just remember you'll be using your mobile data to navigate, so an unlimited data plan might be an idea. It's also worth saving maps for offline use if you're planning on driving somewhere remote that doesn't have cellular coverage.
Phone and messages
Just like Bluetoothing your phone to your car, CarPlay lets you make and receive calls – ask Siri to call someone in your contacts list, and you can simply accept an incoming call by pressing the touchscreen. You can also return missed calls or listen to voicemail. CarPlay also removes the deadly distraction of texting. Have Siri read your text messages aloud (don't worry, it's not automatic, so friends can't sabotage trips with your parents), and you can dictate messages like 'home in ten minutes', all without weaving down the road like you're 10 times over the drink-drive limit.
Music
CarPlay lets you access your music catalogue or favourite streaming service via the touchscreen, either by scrolling on the screen, or – much better – asking Siri to play an artist or song.

You're not locked into using Apple Music either, because third-party apps such as Spotify are also available. And if you prefer radio, you can choose from over 100,000 live radio stations. Your ears have never had it so good.
Calendar
CarPlay's Calendar function lets you quickly check your diary on the go, listing key events and times so they're easy to see at a glance. But CarPlay's more powerful than that too - you can dial into a meeting on your phone, or select the location and navigate straight there. It's properly joined-up thinking from start to finish, so it's no wonder many Apple fans prefer using CarPlay to their car's standard infotainment system.
A full list of European cars that have Apple CarPlay
Listed below is every car that currently supports Apple CarPlay – we've excluded non-European brands, but if you're after the entire global list, head to Apple.
Abarth
2017 - 2021 Abarth 595
2017 - 2021 Abarth 695
Alfa Romeo
2018 - 2021 Giulia
2018 - 2021 Stelvio
Aston Martin
2017 DB9 Volante

2017 V8 Vantage

2017 V12 Vantage

2017 - 2018 Vanquish

2017 - 2018 Rapide

2021 DBX
Audi
2017 - 2020 A3
2017 - 2021 A4
2017 - 2021 A5
2017 - 2021 A6
2017 - 2021 A7
2017 - 2021 Q2
2017 - 2021 Q7
2017 - 2021 R8
2017 - 2021 TT
2018 - 2021 Q5
2019 - 2021 e-tron
2019 - 2021 Q8
2020 - 2021 Q3
2021 e-tron Sportback
2022 e-tron GT
2022 Q4 e-tron
2022 Q4 Sportback e-tron
Bentley
2017 - 2021 Bentayga

2019 - 2021 Continental

2020 - 2021 Flying Spur
BMW
2017 - 2021 1 Series

2017 - 2019 6 Series

2017 - 2021 2 Series

2017 - 2021 4 Series

2017 - 2021 5 Series

2017 - 2021 7 Series

2018 - 2021 8 Series

2017 - 2021 X3

2017 - 2021 X4

2017 - 2021 X5

2017 - 2021 X6

2018 - 2021 X7

2017 - 2021 3 Series

2018 - 2021 X1

2018 - 2021 X2

2018 - 2021 i3

2019 - 2020 i8

2019 - 2021 Z4

2021 1 Series

2021 2 Series

2021 3 Series

2021 4 Series

2021 5 Series

2021 6 Series

2021 8 Series

2021 X5

2021 X6

2021 X7

2021 X5 M

2021 X6 M

2021 Z4

2022 i4

2022 iX
Citroen
2016 - 2021 Aircross

2016 - 2021 Berlingo Multispace

2016 - 2021 C3

2016 - 2021 C4

2016 - 2021 C4 Picasso

2016 - 2021 C5

2016 - 2021 C5 Break

2016 - 2021 C6

2016 - 2021 Jumper

2016 - 2021 Jumpy

2016 - 2021 Spacetourer

2017 - 2021 C3-AirCross

2017 - 2021 C3-XR

2017 - 2021 C4 Cactus

2017 - 2021 C4-L

2017 - 2021 C4-Lounge

2017 - 2021 C4 Spacetourer

2017 - 2021 C-Elysée

2017 - 2021 C-Quatre

2018 - 2021 Berlingo

2018 - 2021 C5 Aircross
DS
2016 - 2021 DS 3

2016 - 2021 DS 3 Cabrio

2016 - 2021 DS 3 Crossback

2016 - 2021 DS 4

2016 - 2021 DS 5

2017 - 2021 DS 4S

2017 - 2021 DS 5LS

2017 - 2021 DS 6

2018 - 2021 DS 7 Crossback
Ferrari
2016 FF

2016 F12 tdf

2016 - 2017 California T

2016 - 2017 F12 Berlinetta

2016 - 2020 488 GTB

2016 - 2020 488 Spider

2017 - 2020 GTC4Lusso

2018 - 2021 812 Superfast

2018 - 2021 Portofino

2019 - 2021 Monza SP1

2019 - 2021 Monza SP2

2020 - 2021 F8 Spider

2020 - 2021 F8 Tributo

2020 - 2021 SF90 Stradale

2021 812 GTS

2021 Roma

2021 SF90 Spider

2022 296 GTB
Fiat
2017 - 2021 500

2017 - 2021 500L

2017 - 2021 Tipo

2018 - 2021 500X

2018 - 2021 Argo
Ford
2017 - 2019 C-MAX

2017 - 2019 Fiesta

2017 - 2019 Flex

2017 - 2019 Focus

2017 - 2019 Taurus

2017 - 2021 Edge

2017 - 2021 Escape

2017 - 2021 Expedition

2017 - 2021 F-150

2017 - 2020 Fusion

2017 - 2021 Transit

2017 - 2021 Transit Connect

2017 - 2021 Mustang

2017 - 2021 Super Duty

2017 - 2021 Explorer

2018 - 2021 EcoSport

2018 - 2021 Ford GT

2021 Mustang Mach-E

2021 Bronco

2021 Bronco Sport

2022 Evos

2022 Maverick
Genesis
2017 - 2021 G80

2020 - 2021 G70

2020 - 2021 G90

2021 GV80

2022 GV70
Honda
2016 - 2021 Accord

2016 - 2021 Civic

2017 - 2021 Ridgeline

2017 - 2021 CR-V

2017 - 2021 Pilot

2018 - 2021 Odyssey

2019 - 2021 Clarity

2018 - 2020 Fit

2019 - 2022 HR-V

2019 - 2021 Insight

2019 - 2021 Passport
Hyundai
2015 - 2016 Genesis Sedan

2015 - 2018 Azera

2015 - 2021 Sonata

2016 - 2021 i10

2016 - 2021 i30

2016 - 2021 i40

2016 - 2020 Elantra GT

2016 - 2022 Tucson

2016 - 2021 Veloster

2017 - 2021 Santa Fe

2017 - 2020 Ioniq

2017 - 2022 Kona

2017 - 2019 Santa Fe Sport

2017 - 2021 Elantra

2019 Santa Fe XL

2019 - 2021 Accent

2020 - 2021 Nexo

2020 - 2021 Palisade

2020 - 2021 Venue

2021 Bayon

2022 Ioniq 5

2022 Santa Cruz
Jaguar
2019 - 2021 E-Pace

2019 - 2021 F-Pace

2019 - 2021 I-Pace

2019 - 2020 XE

2019 - 2021 XF

2019 - 2020 XJ

2019 - 2021 F-Type
Jeep
2017 - 2021 Compass

2018 - 2021 Grand Cherokee

2018 - 2021 Renegade

2018 - 2021 Wrangler

2020 - 2021 Cherokee

2020 - 2021 Gladiator

2022 Grand Wagoneer

2022 Wagoneer
Kia
2014 - 2021 Soul

2015 - 2020 Optima

2015 - 2020 Optima Hybrid

2015 - 2021 Sedona

2015 - 2021 Soul EV

2017 - 2020 Cadenza

2017 - 2021 Sorento

2017 - 2021 Sportage

2017 - 2021 Forte

2017 - 2021 Niro

2017 - 2020 Optima Plug-In Hybrid

2018 - 2020 Niro Plug-In Hybrid

2018 - 2021 Rio

2018 - 2021 Stinger

2019 - 2020 K900

2020 - 2021 Telluride

2021 Seltos

2021 K5

2021 K8

2022 Carnival

2022 EV6
Lamborghini
2017 Centenario

2018 - 2021 Aventador

2019 - 2021 Huracán

2019 - 2021 Urus
Land Rover
2019 - 2021 Discovery

2019 - 2021 Discovery Sport

2019 - 2021 Range Rover

2019 - 2021 Range Rover Evoque

2019 - 2021 Range Rover Sport

2019 - 2021 Range Rover Velar

2020 - 2022 Defender
Lexus
2019 - 2021 ES

2019 - 2021 LC

2019 - 2021 LS

2019 - 2021 NX

2019 - 2021 RC

2019 - 2021 RC F

2019 - 2021 UX

2020 - 2021 RX

2021 ES Hybrid

2021 IS

2021 LC Convertible

2021 LC Hybrid

2021 LS Hybrid

2021 NX Hybrid

2021 RX Hybrid

2021 UX Hybrid
Maserati
2017 - 2021 Ghibli

2017 - 2021 Levante

2017 - 2021 Quattroporte

2018 - 2021 GT Convertible

2018 - 2020 GranTurismo
Mazda
2018 - 2021 Mazda 6

2019 - 2021 CX-5

2019 - 2021 CX-8

2019 - 2021 CX-9

2019 - 2021 Mazda 3

2020 - 2021 CX-3

2020 - 2021 CX30

2020 - 2021 Mazda 2

2020 - 2021 MX-5

2022 MX-30
Mercedes-Benz
2016 - 2021 A-Class

2016 - 2021 B-Class

2016 - 2021 CLA-Class

2016 - 2021 CLS-Class

2016 - 2021 E-Class Cabriolet

2016 - 2021 E-Class Coupe

2016 - 2021 GLA-Class

2016 - 2021 GLE-Class

2017 - 2021 E-Class

2017 - 2021 GLS-Class

2017 - 2021 SL-Class

2018 - 2021 GLC-Class

2018 - 2021 S-Class

2019 - 2021 C-Class

2020 - 2021 GLB-Class

2020 - 2021 GLS-Class

2021 EQA-Class

2021 EQC-Class

2022 EQB-Class

2022 EQS-Class
MG
2016 GT

2016 - 2021 MG5

2017 - 2021 RX5

2017 - 2021 GS

2017 - 2021 ZP

2017 - 2021 ZS

2019 - 2021 Hector

2019 - 2021 MG

2019 - 2021 MG Ei5

2019 - 2021 HS

2019 - 2021 ZS EV

2020 - 2021 eHS

2020 - 2021 Gloster

2020 - 2021 MG 3
Mini
2018 - 2021 Clubman

2018 - 2021 Countryman

2019 - 2021 Convertible

2019 - 2021 Hardtop 2 Door

2019 - 2021 Hardtop 4 Door
Mitsubishi
2017 i-MiEV

2016 - 2021 Pajero

2016 - 2021 Pajero Sport

2016 - 2021 Mirage

2016 - 2021 Mirage G4

2017 - 2022 Outlander

2017 - 2022 Outlander PHEV

2017 - 2021 ASX

2017 - 2021 Triton

2017 - 2021 Delica D:2

2017 - 2021 Delica D:2 Custom

2018 - 2021 Eclipse Cross
Nissan
2017 - 2021 Maxima

2017 - 2021 Micra

2017.5 - 2021 Murano

2018 - 2021 GT-R

2018 - 2021 Kicks

2018 - 2021 Leaf

2018 - 2021 Rogue

2019 - 2021 Altima

2019 - 2021 Qashqai

2019 - 2021 Rogue Sport

2019 - 2021 Sentra

2019 - 2021 Terrano

2019 - 2021 Titan

2019 - 2021 Versa

2020 - 2021 Patrol

2021 Armada

2021 XRAY

2021 Granta

2022 Frontier

2022 Pathfinder

2022 Ariya

2022 Largus
Peugeot
2016 - 2021 208

2016 - 2021 2008

2016 - 2021 308S

2016 - 2021 3008

2016 - 2021 4008

2016 - 2021 408

2017 - 2021 301

2017 - 2021 308

2017 - 2021 308 SW

2017 - 2019 508

2017 - 2021 5008

2016 - 2021 Expert

2016 - 2021 Partner Tepee

2016 - 2021 Traveller

2018 - 2021 Rifter
Porsche
2017 - 2021 718 Cayman and Boxster

2017 - 2021 Panamera

2017 - 2021 Macan

2017 - 2021 Cayenne

2017 - 2021 911

2020 - 2021 Taycan
Renault
2017 - 2021 Clio

2017 - 2021 Espace

2017 - 2021 Kadjar

2017 - 2021 Mégane

2017 - 2021 Mégane Estate

2017 - 2021 Scénic

2017 - 2021 Grand Scénic

2017 - 2021 Talisman

2017 - 2021 Talisman Estate

2018 - 2021 Koleos

2018 - 2021 Fluence

2019 - 2020 Twingo
Rolls-Royce
2020 - 2021 Cullinan

2020 - 2021 Dawn

2020 - 2021 Ghost

2020 - 2021 Phantom

2020 - 2021 Wraith
SEAT
2016 - 2021 Alhambra

2016 - 2021 Ibiza

2016 - 2021 Leon

2016 - 2021 Toledo

2017 - 2021 Ateca

2018 - 2021 Arona

2020 - 2021 Tarraco
Skoda
2016 - 2017 Yeti

2016 - 2021 Fabia

2016 - 2021 Octavia

2016 - 2021 Rapid

2016 - 2021 Superb

2017 - 2021 Karoq

2017 - 2021 Kodiaq

2017 - 2021 Scala

2018 - 2021 Kamiq

2020 - 2021 Enyaq iV
Subaru
2017 - 2021 Impreza

2018 - 2021 BRZ

2018 - 2021 Crosstrek

2018 - 2021 Legacy

2018 - 2021 Outback

2019 - 2021 Ascent

2019 - 2021 Forester

2019 - 2021 WRX

2019 - 2021 WRX STI
Suzuki
2016 - 2021 Baleno
2016 - 2021 Ciaz
2016 - 2021 Hustler
2016 - 2021 Ignis
2016 - 2021 Lapin
2016 - 2021 Solio
2016 - 2021 Solio Bandit
2016 - 2021 Spacia
2016 - 2021 Spacia Custom
2016 - 2021 SX4 S-Cross
2016 - 2021 Vitara
2018 - 2021 Jimny
2018 - 2021 Swift
Toyota
2018 - 2021 Aygo

2019 - 2021 Avalon

2019 - 2021 Corolla Hatchback

2019 - 2021 Camry

2019 - 2021 C-HR

2019 - 2021 RAV4

2019 - 2021 Sienna

2020 GT 86

2020 - 2021 4Runner

2020 - 2021 Corolla

2020 - 2021 Highlander

2020 - 2021 Prius

2020 - 2021 Prius Prime

2020 - 2021 Sequoia

2020 - 2021 GR Supra

2020 - 2021 Tacoma

2020 - 2021 Tundra

2020 - 2021 Yaris

2021 Mirai

2021 Venza

2022 Corolla Cross
Vauxhall
2016 - 2020 Adam

2016 - 2021 Astra

2016 - 2021 Corsa

2016 - 2021 Insignia

2016 - 2021 Viva

2017 - 2021 Ampera-e

2017 - 2021 Crossland-x

2017 - 2021 Mokka

2017 - 2021 Zafira
Volkswagen
2016 Spacefox

2016 - 2018 CC

2016 - 2018 Scirocco

2016 - 2021 Amarok

2016 - 2019 Beetle

2016 - 2019 Beetle Cabriolet

2016 - 2019 Golf R

2016 - 2021 Caddy

2016 - 2021 California

2016 - 2021 Caravelle

2016 - 2021 e-Golf

2016 - 2021 Fox

2016 - 2021 Golf

2016 - 2021 Golf Cabriolet

2016 - 2021 Golf SportsVan

2016 - 2021 Golf Variant

2016 - 2021 Golf SportWagen

2016 - 2021 GTI

2016 - 2021 Jetta

2016 - 2021 Lamando

2016 - 2021 Multivan

2016 - 2021 Passat Variant

2016 - 2021 Polo

2016 - 2021 Sharan

2016 - 2021 Tiguan

2016 - 2021 Touran

2016 - 2021 Transporter

2016 - 2021 Passat

2017 - 2021 Atlas

2017 - 2021 Crafter

2017 - 2021 CrossFox

2017 - 2021 Gol

2017 - 2021 Saveiro

2017 - 2021 Voyage

2018 - 2021 Arteon

2018 - 2021 Bora

2018 - 2021 Magotan

2018 - 2021 Sagitar

2018 - 2021 T-Roc

2021 ID.3

2021 ID.4

2022 Taos

2022 ID.6

2022 Talagon
Volvo
2016 - 2021 XC90

2017 - 2021 S90

2017 - 2021 V90

2018 - 2021 XC60

2019 - 2021 S60

2019 - 2021 V60

2019 - 2021 XC40