Find out how to turn your working van into a cosy and comfortable weekend getaway van
For many of us in the UK, the idea of being able to take a road trip on a beautifully sunny weekend is the idea of heaven. The ability to explore the hidden corners of our local area or venture out into unexplored neighbouring counties can bring a surprising amount of joy into our lives.
However, having a dedicated camper van conversion is something of a luxury, whether it be down to the financial cost of running two vehicles, the space to park them, or the time it would take to convert the van. 
Many of us own a van for work; they are often reliable and spacious, so what's stopping you from enjoying a weekend excursion in it? Is it because it's dirty from construction jobs? Is it cold and unwelcoming? 
Or maybe it's full of tools and supplies you can't be bothered to take out just to put back in? We've compiled a list of simple and easy changes you can implement in your work van to make it suitable and comfortable for a weekend road trip! 
Motorpoint has a range of nearly new used vans for sale that are perfect for both working business vans and camper vans for a range of budgets and specifications.
Removable campervan conversion bed 
One of the most significant factors contributing to your overall comfort when camping in a van is the quality of the bed you sleep on. We will start with one of the larger projects on this list, a removable bed. Installing a removable bed will allow you to sleep like a king without committing to the space required to have a full-sized bed installed. 
When you finish your weekend adventure, simple removable and adjustable beds can be taken out and neatly stored away, and you are left with an empty and functional working van for the coming week.
There are endless options when planning and building a removable bed for your work van, and many of these plans and designs can be found online through a simple Google search. With budget-friendly and cost-effective options, creative space, and time-saving designs, there will be something to suit your van and budget. 
Beds for compact vans 
Not everyone has the space or time to install a removable bed in their van, but just because you own a smaller van or a smaller budget doesn't mean you shouldn't sleep in comfort. There are endless options and designs available, including:
Air mattress 
Simple folding foam mattress 
Rock-and-roll bed 
Hammock 
Motorpoint specialises in compact working vans, all of which can be used as both business and leisure vans. Why not try decking out a used Citroen Berlingo?
Install basic campervan electrics 
Installing a couple of basic touch sensor lights in a van can lift the interior's mood and provide a sense of homeliness, and you won't have to find your way in the dark with just a phone light. Once again, there is a wealth of information on this topic across multimedia platforms; countless informative YouTube videos and experts share their knowledge and experience in conversion electronics. 
If in doubt, get the fairy lights out!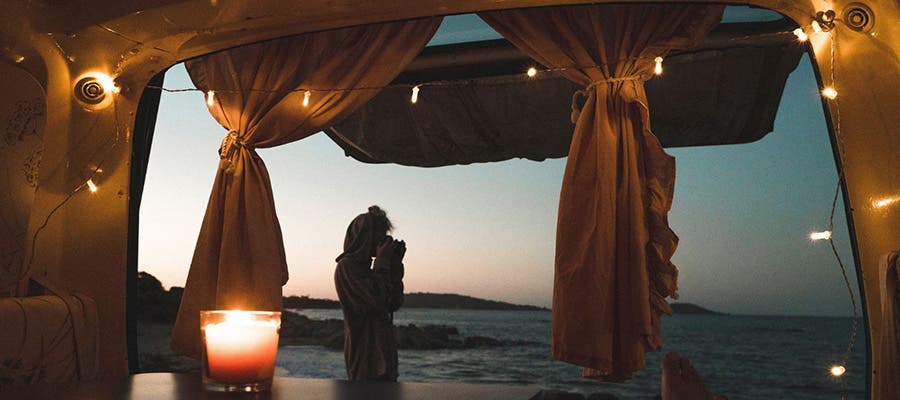 If installing car battery-operated touch sensor lights isn't something you have time for, there is a quick and easy way to bring a romantic and cosy feel to your interior with battery-operated fairy lights! For a very reasonable price, you can find fairy lights at all major online and brick-and-mortar retailers. 
Make your campervan cosy 
One of the most important elements of enjoying your weekend road trip is feeling cosy and comfortable, especially at night. We imagine cuddling up in a barren space with a mattress chucked on the floor when the van isn't cladded or converted isn't going to be appealing to the vast majority of us. 
So why not grab some old sheets and blankets and cover the walls and ceiling of the van? Simply pin, staple or nail the sheets into the ply lining of the van. (Please remember, not to put holes into the van's panels as it will cause it to rust.)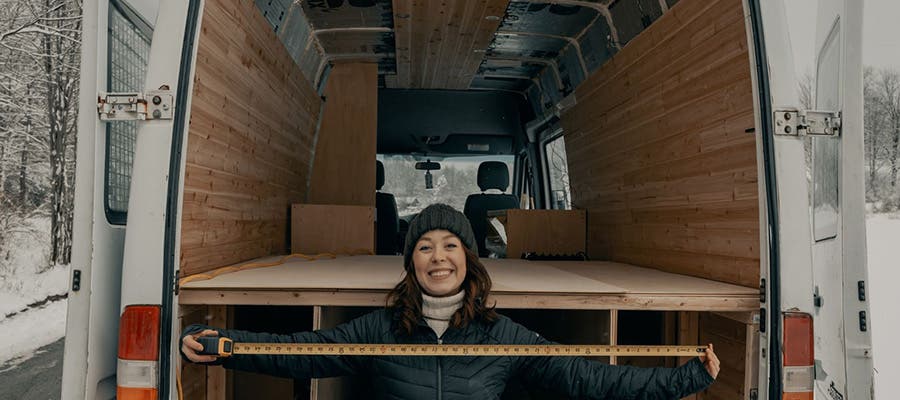 By doing this, you will bring a soft and enclosed feeling to the space, hide the cold and unattractive van walls, and create the illusion that you are snuggled up in your own blanket fort.
Motorpoint top tip: if your van isn't fitted with a full bulkhead, don't forget to hang a blanket or thicker sheet between the loading area and the cab to keep prying eyes and the morning sunshine from disturbing you.
Don't forget pillows, cushions and throws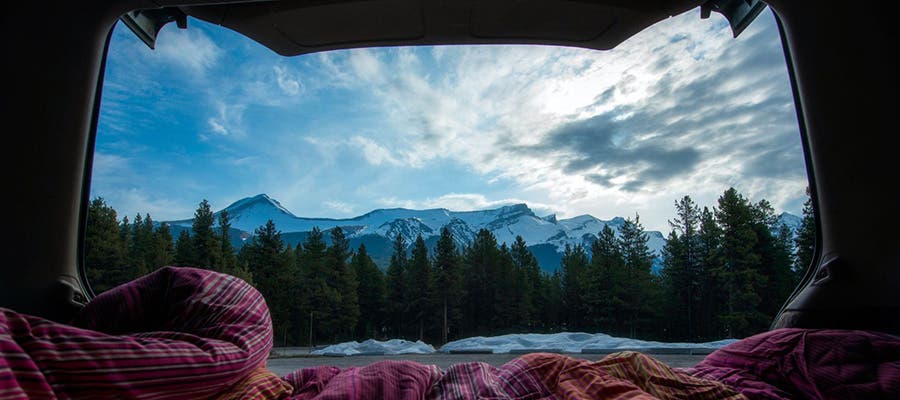 Don't forget to bring all your soft and fluffy blankets and cushions to create a nest-like bed you can crawl into at the end of the night! Vans can vary in temperature greatly; they can be boiling hot when the sun comes up in the morning and freezing cold in the depths of night, so having enough layers on your bed is essential for comfort in all climates. 
What should I bring on a weekend road trip in my work van?
After making all these slight alterations to your work van, there are still some home comfort essentials we recommend throwing in the van before you set off on your weekend road trip to ensure maximum enjoyment and comfort. 
Portable camping stove and kettle 
Tea and/or coffee 
Thermos flask 
Sleep mask 
Bug spray 
Portable speaker 
Cooler box 
Lots of delicious snacks!
Ready to purchase a second-hand van for your working or personal life? You can browse, reserve and buy a van all through our website, and with our same-day drive-away policy, your dream of weekend road trips is just around the corner!