Common car dashboard warning lights explained
12 March 2020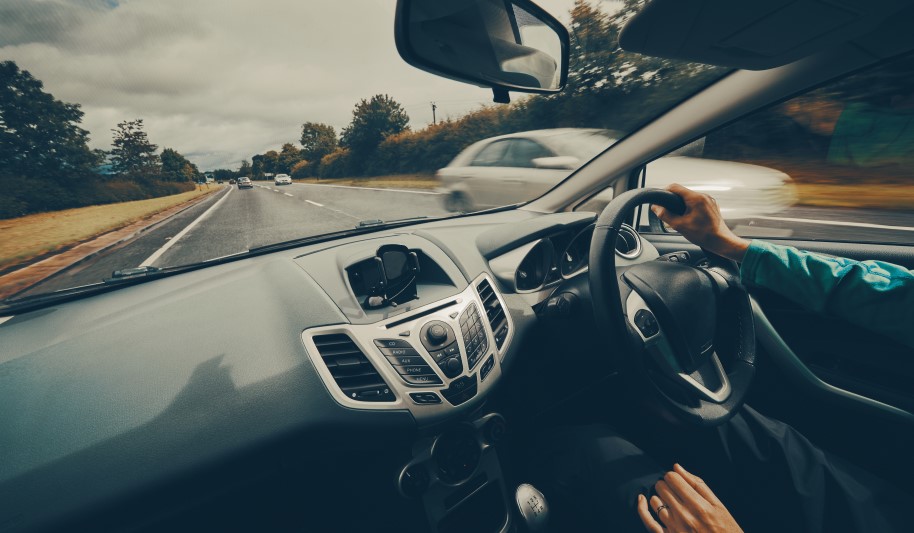 Photos © 2022 Motorpoint
The electronic systems that dot your car's dashboard are like a real-time view of your car's health, monitoring how it's performing and flagging up any ailments that occur. And much like paying attention to any symptoms when you're on the verge of a cold, your car's warning lights shouldn't be ignored either.
And while it's normal for your car's warning lights to flash briefly as you start up your car, it's when they stay lit that things might become a concern. If your lights are amber, it's generally a sign that you should have a professional take a look at things, while the dreaded red light requires immediate action from the driver.
It's a good idea to know exactly what your car's dashboard lights mean before it's too late. Staying aware of what they mean can help avoid breakdowns, saving you from expensive repair bills and keeping you safe on the road in the process.
If you're confused by what's what, or just need to swot up your car's warning signs, we'll run through the meaning of the most common ones and what you can do to remedy them right here.
Brake system warning light
- What does it look like?

- What does it mean?
If the brake system warning light is showing, it could mean a number of things. It may simply be because you've left the handbrake engaged slightly when pulling away. If not, it may be because the brake fluid level is too low, or that a brake pad wear sensor is faulty.
However, it could also be an issue with the braking system, which is a serious problem.
- What should you do?

In the event that the handbrake is still engaged, you need to make sure it's fully released. You should also check the brake fluid level in the reservoir, as it may need topping up slightly. Adding brake fluid is relatively straightforward; check the manual to find out the type of brake fluid your car needs and where the fluid reservoir is located. It's then a case of removing the cap and topping up the reservoir until the level sits at the maximum mark.
If you decide the problem is a worn-down brake pad sensor, this should be looked at by a professional.
When it comes to the braking system itself, we'd advise not driving any further. The tell-tale sign of a spongy pedal that sinks all the way to the floor means you should pull over and call for roadside assistance as soon as possible.
Engine warning light
- What does it look like?

- What does it mean?
When this light appears, it's difficult to know exactly what the problem is since it can differ drastically. It could be something like a faulty sensor or it may be a serious mechanical failure. Either way, your car may show certain symptoms including a lack of power as the car goes into safe mode and intermittent stuttering upon pressing the accelerator due to a misfire.
- What should you do?
If the light is always lit, you should get it checked as soon as possible ; driving with the engine warning light on can cause further damage to different components beneath the bonnet, and increase the emissions your car is producing. In the event that the light is flashing while you're on the road, avoid heavy acceleration and high engine speed. Stop the vehicle when it's safe to do so, and then restart the engine after waiting two minutes. This will reset the engine management system. If the light continues flashing, call for roadside assistance.
Coolant warning light
- What does it look like?

- What does it mean?
When you see this light up, it's because the engine is running too hot, or there isn't enough coolant in the system. And both of these could be due to a number of different things, which if left unchecked, are bad news for you and your car. These include a leaking, clogged or broken radiator, a faulty water pump or, more seriously, a blown head gasket.
- What should you do?
In the case of any of these, you should turn off the engine immediately and get it seen to as soon as you can. We wouldn't recommend driving your car if the coolant warning light is on, as this risks further damage to the cooling system and engine. Our advice would always be to pull over and call for roadside assistance in cases where you can't make it home or to a garage.
Oil warning light
- What does it look like?
- What does it mean?
Similarly, if the oil warning light flashes up, it's usually because oil temperature gets too high, its levels are low or oil pressure is too low; in particular, the latter two can be particularly damaging, so you want to avoid this happening. Since the oil keeps everything running smoothly, losing its efficacy can result in severe engine damage and a pricey repair bill to match.
- What should you do?
You may need to simply top up the oil levels, but if the light remains on you should take it to a garage as soon as possible.
ABS system warning light
- What does it look like?

- What does it mean?
Though not a sign the brakes aren't working, if you see this light appear it's an indication that the anti-lock braking system isn't functioning correctly. Providing the wheels aren't making any noise, you should be ok to carry on driving, though take care during wet or icy weather, since your car's braking distance might increase.
- What should you do?
Although technically it is still safe to drive, to avoid the problem worsening, you should take it to a garage. It may just be a sensor fault, but they'll be able to tell you exactly what the issue is.
Battery warning light
- What does it look like?

- What does it mean?
The battery warning light means the car's battery has no or little charge. This can happen for several reasons, including a fault with the battery, the age and condition of the battery, a fault with the alternator (which charges the battery while the engine is running) or if electronics are left on (like the lights or radio) when the engine isn't running.
- What should you do?
You'll need to have your car looked at by a professional. If the battery is faulty, they'll simply replace it. However, if it's an issue with the alternator or internal wiring, it'll need a more involved diagnosis.
Airbag warning light
- What does it look like?

- What does it mean?
Unsurprisingly, it means your airbag isn't functioning properly. However, this not only means it won't deploy in the event of a crash, it could also deploy when you aren't expecting it to, which could cause accidents and injuries, along with hefty repair bills
- What should you do?
Airbags were a huge progression in vehicle occupant safety. Ensure you and your passengers stay protected and get your airbag seen to by a professional as soon as possible.
Tips on how to prevent dashboard warning lights
Warning lights aren't a given. If you take good care of your car, there's a chance you'll never see one. Regular maintenance and servicing are the key to avoiding warning lights on the dash. Follow these simple tips to help avoid niggling problems and enjoy mile after mile of care-free driving:
Stick to the servicing schedule – we can't emphasise the importance of regular servicing enough. As a minimum, you should book your car in for a full service at least once a year, and follow through on any advice given to you by the garage. Servicing is by far the best way to avoid faults and their warning lights.
Know how to spot the signs – you know your car better than anyone, so always listen in and look out for potential problems before they can develop. Hear a strange noise from the engine? Get it checked out. Weird smell inside the cabin? Have a mechanic take a look. There are lots of signs that a fault could be about to happen, so it pays to have them checked over before bigger problems can occur.
Take heed of MOT advisories – finding out your car has passed its MOT is such a big relief, it's easy to ignore or overlook the advisories the inspector has listed on the certificate. But don't. The information they give is to help you keep your car in the very best condition, so following their advice and getting things sorted straight away could help prevent problems that result in a dashboard warning.
We hope this article has proved illuminating when it comes to your car's warning lights. For more driving tips and advice, take a look at the Motorpoint blog. If you're ready to start your car-buying search, visit the homepage or call us on 01332 647 284.