Need lots of space for people and things – and maybe some off-road ability? These are the best large SUVs you should consider this year
There are two types of people – people that somehow make a small car work for family life, and those who wonder how on earth the small-car people do it. If you're in the latter camp, where only a large car will do, then this is the list for you. Oh, that rhymed.
The cars on this list are widely available with four-wheel drive, either as standard or on selected engines, giving you the peace of mind if you occasionally need to head away from asphalt roads or if you live somewhere that bears the brunt of winter. With brawny engines, these big SUVs are usually pretty good tow cars as well.
Their high ground clearances also serve a purpose if you're not Bear Grylls – you get a higher seating position for a clear view of the road ahead, and the raised body can also make it easier to get kids in and out. Due to their size, these best large SUVs often come with seven seats, giving you a couple of extra chairs for occasional use. We've listed them alphabetically.
1. Audi Q7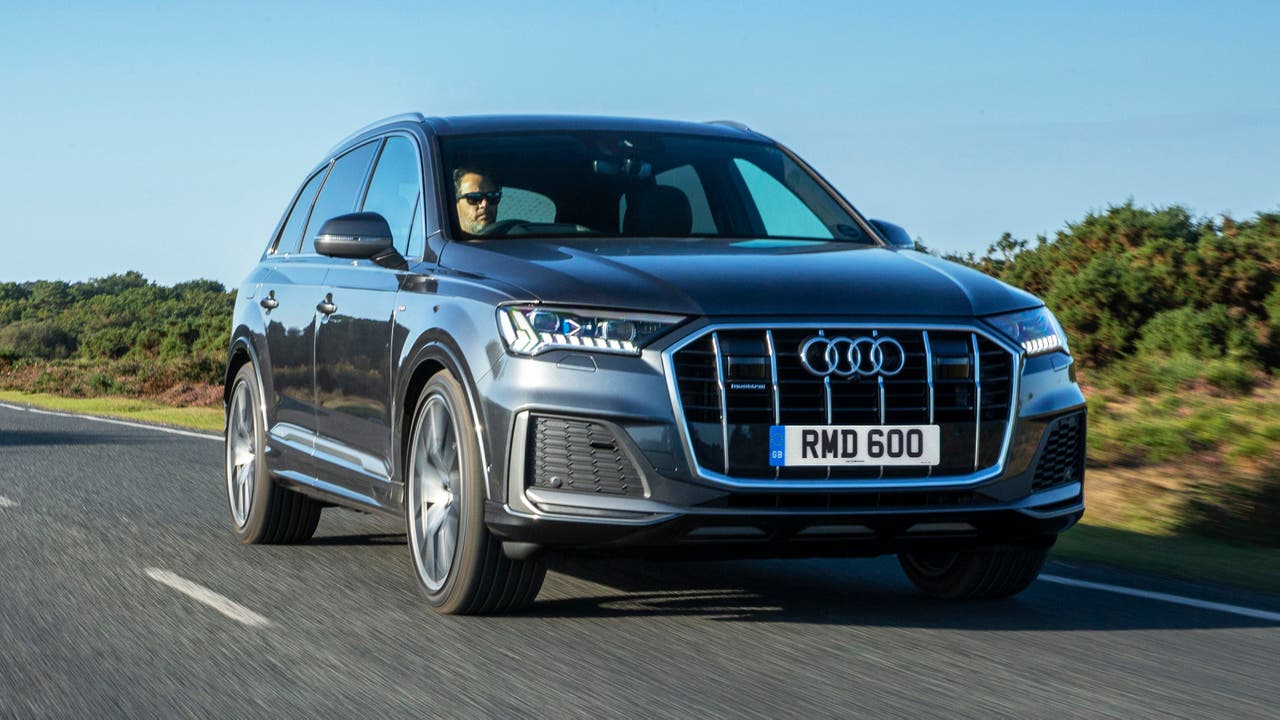 The Audi Q7 has graced a few of our best car lists, because it's just so darn capable. Whether you're going to be using Audi's largest SUV for long motorway commutes, cross-country driving or to get to a ski resort, the Q7 never feels unruffled. Given it's over five metres long, maybe it's not surprising that the Q7 is so spacious, but even the third row of seats are suitable for adults. And young children, because there are Isofix points back there. The Q7 mixes people-carrier practicality with limousine luxury and so, while it's not cheap, it still feels good value.
Browse our range of used Audi Q7 cars for sale
2. BMW X5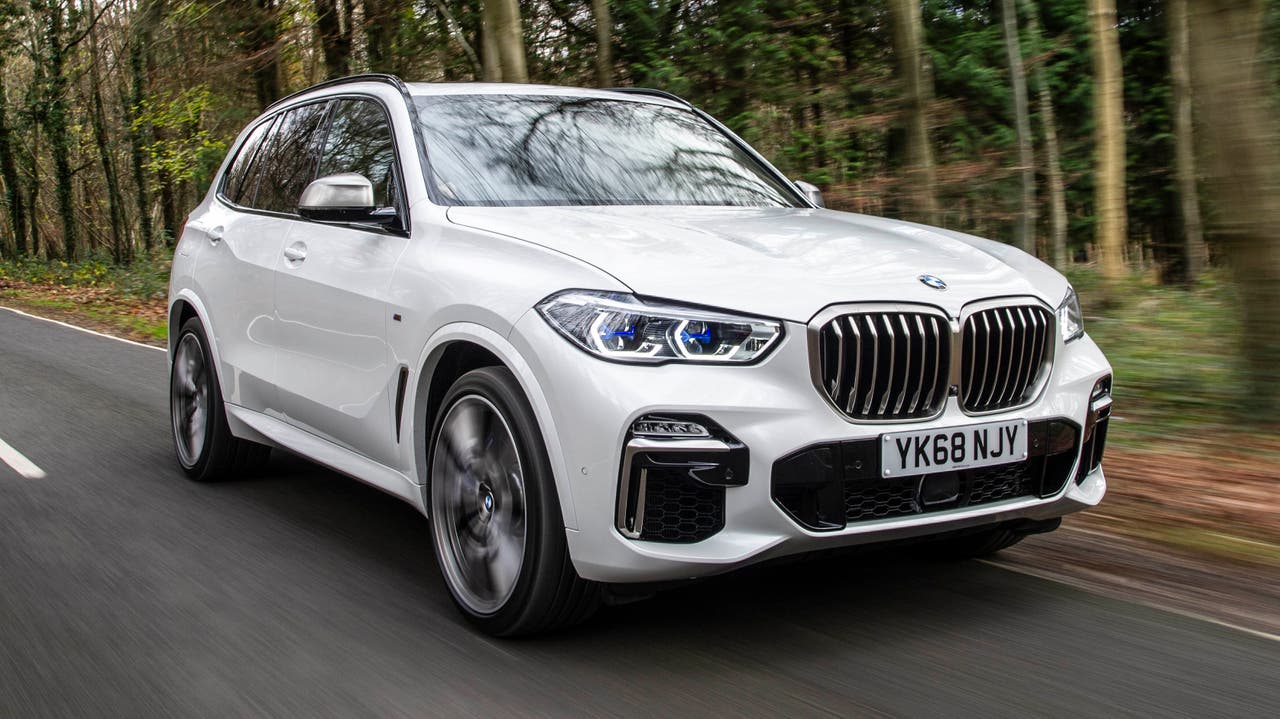 A long time ago, the BMW X5 pretty much set up the luxurious, lifestyle-led SUV class – which now includes cars as varied as the Porsche Cayenne, Mercedes GLE and Aston Martin DBX. To this day, the X5 still combines all-wheel-drive confidence with a premium interior and a surprisingly sporty driving experience. It's vast as a five-seater, while an optional third row is available to give you extra flexibility – even if the sixth and seventh seats are best for kids. Just like the Q7, you get the impression that the X5 will do everything you need with heaps of talent to spare.
Find your used BMW X5 for sale
3. Hyundai Santa Fe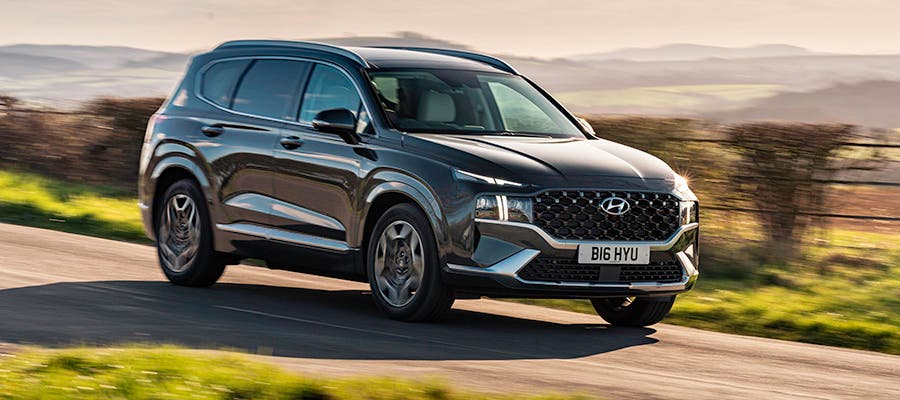 The Hyundai Santa Fe is sometimes overlooked by large SUV buyers, but underneath its bold front end is a capable and calm three-row SUV. As well as a strong diesel engine, it's also available as both a hybrid and a plug-in hybrid, with the latter offering a 36-mile electric range from a fully charged battery. Does that make the 4.8-metre-long, 2.7-tonne Santa Fe a better car for the city than the 3.7-metre long Hyundai i10? Quite possibly!
See used Hyundai Santa Fe SUVs for sale
4. Kia Sorento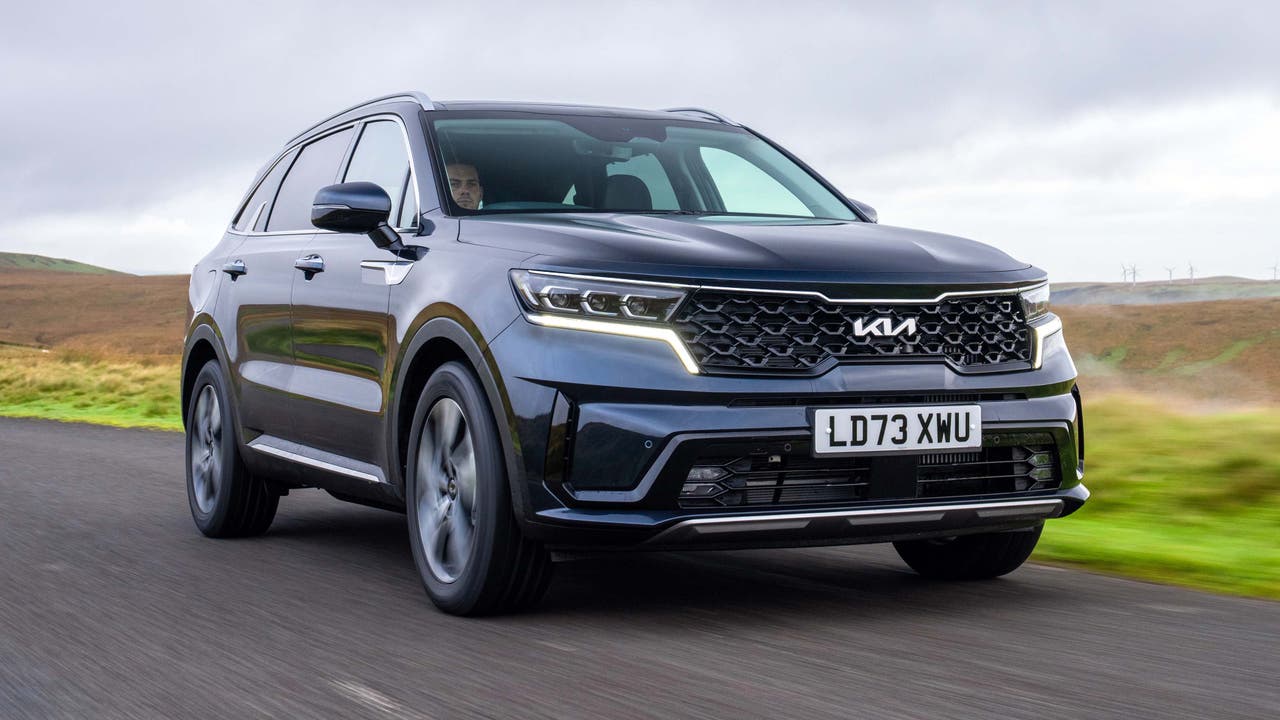 Underneath the skin, the Kia Sorento shares its oily bits with the Santa Fe, but you won't see much evidence of that inside. The Sorento has a slightly more pared-back dashboard, but a similarly exhaustive level of equipment and palatial cabin space. Kia's warranty is a little better unless you're a high-mileage driver – Kia offers warranty to seven years or 100,000 miles, while the Santa Fe is covered for five years without a mileage limit. Otherwise, the diesel, hybrid and plug-in hybrid engines are the same, and you get a similar feeling of total competence.
Shop used Kia Sorento cars for sale
5. Mercedes EQC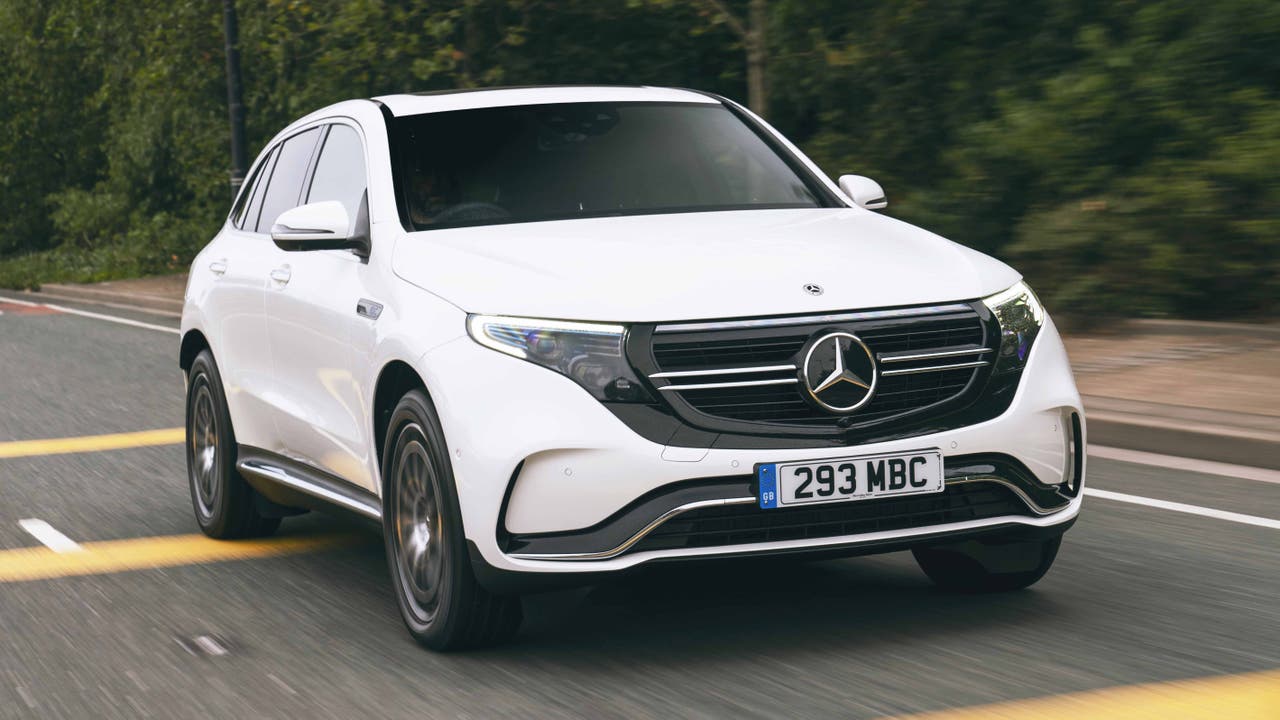 The Mercedes EQC looks and feels like a luxury car, and brand-new examples are priced like a luxury car, too. However, used EQCs are considerably cheaper and feel better value for money. With over 400hp at your disposal, the EQC is able to sprint up to 62mph faster than most hot hatches, although its main focus is to keep you relaxed and connected while you're driving. Resist the temptation to explore its performance and you'll manage up to 240 miles between charges, and you'll experience the best side of the EQC – its quiet, refined cruising ability. The EQC is a spacious five-seater but look at the Mercedes EQB if you need two extra seats for occasional use.
Explore used Mercedes EQC cars for sale
6. Nissan X-Trail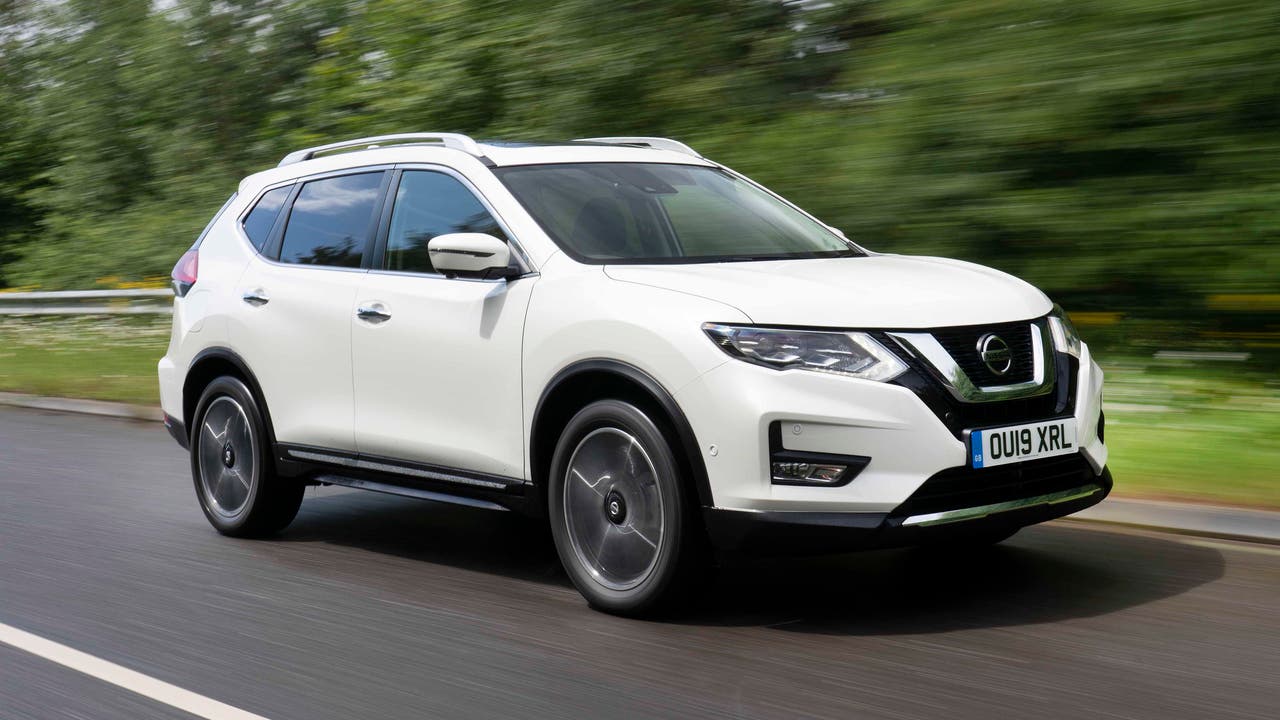 Take the Nissan Qashqai, make it bigger and add the option for a third row of seats and, voila, that's a Nissan X-Trail. It's not the largest SUV on this list so you might find it a little easier to manoeuvre than some of its rivals, but it still offers a really good amount of space. There's room to squeeze in a third row of seats – they're optional so some cars will have seven seats and some won't – and an airy cabin up front. Four-wheel drive is available on diesel versions, while both petrol and diesel engines can be had with an automatic gearbox.
Nissan has since launched a new generation of X-Trail, which comes with the latest Qashqai's hybrid engines. These are certainly worth checking out if you're going to be doing a lot of driving around town – the previous car's diesel engine needs semi-regular long journeys.
Discover our range of used Nissan X-Trail cars for sale
7. Peugeot 5008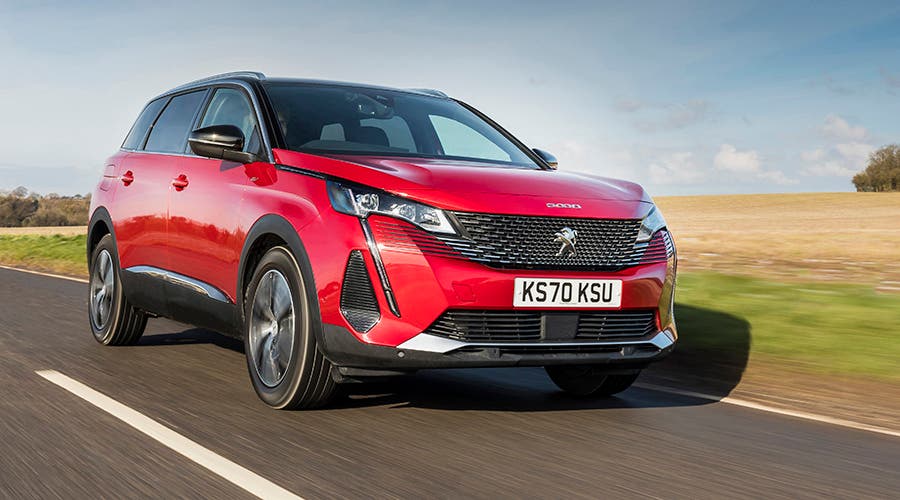 Take the Peugeot 3008, make it bigger and… well, actually, that's not all there is to the Peugeot 5008. Whereas the 3008 has a normal bench seat with a smaller middle seat, the 5008 has three individual seats – all with their own Isofix points, so three kids can sit peacefully side-by-side. Ha, we can dream, right?
Seven seats come as standard in the 5008 and the rearmost seats are just about big enough for adults to sit in. Like many seven-seaters, the third row really intrudes on boot space, but the 5008 has an absolutely huge boot with them folded out the way.
Shop used Peugeot 5008 cars for sale at Motorpoint
8. Range Rover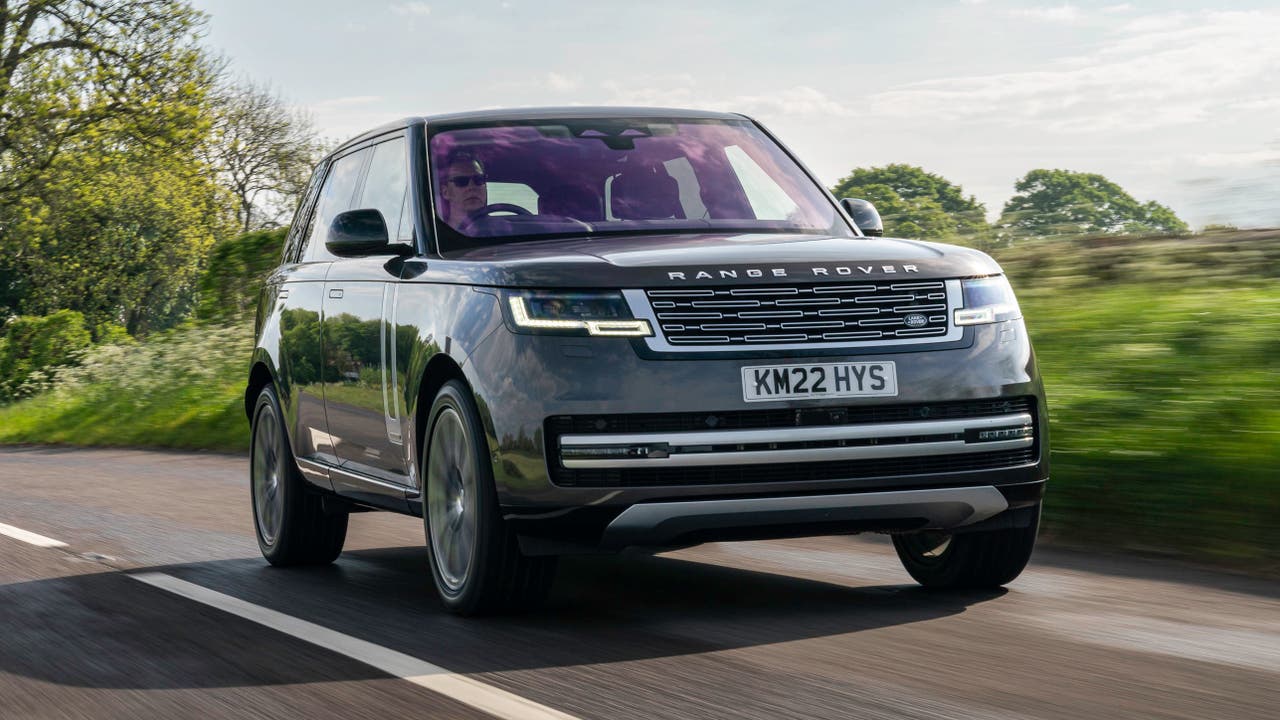 We couldn't have a list of large SUVs and not include the GOAT. Undoubtedly the Greatest of All Time, the Range Rover is the luxury large SUV that all the others try to beat. The latest one costs supercar money but it is a super car – it's magnificently opulent inside, has the power to change the moon's orbit and will still take you further off the beaten track than you'd be comfortable with. Serene at high speeds yet surprisingly easy to drive around town, the Range Rover is the ultimate automobile if you have deep enough pockets.
9. Skoda Kodiaq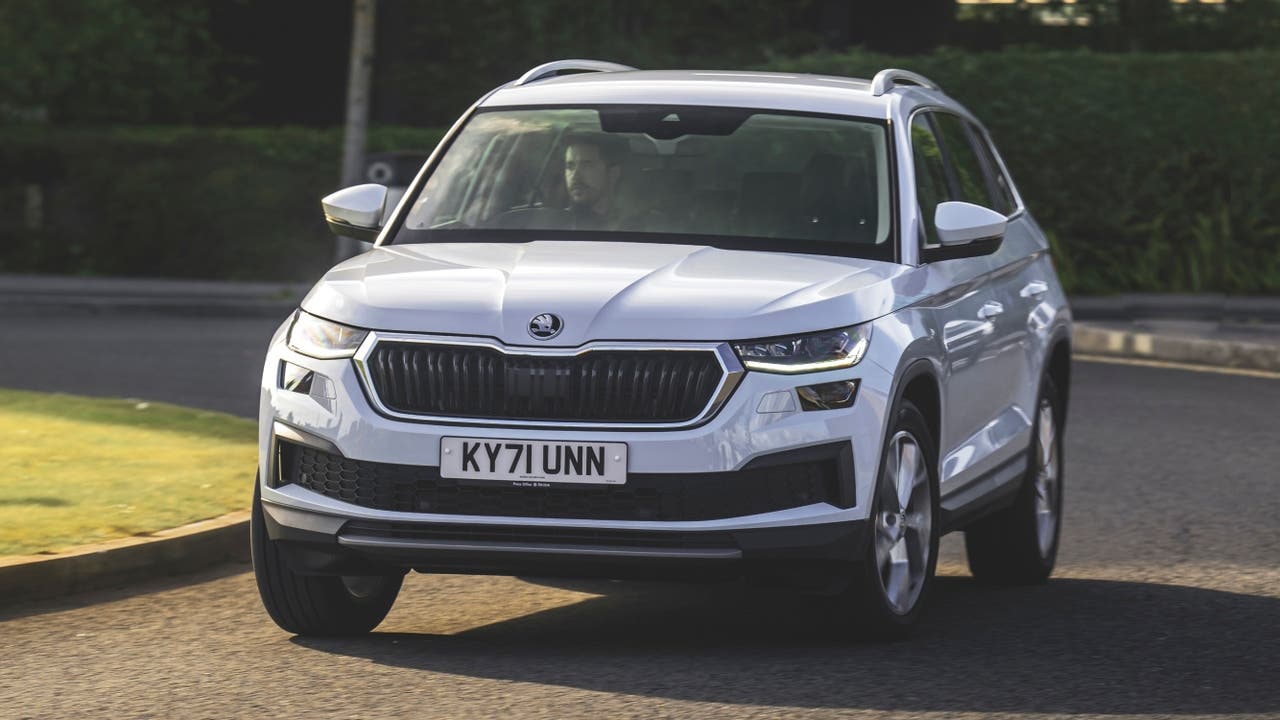 And just like that, Skoda's winged arrow has brought us back to reality with a bump. Sorry. But the Skoda Kodiaq is a fantastic car for those of us whose names don't start with 'Lord' or 'Lady'. It's solidly put together, has all the equipment you realistically need, engines that offer a good blend of economy and performance, and room for seven adults. Four-wheel drive is available on certain versions, and many cars come with an automatic gearbox. The Skoda Kodiaq really is a mainstream dream.
Buy your used Skoda Kodiaq from Motorpoint
10. Volvo XC90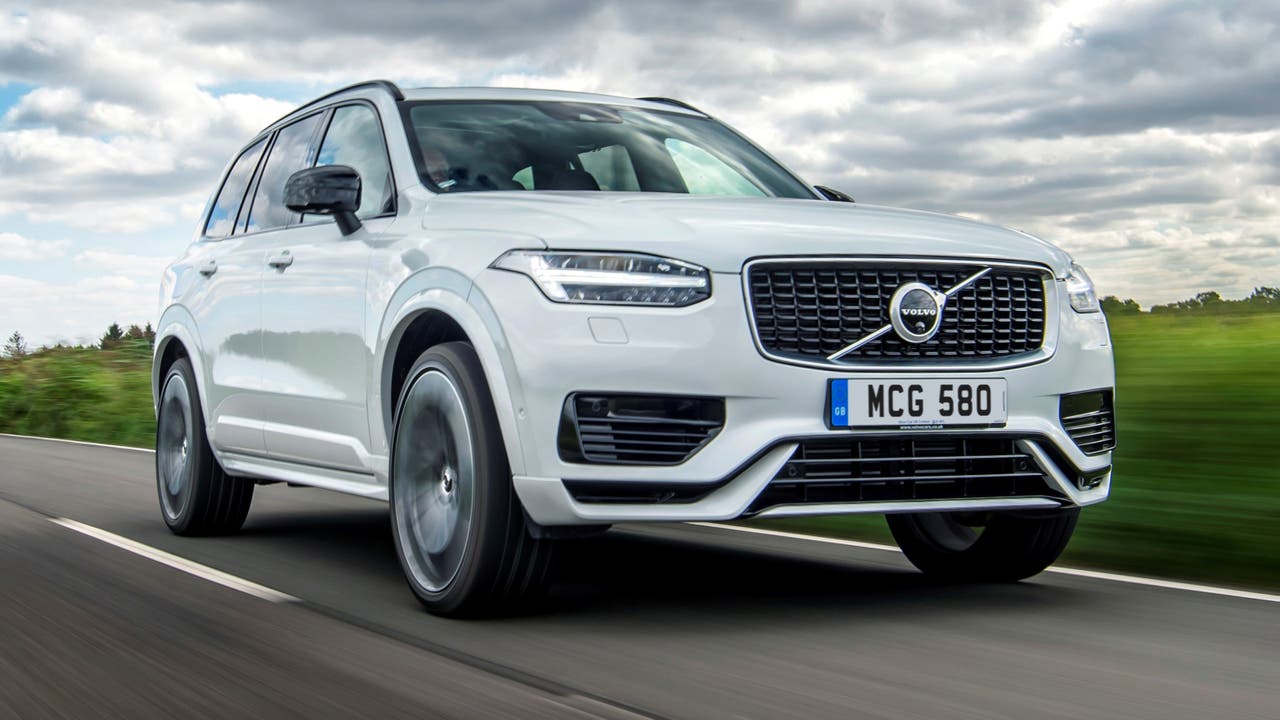 Loved by everyone from heads of state to the Highways Agency, the Volvo XC90 is a brilliant large SUV – even nearly a decade after it first launched. All current-shape XC90s have seven seats, and all those seats are big enough for adult buttocks and legs. If you're up front, you get a cool, calm Scandi cabin to enjoy – no log fires, unfortunately – with plush materials and a crisp portrait-oriented touchscreen. Volvo is obsessive about safety, so the XC90 comes stuffed with active driver assistance tech. You might even find some bubblewrap stashed in the glovebox.
Choose your used Volvo XC90 here