Planning your summer staycation trip? These are the best used cars to hook a caravan up to
Home is where you park it, right? Caravans and motorhomes let you wake up to views of beaches, lakes, mountains and valleys – all without leaving the UK. If you're towing a caravan, you'll need a suitable car with a large enough towing capacity. Scroll down for 10 of our top picks for caravan owners.
What makes a good tow car?
A good tow car needs to have sufficient towing capacity to manage the weight of your caravan – and not just on level ground. Many cars have a maximum braked towing weight, and that's usually the maximum weight you can tow up a 12% gradient. You'll find it in the manufacturer's specifications and our car advert pages. A small caravan typically weighs up to 1,300kg and larger caravans can be more than 1,800kg.
Caravans usually can't carry lots of extra weight, so you'll need a car that's big and capable enough of carrying all your holiday gear and your campmates – and one that's not too light that it'll be affected by the caravan moving. If you're travelling a long distance to your campsite, you'll want a car that's comfortable. Fuel efficiency takes a back seat when you're towing a bed and a toilet, but you probably won't want a car that needs refilling or recharging every 50 miles.
It's worth noting that many of these cars can only tow if they have towbars or towing packages fitted from the factory. It's not possible to have towing gear fitted retrospectively on some models.
Cars with 2,000kg towing capacity
There are far too many cars that can tow 2,000kg to list here, but you should focus your search on larger diesel cars and SUVs with an engine size of at least 2.0 litres. Diesels are more likely to have a better towing capacity, but some powerful petrol engines won't have an issue hauling 2,000kg, either. These days, you could also consider a high-end plug-in hybrid or electric SUV – the Porsche Cayenne, Audi Q7 and Volvo XC90 plug-in hybrids can all manage over 2,000kg, as can the Tesla Model X.
Tips for towing
The speed limit when towing on a motorway is 60mph. On single-carriageway roads it's 50mph
A 2021 change means that all UK car drivers can tow a caravan – you don't need to take a trailer test, although we'd still recommend it. If you passed your driving test in or since 1996, the vehicle and trailer must not weigh more than 3,500kg (it's 8,250kg if you passed before 1996)
When you load your caravan, make sure that heavy items are low down and over the axle – this will help keep your caravan level and stable behind your tow car
Remember to attach the breakaway cable and use towing mirrors
Check your caravan's tyres and your car's tyres before every journey
Best cars for caravan owners
Land Rover Discovery Sport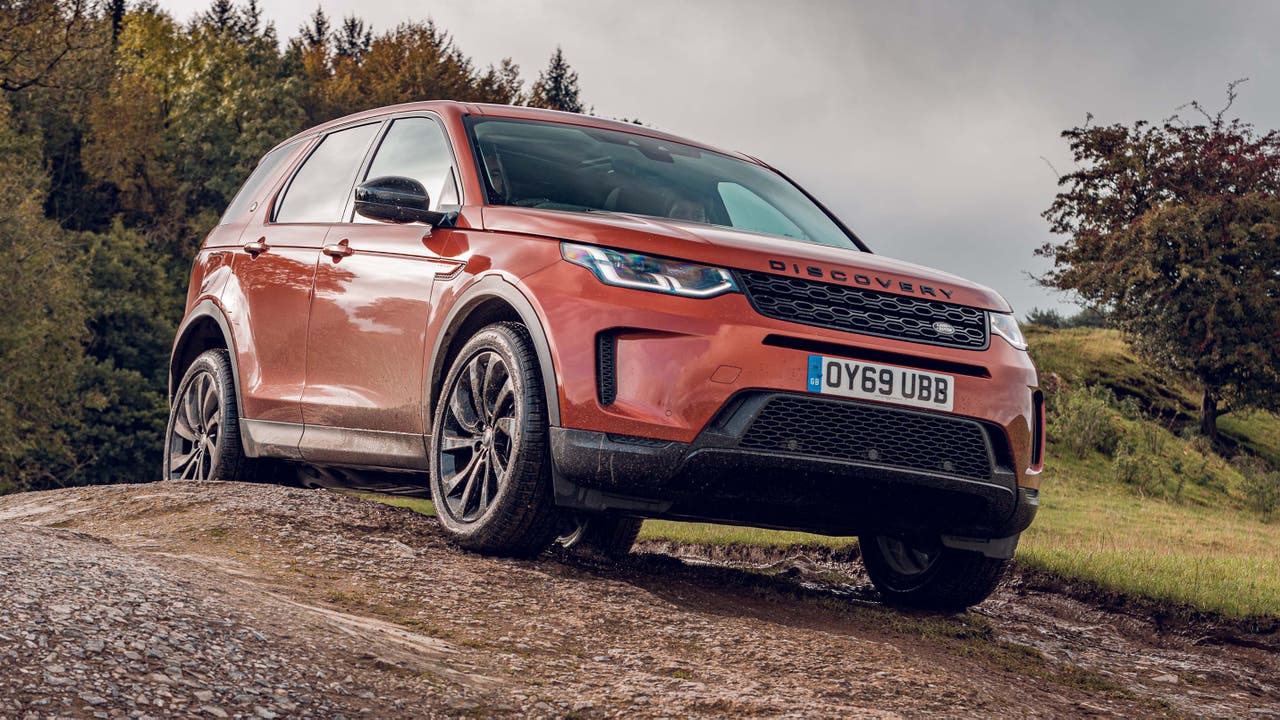 Maximum braked towing capacity: 1,600kg to 2,500kg
Nose weight: 100kg
The Land Rover Discovery Sport is a versatile and capable SUV that'll suit the school run and a family holiday. It's a spacious five-seater, and many Discovery Sports have an extra two seats in the boot for the occasional journey. With those rearmost seats folded out of the way, you've got an 840-litre boot (loaded to the roof), which should be more than enough for all your holiday gear.
There are petrol, diesel and plug-in hybrid engines, and even the hybrids can tow 1,600kg. The mild-hybrid diesel engines are the best for towing, though. All four-wheel-drive diesels can manage 2,200kg, while the five-seat D200 tops the bill with a 2,500kg capacity. It might be the baby Discovery but it still comes with Land Rover's go-anywhere technology, including a wading depth of 600mm. You won't want to test that with a caravan on the back, but the Discovery Sport won't shy away from trips into the wilderness. If you pull a heavier trailer, the larger Discovery has a 3,500kg towing capacity.
Browse our used Land Rover Discovery Sports for sale.
BMW X5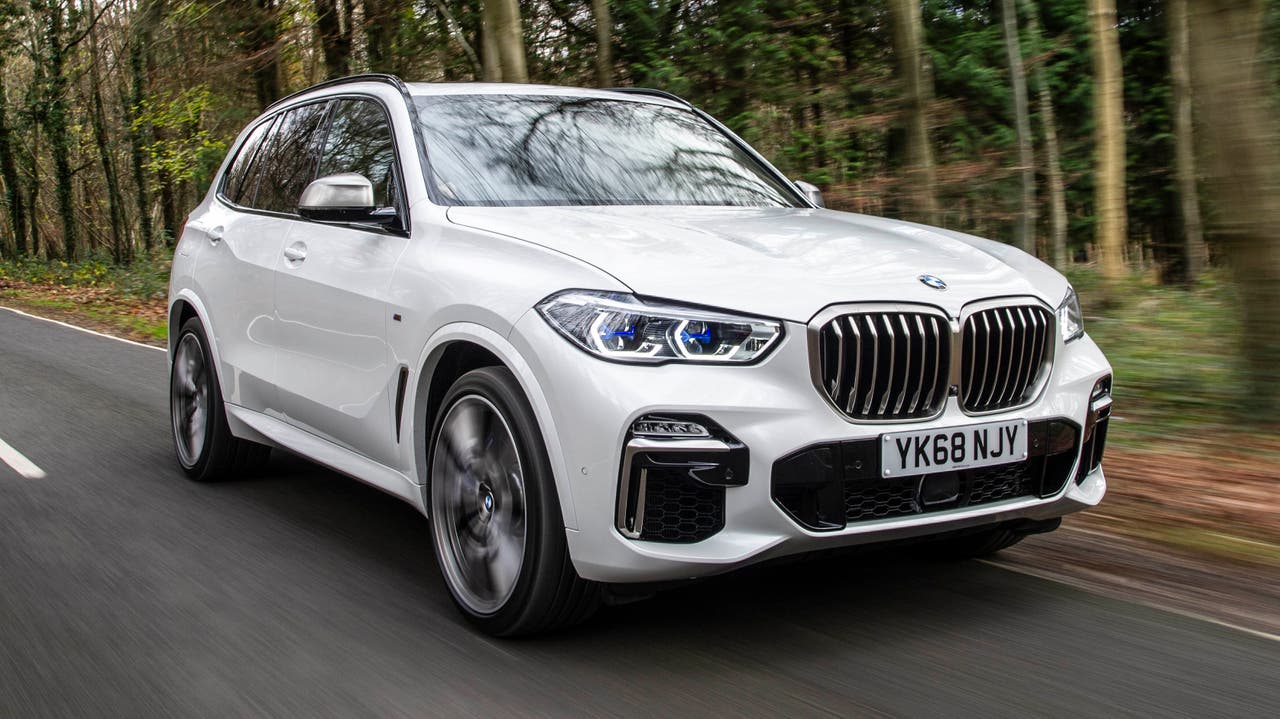 Maximum braked towing capacity: 1,900kg to 2,700kg
Nose weight: 140kg
If you can afford it, the BMW X5 is a master-of-all-trades. Its luxurious and high-tech interior will help long journeys pass quickly and comfortably. The boot and back seats are cavernous. It feels more nimble than its size suggests and offers effortless acceleration. Crucially, it also feels very stable at high speeds. Factor in a 2,700kg towing capacity and the X5 ticks an awful lot of boxes as a tow car.
Even fuel economy. We'd recommend the plug-in hybrid X5 models, as they offer that impressive towing capacity and the possibility of over 200mpg, thanks to an electric range of over 50 miles when the battery is fully charged. Not that your fuel economy will be quite so impressive with a four-berth 'van behind you, of course.
Find the perfect used BMW X5 for you.
Volvo V60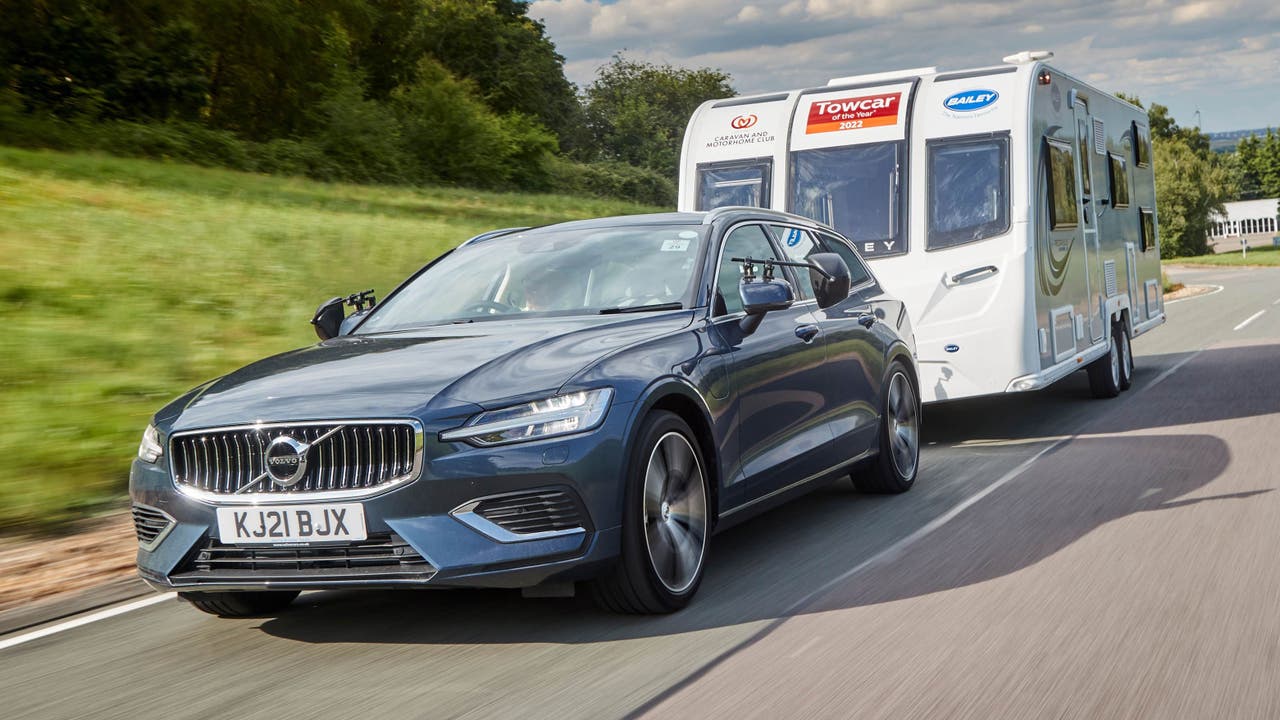 Maximum braked towing capacity: 1,800kg to 2,000kg
Nose weight: 100kg
Handsome and stylish it might be, but the Volvo V60 also brings the practicality that the brand's estate cars are known for. The 519-litre boot is slightly bigger than the Audi A4 and BMW 3 Series and, handily, there's no cargo penalty from the larger battery in the V60 T6 plug-in hybrid. In other words, there's a lot of space for luggage or day-to-day family duties.
The majority of engines – including the hybrids – can tow a 2,000kg braked trailer, so even a fairly sizeable caravan won't pose a problem. Big loads are made more manageable by the Volvo's stable feel.
Check out our used Volvo V60s for sale.
Skoda Superb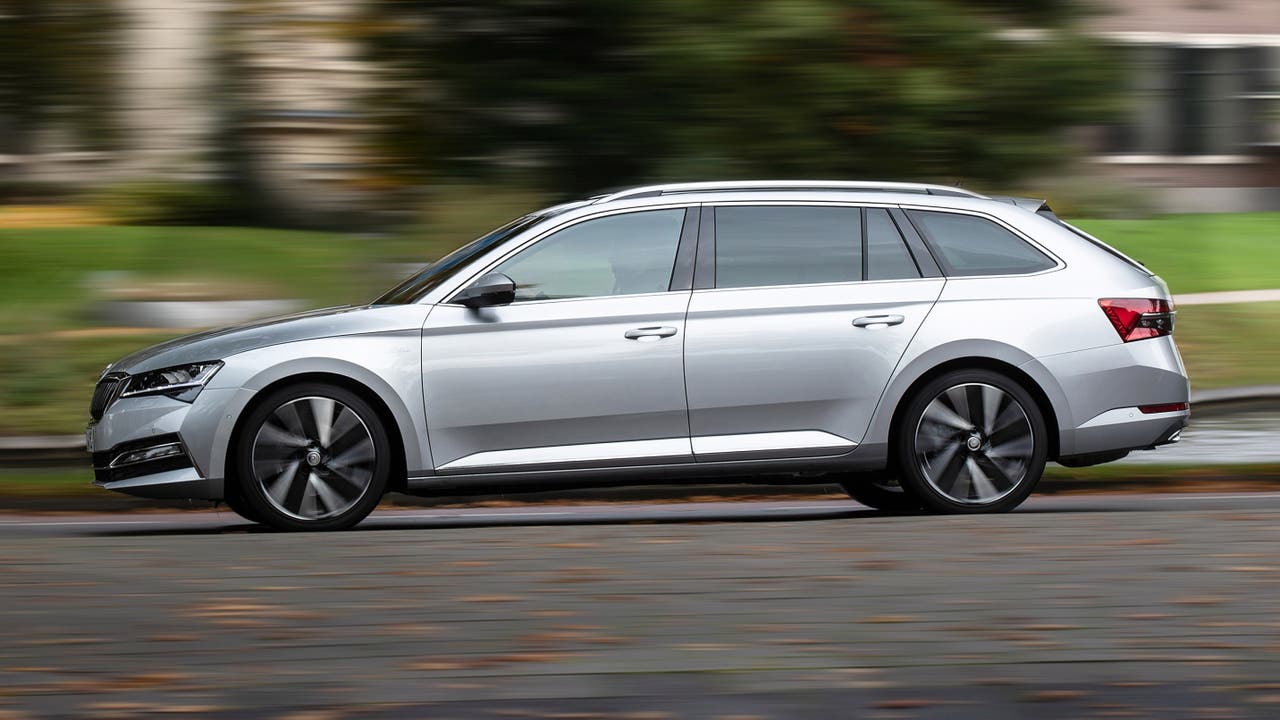 Maximum braked towing weight: 1,600kg to 2,200kg
Nose weight: 90kg
There's very little the Skoda Superb doesn't excel at – well, perhaps squeezing into tight parking spaces – and it's a great tow car as well. One of the most capable haulers is the 280hp 2.0-litre petrol engine, which can tow up to 2,200kg. When you're not hooked up to your caravan, this engine – and the four-wheel-drive system it's attached to – makes the Superb hot-hatch quick and you'll certainly surprise a few people away from traffic lights. If you're not too taken by its 33mpg best-case fuel economy, the 200hp diesel engine can also tow 2,200kg if you choose a version with four-wheel drive, and it'll return up to 47mpg.
The Superb has acres of legroom and a bigger boot than any other estate car at 660 litres – so you'll have no worries about fitting everyone and everything in. It's quiet and comfortable on long-distance drives, and its standard-fit smartphone mirroring lets you while away the miles with whatever tunes you like.
Drive away in a used Skoda Superb.
Ford Kuga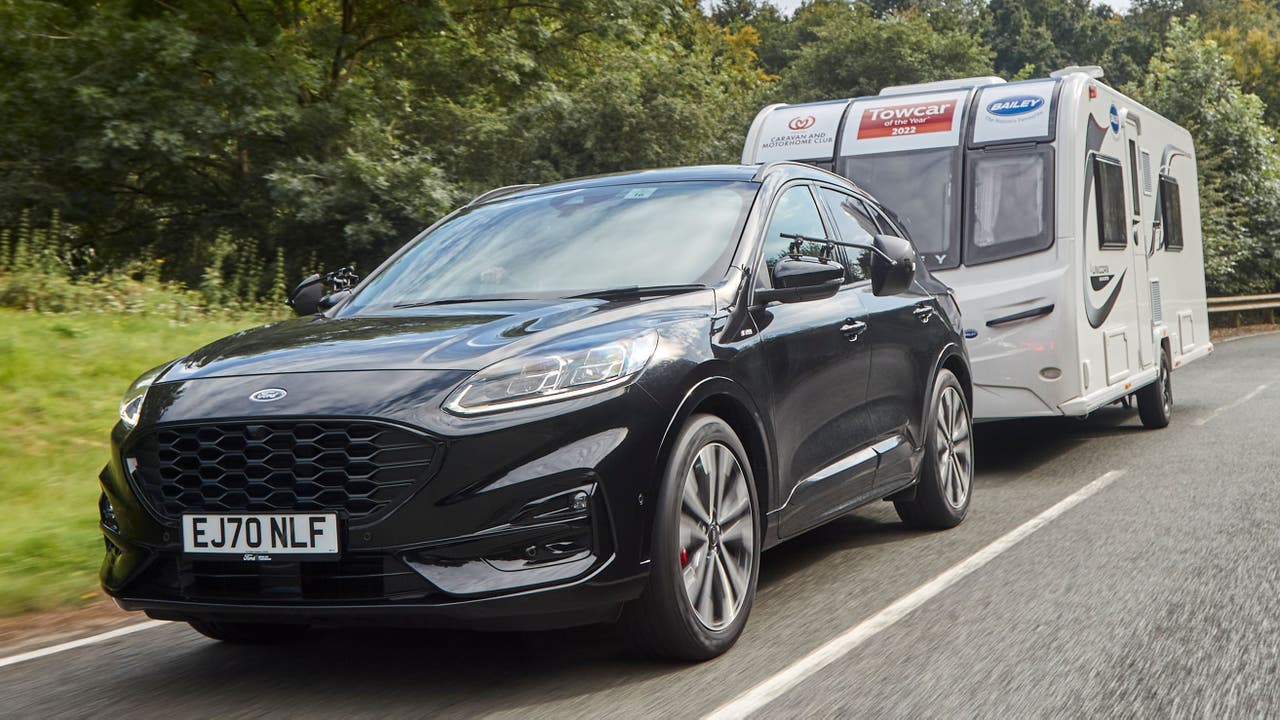 Maximum braked towing weight: 1,500kg to 2,100kg
Nose weight: 100kg
The Ford Kuga is a great all-rounder that's usefully cheaper than a lot of cars on this list. While all versions – even the plug-in hybrid – can tow a small caravan, the 2.0-litre diesel engine with all-wheel drive has the best towing capacity. This engine is available across most of the range, and all the applicable trim levels get LED headlights, a powered tailgate, digital dials and a reversing camera – making it easy to line up your towbar with your caravan.
You also get sliding seats, allowing you to increase boot space if you haven't got anyone in the back seats. Parts should be cheap and readily available, and tyres shouldn't be too expensive if you stick to a trim with smaller wheels.
Find the used Ford Kuga for you at Motorpoint.
SsangYong Korando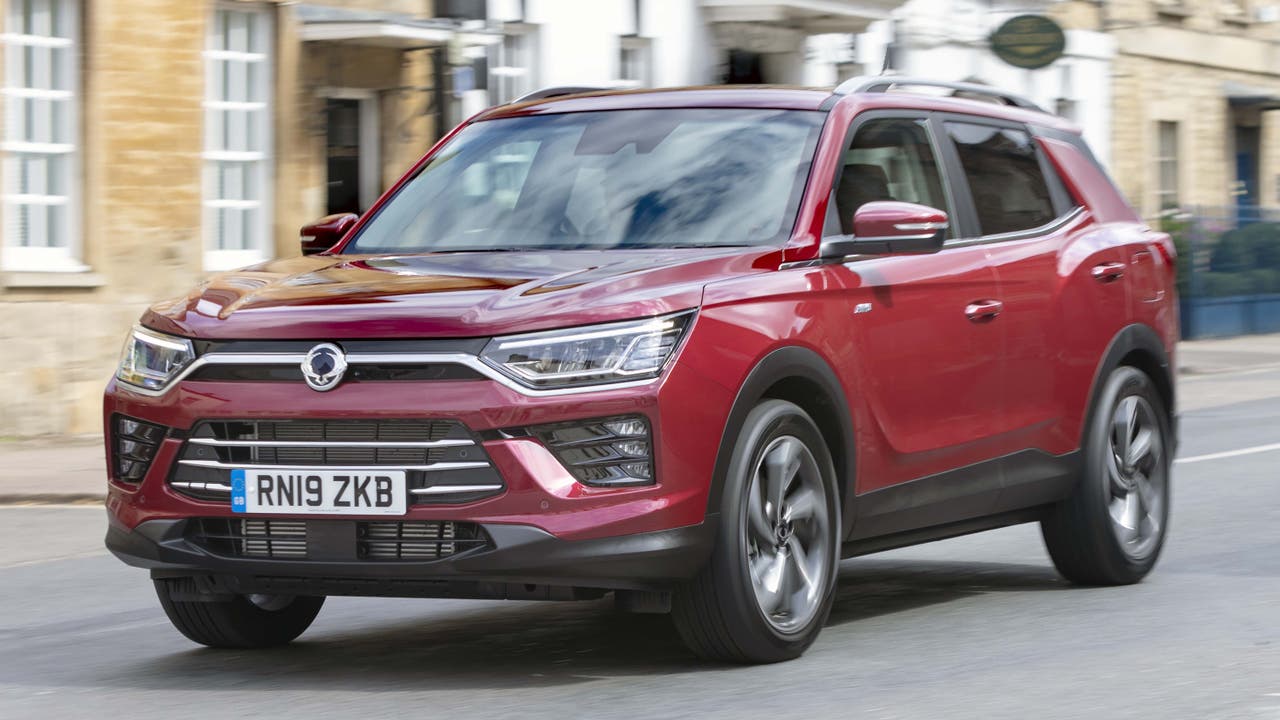 Maximum braked towing capacity: 1,500kg to 2,000kg
Nose weight: 105kg
SsangYong's rugged SUVs are popular with caravan owners. The Korando and the Rexton are good value and offer excellent towing capability and lots of equipment, not to mention a whopping seven-year/150,000-mile warranty. We've featured the Korando here because it's cheaper and more economical, and the diesel's two-tonne towing capacity should be more than enough for the majority of tourers.
The Korean brand even says that the Korando in Pioneer trim is aimed at the caravan and towing market. It gets leather-effect upholstery with heated front seats, a full-size spare wheel, all-weather tyres, a rear-view camera and smartphone connectivity. The Pioneer trim only comes with the diesel engine, but you can pick two or four-wheel drive.
Explore our range of used SsangYong Korando cars for sale.
Audi Q7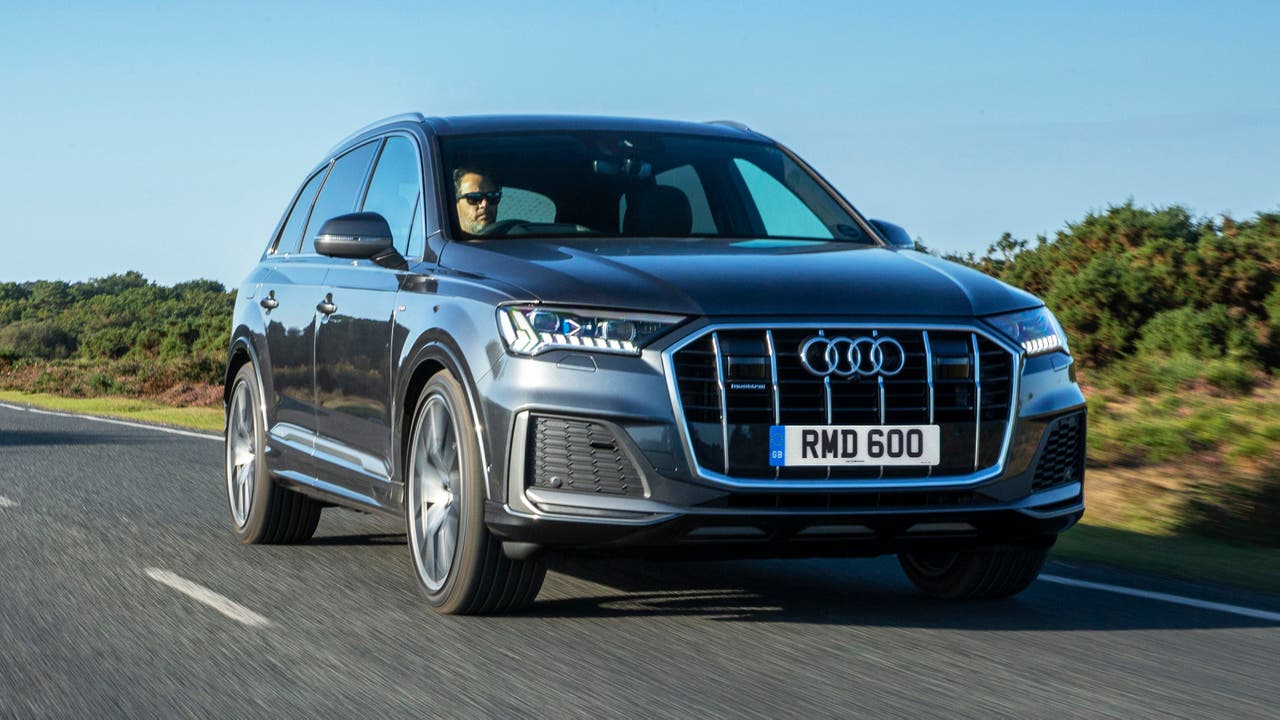 Maximum braked towing weight: 3,500kg
Nose weight: 140kg
An Audi Q7 will feature very highly on any caravanner's lottery win wishlist. Whether you pick petrol or diesel, you'll get huge reserves of power and an unbeatable towing capacity. Q7s optioned with Audi's Trailer Pack also get a power-folding towbar and Trailer Assist, which'll make it easy to reverse with a caravan attached. You'll be the envy of the campsite.
And you'll probably arrive feeling refreshed, too, as the Q7 makes long journeys relaxing and effortless. It boasts a comfortable cabin with Audi's flagship driver assistance and infotainment technology. Five adults will feel like they've got enough space, while the sixth and seventh seats are fine for short journeys. But fold the rearmost seats down and you'll struggle to fill the 865-litre boot.
Discover used Audi Q7 cars for sale.
Mercedes EQC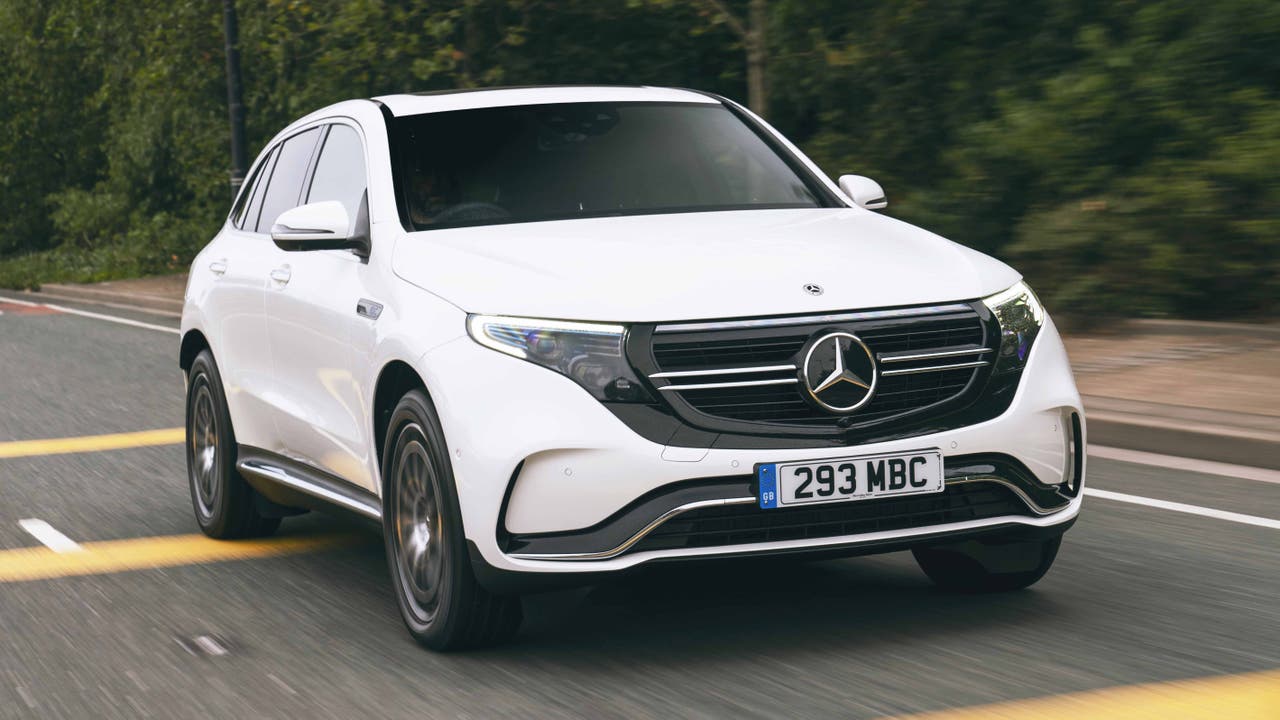 Maximum braked towing weight: 1,800kg
Nose weight: 72kg
Not many electric cars are able to tow, but the Mercedes EQC can tow a pretty big trailer. Its 1,800kg towing capacity is a little down on the Tesla Model X, but the EQC is considerably cheaper than the Model X and has a nicer interior. The EQC gets self-levelling air suspension – which'll keep you comfortable and your caravan level – plus heated leather seats, sat nav and a reversing camera.
As a rough estimate, expect to halve your normal range estimate when towing a caravan with an electric car. Mercedes quotes a maximum of 254 miles in good conditions for the EQC. That means longer trips could involve a little bit of forward planning, but the EQC can recharge from 10-80% in 40 minutes from a 110kW DC public charger. An Audi e-tron 50 quattro with the same 1,800kg towing capacity offers a lower range (slightly less than 200 miles), but charges to 80% in 28 minutes.
See our in-stock used Mercedes EQC cars.
Volkswagen Arteon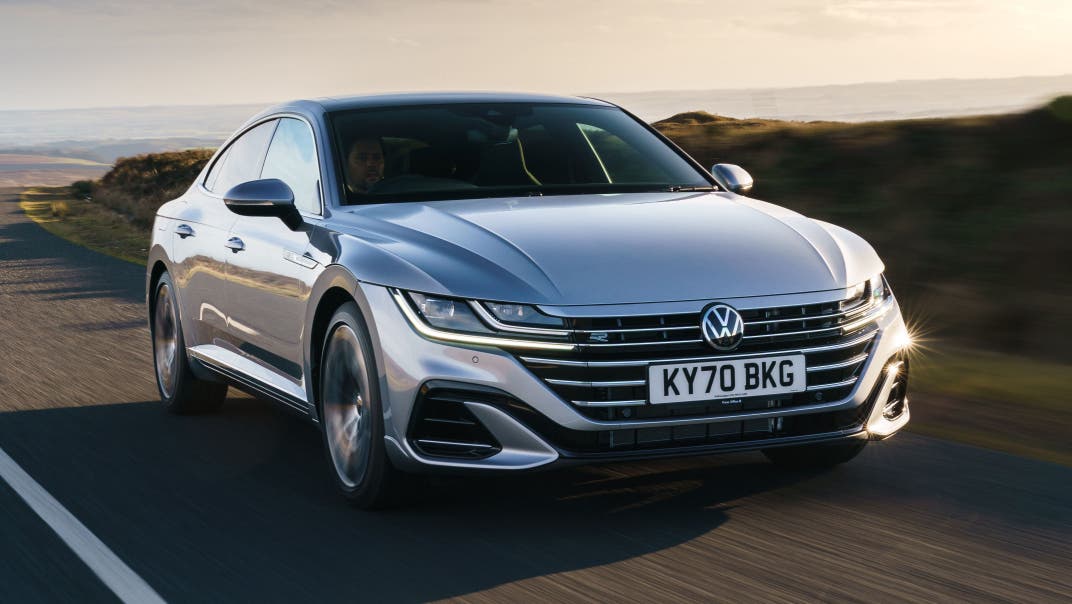 Maximum braked towing capacity: 1,600kg to 2,200kg
Nose weight: 90kg
If it's campsite style you're after, few cars do it better than the Volkswagen Arteon. But peel away the bold metalwork and you'll find a very capable tow car. The diesels are king, with the 200hp four-wheel-drive versions offering the most towing capacity at 2,200kg, but even the 150hp petrol engine is fine for smaller caravans.
The Arteon's interior is easy-to-use and full of creature comforts, and the plush VW is at home on a country road or sitting on the motorway for hours. This is a car that'll make you want to head to caravan sites further afield!
Your used Volkswagen Arteon could be just a click away.
Kia Sorento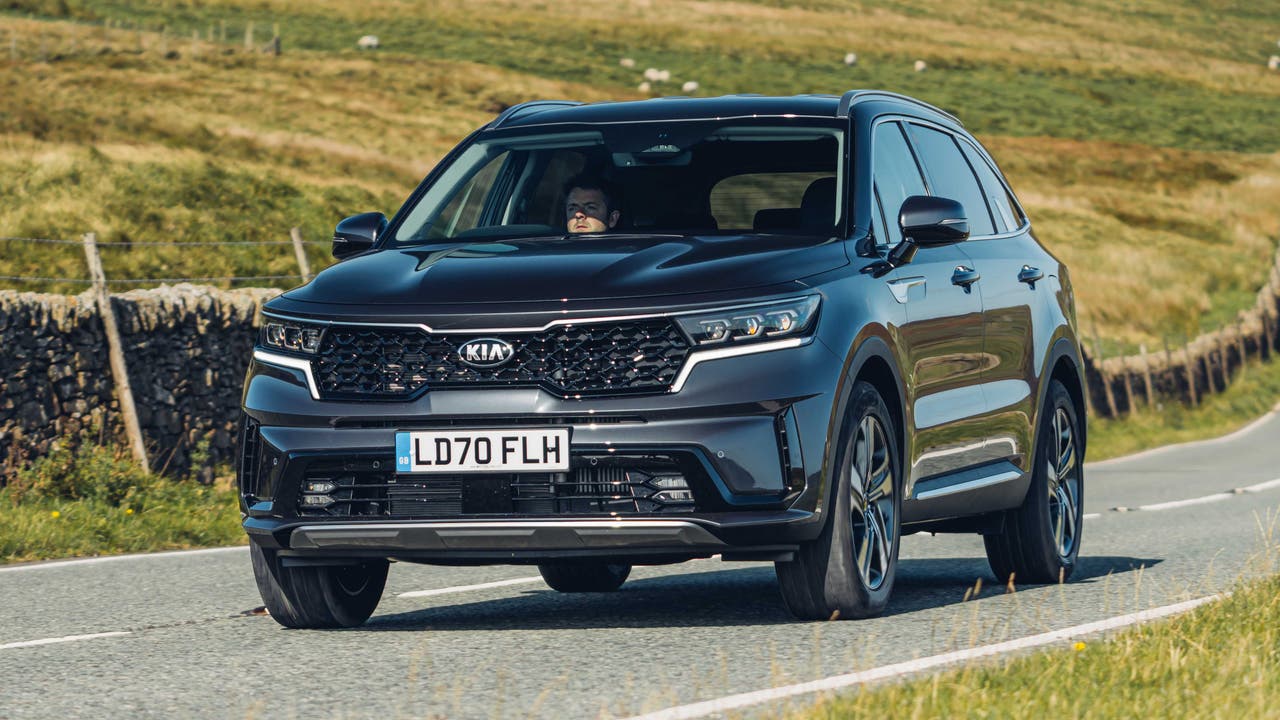 Maximum braked towing capacity: 1,500kg to 2,500kg
Nose weight: 100kg
The Kia Sorento won the What Car? Tow Car Awards outright in 2021, which gives you some indication about its qualities. It was commended for being stable, practical, good value and powerful. Judges also called it reassuring and capable.
Look for the 2.2-litre diesel engine to get the maximum 2,500kg towing capacity, but even the plug-in hybrid Sorento isn't out of the question if you have a lighter caravan. All Sorentos come with grippy all-wheel drive.
Find a used Kia Sorento for sale.
Need a vehicle with a bigger towing capacity? Read our guide to the best cars for towing a horse trailer.