VOLKSWAGEN UP Car Review
A funky name for a funky City Car
The Volkswagen Up shows you can have character in a small car.
It looks totally distinctive despite sharing exactly the same body and engines as the Skoda Citigo and Seat Mii. Only the lights, grille and interior trim are different but what a difference.
Like every Volkswagen, the Up seems more grown up and more sophisticated than its twins. The interior is spacious for a small car that's just over 3.5 metres long, capable of taking four adults in a degree of comfort. I like how simple and unfussy the interior is and the trim finish in the same colour as the exterior on the dash and doors, complete a little car that's a nice place to travel in.
Despite its smaller 1 litre engine, the Volkswagen Up drives really well. It's a brilliant city car for nipping in and out of heavy traffic, but it's quite happy cruising all day on the motorway.
Add in Motorpoint savings on the price of a new car, for models that have barely been run in, and the Volkswagen Up also makes plenty of practical sense. Plus, when you eventually come to sell the Up it should be worth more than its rivals.
* Classy looks for a small car * Neat 1 litre engine * Surprising amounts of room *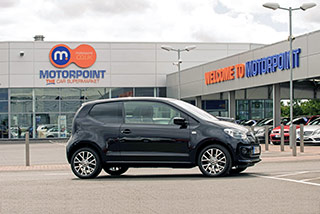 ---