AUDI A1 Car Review
Honey who shrunk the Audi!
Audi have got the supermini sized A1 spot on starting with the looks, this is one stylish small car that is every inch an Audi.
It's a typically well-balanced Audi that looks good from any angle, highlighted by the deep grille with the four rings badge. They've also done a great job on the interior, which feels every inch an Audi with the usual neat mix of aluminium trim and top premium finish to all the materials. It's basically just like sitting in an Audi A3 or A4, just with less room in the back and boot.
Plus, it shares the same petrol and diesel engines as its big brothers, starting with the excellent Tsi petrol that is a perfect fit for the A1.
The A1 is a nice drive that feels like being in a class above, but its size makes it ideal for city traffic, but still capable of making a long motorway journey in comfort. It's not cheap but you are getting strong value for money and the clout of the Audi badge that is attracting plenty of buyers to the A1.
* Great styling - inside and out * Good range of engines *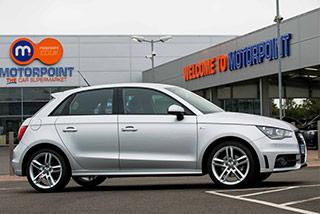 ---