Motorpoint teams up with Shelter to support Derby 'Store Wars' initiative
12 June 2017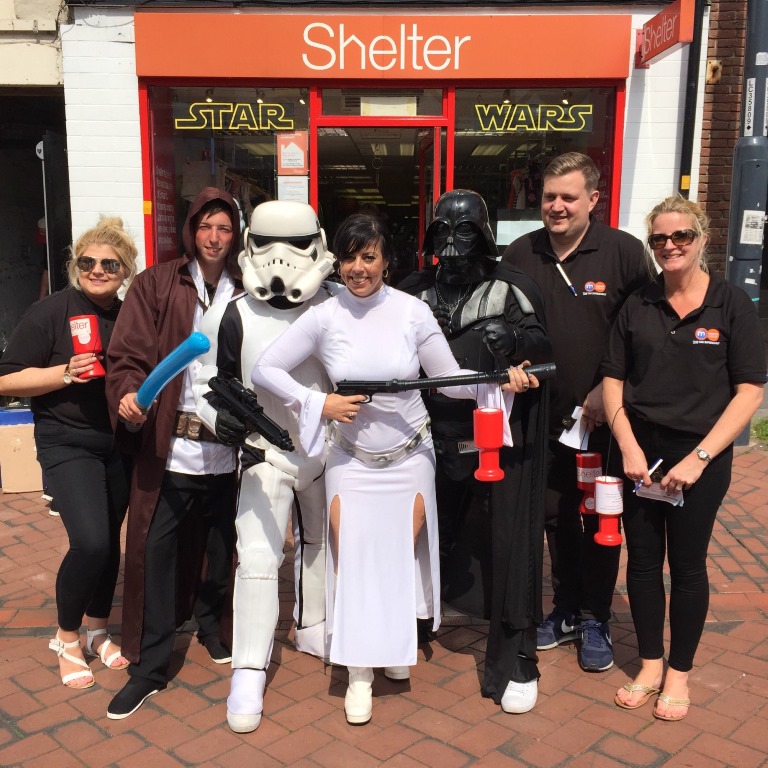 Photos © 2021 Motorpoint
Motorpoint has helped raise over £600 for Shelter as part of its support for the Derby 'Store Wars' initiative
"We're delighted to have been able to lend our support to Shelter as part of Derby Store Wars and not only raise money for the charity but help raise the profile of the branch among people in the city"
Staff from the UK's leading car supermarket took over the Derby branch of housing charity Shelter on St Peter's Lane as part of a unique fundraising initiative earlier this month.
The event, known 'Store Wars', was organised by Business in the Community (Prince Charles' Responsible Business Network) in partnership with Community Action Derby to mark National Volunteers Week. It saw eight businesses from the city each pair up with a charity shop and then tasked with going out into the city and raising cash 'any way they like' on Thursday, June 1.
A six-strong team from the Derby branch of Motorpoint wearing Star Wars outfits spent the day fundraising for the charity, raising a total of £645.20. Led by Pete Gale and Joanne Anderson, this included giving shoppers the chance to pay to play on Motorpoint's FootPool table outside the store as well as Guess the Number of Footballs in a Fiat 500.
Chris Goodison, General Manager of Motorpoint in Derby, explained: "We're delighted to have been able to lend our support to Shelter as part of Derby Store Wars and not only raise money for the charity but help raise the profile of the branch among people in the city."