Motorpoint Ice Skating Rink raises over £1,800 for the Prince of Wales Hospice
11 January 2018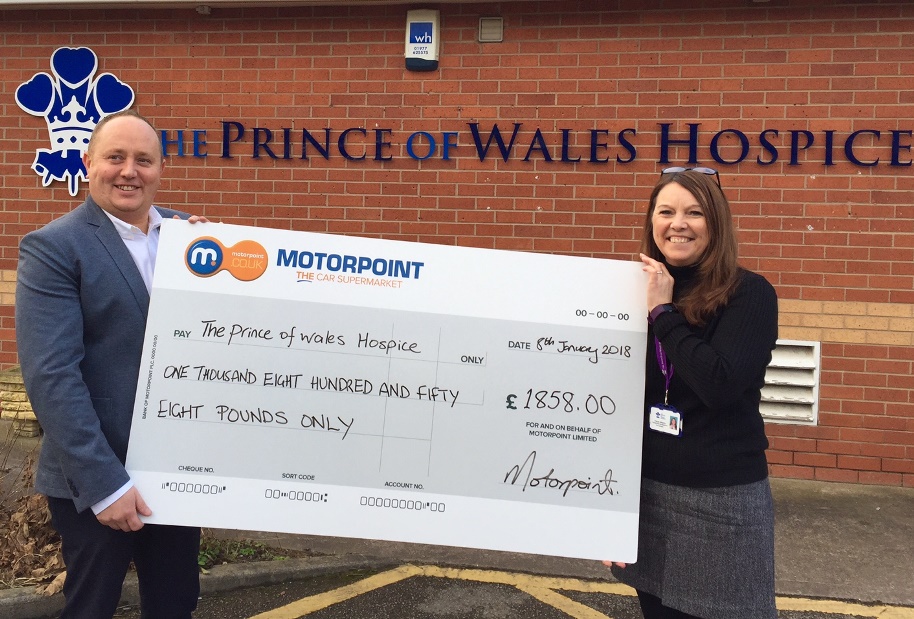 Photos © 2022 Motorpoint
Castleford ice skaters have helped Motorpoint raise over £1,800 for the Prince of Wales Hospice
"It was great to see so many people enjoying themselves over the Festive period on our Ice Rink. Not only that but together we raised over £1,800 for the Prince of Wales Hospice through the event which is incredible"
The UK's leading independent car retailer partnered with the Prince of Wales Hospice in Pontefract between Christmas and New Year to build an ice skating rink at its five acre branch on Whistler Drive near J32 Outlet Centre and Xscape.
And the public didn't hesitate to get their skates on and come to Motorpoint with over a thousand people taking to the ice between December 27 - 30 in West Yorkshire. A total of £1,858 was raised for the Hospice through donations from members of the public.
Motorpoint is a long-standing supporter of the Prince of Wales Hospice. Founded in 1989, it has provided palliative care and support to patients from the Five Towns with life-limiting illnesses from its base at Halfpenny Lane in Pontefract. Since partnering with the Hospice over a year ago, Motorpoint has raised almost £7,000 for the charity through its fundraising activities.
Mick Martin-Roebuck, General Manager of Motorpoint Castleford, said: "It was great to see so many people enjoying themselves over the Festive period on our Ice Rink. Not only that but together we raised over £1,800 for the Prince of Wales Hospice through the event which is incredible."
Motorpoint is based on Whistler Drive in Castleford. A short drive from J32 of the M62, the branch officially opened in April 2016 after a multi-million pound investment in the site on the former Glasshoughton Colliery. The five acre branch stocks over 500 low mileage used cars available to drive away same day from over 30 different manufacturers.
In the community
Motorpoint is proud to work with Prince of Wales Hospice. For more info on the work they do, please visit https://www.pwh.org.uk/.