Get your skates on to Castleford for free ice skating
10 December 2018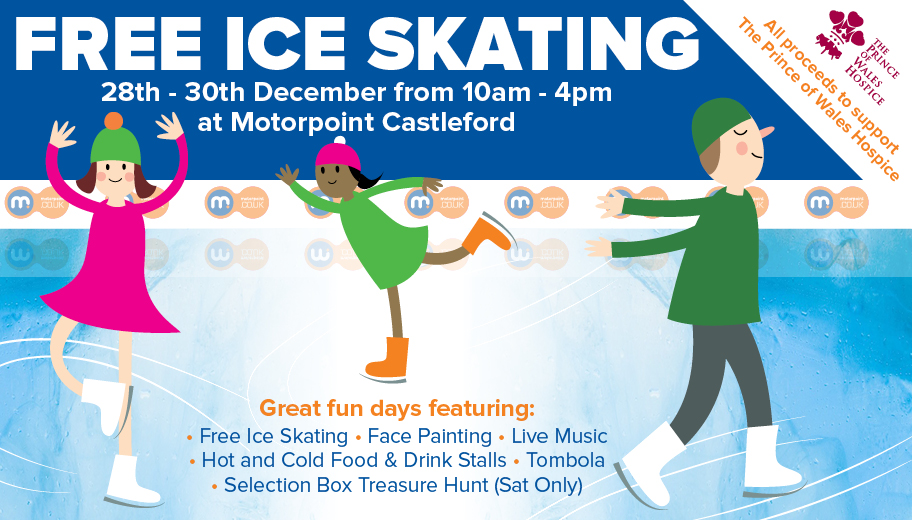 Photos © 2022 Motorpoint
Motorpoint is giving people chance to ice skate for free between Christmas and New Year in Castleford.
"Motorpoint is urging people to get their skates on between Christmas and New Year to ice skate for free."
We are teaming up with the Prince of Wales Hospice to build an ice skating rink at our five-acre branch. All you have to do is head to our Castleford branch on Whistler Drive near J32 Outlet Centre and Xscape between 28 – 30th December. The ice skating rink will be open 10-4pm daily with lots of other fun family activities. You can enjoy our tombola, face-painting and a variety of children's entertainers. There is ample free parking on site and free Wi-Fi. You can also purchase a wide selection of hot and cold food and drinks at the Motorpoint Café.
What's more, a number of local music artists will be performing over the three days. Plus, the Castleford Tigers players have agreed to participate in a special Selection Box Treasure Hunt on Saturday 29th December.
Motorpoint is a long-standing supporter of the Prince of Wales Hospice. The branch has raised close to £10,000 this year for the popular Hospice, which supports adults with life-limiting illnesses in the Five Towns area.
"Christmas can be an expensive time of year for families." Mick Martin-Roebuck, General Manager of Motorpoint Castleford, is excited to offer ice skating to the local community. "This is why we decided to build an ice rink between Christmas and the New Year. People of all ages from the Five Towns area can pop down to skate for free. We look forward to welcoming everyone to Motorpoint Castleford between 28 – 30th December."
Motorpoint is based on Whistler Drive in Castleford. A short drive from J32 of the M62, the branch officially opened in April 2016 after a multi-million-pound investment in the site on the former Glasshoughton Colliery. The branch stocks over 500 low mileage used cars available to drive away same day from over 30 different manufacturers backed by the Motorpoint Price Pledge.
All donations received over the three days will go to Prince of Wales Hospice. For more information, talk to the team at our Castleford branch.
In the community
Motorpoint is proud to work with Prince of Wales Hospice. For more info on the work they do, please visit https://www.pwh.org.uk/.