These two brilliant Skoda SUVs make great family cars, but which should you buy?
For family buyers, the Skoda Karoq and Kodiaq tick all the boxes. What they lack in radical styling, they make up for with strong versatility, generous space, economical engines and up-to-date interiors. If you like things that are well-designed and very fit for purpose, you'll love Skoda's pair of sophisticated SUVs. But which should you buy? Read on to find out.
Skoda Karoq vs Kodiaq compared
Skoda Karoq
Skoda Kodiaq

Pros:

Usually less expensive than the Kodiaq
Incredibly versatile rear seats

Pros:

7-seat option
Still quite economical

Cons:

Conservative styling
No hybrid option

Cons:

Top-spec models are expensive
No hybrid option
Styling and design
Alright, so neither the Karoq or Kodiaq have the out-there styling of, say, a Hyundai Tucson or Kia Sportage, but Skoda's restrained styling looks handsome. We'd even say it looks classy. Both cars have a typical SUV shape with a flat back end and a tall bonnet, and both cars also get a fairly flat window line and prominent roof rails.
The similarities don't stop there. Both cars get muscular wheel arches that sit above alloy wheels, and a split light design that sees the fog lights sitting just below the main headlight unit. You can certainly tell that these cars are related, and there's so little between them that we doubt you'll choose on styling alone.
The real difference between the two is in sheer size – the Karoq measures a smidge under 4.4m long, while the Kodiaq is a class above, at 4.7m long. This gives the Kodiaq space for a third row of seats, and a bigger boot when used in five-seat mode.
Interior and practicality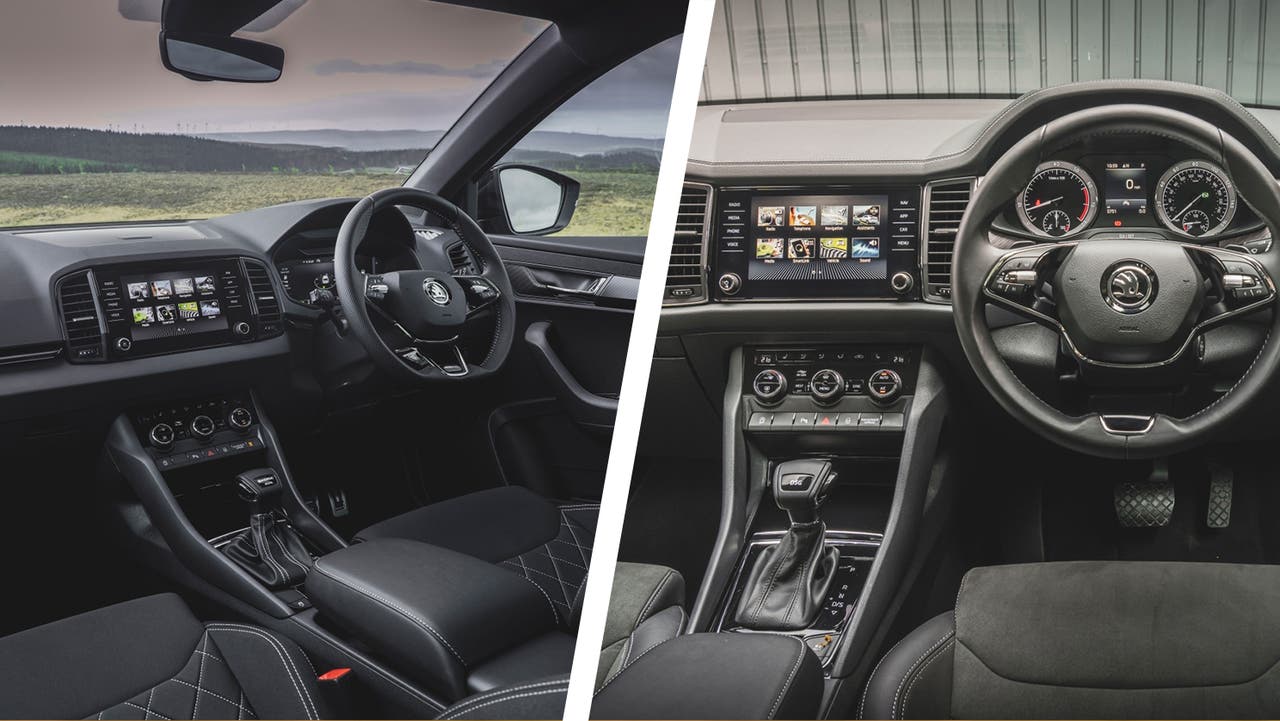 The two cars are similar inside, where both cars have a large touchscreen with shortcut buttons integrated into the dashboard, and a bank of physical climate controls beneath. Again, this layout doesn't look the most exciting, but Skoda's cabins are absolutely painless to use and are great to live with. All the controls are intuitive and can be used without taking your eyes off the road for too long.
Both cars come with an entry-level SE trim that's still very well-equipped, as well as a kitted-out SE L spec and a racy-looking SportLine model. The Kodiaq is also sold in luxurious L&K spec and as a hotted-up vRS model.
The difference between the Karoq and Kodiaq is most obvious behind the back seats. The larger Kodiaq is available with seven seats – the third row is standard above SE/SE Drive spec – while the Karoq is a strict five-seater. Impressively, the Kodiaq has just enough space in the third row for adults, which is surprisingly rare in the seven-seater class, although the Kodiaq doesn't get any more sets of Isofix child-seat mounting points as standard.
But the spacious Karoq has a trick up its sleeve, too. Opt for SE L spec or above and you get Skoda's VarioFlex rear seats, which can be slid forwards and backwards, reclined, folded down or removed completely. Each of the three seats is separate for maximum versatility.
With these seats, the Karoq offers a boot space of between 479 and 588 litres, rising to 1,605 litres with the rear seats folded or 1,810 litres if you take the rear seats out completely. A seven-seat Kodiaq offers 735 litres of space with the third row folded, and up to 2,005 litres with the second and third row folded.
Being Skodas, each of these cars gets a selection of features that the Czech brand calls 'Simply Clever'. These are little things that may be useful in day-to-day life, such as a clip to hold parking tickets, an umbrella in the front door and a boot light that doubles as a removable torch.
Engines and performance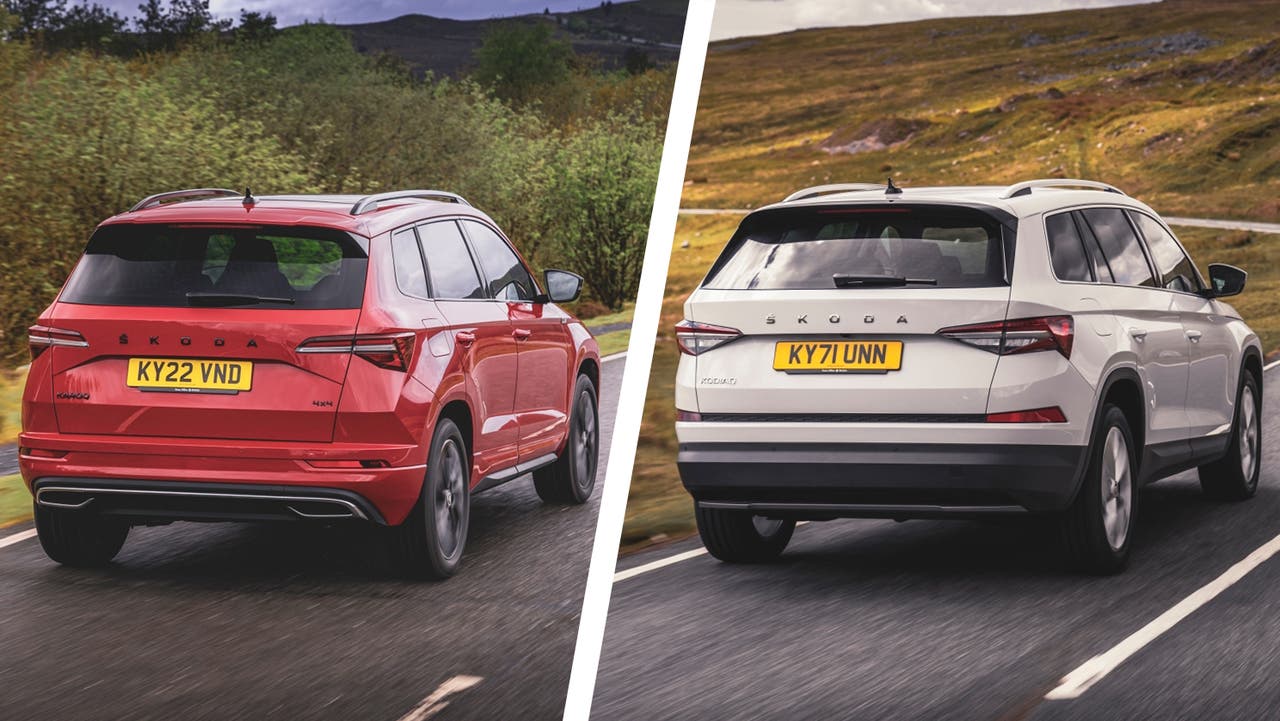 With similar platforms underpinning them and a broadly shared engine range, both the Karoq and Kodiaq drive in a similar way. That is to say that both drive much better than the majority of family SUVs, with direct handling, a comfortable ride and body roll kept under control. 
The slightly smaller Karoq starts with a 1.0-litre petrol engine. With a not-huge 110hp at its disposal, you might expect this engine to feel strained, but it's actually willing and feels easily quick enough for real-world driving. Above this is a 1.5-litre petrol with 150hp, which offers the best balance of economy and performance – 45mpg and 0-62mph in nine seconds – and a 2.0-litre petrol with 190hp and four-wheel drive. This engine is quick but quite thirsty for a sensible family SUV. Alternatively, you can choose a 2.0-litre diesel with 116hp or 150hp, with the latter being available with four-wheel drive.
You get both the 150hp engines and the 190hp petrol in the Kodiaq, too. Of course, because the Kodiaq is a bigger, heavier car, these engines aren't quite as quick or as economical as they are in the Karoq. There's also a 200hp diesel engine with standard-fit four-wheel drive, and a 245hp petrol engine that's exclusive to the range-topping Kodiaq vRS – which gives you sports car acceleration in your seven-seat family car, but with questionable fuel economy of around 30mpg.
Value and reliability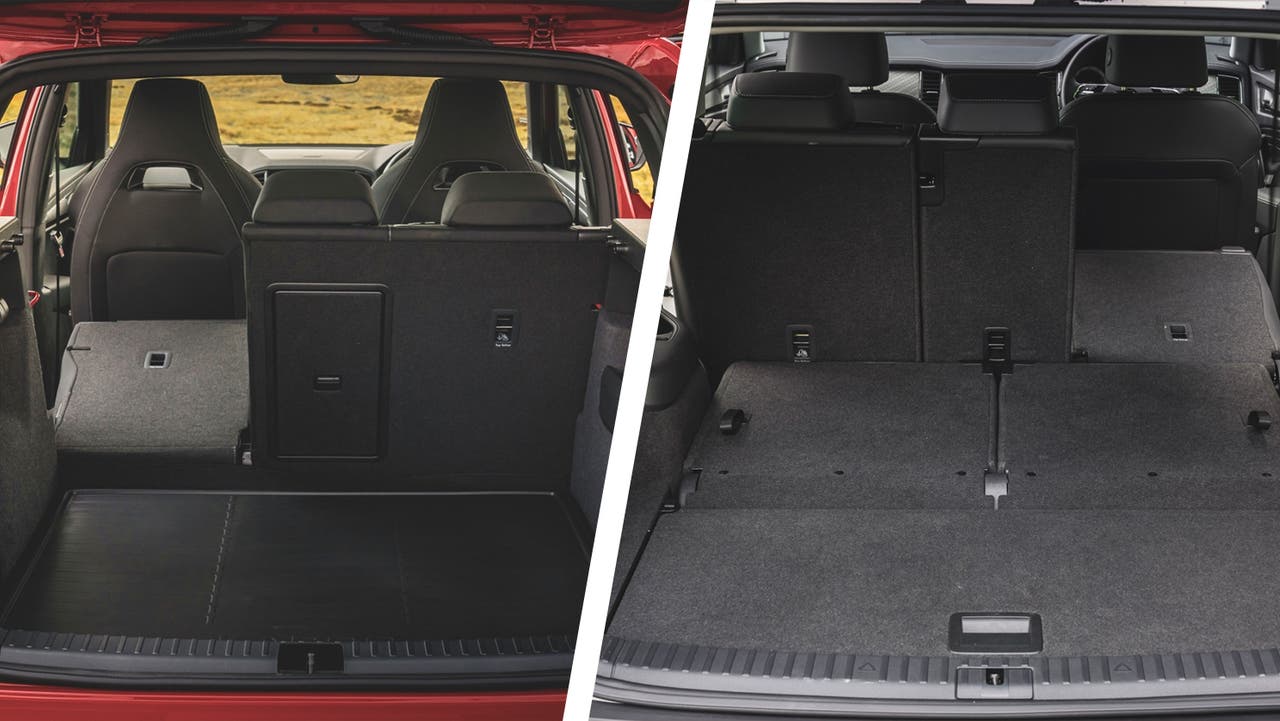 In terms of reliability, the sheer number of shared parts between these two cars means there's not much to choose between them. From the evidence we've seen, the Skoda Kodiaq and Karoq have performed well in owner satisfaction surveys and tend to be very reliable.
The Karoq is the clear choice when it comes to value. Because it's a smaller car with the option of smaller engines, it's considerably cheaper as a new car or a used car. At the time of writing, used Karoqs for sale at Motorpoint typically cost between £230 and £400 a month on PCP finance (depending on age, spec and mileage, and with a 20% deposit), while the Kodiaq is typically somewhere between £330 and £500 a month.
Which is best?
Do you need seven seats and/or lots of space? If so, the Kodiaq is the one for you. But if you only need five seats, the Karoq is still very practical and versatile, and tends to be usefully cheaper as well. But whichever you pick, you'll get a smart, reliable, great-driving and fantastically easy-to-live-with SUV.
Shop nearly new Skodas
Explore Motorpoint's wide range of used Skoda Karoq and used Skoda Kodiaq cars for sale, all with low mileage and warranty cover included.