If you'd like a Nissan SUV, we'll show you whether you should choose the Juke or Qashqai
Nissan was really ahead of the curve with SUVs. Its Qashqai and Juke models became household names almost immediately, and their popularity drove other carmakers to produce their own crossover SUVs.
The latest Nissan Juke and Nissan Qashqai are still among the front-runners in the small SUV and family SUV classes respectively but, if you're considering both, which should you buy? Read on to see which is best for you.
Alternatively, check out our guides to the best Nissan Juke alternatives and best Nissan Qashqai alternatives.
Nissan Juke vs Qashqai compared
Nissan Juke
Nissan Qashqai

Pros:

Cheaper than Qashqai
More practical than some small SUV rivals

Pros:

Larger and more family friendly than Juke
More powerful and slightly quicker

Cons:

Smaller inside than Qashqai
Misses out on Qashqai's bigger screen

Cons:

Less funky than Juke
Not the most practical family SUV
Styling and design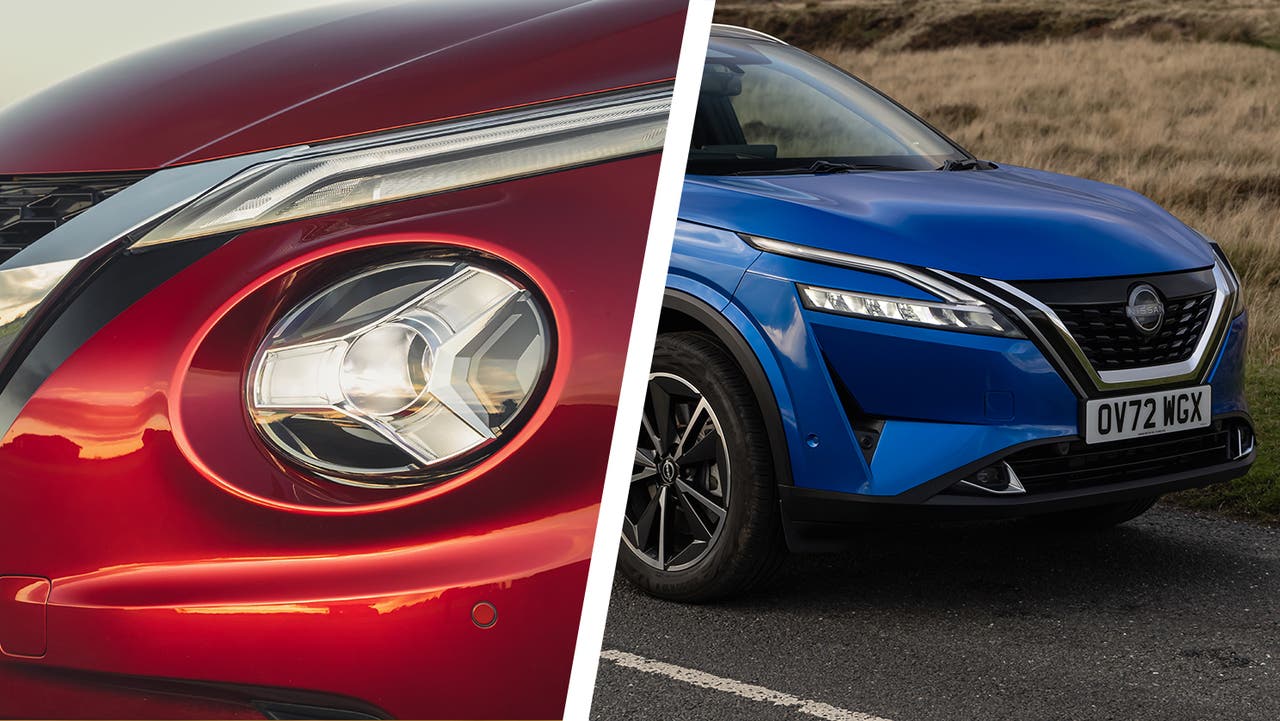 The original Juke set the tone for small SUV design – whether you love it or hate it, it was undeniably funky and instantly recognisable. Its successor boasts a more grown-up look, with a slightly more conventional grille and light design at the front, but there are some similarities – such as the split headlights, strong body creases and a sloping roofline.
With its eye-catching boomerang-shaped LED headlights, the latest Qashqai has more visual clout than its predecessor – although it's still recognisably a Qashqai. As such, the Juke and Qashqai are now closer styling-wise, even if the smaller, slicker Juke still has the edge when it comes to sporty design. The Qashqai's space requirements mean it has a slightly boxier, more traditional shape.
For both cars, entry-level Visia is the only spec that doesn't come with alloy wheels.
Interior and tech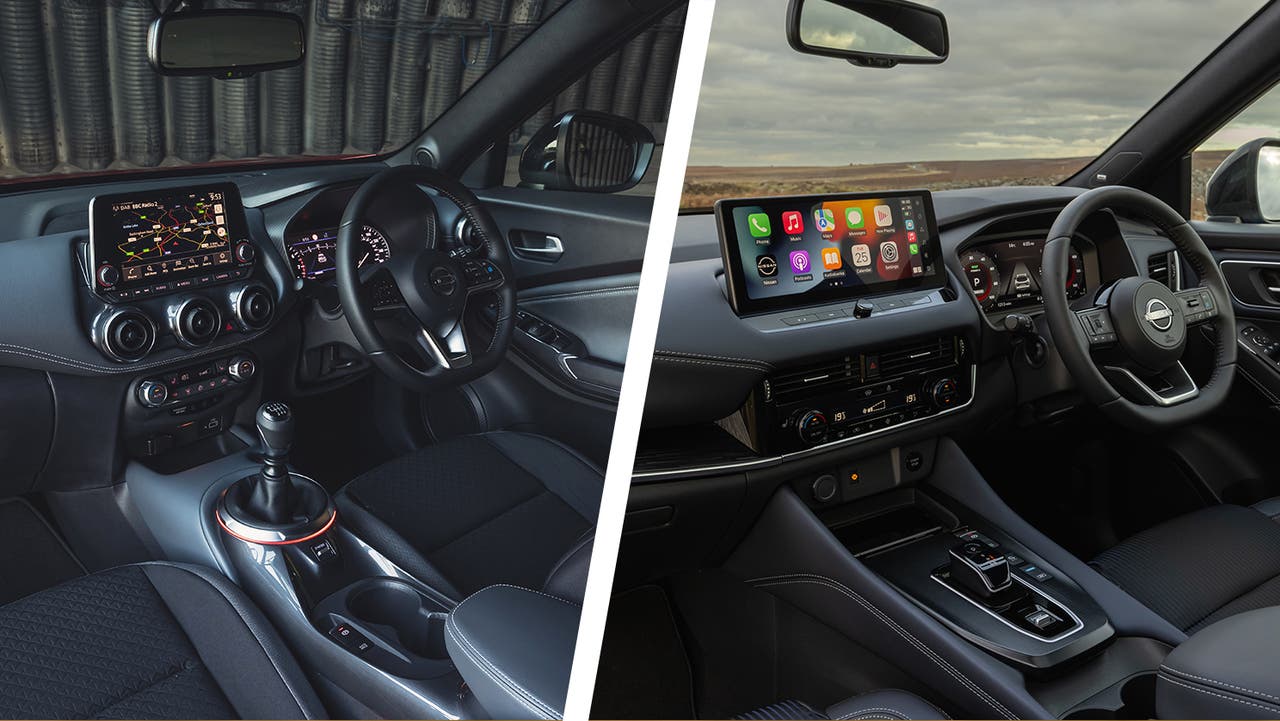 Given these two SUVs come from the same brand, you might expect more interior parts to be shared between the Juke and Qashqai, but they look quite different in person. Both get a slim touchscreen mounted on top of the dashboard, giving the cars a modern look and feel. But the air vents, steering wheel and centre console unit are different in the Juke and Qashqai. One setup isn't vastly better than the other, mind.
The touchscreen is simple to operate thanks to tile-like widgets, and there are twisty dials and shortcut buttons around the screen itself. The graphics and responsiveness of this screen aren't the sharpest, but they're easy enough to read while you're on the move. From June 2022, higher-spec Qashqais get a wider, higher-res screen, but this upgraded screen isn't available on the Juke. As long as you've got a touchscreen in your Juke or Qashqai, however, you'll be able to use Apple CarPlay or Android Auto to mirror your phone's apps onto the car's screen.
Both cars have improved material quality compared to their predecessors, and many buyers will find a lot to like in how the Juke and Qashqai feel inside. Material quality is good if not outstanding – it's better than the likes of Vauxhall and Suzuki but not quite up there with Volkswagen and Audi.
Nissan Juke vs Qashqai dimensions and boot space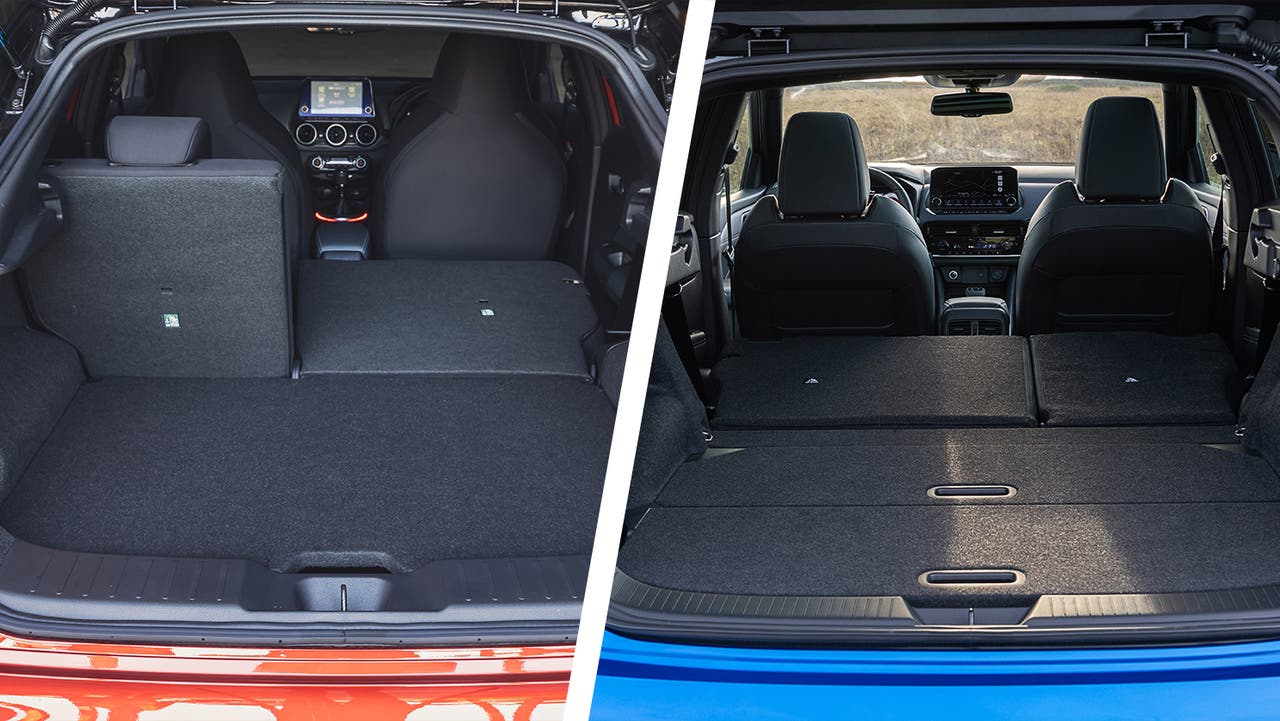 Size is the biggest difference between the Juke and Qashqai. The Juke is 4.2 metres long, a smidge under two metres wide and a hair under 1.6 metres tall. In every dimension, the Qashqai is bigger – its 4.4-metre length is pretty much class average for a family-focused SUV.
You'll fit four adults in both cars fairly comfortably, and the Juke's rear-seat space is bigger than you might expect, but there's more rear-seat space in the Qashqai – both in terms of headroom and legroom. Five adults will be slightly more comfortable in the Qashqai, but neither has five seats that you'd want to use every single day.
The Juke's 422-litre boot space is pretty good for a small SUV but, as you'd expect from its bigger dimensions, the Qashqai also offers more luggage space. Its 480-litre space makes it ideal for a family's weekly shop or a few suitcases, although some family SUVs like the Hyundai Tucson and Skoda Karoq offer a bigger boot than the Qashqai.
Engines and performance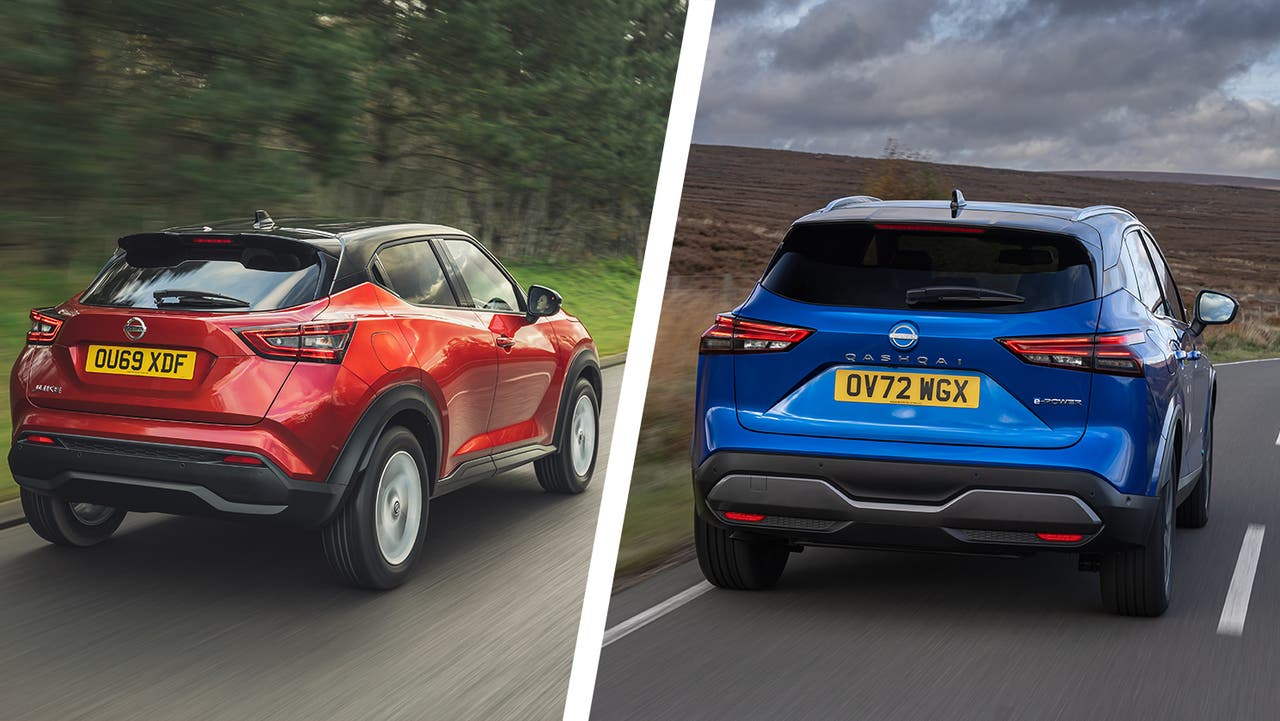 Regardless of whether you want a Juke or a Qashqai, you'll be choosing between petrol or hybrid engine options. All will need filling up at a petrol station, but they offer varying degrees of electrification. The hybrid engines are relatively new additions to the Nissan range – 'normal' petrol engines are far more common on the used market.
The Juke kicks off with a 1.0-litre petrol engine that produces 114hp. It's a good match for this car, with a decent blend of fuel economy and performance – Nissan quotes 48mpg and a sub-11-second 0-62mph. Alternatively, you can choose a hybrid engine. This is quite conventional, offering up to 56mpg and some electric-only driving at lower speeds.
In the Qashqai, the most common engine choice is the 1.3-litre petrol. Available in two outputs, this engine is an updated version of what you got in the old Qashqai, now with mild-hybrid technology to slightly increase fuel economy. It's capable of around 45mpg and 0-62mph in around 10 seconds. In other words, neither the Juke or the Qashqai will feel like a racing car, but both get up to speed in a fuss-free, quick enough way.
The Qashqai also comes in E-Power flavour, which uses a completely different hybrid system to the Juke. Rather than the battery and motor simply assisting the petrol engine, here the engine is used as a generator to power the motor and battery. With the electric motor driving the wheels, it feels much like a fully electric car at lower speeds – albeit with no need to plug in. You'll get up to 53mpg with this engine.
Value
As the smaller, less powerful car, the Juke is more affordable than an equivalent Qashqai. That means it's the best choice if your budget is tighter, and it also means you'll get a higher-spec or newer Juke than a Qashqai that costs the same money.
Which should you buy?
That all depends on how much space you need. Both cars could serve as family transport, but the Qashqai is the better choice if you're going to be using the back seats regularly. However, if you want to save some money or get a higher-spec or lower-mileage car for your budget, the Juke is the clear winner. Of course, if you're taken by the Juke's funkier styling, it's the obvious choice.
Shop nearly new Nissans
If you still can't decide, why not test-drive both? Find your nearest Motorpoint store here, or browse our entire range of used Nissan Juke and used Nissan Qashqai cars for sale. All come with low mileage and warranty cover included.