If you're confused about what Volkswagen GTI, TSI and DCC mean, our guide is here to help you buy your ideal VW
Like many carmakers, Volkswagen loves an acronym. There's even one on its badge! But all these jumbled up letters are confusing if you just want the quality and practicality VW is known for. Some will be pretty meaningless or irrelevant to you, but some are a little more important and are worth knowing.
We've compiled and simplified the most common VW jargon, and untangled the brand's trim level hierarchy to make sure you can find the perfect Volkswagen for your needs.
Volkswagen terminology guide
What does VW TSI stand for?
TSI stands for Turbocharged Stratified Injection, which doesn't sound very interesting, does it? It's VW shorthand for its turbocharged petrol engines, which come in varying sizes and power outputs. For example, the Volkswagen Polo has a 1.0-litre TSI petrol engine with 95hp and three cylinders, while the Volkswagen Touareg features a 3.0-litre TSI six-cylinder engine with 340hp. Turbocharging the engine allows more power and better fuel efficiency from a physically smaller engine, which has benefits for weight reduction and packaging.
VW's TSI engines are used in SEAT and Skoda models as well, while Audi uses TFSI badging for its versions – F is for fuel. On models like the Polo and SEAT Ibiza, you'll see same-sized TSI and MPI engines – the latter is non-turbocharged and brings lower insurance costs at the expense of performance.
What does VW GTI stand for?
GTI is Volkswagen's best-known performance badge, highlighting that the car it's attached to has more power and performance than lesser versions. Three hot hatches carry this badge – the famous Golf GTI, the Polo GTI and the Up GTI. These cars are marked out by sporty styling, and sometimes quirky touches like tartan seats and gear levers dimpled like a golf ball. GTIs are popular, but few people may know that GTI stands for Grand Touring Injection – a reference to the first GTI which used fuel injection instead of a carburettor.
Browse all our used Volkswagen GTI cars for sale.
What is VW R-Line?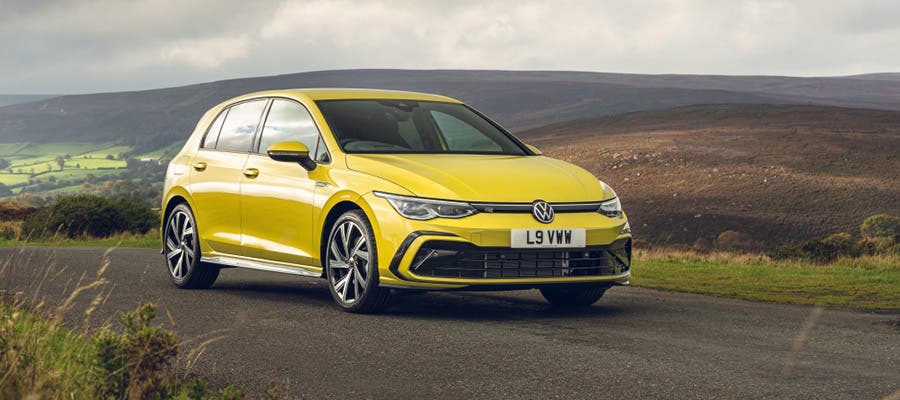 On certain models, the hot version isn't the GTI but the R. R-Line is a Volkswagen trim level that aims to give you some of the sporty styling of the racy R range-toppers, but without the higher running costs that come with high performance. It's typically a high-spec trim level so comes with lots of fancy extras. We'll explain more about VW's trim levels below.
Browse all our used VW R-Line cars for sale.
What is VW DCC?
DCC stands for Dynamic Chassis Control, or upgraded 'adaptive' suspension to you and I. It uses electronically controlled shock absorbers that react to the road in milliseconds, changing the settings for the suspension's dampers on the fly. DCC is designed to improve ride comfort and handling. Usually paired with a choice of driving modes, DCC is typically an optional extra or fitted to high-spec models. It's offered on T-Roc, Touran, Tiguan, Tiguan Allspace, Passat Estate, Arteon, Golf and the ID. family of electric cars.
What does VW Mk mean?
Sometimes we – and other websites – have referred to the Volkswagen Golf Mk7 or Mk8. Mk is short for 'mark', and it's just another way of saying the generation of the car. So the latest Mk8 Golf is the eighth-generation car to wear that name badge.
Other VW terminology explained
4Motion – the name for VW's all-wheel drive system, available on some of its SUVs and performance cars. Search used VWs with 4Motion here
ACC – adaptive cruise control, which keeps you at a set distance from the car in front and maintains your speed if the road ahead is empty
ACT – Active Cylinder Technology which, on certain engines, allows some of the cylinders to shut down under light throttle to save fuel
App Connect – means the infotainment system features Apple CarPlay and Android Auto, allowing you to use your phone's apps on the car's touchscreen
Car2X – an intelligent vehicle networking system that allows cars equipped with the feature to 'talk' to other cars and infrastructure
DSG – a type of automatic gearbox, also called dual-clutch, that is used in most VW models. The acronym stands for Direct Shift Gearbox. Search used automatic VWs here
eHybrid – a plug-in hybrid powertrain featuring a petrol engine and electric motor
EVO – VW's name for its new-generation engines which should offer cleaner burning and greater efficiency
GLI – a badge used on the performance version of the VW Jetta in North America
GTD – a diesel hot-hatch version of the Golf, with less power but more torque than the petrol GTI. Search used Golf GTDs here
GTE – a plug-in hybrid engine with a bit more power than the eHybrid engine, reserved for the Golf and Passat
GTX – a new performance badge for VW's growing electric car range
IQ.Light – upgraded LED headlights with a 'Matrix' function that aims to prevent you blinding oncoming drivers
MIB – a VW infotainment system used in slightly older models. VW's latest infotainment system is called Discover Media
MQB – a codename for the main platform used by VW Group cars. The group's electric cars sit on a new MEB platform
Pro Performance – one of the powertrains available on the ID.3 and ID.4 electric cars. The Pro Performance has a 58kWh battery and a 204hp electric motor, and is a mid-range 'engine'. Pro and Pro S have the same battery with different motors, and Pure versions have a smaller 45kWh battery.
TDI – VW's diesel engines all use the TDI badge. TDI stands for Turbocharged Direct Injection. Search used diesel VWs here
VAQ – a differential fitted to certain models to improve cornering performance
Volkswagen trim levels explained
Volkswagen doesn't have a set range of trim levels it uses for every model. This section would be a lot easier to write if it did!
Some VW models use an S/SE/SEL hierarchy, where S is the entry-level option and SE and SEL add progressively more equipment.
Some newer VW models have a different trim level lineup, with Life being the entry-level option and Style being a bit better equipped and featuring bigger wheels.
Look out for Match editions of the Golf, Polo and Tiguan if you want a good level of equipment, while Beats versions of the Up and Polo get a banging stereo system. Elegance replaces SEL on the Arteon, while certain cars have Black Edition trim levels with darkened trim. There have also been special-edition trim levels including Active and United – again, only on selected models.
R-Line is a trim level offered on the majority of VW models, bringing the sporty looks that we mentioned above.
And… you can ignore all of that for the battery-powered Volkswagen ID.3 and ID.4, which come in trim levels such as City, Life, Business, Style, Family, Tech, Max and Tour. And that's before we come to the names of the various electric motor and battery combinations.
Ready to step into your nearly new VW?
We have a great choice of nearly new Volkswagens available, whether you're looking to buy your first car or after a model that will accommodate your growing family.
Browse our choice of models online, or visit your nearest Motorpoint store to have a look around in person and take one out for a test drive.