Must-have items for your European road trip
30 June 2022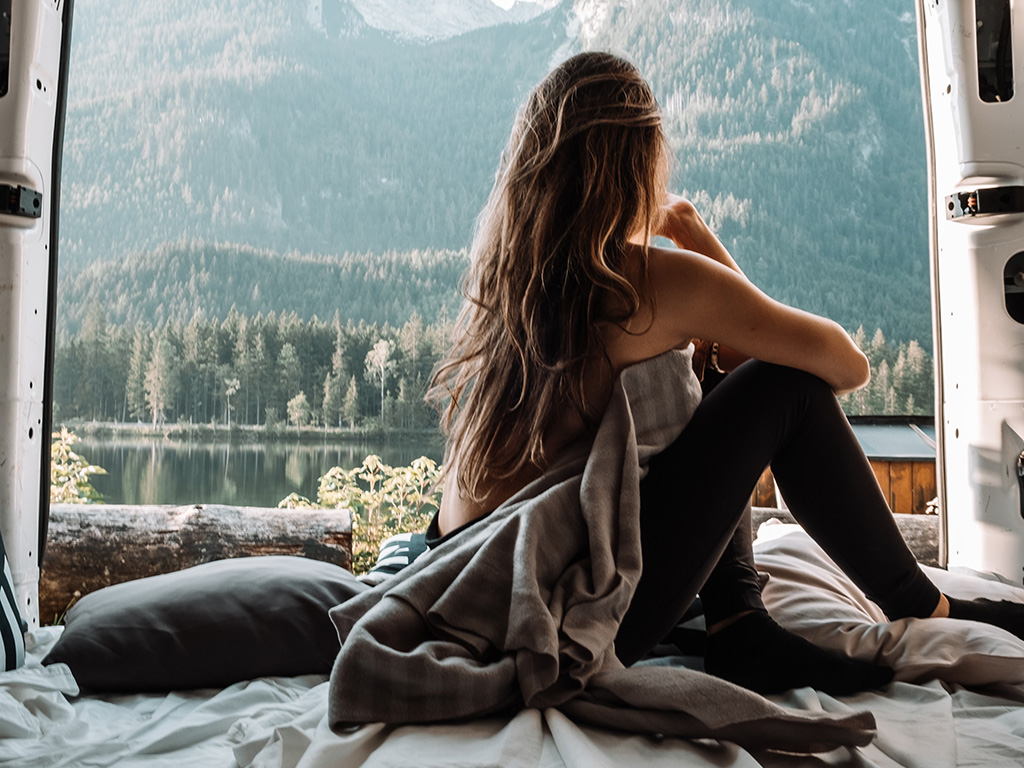 Photos © 2022 Various
Planning a road trip to Europe? Don't forget that vital bit of kit to stay legal! We've compiled a check-list of everything you need to take your second-hand van to Europe
Every country has different laws, customs and cultures, so it's no surprise Europe is one of the most popular destinations for road trips globally; in fact, the continent receives almost 700 million inbound tourists every single year!
There's no better way to explore your chosen country or countries than an excellent old-fashioned road trip in a campervan. Road trips offer an insightful experience that isn't possible when flying directly to a location.
At Motorpoint, we have a range of used vans for sale, from the classic Volkswagen Transporters to larger-scale Ford transits. So whether you plan to convert the van yourself or invest in a professional conversion, Motorpoint will have the van for you!
However, it's not as simple as hopping in your van, driving across the channel and jumping into your European adventure; there are some key things to consider before you set off. Most importantly, your packing checklist!
The don't-forget list for your European road trip
We all know we need to pack everyday items such as toothbrushes, sunscreen or spare underwear, and often people reminisce about the nightmare times they forgot these essentials. However, other beneficial items might not spring to mind when compiling your packing checklist such as the types of things you would only use on a road trip. We have created a don't forget list so you can be prepared for every eventuality when you set out on your European adventure!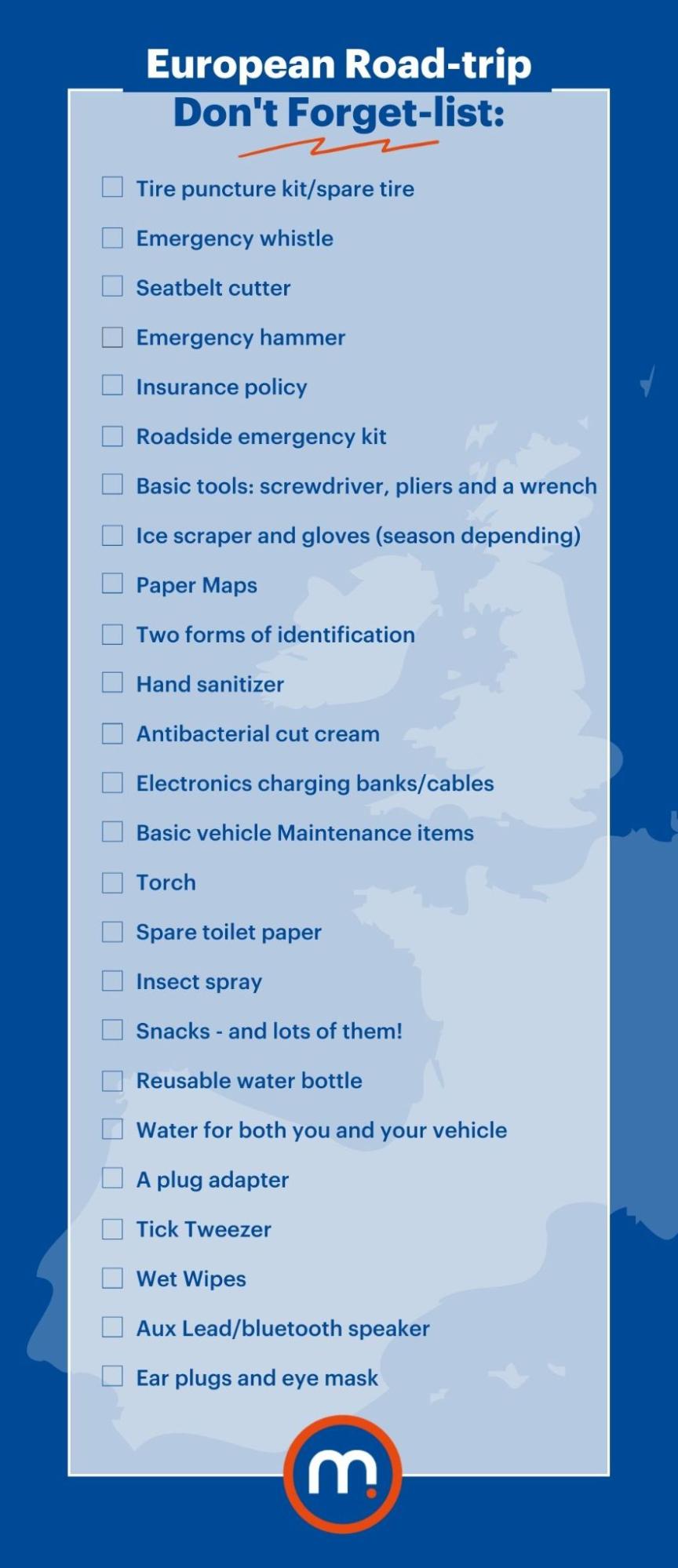 What are the legal requirements for driving through Europe?
There are more differences in driving through Europe than just driving on the right side of the road. Here in the UK, we are used to only requiring documents such as a driver's licence for instance, and even then, if we fail to have them on our persons, we can always pop down to the Police station in the event of being pulled over.
For many countries in Europe, however, this isn't the case, and the driving requirements in other countries aren't always common knowledge! For example, did you know that when driving in France, as of 2013, it is a legal requirement to travel with a breathalyser/alcohol test? Failure to comply with this regulation can result in a fine if a police officer stops you.
The three most important things to have tucked away in your van are:
A reflective jacket for each member of your party.

A warning triangle.

Headlamp beam deflectors – Depending on your vehicle, you will either need deflector stickers or have to adjust the beam manually.
In general, across Europe, these are all legal requirements when driving as a tourist in a foreign country. These items help keep you and other drivers safe in an emergency or a breakdown by alerting other drivers on the road to your presence due to the reflective nature of the first two products.
What else do you need to drive through Belgium or Germany?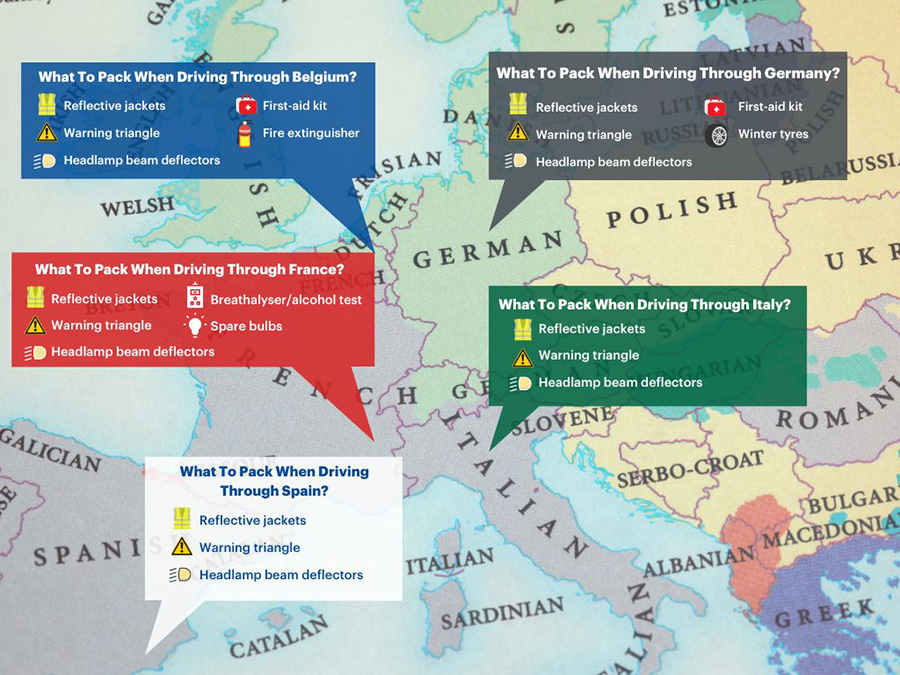 In addition to the aforementioned items, you are also required to carry a basic first aid kit in your vehicle in Belgium and Germany. In the event of an emergency, this first aid kit could be the difference between life or death and can prove critical in certain circumstances.
When driving through Belgium, it is also necessary - as well as sensible - to carry a compact fire extinguisher. Once again, the presence of one of these in your vehicle can mean the difference between life and death, as multiple highly flammable substances flow within our vans.
The new UK sticker
When driving at home or abroad, it is not uncommon to see the little blue GB sticker with the golden EU stars surrounding it on the bumpers of many vans and cars. For almost all European countries, this was a legal requirement when driving within that country.
However, did you know that as of 2021, this sticker is no longer valid? Since the arrival of Brexit, this means that vehicles registered in the UK must now display the letters "UK" when driven in Europe.
Hopefully, our checklist can help ensure you have everything you need to take your van on the road and explore all that Europe has to offer! Don't forget to check out Motorpoint blogs to gain a wealth of information regarding used vans and cars.
Are you considering buying a used van from Motorpoint for your next European road? Contact Motorpoint today or browse our range of second-hand vans for sale today.