Give Your Car A Winter Car Check
16 October 2019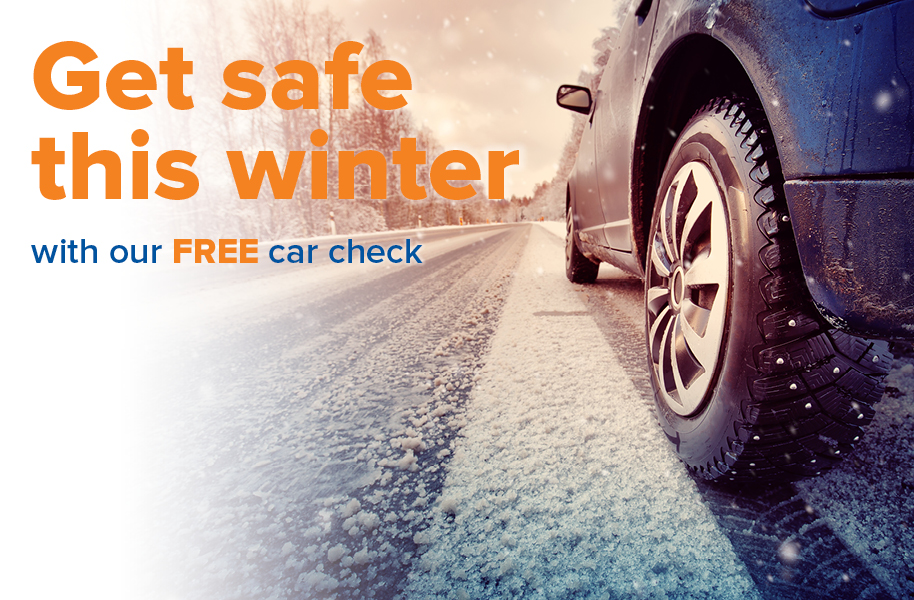 Photos © 2020 Motorpoint
Winter can be hard on your car, and driving in snow or ice is much more dangerous than in dry conditions even without factoring in the car faults that can strike, so it's crucial that you prepare for the cold season with a winter car check.
Not only is a winter car check important to keep yourself and other drivers safe on the road, it can also save you money by catching minor problems with your car before the weather exasperates them.
Our fully trained team can help! Claim your free winter car check with Motorpoint by calling us on 01332 508 618 today.
What's included in a winter car check?
A winter car check should be comprehensive; covering and checking every element of your car that could potentially put you in danger during winter driving.
Winter tyre check
Arguably the most important part of a winter car check, making sure your tyres are fully prepared for the changes in weather is essential. Your tyres are responsible for maintaining your car's grip on the road, and in the slippery conditions that winter can present, this is more important than ever.
There are a range of factors that determine your tyres' readiness for winter, including optimal tyre pressure and tread depth. Although the recommended minimum levels of tyre pressure and tread depth of 32-35psi and 1.6mm respectively, because of the hazards of winter driving we suggest that your car tyres should be comfortably above this.
Engine antifreeze top-up
Engine coolant is made up of water and monoethylene glycol, a liquid that has antifreeze properties. Its purpose is to keep your car engine running at the right temperature to avoid overheating causing damage. Even with the cold temperatures of winter, it's critical that you keep your engine coolant at the right level, and it's essential that the ratio of water to antifreeze is right so that the coolant itself doesn't freeze.
Our winter car check includes an engine coolant and antifreeze check-up, ensuring that you've got the right mix of the two liquids and that there's enough to keep your engine cool all winter.
Winter battery check
The low temperatures of winter mixed with darker nights and more inclement weather means that your car's battery is tested to the limit. All parts of your car that the battery powers, like the windscreen wipers and headlights, see extra use through winter, so good car battery health is essential.
A failing battery will mean that your car will struggle to start, a problem that's made worse in winter anyway. To make sure that your battery doesn't fail through the cold months, our winter car check will test its level of charge.
Headlight check
As the nights and mornings get darker through winter, your headlights become a much more important part of your car and see more use than they do in summer. Although it's illegal for your lights to be faulty anyway, a broken light is extra dangerous in winter darkness and suboptimal driving conditions.
Our winter car check will make sure that your headlights are in full working order before the dark mornings properly set in. We will check if your car light bulbs are working properly but the effectiveness of your headlights can be limited by dirty headlight covers. So, keeping them clean should be a priority for you throughout winter.
Claim your free winter car check with Motorpoint by calling us on 01332 508 618 today.
Winter driving statistics
It's not just thought that winter driving is more dangerous than at other times of the year, there are a range of statistics that have been collected by various authorities backing up the claim.
In 2017, the Department of Transport found that there were more road casualties in the last quarter than in any other quarter of the year and 13% more fatalities compared to the three months before.
In the same government report on road accidents in 2017, it was found that 10% of accidents in the year could be directly attributed to weather related issues, whether that's a slippery road surface or impaired vision due to precipitation.
Despite the clear dangers that winter presents to drivers, and the proven benefits of winter tyres reducing stopping distance by up to 17% on snow and ice, only 3% of car owners in Britain actually have winter tyres fitted.
Other winter car and driving tips
Aside from making sure your car is in perfect working order before winter, it's a good idea to prepare yourself for the challenges of driving in adverse conditions. There are several things you can do to minimise the risks of driving in ice or snow, including:
Carry an emergency winter kit
Carrying an emergency winter kit in your boot for if you get stuck in snow or your car breaks down. A good emergency kit should contain a shovel, torch, warm clothes and blankets, food for anyone who might be in the car, water, de-icer, and chains or snow grips, plus anything else you think you might need.
Leave extra time for journeys
Driving times are much less predictable in bad conditions, whether that's snow or ice, so to account for delays and make sure you arrive to your destination on time, you should consider setting off earlier.
Get winter tyres
Specialist winter tyres can make your car even safer in the snow, offering increased road grip above what a regular year-round tyre can provide.
Thoroughly de-ice your car
De-icing your car before setting off makes sure that your visibility is maximised, hugely important to avoid hazards on the road.
Put time into planning your routes
Before you head off on a journey, spend some time planning your route to avoid any side roads and lanes that might not have been gritted, difficult junctions, or other potentially challenging parts of the road.
Book a free winter car check with Motorpoint
We're offering free winter car checks at all of our branches for existing Motorpoint customers. You can book anytime between 18th October and 23rd December. As well as checking all of the above elements of your car, a winter check at Motorpoint includes checks of your oil levels, brake fluid levels, screen wash, power steering fluid, anti-freeze system, and auxiliary belt condition.
Book your free check up today by calling us on 01332 508 618!