10 of the best used cars for dogs and dog owners
11 March 2022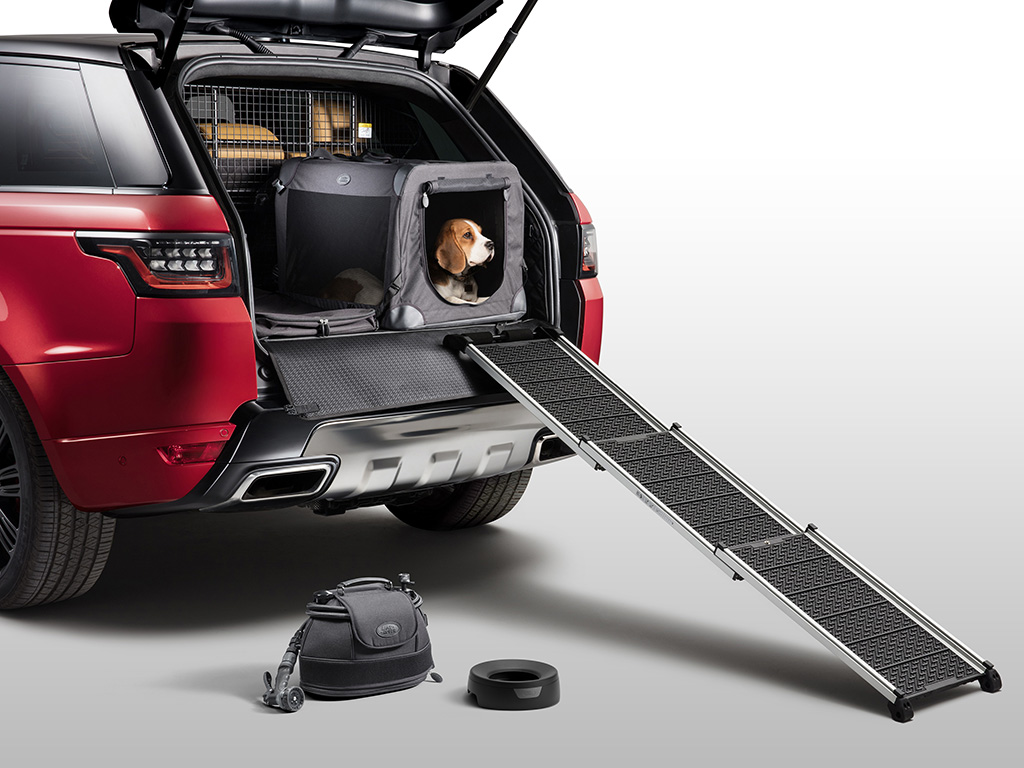 Photos © 2022 Manufacturer photos
Sometimes you need to consider your four-legged friends when buying a car – here are our favourite used cars for dog owners
Dogs and cars go together like horses and carriages – the difference being dogs let cars do all the work and still need a walk afterwards. Nonetheless, we can't get enough of four-legged companions on four wheels here at Motorpoint, so this top-10 names the best cars for canine-lovers, not just with a focus on space, but other useful touches for pooches, such as durable floors, dog guards, low load lips, plus a comfy ride and handy accessories.
Remember that you legally need to secure your dog either in a harness, or secure the carrier it's riding in – you won't be best friends for long if your Dachshund ends up on your dashboard, or hurts itself or others if you're unlucky enough to have a prang.
Land Rover Discovery Sport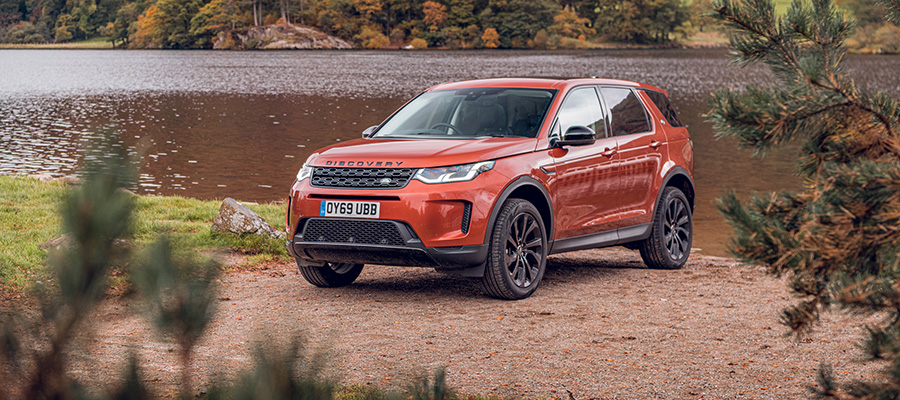 Owning a Discovery Sport but not having a dog is almost as suspect as doing the school run without the children. Reasons to buy include incredible all-terrain capability and on-road comfort, plus a vast 897-litre boot with a flat loadbay that welcomes even the largest of hounds. Bag a seven-seat version and there are cooling vents for the rear row too – which obviously remain in place for dogs when you fold the part-time seats down. Land Rover also offers optional Pet Packs for new and used cars, including an access ramp, portable shower, even a nice quilt. We've stayed in hotels with less.
Find a used Discovery Sport at Motorpoint
Vauxhall Combo Life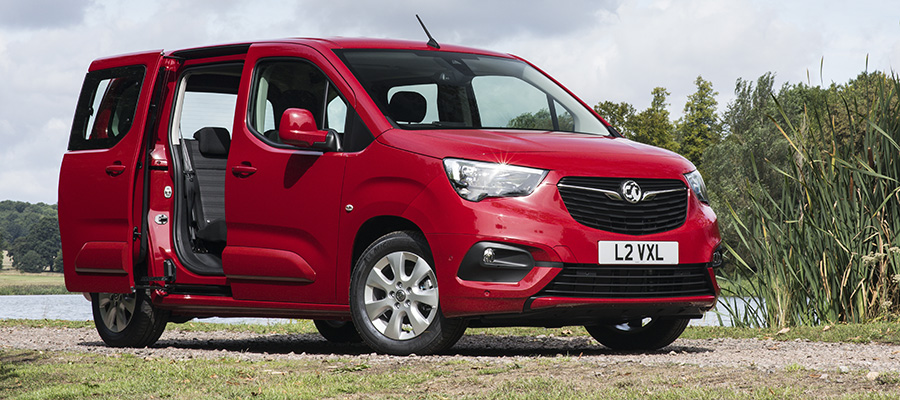 The Combo Life might be a van with windows, but that makes it one of the most practical and spacious dog-luggers money can buy. There are twin sliding doors and a huge rear tailgate with a low loading lip to make hopping in and out easier, a floor wide and flat enough to host an entire Crufts obstacle course, and enough headroom for particularly puffy poodle perms. Two versions are available – the standard model gets up to 2,126 litres of loadspace with the rear seats folded, while the longer XL maxes out at 2,693 litres. See also the related Peugeot Rifter and Citroën Berlingo.
Search our range of used Combo Lifes
Ford Focus estate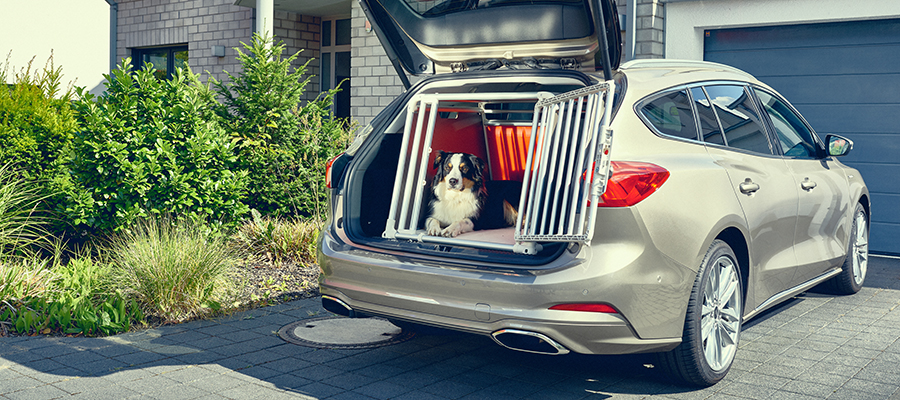 The Focus estate isn't just designed for dogs, a dog literally helped design it, which is wild. The whole thing was a pet project for engineer Rene Berns, ably assisted by his Australian Shepherd Emil, to make sure the big Ford's boot could swallow Emil's dog crate whole. Yes, it does look like a dog prison, but unrestrained dogs distract drivers and can get badly hurt in an accident, and Emil seems to enjoy having a short 'stretch' inside before a longer one outdoors. Other Focus bonus features include a low-loading lip, frugal petrol and diesel engines and a power tailgate option on some models. Top work, Emil.
Find a used Focus Estate at Motorpoint
Mazda CX-5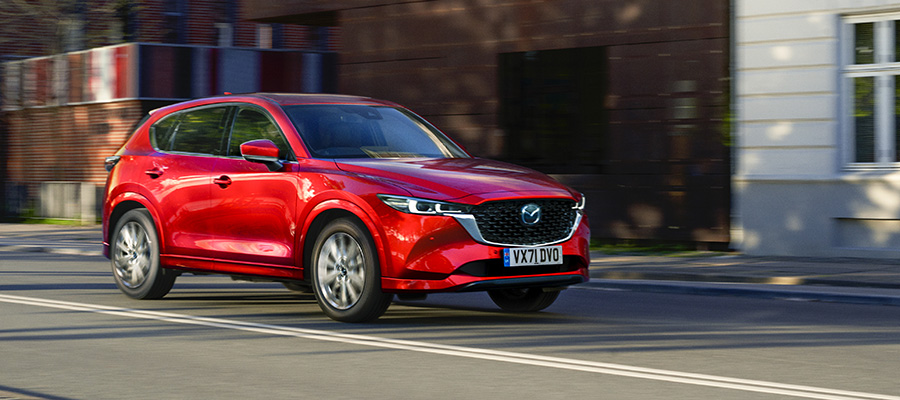 Think dogs and you might think Battersea. Think consumer car magazines and you might think What Car? .
So guess which car won when the two teamed up to pick a dog-friendly set of wheels? Yep, the car in the picture, the Mazda CX-5. A generous hatchback boot, stylish but durable interior and affordable pricing all helped seal the deal. Raised ground clearance is a bonus to get you down tracks or into rougher car parks for particularly adventurous walks, with optional all-wheel drive taking it to the next level (though by this point your dog's probably dialling 999).
Check out a used Mazda CX-5 at Motorpoint
Suzuki Vitara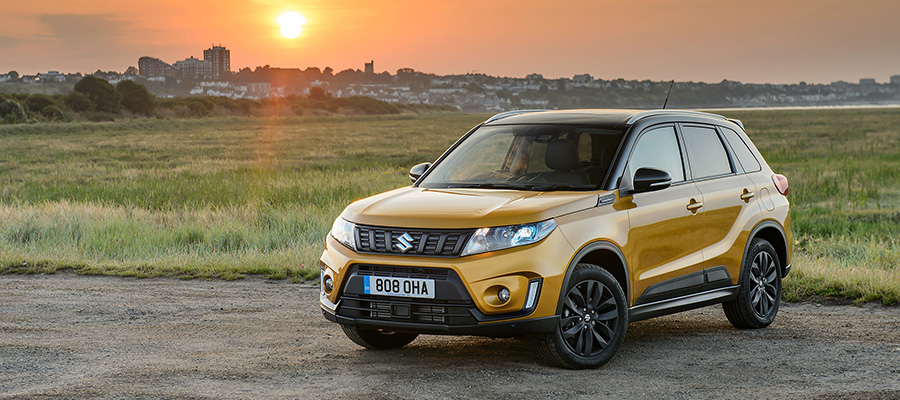 When What Car? and the Battersea dogs people named the Mazda above best for dogs, they also shortlisted the Suzuki Vitara as a favourite in the sub-£16k category – and naturally these hardy Japanese SUVs start from even less at Motorpoint. The Vitara's 375 litres of boot space makes this a better choice for small- to mid-sized mutts, but it's usefully square-shaped, and you can remove the double-luggage floor separator for extra depth, plus the plastics are nice and durable too. A no-nonsense affordable workhorse (for dogs).
Find a used Suzuki Vitara at Motorpoint

The E-class has such a large boot that particularly small people could probably walk dogs back there, so there's more than enough space in this 670-litre loadbay whether you've got a Shih Tzu or a German Shepherd. Every E-class gets self-levelling rear air suspension for maximum cushiness, plus there's a reversible matt for muddy paws, and a power tailgate for maximum convenience. Just remember space plummets if you choose the plug-in hybrid because of its batteries. Diesels do it best for dog-lovers.
Find a used Mercedes E-Class estate at Motorpoint
BMW 5-series estate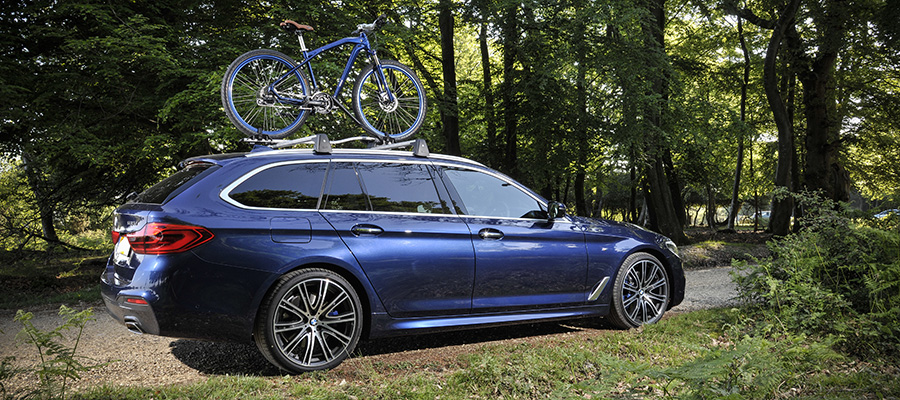 The 5-series' 570-litre loadbay might play second fiddle to the Mercedes E-class, but the bimmer still boasts a bountiful boot, and comes packed with dog-friendly features to, er, boot. The fundamentals are spot on with a low floor and wide aperture, the load cover automatically retracts when the tailgate opens, plus there's a partition net that can extend from the back of the rear seats to the roof, ensuring man's best friend gets the full ride-in-a-police-car experience. Air suspension is standard, and bonus points for a rear window that opens independently of the tailgate.
Grab a used BMW 5 Series touring at Motorpoint
Mini Clubman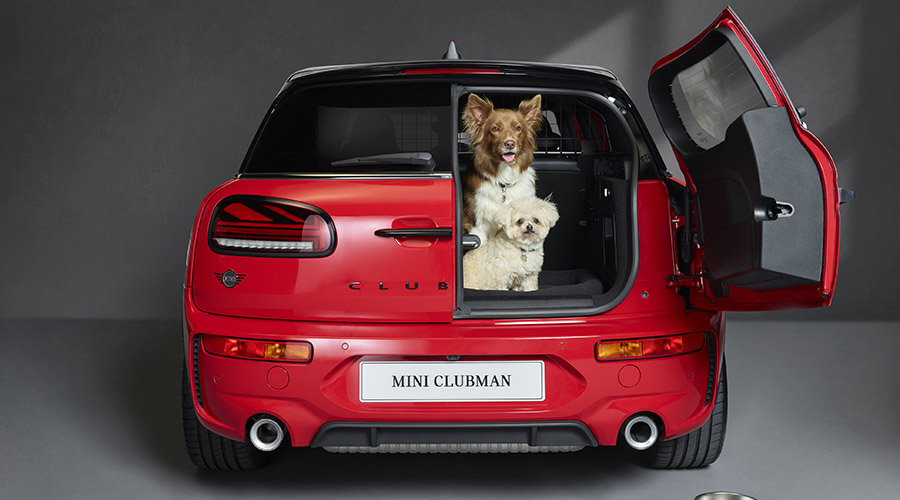 Putting a dog in most Minis is like squeezing a big Chihuahua into a small handbag, but the Clubman is much bigger because it shares under-bits with the BMW X1. The closely related Countryman SUV is actually larger and well worth a look, but the Clubman is lower, meaning it's easier to jump aboard. It also has side-hinged rear doors for easy loading, and there's no parcel shelf or slanted hatchback glass, so dogs can sit up and enjoy the view. Mini has even partnered with Dogs Trust, and offers dedicated dog accessories, including a dog guard to separate the cabin, and all-weather mats that both stop dogs slipping about and protect the interior trim.
See our range of used Mini Clubmans

If you want a supermini-sized car with a generous estate-sized boot, you're looking at it. Despite being your only option, the Skoda Fabia is a cracker, and the 530 litres behind its rear seats is huge considering it's barely a school ruler longer than a Fiesta (and opens out to 1,395 litres with the rear seats dropped). If your dog refuses to go canine-class, Skoda offers waterproof, washable anti-slip covers that turn the rear seats into a kind of padded cell, as well as a safety belt to prevent unintentional walkies. The excellent fourth-generation model launched in 2021 and makes for a fabbier Fabia, but its predecessor is best for value.
Find a used Fabia at Motorpoint

Dogs might not be for Christmas, but they are for Volvos. All the Scandinavian maker's estates and SUVs are dog-friendly, but the V60 makes a great mid-sized option. You can flex the boot from 519 to 1,431 litres, a terrier can vault its low loading lip like an Olympic horse vaulter*, and a power tailgate is standard equipment. There's also a 12V socket in the boot, so you can power accessories, including those nifty dog shower things. Volvo being safety obsessed and all, it also offers pet accessories that sync up with the car's safety systems. Clever.
*depends on dog.
Check out our range of used Volvo V60s