Sponsorships
At Motorpoint, we like to be an active part of the community. That's why we sponsor everything from popular entertainment venues through to household names in the world of cricket, football and rugby. Whatever their field, they all share a common goal — a desire to be the best at what they do, something we also strive to achieve every day at Motorpoint.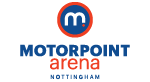 Motorpoint Arena Nottingham
Motorpoint has the naming rights for the 10,000-capacity Motorpoint Arena Nottingham. Opened in 2000, the Motorpoint Arena Nottingham is a multi-use indoor arena and has hosted over 1,000 concerts to date from artists including Elton John, Green Day, Iron Maiden, Rod Stewart and Usher.
For more information visit www.motorpointarenanottingham.com