Wheel-y happy visitor drives away in new car from Xscape Yorkshire thanks to Motorpoint
24 January 2020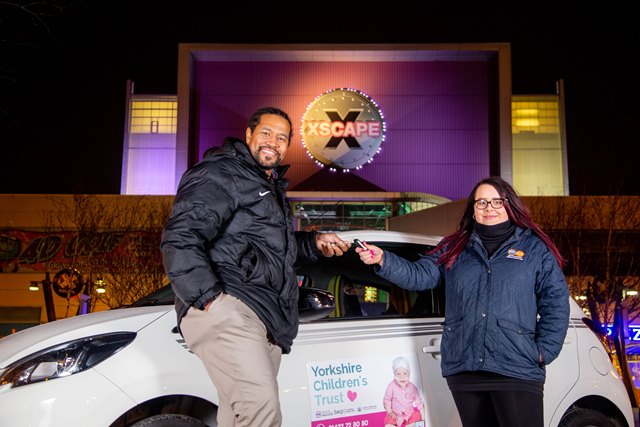 Photos © 2021 Motorpoint
A Sixth Form teacher has quite literally driven away delighted after winning a car from Motorpoint and Xscape Yorkshire
"Yorkshire Children's Trust would like to offer their heartfelt thanks to Motorpoint for donating a car as the prize and to Xscape Yorkshire for helping to promote the raffle and, of course, huge congratulations to the winner, Ray Francis"
Ray Francis, a former professional goalkeeper, collected the keys to the Peugeot 108 from the popular visitor attraction in Castleford after being selected ahead of thousands of other people who had entered a competition at the venue last year to help raise funds for the Yorkshire Children's Trust.
The lucky winner, who lives in Camberley, Surrey, was visiting Xscape Yorkshire with his eight-year-old daughter in the run up to Christmas when he bought a raffle ticket. Over £2,000 was raised for the Yorkshire Children's Trust through the competition.
"I was completely dumfounded when I got the call to say I'd won," explained Ray. "What a great start to the New Year. I plan to name the car after my young daughter, Isabella - she was with me when we bought the raffle tickets.
"I already support a children's charity which supports families through child bereavement, so when I saw them selling tickets at Xscape Yorkshire for a similar charity I thought I'd do my bit as well, and I am glad I did as I've driven away in a new car and the charity has benefitted from all the money raised."
Yorkshire Children's Trust, which was founded in 2011, has helped to support over 1,000 families to date who have children with a long-term illness or disability, supporting the emotional needs of the families with holidays, present giving, counselling and financial needs with support grants to pay for medical equipment or treatment, hospital travel costs and essential home modifications.
Chris Goodison, General Manager of Motorpoint Castleford, said: "We couldn't be happier for Ray and we hope he enjoys driving his car from Motorpoint. It's a real pleasure to have teamed up with Xscape Yorkshire to raise funds for the Yorkshire Children's Trust and we hope the money raised can make a real difference to the lives of children with long-term illness or disability across the region."
Simon Widdop, Founder of Yorkshire Children's Trust, added: "Yorkshire Children's Trust would like to offer their heartfelt thanks to Motorpoint for donating a car as the prize and to Xscape Yorkshire for helping to promote the raffle and, of course, huge congratulations to the winner, Ray Francis.
"Funds raised will be used to support the new counselling services provided by the charity. When a child becomes poorly, it's not just that child that needs support, but mum, dad and siblings too. By providing one-to-one person centred counselling and play therapies, Yorkshire Children's Trust help to relieve stress and allow families to come to terms with dealing with long term illnesses and disabilities."
Jason Warren, General Manager of Xscape Yorkshire, said: "It's been the perfect mix of delighting a visitor who has won a car, raising much needed funds for the charity and all working together to do something to make a difference. Huge thanks must go to Motorpoint for providing this amazing prize and to every one of our visitors who bought a ticket or donated money to the charity."
Motorpoint opened its branch in Castleford in early 2016 after a multi-million pound investment in the five acre site on the former Glasshoughton Colliery. Less than two minutes drive from J32 Outlet Centre and Xscape Yorkshire, the branch stocks over 500 low mileage, nearly new cars all under three years old and with less than 25,000 miles, from 30 different manufacturers, with a further 6,500 vehicles available in group stock. Every vehicle will come with the balance of manufacturer's warranty and is available to drive away the same day.
Motorpoint is also committed to making car buying easy which is why, backed by the Motorpoint Price Promise, it will also refund the difference to any customer within seven days of their order if they find the same car from a competitor. As an added bonus, it will also give the customer £50 worth of Amazon vouchers to spend.
In the community
Motorpoint is proud to work with Yorkshire Children's Trust. For more info on the work they do, please visit https://www.yctrust.uk/.
Press releases
For all media enquiries please contact Stephen Wright, PR Manager on 01332 227239 or 07825 308326. Alternatively by email.