Nottingham-based nurse wins £10,000 season ticket to Motorpoint Arena
05 January 2018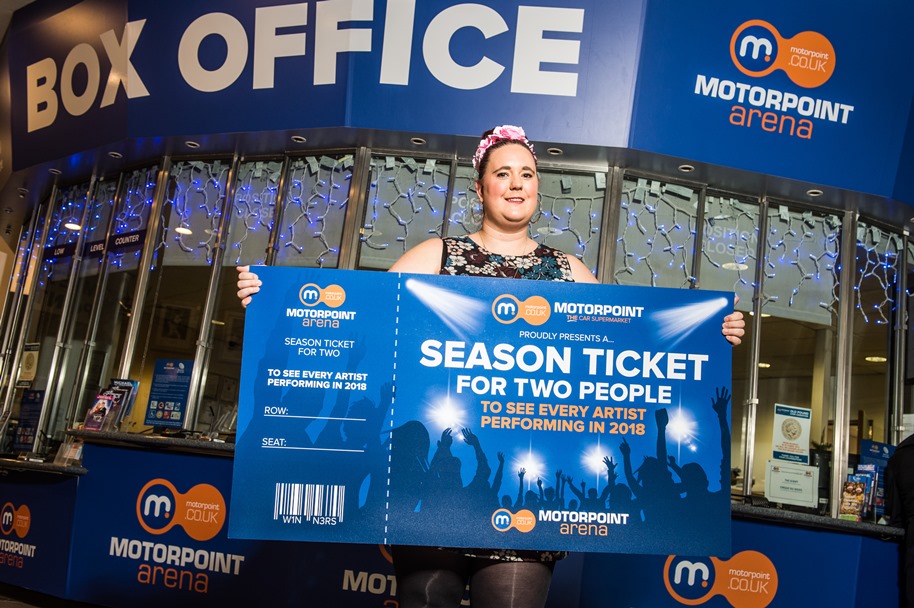 Photos © 2022 Motorpoint
Amy Thompson has been chosen from thousands of other people from across the East Midlands to win a Season Ticket to the Motorpoint Arena Nottingham worth over £10,000 – courtesy of Motorpoint
"This has been the best Christmas present ever. I'm still pinching myself to be honest. I never win anything so to win a prize like this is amazing. I love coming to the Motorpoint Arena Nottingham to watch the Nottingham Panthers so to get the opport"
The UK's leading independent car retailer partnered with the Motorpoint Arena Nottingham last year to give one person the opportunity to win a Season Ticket for two people for 2018 to a performance by every artist at one of the venues to which it holds the naming rights.
And Amy, who works as a Nurse in the Rheumatology Department at the Queen's Medical Centre in Nottingham, was chosen at random shortly before Christmas in the draw after both the Motorpoint Arena Nottingham and the Derby branch of Motorpoint were flooded with entries by music lovers throughout November and December.
"This has been the best Christmas present ever," explained the 26 year-old, who lives in Arnold. "I'm still pinching myself to be honest. I never win anything so to win a prize like this is amazing. I love coming to the Motorpoint Arena Nottingham to watch the Nottingham Panthers (Amy is a lifelong Panthers fan) so to get the opportunity to visit the Arena for all the other shows is amazing."
A big music fan Amy, who describes her music tastes as "eclectic", she is particularly looking forward to seeing Evanescence and Nickelback over the coming months.
"I definitely have varied music tastes, ranging from Little Mix to Def Leppard," added Amy, who became engaged to her fiancé Matt last October "and now, thanks to Motorpoint, I will be able to pursue my passion for music in full."
As part of her prize Amy and her family will get the opportunity to see international best-selling artists already confirmed to appear at the Motorpoint Arena Nottingham this year such as ELO, Paloma Faith, Paul Weller, Tears for Fears, The Script and The Vamps from the comfort of some of the best seats in the auditorium.
"I absolutely love being a nurse and caring for people but if I had to do something different my first choice would be working in music at somewhere like the Motorpoint Arena Nottingham – it's such a great venue!," added Amy.
Christopher Goodison, General Manager of Motorpoint Derby, said: "Christmas is the 'Season of Goodwill' and we thought what better way to celebrate this than by giving music fans in the East Midlands the opportunity to see some of the world's best artists live free of charge - courtesy of Motorpoint. The competition proved a huge success and we're delighted that Amy has won herself two of the best seats in the house for every artist performance at the Motorpoint Arena Nottingham in 2018."
Motorpoint took the naming rights for the East Midlands' premier entertainment venue in 2016 as part of an on-going drive to increase its brand awareness across the region. The 10,000-capacity Motorpoint Arena Nottingham has played host to artists such as Ed Sheeran, Queen, Liam Gallagher, Little Mix and The Killers in the last 12 months alone.