Motorpoint to host F1 Simulator Challenge this weekend in Glasgow
26 October 2017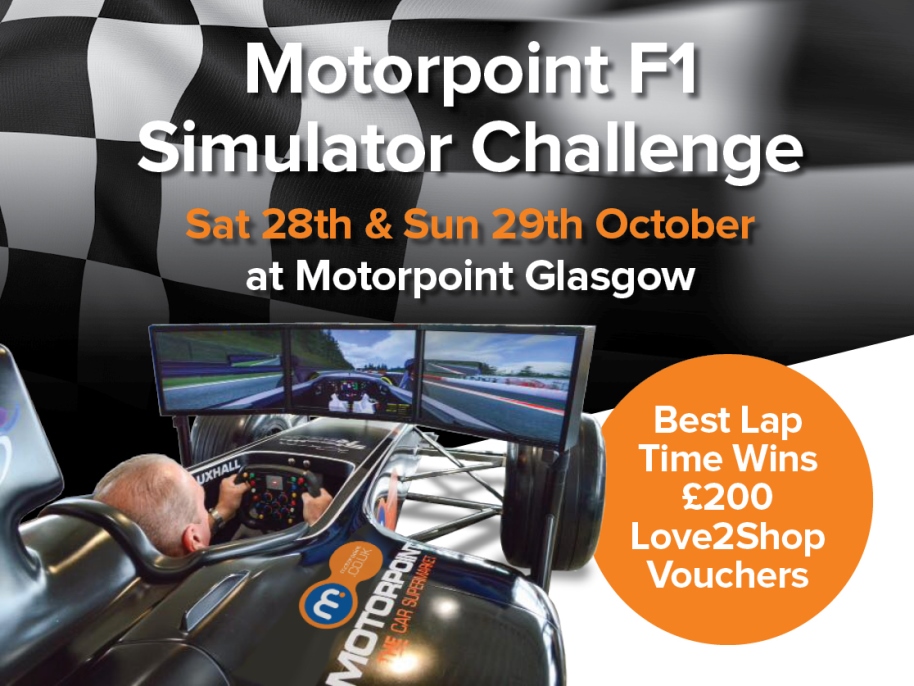 Photos © 2021 Motorpoint
Motorpoint is giving motorists across Scotland the chance to put their driving skills to the test this weekend – and potentially win £200 in the process
"We're huge fans of F1 at Motorpoint and we thought what better to celebrate this by having our very own F1 Simulator Challenge all weekend in Glasgow"
The UK's leading car supermarket is hosting a special F1 Simulator Challenge at its popular branch on Hamilton Road in Mount Vernon between 10am – 5pm on Saturday, October 28 and 11am and 4pm on Sunday, October 29.
Visitors to Motorpoint in Glasgow will compete against each other in a full-size replica F1 car complete with foot pedals, paddle shift gears and fully responsive steering column in a bid to record the fastest lap. The person who posts the fastest lap over the two days will win £200 worth of Love2Shop vouchers.
Adam Gilmore, General Manager of Motorpoint in Glasgow, explained: "We're huge fans of F1 at Motorpoint and we thought what better to celebrate this by having our very own F1 Simulator Challenge all weekend in Glasgow. It is great fun for people of all ages, free to use, and the best part about it all is that the person who records the fastest lap wins £200 worth of Love2Shop vouchers for their efforts."
Motorpoint in Glasgow is located at 60 Hamilton Road, Mount Vernon, Glasgow, G32 9QA. The branch stocks over 500 new and low mileage nearly new cars available to drive away on the same day from over 30 different manufacturers. It is open seven days a week including until 8pm weekdays. For more information call 0141 4132132.