Motorpoint to host drive in cinema in Castleford in aid of charity
23 August 2020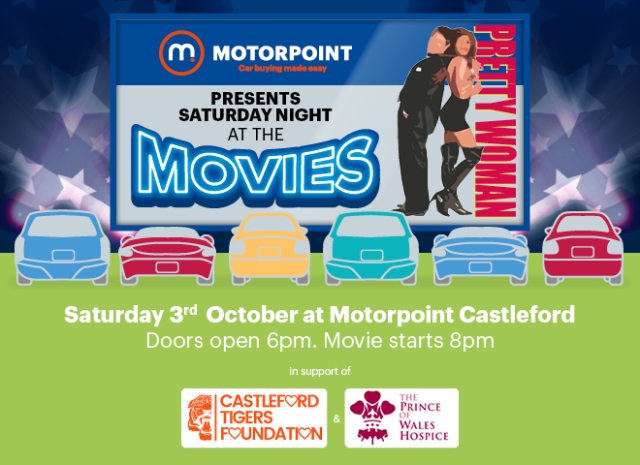 Photos © 2020 Motorpoint
Motorpoint is set to host a special charity Drive In Cinema in Castleford in early October
"We're hoping it will help to raise lots of money to continue the amazing work done by the Castleford Tigers Foundation and The Prince of Wales Hospice in the town"
The UK's largest independent car retailer, which is based on Whistler Drive, is joining forces with the Castleford Tigers Foundation and The Prince of Wales Hospice for the fundraising event at Motorpoint on Saturday, October 3.
Motorpoint will be showing the iconic 90s rom com 'Pretty Woman' starring Julia Roberts and Richard Gere in the grounds of its branch, minutes from Xscape Yorkshire and the J32 Outlet Centre.
Gates for the event will open at 6pm and the film is scheduled to start at 8pm. Entry is £20 per car per night. All proceeds from ticket sales will go to support the work of both charities in Castleford and surrounding areas.
Food and drink will be available on the night while there will be plenty of entertainment after you've parked up, with pre-show music to get you in that feel-good mood as well as . prizes galore on offer with a special edition of Drive in Bingo.
Motorpoint Castleford's General Manager Chris Goodison, said: "We're really looking forward to welcoming everyone to Motorpoint Castleford in early October to our Drive In Cinema. The perfect socially-distanced night out, we're hoping it will help to raise lots of money to continue the amazing work done by the Castleford Tigers Foundation and The Prince of Wales Hospice in the town."
Jill Kirkham, Fundraising Manager at The Prince of Wales Hospice, added: "We're so grateful to Motorpoint for continuing to support us in these challenging times. It has been very difficult for the Hospice to fundraise in recent months and Motorpoint have gone above and beyond to ensure we can still bring funds in by creating this fabulous event. We can't wait to settle down with our popcorn to watch such an iconic film, Pretty Woman is such a feel good movie, and a great choice for the Drive in Cinema."
Simon Fox, Foundation Community Director at the Castleford Tigers Foundation, said: "Motorpoint have been extremely generous in organising and hosting this fabulous concept to raise vital funds. I'm sure fans will really look forward to such a unique 'Tigers Family' occasion from the comfort and safety of their own car with family and friends. Every penny raised will go into supporting our community even further at a crucial and challenging time for the Castleford district."
Motorpoint Castleford is located at Whistler Drive, Glasshoughton, Castleford, WF10 5HX. Tickets for the Drive In Cinema on Saturday, October 3 are available from the Castleford Tigers website. For more information, including a chance to win VIP tickets, click here
Press releases
For all media enquiries please contact Stephen Wright, PR Manager on 01332 227239 or 07825 308326. Alternatively by email.