Motorpoint teams up with HARIBO to give away a car in aid of Prince of Wales Hospice
15 March 2019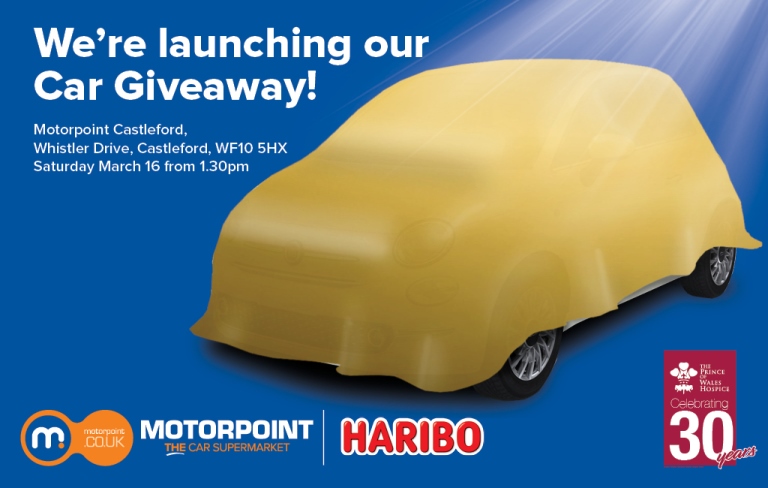 Photos © 2021 Motorpoint
Motorpoint has teamed up with HARIBO to give away a new car for The Prince of Wales Hospice 30th Anniversary.
We will be joined by HARIBO to hand over the keys to the £10,000 car to The Prince of Wales Hospice this Saturday, which one lucky member of public will be able to win through the Hospice's special 30th Anniversary Raffle.
The car will be officially revealed on 16th March by nurses from The Prince of Wales Hospice together with the Castleford Tigers players and HARIBO Gold Bear before heading out on the road on a promotional tour throughout the Five Towns Area between mid-March and mid-September stopping off at venues such as Junction 32 Outlet Centre among others.
Raffle tickets will cost £1 and will be available to purchase in person from the Hospice's retail outlets in the region. A full list of venues where you can buy raffle tickets is available on The Prince of Wales Hospice website. The winning ticket will be drawn on September 17.
The Prince of Wales Hospice has provided palliative care and support to thousands of patients with life-limiting illnesses from its base at Halfpenny Lane in Pontefract since 1989. To date, Motorpoint has raised close to £20,000 for the charity through its various fundraising activities in the last two years.
Mick Martin-Roebuck, General Manager of Motorpoint Castleford, explained: "We are delighted to be able to team up with Haribo, a fellow Hospice partner, to support The Prince of Wales Hospice 30th anniversary celebrations. We are very confident that the car that is being revealed will prove a big draw to the public and we are hoping it will raise at least £30,000 in raffle ticket sales for the Hospice over the coming weeks and months."
Motorpoint is based on Whistler Drive in Castleford. A short drive from J32 of the M62, the branch officially opened in April 2016 after a multi-million pound investment in the site on the former Glasshoughton Colliery. The five acre branch stocks over 500 low mileage used cars available to drive away same day from over 30 different manufacturers backed by its recently launched Price Pledge. Launched in November 2018, Motorpoint will refund the difference to any customer within seven days of their order if they find a like for like car from a competitor. As an added bonus, it will also give the customer £50 worth of Amazon vouchers to spend.
For more information about The Prince of Wales 30th Anniversary including how to buy raffle tickets visit www.pwh.org.uk/car