Motorpoint teams up with Chester-Le-Street Amazons to support girls' football in the North East
08 September 2020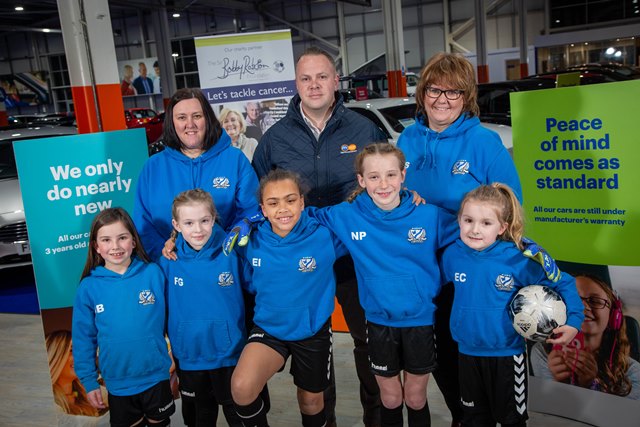 Photos © 2022 Motorpoint
Motorpoint has teamed up with the Chester-le-Street Amazons Girls & Women's FC to become the club's principal partner
"This support will make a huge difference to our plans to encourage even more girls to take up football at all age levels within our local community over the next few years"
The UK's leading independent car retailer, which a network of branches throughout England, Scotland and Wales, including one in Birtley, County Durham, will sponsor all age groups at the Amazons up to the Under 17s.
The agreement, which starts with immediate effect, also includes the two adult women's teams, the original Amazons and Amazines, who have recently been integrated into the women's team. The partnership will run until the end of the 2022-23 season during which time the distinctive Motorpoint logo will also be featured on the club's website as well as social media channels.
The Chester-le-Street Amazons was founded in 2005 by Julie Scurfield who, frustrated by the lack of opportunities for young girls to play football, decided to set up her own team with nine players aged between eight and ten years old. And, despite not scoring a goal for the first three seasons, the Chester-le-Street Amazons have subsequently gone on to become one of the North East's largest girl's football clubs and a Charter Standard Club by the County Durham FA with over 180 players.
Richard Start, General Manager of Motorpoint Birtley, said: "We're delighted to have teamed up with the Chester-le-Street Amazons for the next few seasons and look forward to playing out part in helping all of the age groups not only grow but also continue to set the standard for girls' football in County Durham."
Julie Scurfield, Chairperson of the Chester-le-Street Amazons, added: "We really can't thank Motorpoint enough. This support will make a huge difference to our plans to encourage even more girls to take up football at all age levels within our local community over the next few years."
Motorpoint is no stranger to support grassroots football in the North East. It previously supported Norton Ladies FC, who now play in the FA National Women's League as well as EBAC Northern League team Birtley Town FC.
Motorpoint Birtley, which is located on Durham Road in Birtley, stocks over 500 low mileage, nearly new cars and light commercial vehicles available from over 30 different manufacturers. Every vehicle comes with the balance of manufacturer's warranty backed by the Motorpoint Price Promise. This means Motorpoint will refund the difference to any customer within seven days of their order if they find the same car cheaper from a competitor. As an added bonus, it will also give the customer £50 worth of Amazon vouchers to spend.
Motorpoint has also made contactless collection standard at all of its branches in the wake of COVID-19. This facility allows customers to adhere to the latest social distancing guidelines and choose, buy and drive away without any physical contact with a member of staff. This includes Motorpoint's Unaccompanied Test Drive offering where customers can test drive their chosen vehicle without someone from Motorpoint being present in the car.