Motorpoint sets drivers F1 Simulator Challenge this weekend in
24 May 2018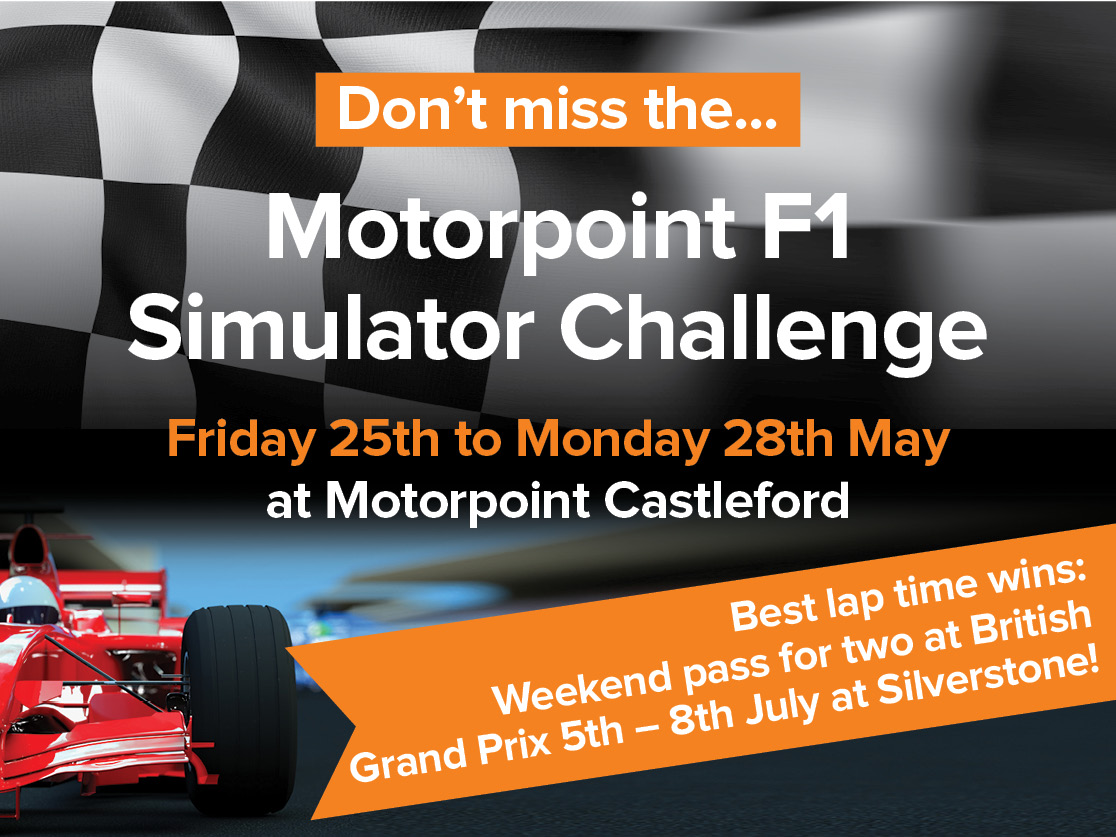 Photos © 2021 Motorpoint
Motorpoint is giving motorists across West Yorkshire the chance to put their driving skills to the test over the Bank Holiday weekend – and potentially win tickets to the Silverstone GP
"We're huge fans of F1 and we thought what better to celebrate this by having our very own F1 Simulator Challenge throughout the Bank Holiday Weekend in Castleford"
The UK's leading car supermarket is hosting a special F1 Simulator Challenge at its popular branch on Whistler Drive in Castleford from Friday, May 25 to Monday, May 28. The five acre branch is located only a short drive from Xscape Yorkshire and the J32 Outlet Centre.
Visitors to Motorpoint in Castleford will compete against each other in a full-size replica F1 car complete with foot pedals, paddle shift gears and fully responsive steering column in a bid to record the fastest lap. The person who posts the fastest lap over the course of the four days will win two Weekend Passes to the Silverstone GP in early July. All donations received throughout the four days will be donated to the Prince of Wales Hospice.
Mick Martin-Roebuck, General Manager of Motorpoint Castleford, explained: "We're huge fans of F1 and we thought what better to celebrate this by having our very own F1 Simulator Challenge throughout the Bank Holiday Weekend in Castleford. It is great fun for people of all ages, free to use, and the best part about it all is that the person who records the fastest lap wins the perfect prize for all F1 fans – a weekend away at the Silverstone GP."
Motorpoint Castleford is located on Whistler Drive in Castleford. The branch, which opened two years ago, stocks over 500 new and low mileage nearly new cars available to drive away on the same day from over 30 different manufacturers. It is open seven days a week including until 8pm weekdays. For more information call 01977 712340.