Motorpoint sets drivers F1 simulator challenge in Birmingham
10 October 2018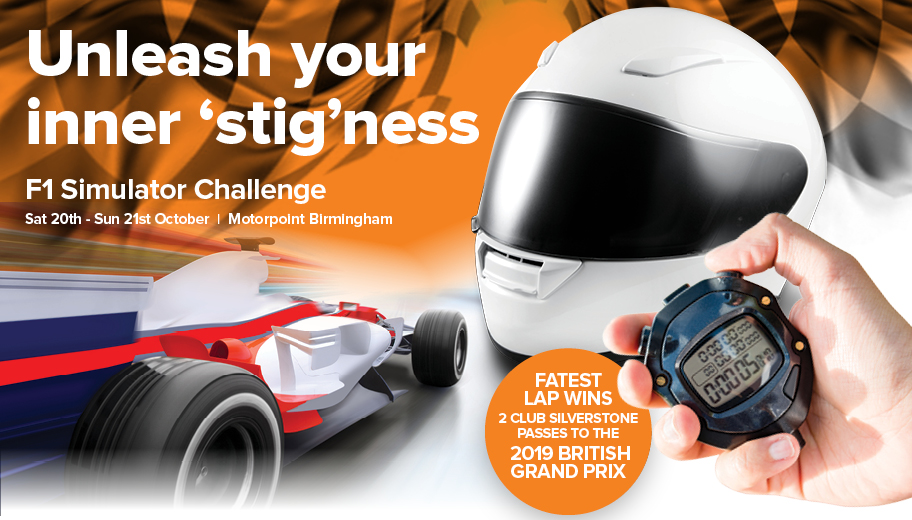 Photos © 2021 Motorpoint
Motorpoint is giving motorists across the West Midlands the chance to put their driving skills to the test. And potentially win VIP tickets to next year's Silverstone GP!
The Birmingham branch is celebrating their fifth anniversary by hosting a special F1 Simulator Challenge later this month. On Saturday 20th October and Sunday 21st October, visitors from across the West Midlands are being asked to release their inner 'stig' ness. Anyone who joins us on Lichfield Road in Aston will put their driving skills to the test. Competitors will try to record the fastest lap in a full-size replica F1 car. It comes complete with foot pedals, paddle shift gears, and fully responsive steering column. The person who posts the fastest lap over the course of the weekend will win two Club Silverstone Passes to the Grand Prix. They can look forward to a thrilling day watching the F1 in person at Silverstone in July 2019.
John Forster, General Manager of Motorpoint Birmingham, can't wait to see the official timings. "We're huge fans of F1 and we thought what better to celebrate our birthday by having our very own F1 Simulator Challenge weekend-long party – and everyone is invited. It is great fun for people of all ages and free to use. The best part about it all is that the person who records the fastest lap wins the perfect prize for all F1 fans. A weekend away at the Silverstone GP!"
Motorpoint Birmingham opened five years ago on Lichfield Road in Aston, Birmingham. The five-acre branch stocks 500 low mileage nearly new cars. You can drive away with a car from one of over 30 different manufacturers on the same day. Come and visit us, we're open seven days a week and until 8pm on weekdays.
Press releases
For all media enquiries please contact Stephen Wright, PR Manager on 01332 227239 or 07825 308326. Alternatively by email.