Motorpoint rewards budding Welsh artist
02 July 2020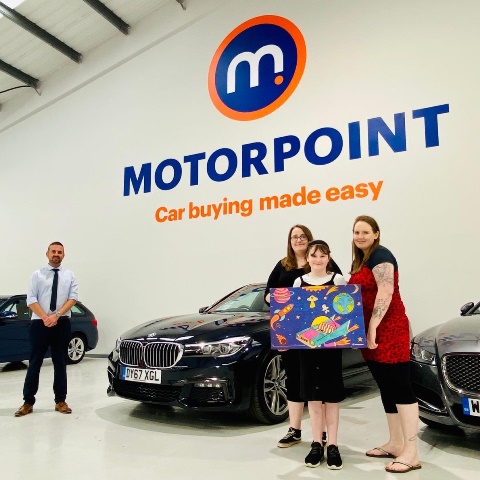 Photos © 2022 Motorpoint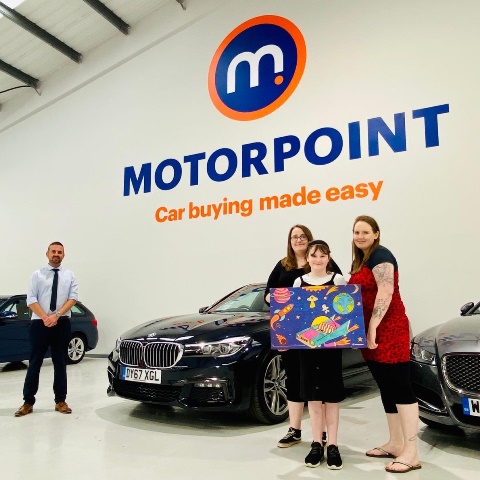 Sian Williams has been crowned the Motorpoint Ultimate Fantasy Car competition winner
"We absolutely love the fact our design has been turned into a print. It's already got pride of place on the wall in our living room at home"
The 36 year old, who lives with her partner Lois, and 11 year-old daughter Cerys in Llanelli, was one of dozens of budding artists from across South West Wales who put pen to paper during lockdown in a bid to claim the prize - £250 worth of Amazon vouchers and a framed version of their design to hang up over the fireplace at home.
Motorpoint, which opened its doors to customers in Swansea in late January 2020, recently took over the sponsorship of the Leigh and Claire Breakfast Show on The Wave and as part of its support for families during lockdown teamed up the hosts to launch the competition in May.
The response was overwhelming with entrants from Carmathen, Llanelli, Neath, Port Talbot and Swansea among other places.
Sian Williams explained: "We're always drawing as a family and when I heard about the competition with Leigh and Claire on The Wave I said to everyone 'let's enter it'.
"Our design took us a couple of hours to complete and we were really happy with it but we never thought for one minute that we'd actually win. We're already working out what to spend the Amazon vouchers on, we've got four cats and a dog, so probably something to do with animals if Cerys has her way."
Sian added: "We absolutely love the fact our design has been turned into a print. It's already got pride of place on the wall in our living room at home!"
Andrew Davies, General Sales Manager of Motorpoint Swansea, added: "It was really hard to choose a favourite, because of the all entries were so good, but Sian's design stood out to the whole team at Motorpoint, and it was a pleasure to crown them worthy winners down at the branch in Llansamlet."
Motorpoint, which has a network of branches throughout England, Scotland and Wales, fully re-opened all of its branches in Wales on June 22 following new guidance from the Welsh Assembly. Based on Samlet Road in Swansea, Motorpoint is open seven days a week for customers to browse up to 500 low mileage, nearly new cars and light commercial vehicles in stock at each location – all of which will be available for same day driveaway.
What's more, every vehicle comes with the balance of manufacturer's warranty backed by the Motorpoint Price Promise. This means Motorpoint will refund the difference to any customer within seven days of their order if they find the same car from a competitor. As an added bonus, it will also give the customer £50 worth of Amazon vouchers to spend.
And, as part of its safeguarding process, customers will be able to test drive cars without someone from Motorpoint being present while all vehicle collections from Swansea will be completed in specially designated areas to guarantee social distancing at all times. Motorpoint has also launched an Online Portal to ensure that the car buying experience is now completely paperless.
Motorpoint will continue to operate its hugely popular free home delivery service covering the whole of the UK mainland for those customers who would prefer not to visit the branch, backed by its 14 day hassle free, money back guarantee.