Motorpoint appoints a new General Manager in Burnley
01 November 2019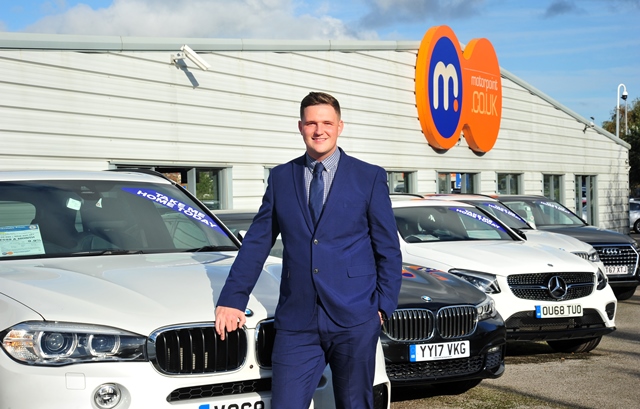 Photos © 2021 Motorpoint
Motorpoint has appointed one of the youngest ever General Manager in its' history
""I couldn't be more thrilled to have been appointed the new General Manager for Motorpoint Burnley. I had always dreamt of running my own branch when I joined Motorpoint in my early twenties but I never imagined for one minute it would be in my home "
30 year-old Jordan Dean, who has worked for the UK's largest independent car retailer in a variety of senior customer facing roles for over eight year years, most recently as Sales Manager, will oversee the running the popular branch in Burnley. He will be supported by a five-strong management team responsible on site for all areas of customer service, operations and sales.
Jordan, who is married with a one year old daughter, is the first ever General Manager to start as a Sales Trainee, in which time he has worked in all areas of the business including time at other branches learning best practice. A lifelong Burnley Football Club fan, when he's not at work he can often be found at Turf Moor watching the Clarets in the Premiership or spending quality time with his daughter going for walks around Towneley Park.
Motorpoint Burnley, which is located close to J9 of the M65, opened its doors to the public in November 2001 after a multi-million pound investment in the ten acre site. It has subsequently gone on to sell a nearly new, low mileage car to every postal code area in East Lancashire.
"I couldn't be more thrilled to have been appointed the new General Manager for Motorpoint Burnley," explained Jordan. "I had always dreamt of running my own branch when I joined Motorpoint in my early twenties but I never imagined for one minute it would be in my home town. I couldn't be prouder.
"We have a fantastic team here in Burnley who provide the perfect platform from which to further establish ourselves as East Lancashire's Car Buyers Champion offering award-winning levels of choice, value and service to our customers."
Motorpoint, which is located on Rosegrove Lane in Burnley, is open seven days a week, including until 8pm weekdays. A long term supporter of Lancashire MIND, it is home to over 500 low mileage nearly new cars from over 30 manufacturers, together with access to thousands of other cars in group stock backed by its Price Pledge.
Jon Grace, Head of Sales at Motorpoint, added: "Jordan has worked in Burnley for eight years and during that time has lead the sales team from strength to strength. Outside of his operational achievements Jordan has also been instrumental in developing some of the tools and systems that are now in place across all our sites and as one of our most successful managers he is ready to take the next step in his leadership career."
Press releases
For all media enquiries please contact Stephen Wright, PR Manager on 01332 227239 or 07825 308326. Alternatively by email.