Drive In Cinema proves to be fundraising blockbuster for Sheffield charity
21 October 2019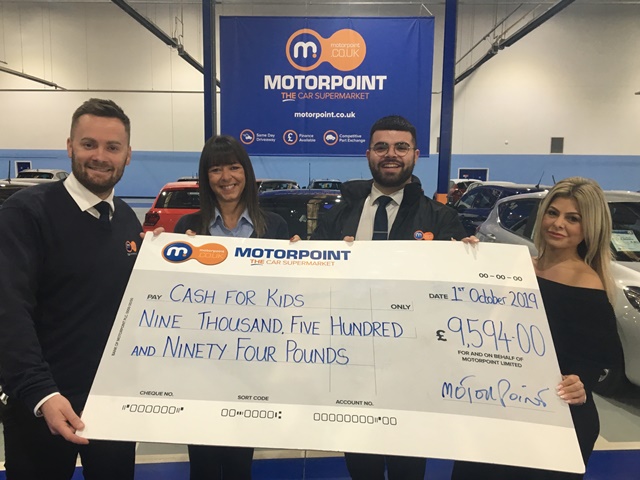 Photos © 2021 Motorpoint
Motorpoint's Drive in Cinema in Sheffield has raised almost £10,000 for Cash for Kids
"It was fantastic to see so many people having a wonderful time at Motorpoint watching 'The Greatest Showman'"
The UK's largest independent car retailer put on a special sell-out outdoor screening of 'The Greatest Showman' in the grounds of its seven-acre branch on the Sheffield Business Park in aid of the popular charity.
And, film lovers from across Sheffield and South Yorkshire, flocked to Motorpoint to watch the Golden Globe and Grammy award-winning musical starring Hugh Jackman, Zac Efron, Michelle Williams and Rebecca Ferguson. Over 750 people attended the event raising a total of £9,594.
All proceeds from the annual event, which is now in its third year, will go to Cash for Kids, the Sheffield-based children's charity, which works tirelessly to support children under the age of 18 who are sick, disadvantaged or in need of extra support. Almost £18,000 has been raised for Cash for Kids to date through the Motorpoint Sheffield Drive In Cinema.
Staff from the South Yorkshire branch of Motorpoint were on hand following the event in late September to officially present Michelle Osborne, Charity Fundraising Executive at Cash for Kids, with a cheque for the entire proceedings from the evening.
Chris Goodison, General Manager of Motorpoint in Sheffield, said: "It was fantastic to see so many people having a wonderful time at Motorpoint watching 'The Greatest Showman'. And the best thing about it was that collectively we helped raise such an incredible amount of money for our charitable partner - Cash for Kids."
Michelle Osborne, Charity Fundraising Executive at Cash for Kids, added: "I really can't thank Motorpoint enough for hosting their third annual Drive In Cinema. It was a huge success and the record amount of money it has generated will help make a big difference to the lives of children up the age of 18 in Sheffield and South Yorkshire."
Motorpoint Sheffield adopted Cash for Kids as its charitable partner in 2017 following the opening of its branch close to both Junction 33 and 34 of the M1. Based on Europa Link, it stocks hundreds of low mileage nearly new cars, all under three years old and with less than 25,000 miles, backed by the Motorpoint Price Pledge. Launched last year, Motorpoint will refund the difference to any customer within seven days of their order if they find the same car from a competitor. As an added bonus, it will also give the customer £50 worth of Amazon vouchers to spend.
Press releases
For all media enquiries please contact Stephen Wright, PR Manager on 01332 227239 or 07825 308326. Alternatively by email.