Tesla models compared: if you're considering the Model S, 3, X or Y, we show you the fastest, cheapest and best
Tesla is a car company like no other. It brought electric cars to the mainstream with its first five-seat model, 2012's Model S, and shocked legacy carmakers who suddenly looked 10 years behind. While the company might be best-known for its semi-autonomous driving tech and its idiosyncratic boss, Tesla's impact on the current push to electric cars shouldn't be underestimated.
When the Tesla Model 3 was launched in the UK market in 2019, it moved the game on again. Suddenly, there was a car with Tesla's immense tech that rivalled the big-selling BMW 3 Series – a car which still doesn't offer a fully electric option. With the Model 3 and the subsequent Model Y SUV, Tesla has become one of the biggest-selling carmakers in Britain.
Its products are impressive, but they're also backed up by arguably the UK's best charging network. With its Tesla Supercharger network, the US carmaker has taken control of charging infrastructure. Go to most motorway service stations and you'll see a huge bank of Tesla chargers, and they're found in a lot of other destinations as well. You'll usually be able to get a vacant one, and they typically work as well – unlike some of the other charging networks you might come across.
Tesla models compared
Tesla Model 3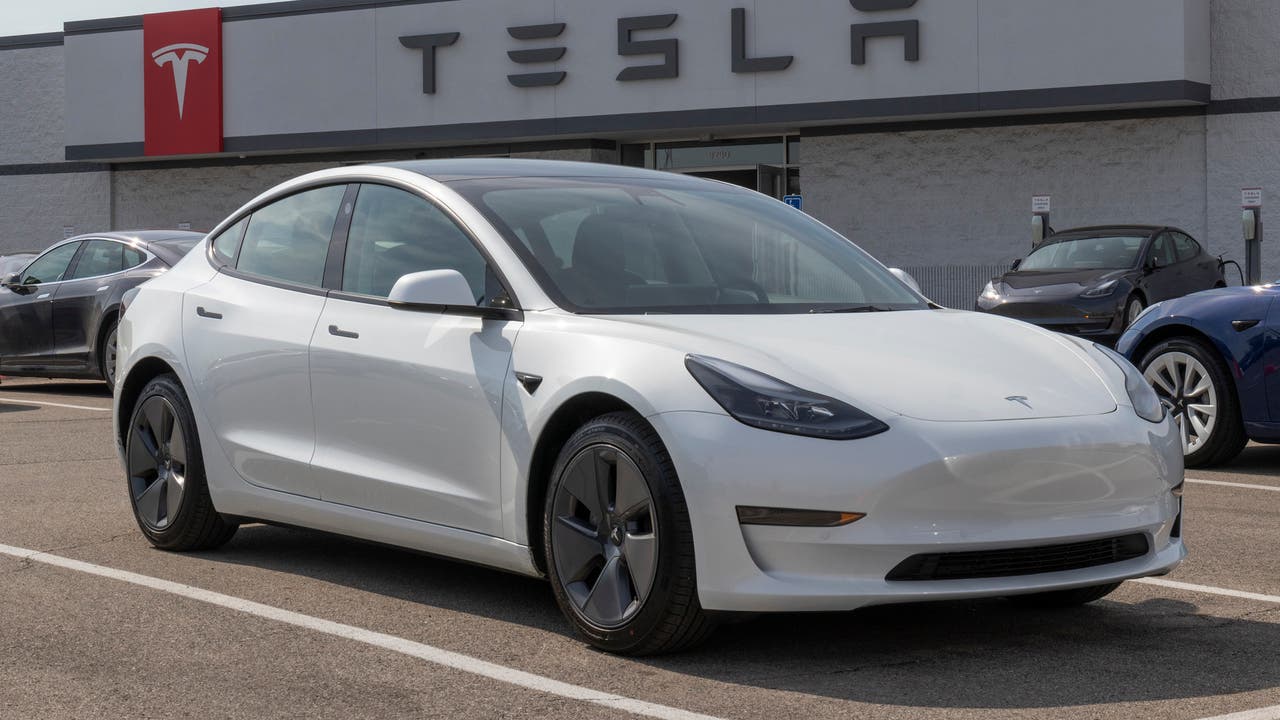 The Tesla Model 3 is the one you're most likely to see on the road. It's Tesla's cheapest car, but is still capable of over 300 miles between charges and acceleration that'll see off a sports car. Inside, there's a stunning array of tech and space for a family, and the boot is a decent size.
The Model 3 is available in Standard Range Plus, Long Range and Performance variants. The Standard Range Plus has rear-wheel drive and one electric motor, while the others have a motor on each axle and all-wheel drive. Even the 'entry-level' Standard Range Plus model offers a 278-mile range – that's more than the majority of mainstream EVs and more than most versions of the Volkswagen ID.3. Long Range versions return up to 374 miles. Only a handful of much more expensive EVs offer more than that.
Tesla Model Y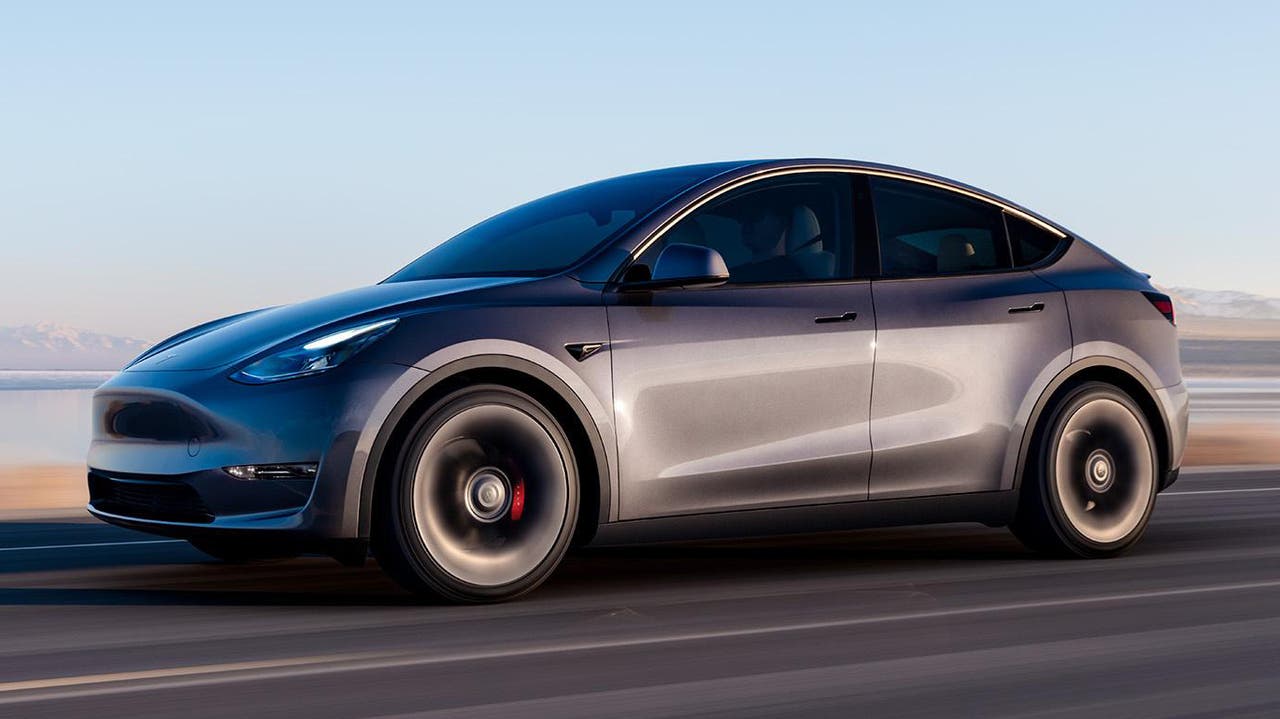 The Tesla Model Y is the company's most recent car launched in the UK. It looks familiar, doesn't it? Well, 75% of the Model Y's parts are shared with the Model 3, but it's just a bit bigger and taller. Take all the positives from the Model 3 and add a roomier interior with a hatchback tailgate, and you've got a nearly unbeatable electric family SUV.
While most buyers are likely to plug in at home and recharge overnight, you can pull up to a Tesla Supercharger station on a longer journey. Whichever version you get, you'll be able to regain 80% battery charge in under half an hour in the right conditions. And, if you take out the Premium subscription from Tesla, you'll be able to stream videos, play games and even do 'caraoke' while you're waiting.
Tesla Model S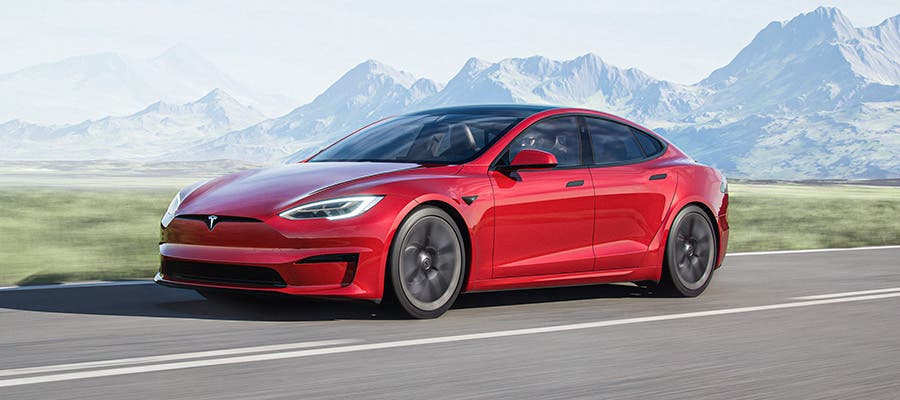 Tesla's Model S hatchback kickstarted the success of the brand, and turned normal people into Tesla superfans. The basic design might be a decade old but a stream of styling, software and powertrain updates means it feels up-to-date inside. If you want an electric car that's nearly new, premium-feeling, high-tech and with a long range, the Model S is probably still your best option.
Tesla Model X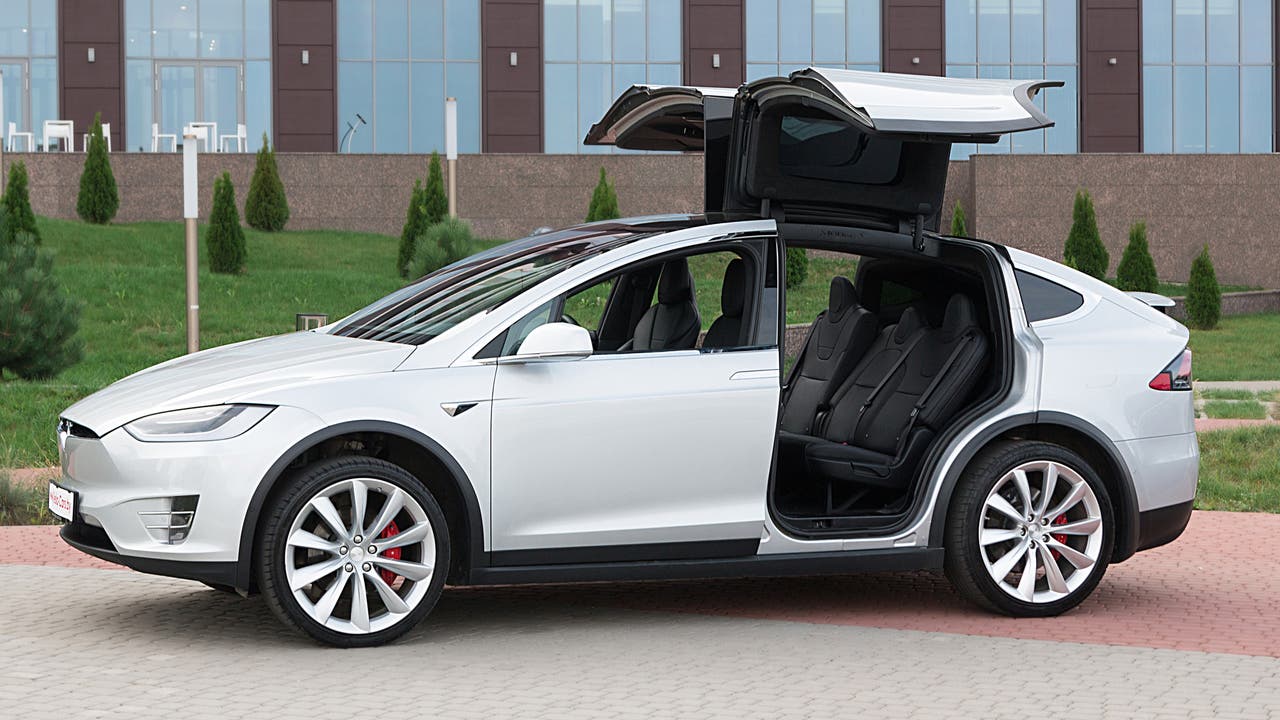 The Model X was Tesla's first SUV and uses the same platform as the Model S. But there are a few extra reasons to choose the full-size Model X, like its seven seats and its 'falcon wing' rear doors. The upwards-opening doors are certainly theatrical, but they do also serve a purpose – they open in a much smaller space than conventional doors. Just think of it as Tesla's take on a MPV's sliding rear doors – but remember not to leave any open drinks in the doors before you lift them up!
Tesla model comparison chart
| | | | | | |
| --- | --- | --- | --- | --- | --- |
| | Range (miles) | Charging capacity | Power | 0-60mph | Boot size |
| Model 3 Standard Range Plus | 278-305 | 170kW (10-80% in 25 mins) | 279hp | 5.8s | 425 litres (including frunk) |
| Model 3 Long Range | 374 | 250kW (10-80% in 27 mins) | 351hp/ 491hp | 4.2s | 425 litres (including frunk) |
| Model 3 Performance | 340 | 250kW (10-80% in 27 minutes) | 527hp | 3.1s* | 425 litres (including frunk) |
| Model Y Standard Range Plus | 267-283 | 170kW (10-80% in 25 mins) | 295hp | 6.6s | 854 litres (laden to roof) (+115-litre frunk) |
| Model Y Long Range | 331 | 250kW (10-80% in 27 mins) | 507hp | 4.8s | 854 litres (laden to roof) (+115-litre frunk) |
| Model Y Performance | 319 | 250kW (10-80% in 27 mins) | 527hp | 3.5s* | 854 litres (laden to roof) (+115-litre frunk) |
| Model S** (2022-on) | 405 | 250kW (10-80% in 30 mins) | 670hp | 3.1s | 709 litres (+89-litre frunk) |
| Model S Long Range | 373 | 250kW (10-80% in 35 mins) | 417hp | 3.7s | 744 litres (+150-litre frunk) |
| Model S Plaid** | 396 | 250kW (10-80% in 30 mins) | 1,020hp | 1.99s* | 709 litres (+89-litre frunk) |
| Model X** | 348 | 250kW | 670hp | 3.8s | 425 litres (+183-litre frunk) |
| Model X Plaid** | 333 | 250kW | 1,020hp | 2.5s* | 425 litres (+183-litre frunk) |
* With the first foot of acceleration subtracted
** US-market specs shown
Which Tesla is the cheapest?
Besides early Model S' with six-figure mileages, the cheapest Tesla is the Model 3. It's the cheapest new Tesla, and the cheapest used Tesla as well. Lightly used Tesla Model 3s can often be a similar price to a new Ford Focus, which makes them seem unbelievable value when you consider the technology and innovation on board. Because there's an eight-year/ 120,000-mile battery warranty, a used Tesla could prove to be a hassle-free purchase.
Which Tesla is the fastest?
At the time of writing, the Tesla Model S Plaid hasn't yet reached the UK. But when it does, you'll be able to scorch from 0-60mph in two seconds. That's unimaginably fast. For context, it's quicker than a Formula 1 car off the line. Tesla says the Model S Plaid can reach speeds of 200mph, meaning this five-seat executive car can mix it with the hypercar elite.
Even the Model 3 Performance is ferociously quick. Its 3.1-second 0-60mph time might even be fast enough to rearrange all your organs and make you feel a bit queasy.
If it ever makes production, the Tesla Roadster will be one of the fastest cars ever built. Tesla is promising a 0-60mph time of 1.9 seconds and a top speed north of 250mph. Oh, and a 620-mile range. Pie, meet sky?
Which Tesla is the most luxurious?
The Model S and Model X are the plushest and most luxurious Teslas – as you'd hope given their higher prices. There are so many features on these cars, including a touchscreen for rear-seat passengers, three-zone climate control and a medical-grade air filter to stop any airborne nasties entering the cabin. But even the cheapest Model 3 gets a vegan-friendly leather interior, plus a sunroof and heaters for the seats and steering wheel.
Which Tesla model is the best value?
The Model 3 isn't just the cheapest Tesla, it also offers the best value for money. The main reason is that, while the more expensive models are definitely larger, the Model 3 is so practical already that you'll rarely miss the small amount of extra space you get in a Model Y or Model S. What's more, the Model 3 is a bit faster than an equivalent Model Y SUV and gets more range from the same battery pack, while also handling slightly sweeter thanks to the lower centre of gravity.
Best Tesla for commuters
Whether you're only driving to the next town over or have a much longer commute, the Tesla Model 3 is a top choice. The Standard Range Plus model will offer the majority of buyers enough flexibility, while the Long Range model can't be ignored for drivers who cover big distances or simply don't want any range anxiety whatsoever.
Tesla's Supercharger network might not be free to use any more, but the speed, convenience and availability it offers means that most drivers don't mind paying. Often, a Tesla Supercharger is cheaper than other charging networks, and it'll still cost you less than filling up a petrol car.
Best Tesla for families
The Model X might be bigger and have the option of seven seats (not to mention its child-wowing doors), but we'd recommend the smaller Model Y to family buyers. It's still very spacious, costs roughly half the price of the Model X and was rated best-in-class in Euro NCAP's 2022 safety tests. Kids will love watching the clouds and the stars through the standard-fit sunroof, and the two wireless phone chargers will keep teenagers' iPhones charged.
Which Tesla model is the best?
The Model 3 and Model Y are the Tesla's best models right now. They're available, attainable and provide all the gadgets if you want to dazzle friends and family. If you need a larger boot opening for bulky items like pushchairs, sports gear or lots of suitcases, get the Model Y. If you don't, get the quicker and more efficient Model 3.