Each new Tesla model has moved the electric car game onwards with ever-improving levels of quality and performance. The Model 3 saloon was the company's first stab at a mass-market car and, for the most part, it knocked it out of the park, with tremendous electric acceleration, a long range and a premium-yet-minimalist cabin. The Model Y SUV builds on the Model 3's strengths with a taller body and bigger boot, making it an easier choice for families.
Under the skin, both the Model Y and Model 3 use the same electric motors and battery packs, and share many of the same parts in the cabin, too. As a result, it's the little differences that should guide your choice between these two options. Keep reading to see how they compare.
Tesla Model Y vs Tesla Model 3 compared
Tesla Model Y
Tesla Model 3

Pros:

More passenger space
Larger boot with better access
May be better value in the long term

Pros:

Longer range
Lower price
Readily available on the used market

Cons:

More expensive
Harder to find either new or used
Not quite as nice to drive

Cons:

Not quite as practical
Slightly higher depreciation
No longer the 'latest' model
Styling and design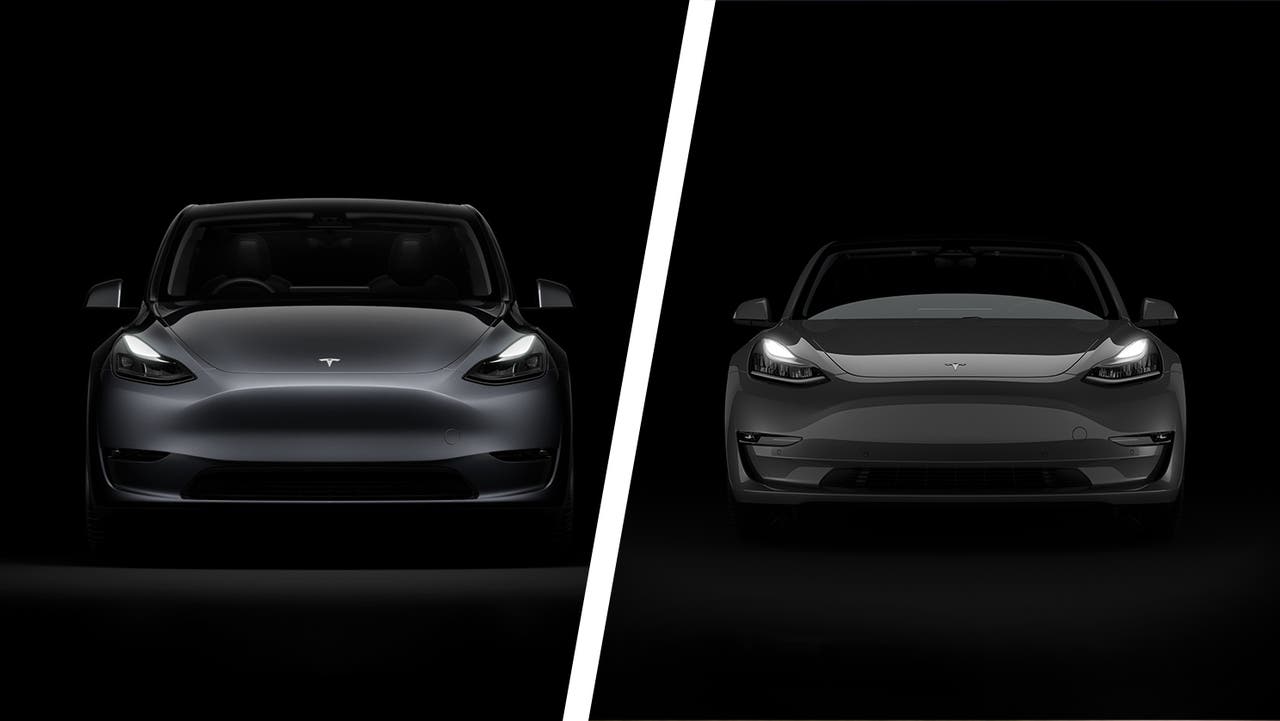 If you're not familiar with the Tesla lineup, you'd be forgiven for thinking the Model Y is just a Model 3 that's been involved in a minor Photoshopping accident. The two cars look nearly identical, with both featuring Tesla's distinctive grille-less front end and aerodynamic body styling.
Compared to the Model 3, the Model Y is about 18cm taller, a few millimetres longer and has a little more ground clearance. The only other meaningful difference between the two is the boot lid – this is a traditional saloon-style lid on the Model 3 with a fixed rear windscreen, whereas the Model Y has a hatchback opening that lifts with the rear glass, giving you better access.
Interior and practicality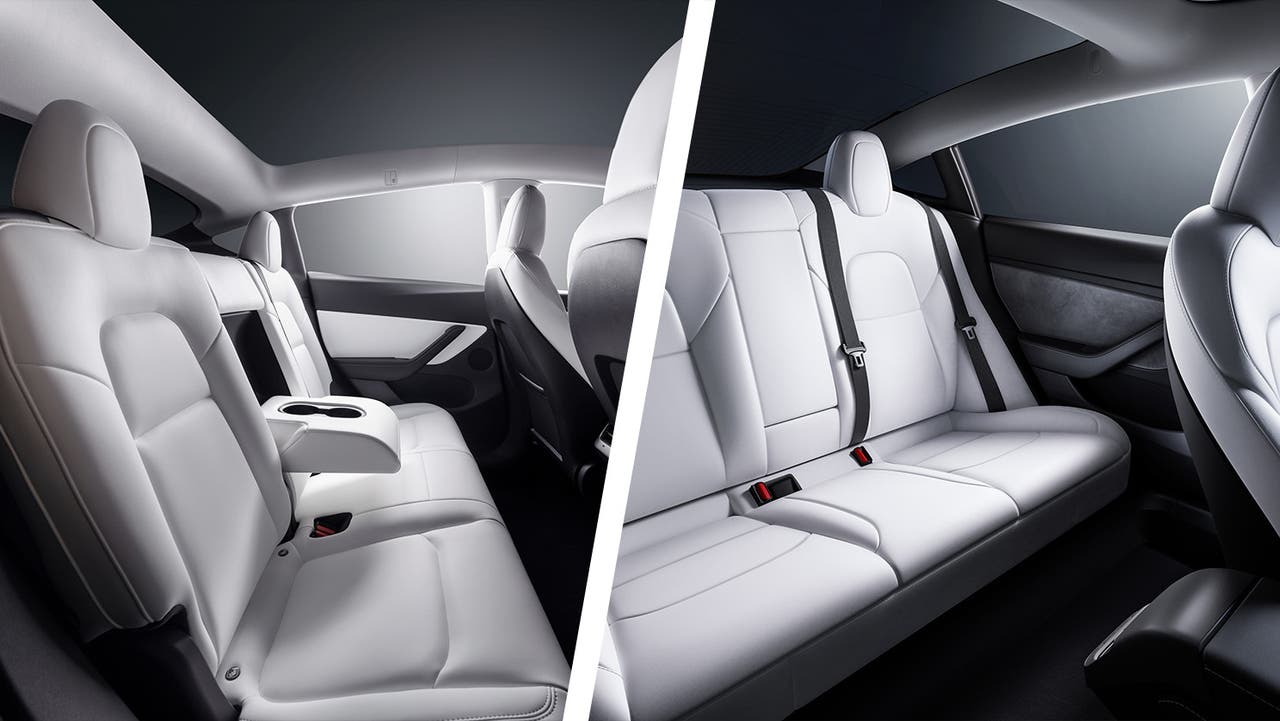 At a brief glance, there appear to be no meaningful differences between the Model Y and Model 3 if you look inside their cabins. Both feature an ultra-minimal dashboard with no dials behind the steering wheel – just a single, large touchscreen in the middle of the dashboard. Pretty much all functions are handled through the screen and, while it is feature packed and responsive to the touch, the menu layout does take some time to get used to. The seats, steering wheel, centre console – more or less every part from your shoulders down – is the same between the two cars.
The differences become more obvious if you sit in the back seats. Model Y rear passengers get more headroom and a small amount of extra legroom, but the most obvious difference is the fact the seats are mounted higher – this means the floor is lower so your knees aren't as pushed up, which is more comfortable over longer journeys. Plus, if you're putting kids in their car seats, you won't have to bend down as far in the Model Y compared to the lower Model 3. Nevertheless, the Model 3 is still impressively spacious inside, with room for four adults to sit comfortably or five for shorter journeys.
The Model Y is also the winner when it comes to cargo room – but only by a small amount. Its biggest trump card is the hatchback boot lid, which gives better access to the load area compared with the tighter opening on the Model 3. Don't discount the Model 3, however, which still has a very large boot for its class – easily able to carry two large suitcases and a few extra soft bags – and also benefits from having a useful front 'frunk' like the Model Y.
Engines and performance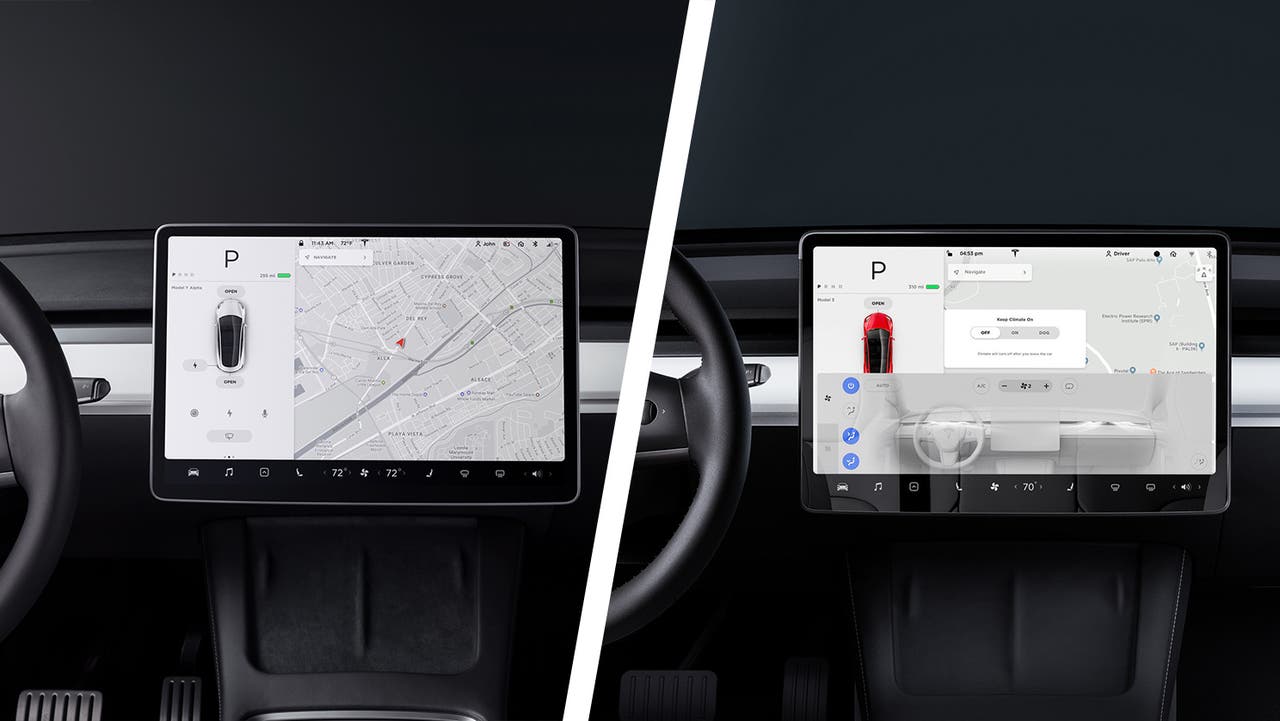 Your motor choices for the Model Y and Model 3 are identical and all versions offer excellent performance. Entry-level, Standard range cars get just one motor on the rear axle but both can still dash from 0-60mph in around six seconds – outrunning many 'proper' sports cars. The Long Range versions gain all-wheel drive from a second motor and drop the 0-60mph sprint below five seconds, which is approaching supercar territory. You can also get bonkers Performance models, both of which will launch from 0-60mph in less than 3.5 seconds – comfortably outgunning all but the fastest cars on the planet.
Clearly, neither model struggles for power, and both are also impressively efficient, with Tesla incrementally improving total range with regular updates. Single-motor Model Ys claim a range of 283 miles against the Model 3's 305 miles. The larger batteries in Long Range cars increase this to 331 miles in the Model Y and 374 miles in the Model 3. Performance Model Ys can cover 319 miles against the Model 3 Performance's 340. Your real-world range will be lower than this, but both models are among the longest-range EVs you can currently buy.
Both also enjoy the convenience of Tesla's Supercharger network, which makes long-distance travel easier by being placed along major travel routes. A full 0-100% charge at home or at work using a 7kW charging point will take around 8 hours for single-motor versions of both cars, or around 12 hours for the larger battery versions. Both cars can DC fast-charge at up to 250kW – you're unlikely to find that speed available but you can expect all versions to recover an 80% charge in a little over an hour from a 50kW point or around 30 minutes from a 150kW point.
Driving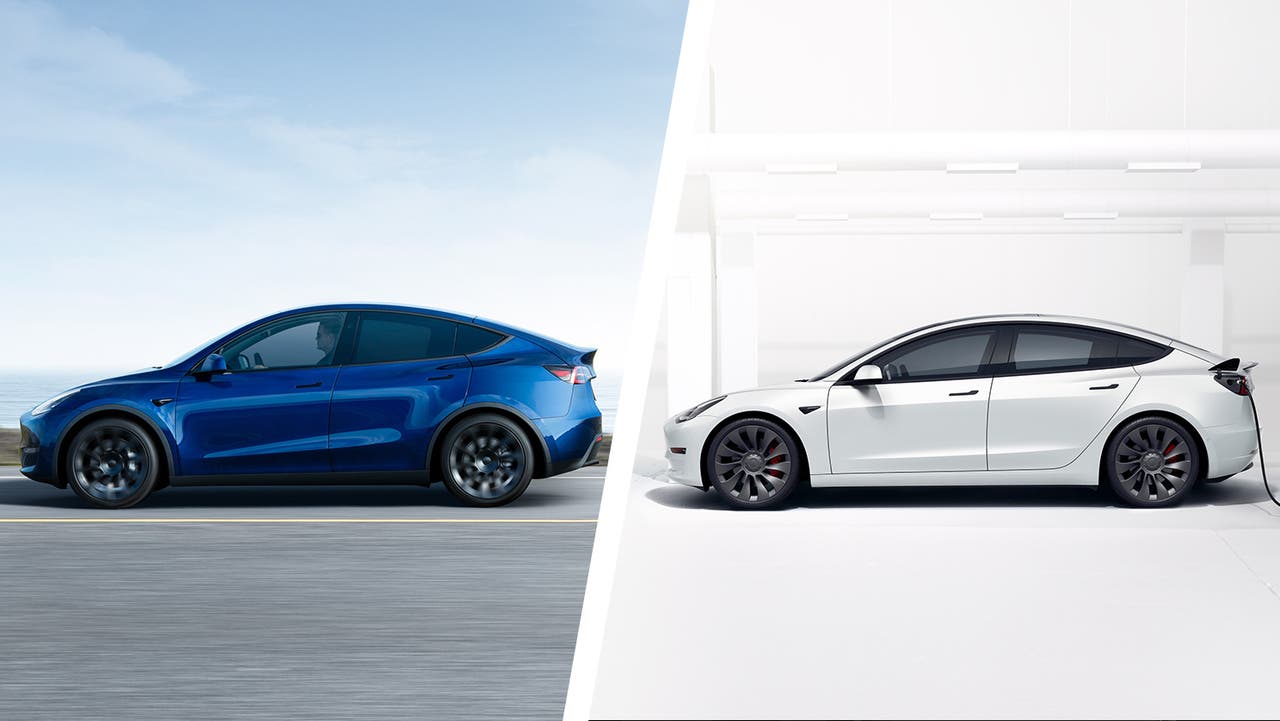 Considering how many parts the Model Y and Model 3 share, you'd expect them to feel identical on the road. And, while they certainly feel similar, there are a few noticeable differences that emerge as you clock up the miles.
Sat in the Model Y, it becomes clear that, while the seats have been raised versus the Model 3, the dashboard has remained in the same position, so feels lower relative to where you're sat. This gives a sense that you're sat 'on' the Model Y, whereas you sit 'in' the Model 3, with a lower driving position that feels sportier and more connected to the road.
This difference is actually amplified when you go around corners. Both cars have very quick steering but, because the Model Y is taller and feels a little more roly-poly, those fast reactions make it feel a little more nervous and unsettled. The Model 3, however, copes with its sporty handling better thanks to its lower body and low-slung driving position, making it more fun to drive.
Model Y cars also have larger alloy wheels across the range, which send a little more vibrations into the cabin and make it less comfortable over poor road surfaces. Plus, because there's no separation between the boot and the passenger area like you'll find in the Model 3, the Model Y is noisier on the move, with more tyre roar and suspension thuds being heard in the cabin.
Value and reliability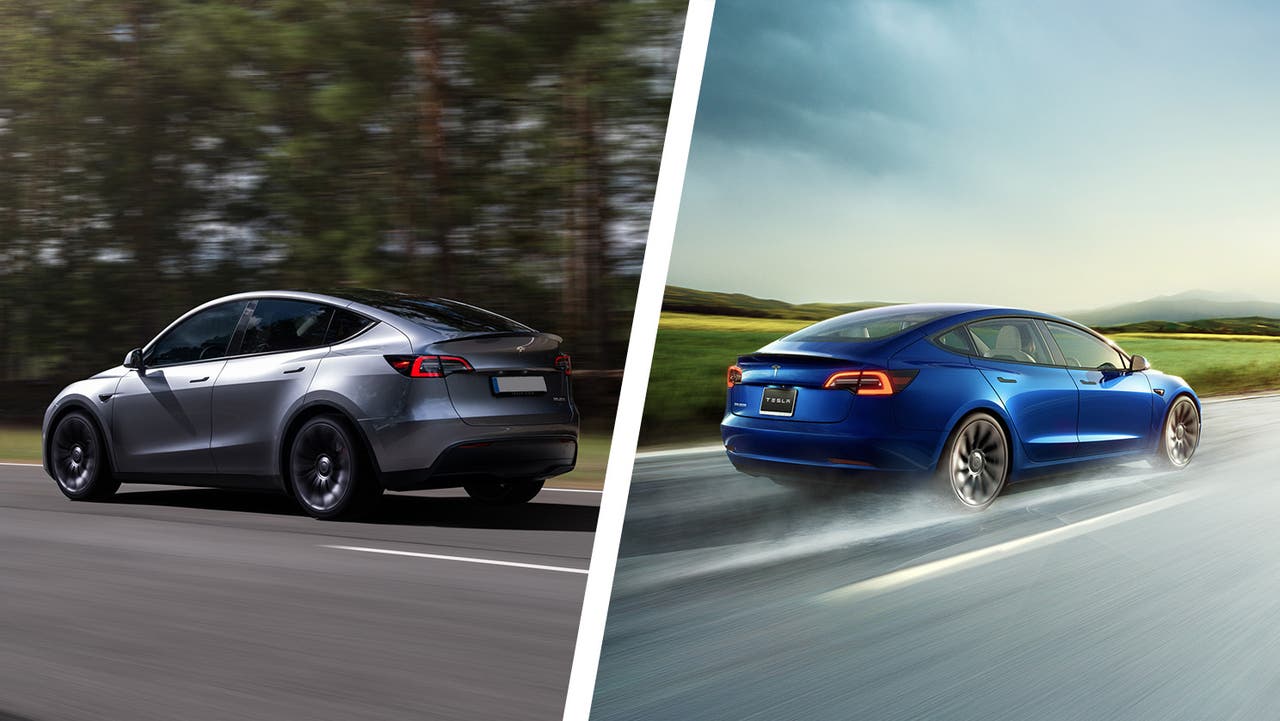 Prices for EVs are still a little higher than equivalent fuel-powered models due to the cost of the lithium-ion batteries they rely on. As a result, it'd be a stretch to call these premium Tesla EVs 'good' value for money. Nevertheless, they offer some of the longest ranges in their segment, with excellent performance, a wealth of on-board tech, and that all-important Tesla badge kudos.
The Model Y hasn't been on sale long enough in the UK for enough examples to have made it onto the used market but, when brand new, Tesla charges £2,000 more for a Model Y over an equivalent Model 3. With residual values expected to be a little stronger for the Model Y, however, it might be better value in the long term and somewhat offset the purchase price gap.
Tesla reliability is something of a mixed bag. The Model Y hasn't been around long enough to get an accurate picture of its dependability and reliability surveys that have featured the Model 3 suggest it's slightly less dependable than the industry average, although issues rarely stranded owners on the roadside. Most complaints were to do with fit and finish of the interior and exterior and, in our experience, Tesla has gradually improved these problems with newer models being more solidly screwed together. Considering the Model Y uses mostly the same parts as the Model 3, we expect its reliability to be fairly similar. Tesla guarantees its batteries will maintain at least 70% capacity for eight years or 100,000 miles, whichever is sooner.
Which is best?
While neither the Model Y or the Model 3 are flawless, they're among the most compelling premium EVs you can currently buy. The Model Y is a little more practical and doesn't cost that much more than a Model 3, making it a tempting choice for family buyers. However, the Model 3 is better to drive, faster and can go further on a charge, all while still being impressively practical and more readily available as a used car.
If you know which of these high-tech EVs you want, browse Motorpoint's range of nearly new Tesla Model Y or Tesla Model 3 cars. For something more affordable, check out our picks for the best cheap electric cars or, for maximum practicality, see our picks for the best electric family cars.
Tesla Model Y vs Tesla Model 3 FAQs