This one's easy, right? The Tesla Model 3 is the smaller, cheaper saloon in the American EV brand's range, while the Model S is the larger, more expensive option. Simple!
Or maybe the differences are a little deeper than that? And, if you're looking at the nearly new market – where top-end Model 3s and mid-range Model S cars have similar price tags – where should you spend your money? This guide will break down the differences so you can pick the posh plug-in that's perfect for you.
Tesla Model 3 vs Tesla Model S compared
Tesla Model 3
Tesla Model S

Pros:

More affordable
A bit easier to park

Pros:

More passenger space
Longer range, higher performance

Cons:

Slightly less range and performance
Having no driver's dials can feel odd at first

Cons:

More expensive
Feels older
Styling and design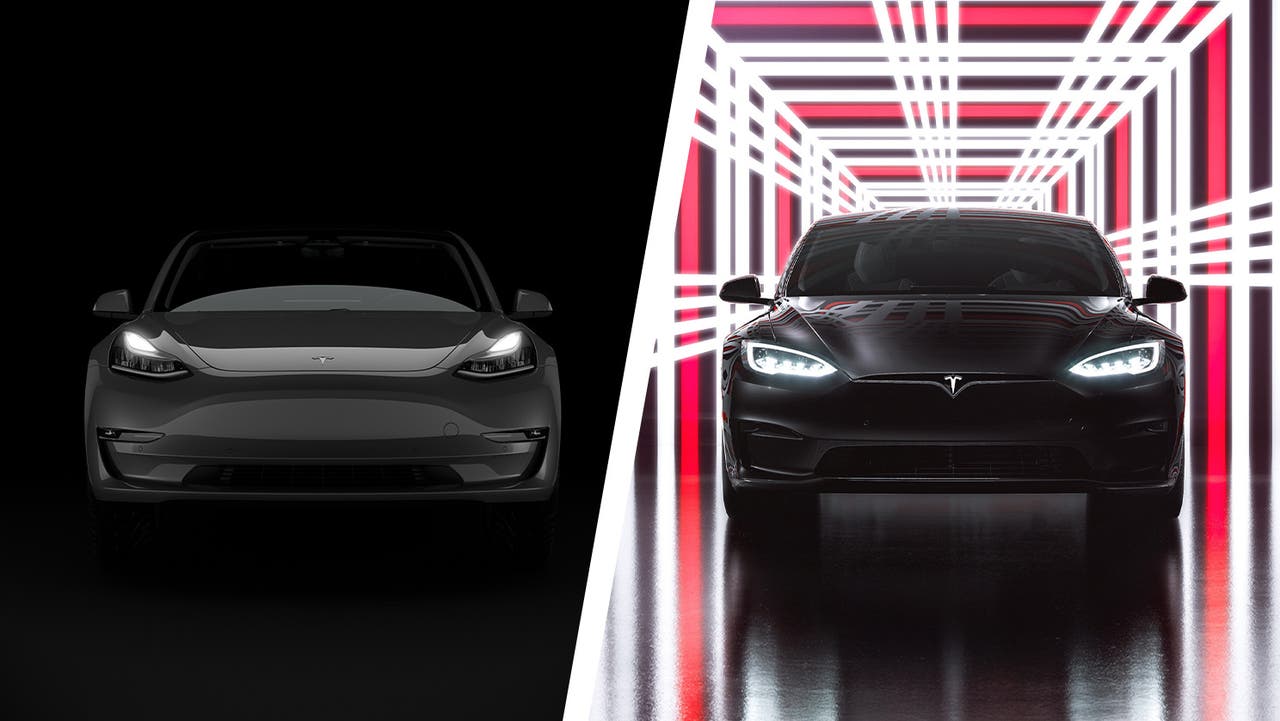 Tesla has only been around for a relatively brief time compared to other brands but it's already become the industry yardstick for electric cars. In a way, the styling of the Model S that launched way back in 2012, and the Model 3 that arrived in 2017 set the public's expectations of what an EV might look like. Both have a swoopy, aerodynamic shape defined by the absence of a front grille since there's no engine to cool.
The Model 3 is now a familiar sight on the UK's roads, so it's easy to forget how dramatic its oddly bluff, grille-less front end was when it first arrived on these shores. Take a look at the car from the side, however, and you can see the benefit of its electric platform – the wheels are pushed right out to the car's corners, permitting more cabin space between them than a comparable fuel-powered car. There's also the full-length fixed glass roof that comes as standard on all Tesla cars, helping the spacious cabin feel even more airy. Rumours suggest Tesla is planning a big update for the Model 3 in 2024.
While the Model S is the older car, you might struggle to tell from the outside. It received two facelifts in 2016 and 2021 – both doing a fairly successful job of masking how old the car's bones truly are. In the metal, the Model S looks and feels big, which can make it a bit daunting to drive in very tight urban areas, but also gives it a more dramatic presence than the Model 3. Plus, with the Model 3 being so popular, the Model S is the rarer and more exclusive choice.
Interior and practicality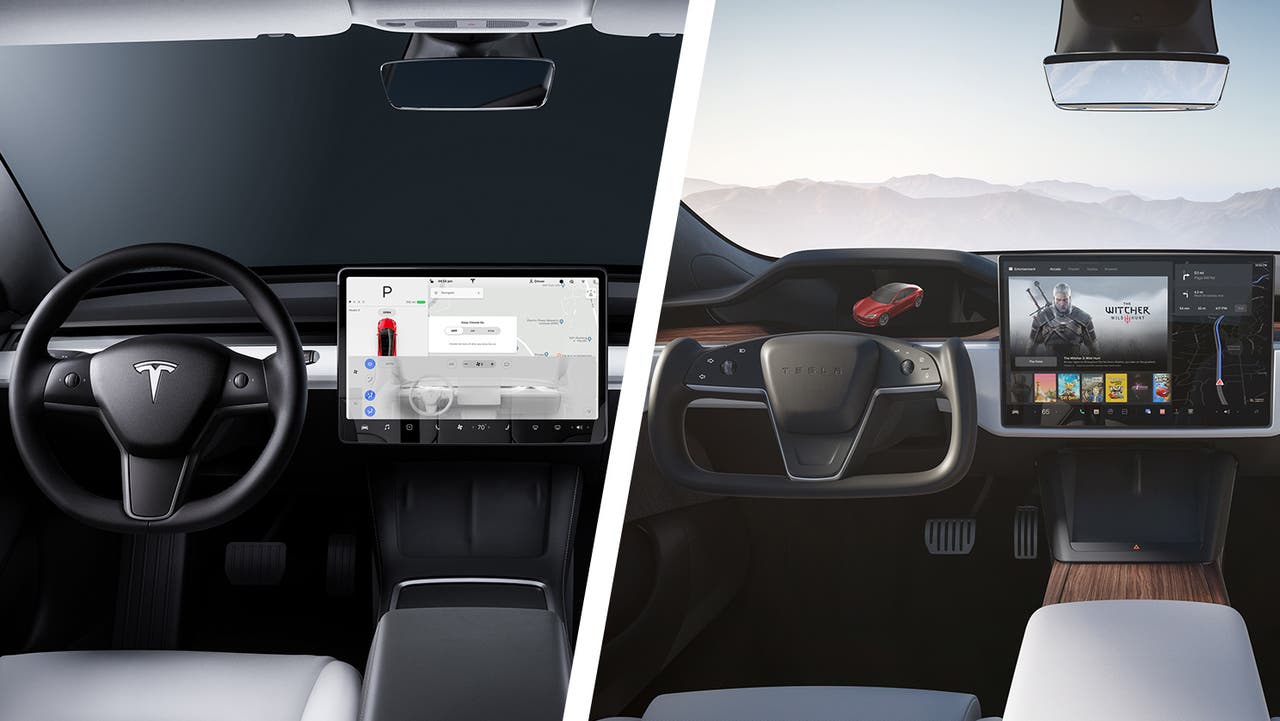 The age difference between the Model 3 and Model S might not be obvious outside, but it's a little easier to tell when you step inside the cabin. Jump into the Model 3 and you'll see it's the very definition of minimalism – there's just a single, large touchscreen in the middle of the dashboard and that's basically it. Almost all the car's functions are controlled through the screen, even things like opening the glovebox or adjusting the climate vents – it's easy enough to learn your way around, but it's still not quite as straightforward as having a few key buttons for the most-used functions. Nevertheless, the graphics and responsiveness are top-notch, and the screen's sheer size mitigates some of the inaccuracy that comes with using a touchscreen rather than a button.
As mentioned, the Model S feels a bit more traditional inside, with an extra screen ahead of the driver for important vehicle information. This means things like your speed, range and battery percentage are all much closer to your eye line. Like the Model 3, most functions are controlled exclusively through the massive centre screen, with the same slightly awkward learning curve to get your head around it. The 2021 update brought Tesla's 'yoke' steering wheel, which mimics the rimless design found in aircraft, but it's fiddly to use, with the lights, indicators and horn all added as touch-sensitive buttons that are far too easy to press by accident. Plus the long steering rack means manoeuvres require hand-over-hand steering, which is harder to do without a rim. It's no wonder that the company has started offering regular steering wheels again as a no-cost option.
In the practicality stakes, the larger Model S takes the win, with more space for rear passengers to stretch out and a vast boot, backed up by the handy 'frunk' under the bonnet. However, the Model 3 hardly feels like a loser here, with a tremendous amount of passenger and cargo space considering its smaller, more city-friendly dimensions. The Model S is a hatchback, which means a little more versatility when loading awkwardly shaped cargo, but a family of four could still easily fit themselves and their holiday luggage in the Model 3 with space to spare.
Battery pack and motors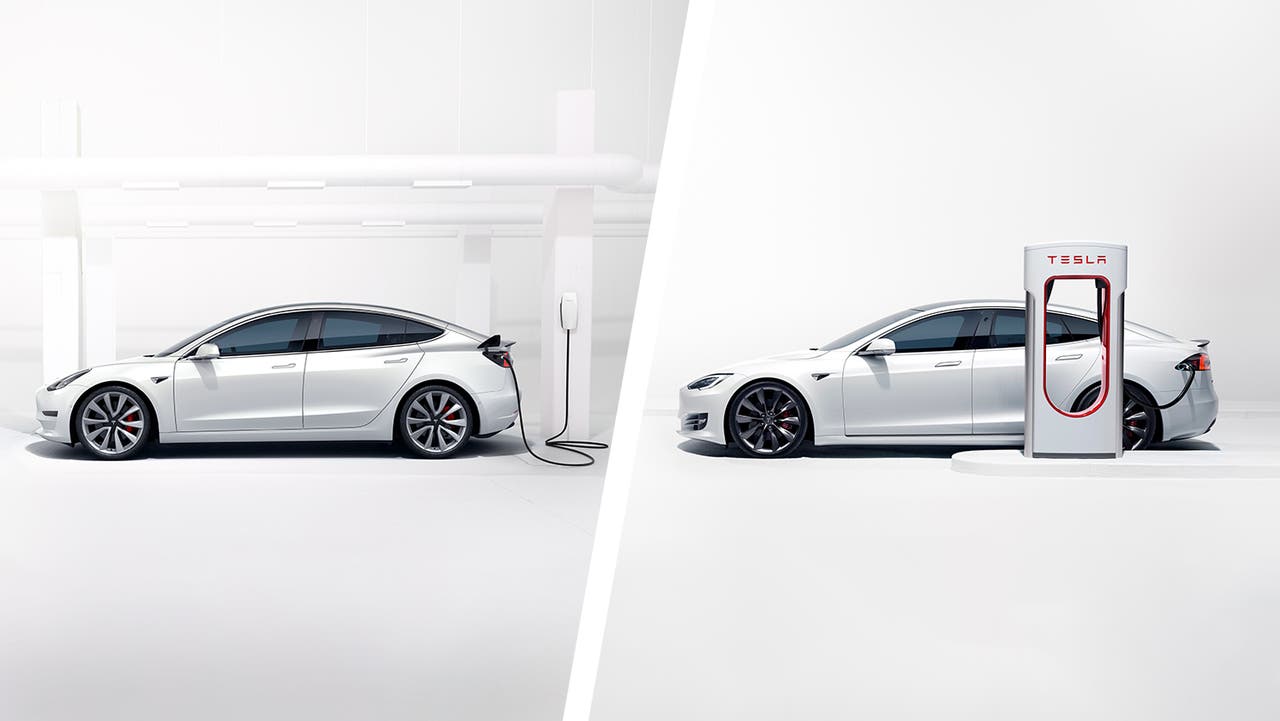 Of course, these are electric cars, so there's no engine to be found under the bonnet. Instead, both use one or more powerful electric motors for rapid acceleration and silent performance. Buyers cross shopping a Model 3 against a Model S are likely to be looking at the most expensive versions of the former, and mid-range examples of the latter, as this is where prices start to cross over. That means either the Dual Motor or Performance versions of the Model 3, outfitted with the largest 82kWh battery pack returning 374 or 340 miles of range respectively. With two motors, you get all-wheel drive and neck-snapping acceleration, especially in the Performance model, which can blast from 0-62mph in less than 3.5 seconds.
Buyers in this section of the nearly new market are likely to be looking at fairly recent Model S cars outfitted with the 100D drivetrain. That means a 100kWh battery pack and a motor on both axles, hitting 62mph from rest in under 5 seconds and claiming more than 390 miles on a full charge. You can also get this battery pack with the Ludicrous Performance option, which increases power, dropping the 0-62mph dash below three seconds, which will embarrass all but the most potent supercars.
More recent versions of the Model S that arrived from 2021 onwards saw even more range and performance added, matching the Model 3 Performance's acceleration while now able to cover more than 400 miles on a charge. Tesla also added a new top-of-the-line model called the Model S Plaid – a reference to Mel Brooks' 1987 sci-fi parody Spaceballs – with a whopping 1,020hp. The Plaid can, with some slightly generous maths, catapult from 0-60mph in less than two seconds and, pending an upcoming update, hit a claimed 200mph top speed, making it one of the quickest and fastest cars ever made. Prices for Plaid models are far above those for Model 3 cars and UK models will, annoyingly, only be available in left-hand drive but, if you want the ultimate in electric performance shy of a multi-million-pound hypercar, this is it.
Driving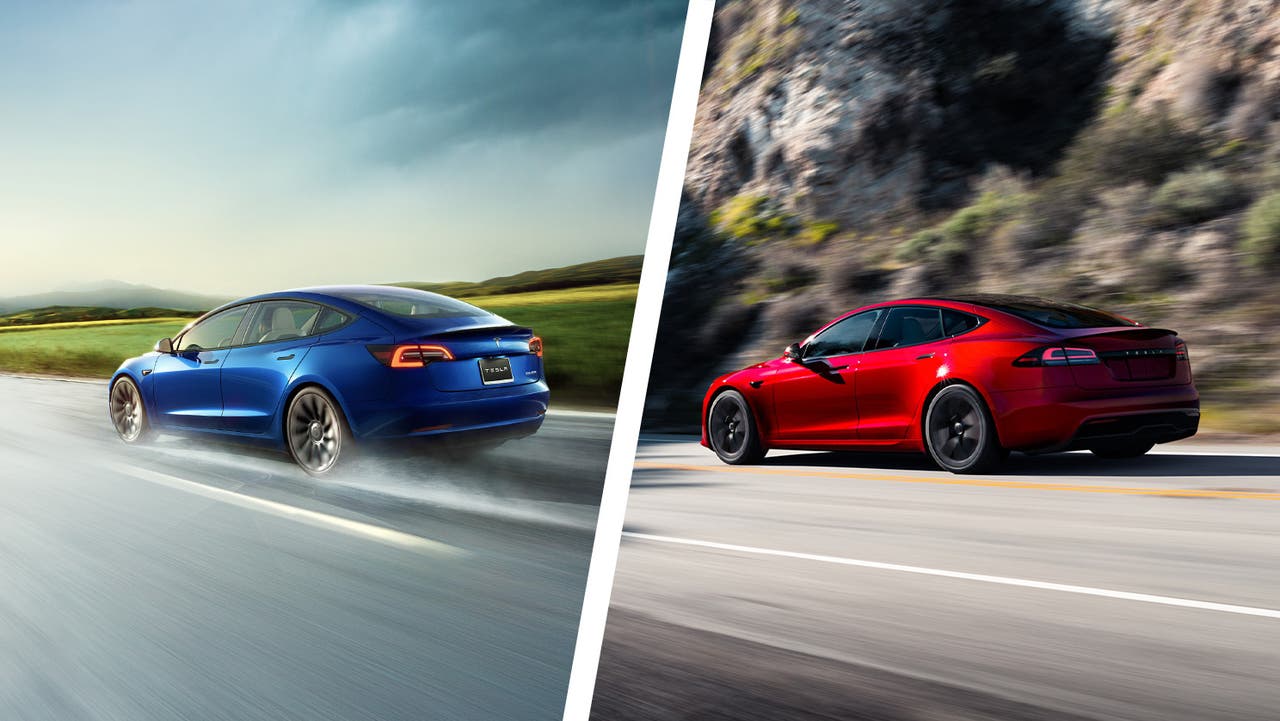 There's very little to separate these two in day-to-day driving – both feel very similar to most other powerful electric cars. That's no bad thing, of course – you get instant acceleration and lots of traction. And, while neither feels like a lightweight sports car, both carry their weight down low giving lots of grip and confidence in the corners. The Model 3 does feel noticeably sharper when driven back-to-back – mainly thanks to the steering. It has a faster rack helping it react more quickly to your inputs which, along with the car's the slightly more manageable dimensions, makes it feel more at home on the UK's tight streets.
The Model S immediately feels bigger from behind the wheel, with the long bonnet stretching out in front of you and the car's extra width all making it slightly trickier to weave your way down a packed high street. It's a little more relaxing to drive than the Model 3, however, thanks to the slower, less neurotic steering and a little more float over undulating surfaces. Of course, jumping into the Plaid completely changes the experience, with simply offensive levels of acceleration available every time you flex your right toe, driving in normal traffic becomes more of an exercise in restraint than anything else.
Value and reliability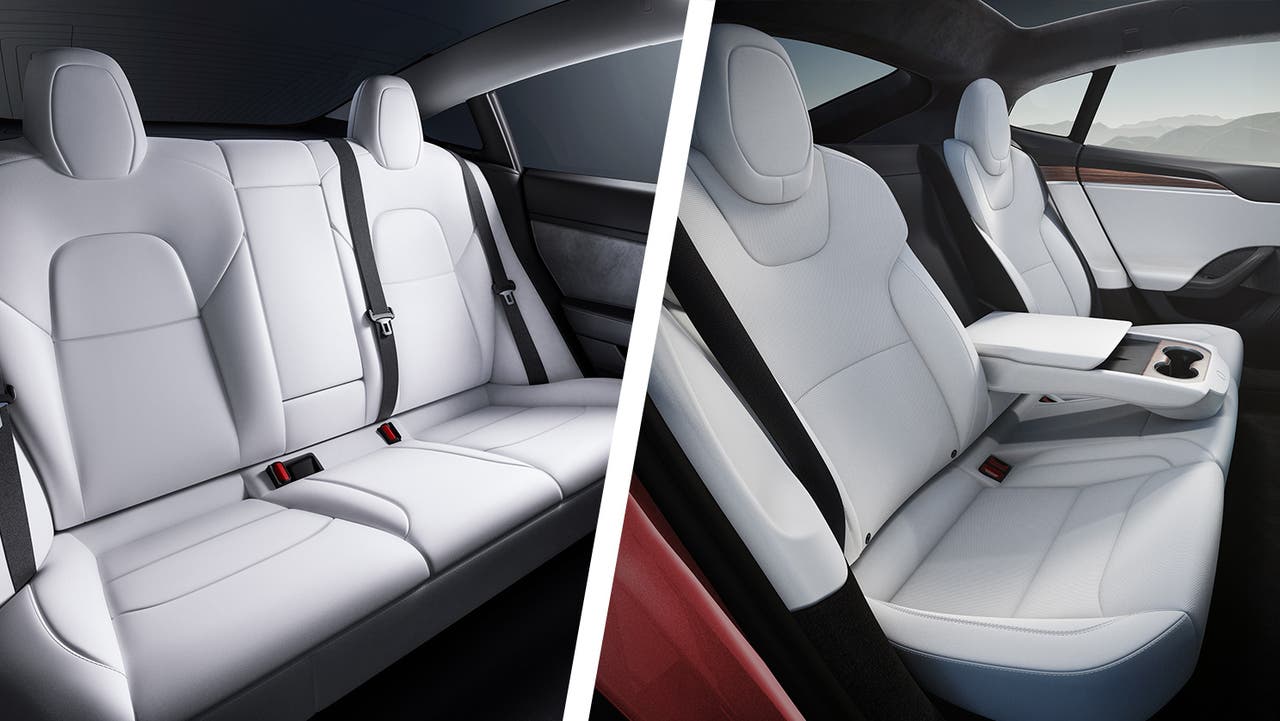 As for which of these two cars offers the better value, the Model 3 easily wins this category. It offers 95% of the experience you'll get in a Model S, often for tens of thousands of pounds less – even more so if you choose one of the rear-wheel drive Model 3 Standard Range cars. There's little sense of compromise either, with the Model 3 still featuring the ultra-modern dashboard, rollercoaster-like acceleration, long driving range and practical interior buyers have come to expect from Tesla. The Model S doesn't offer an experience that's two or three times as special as the Model 3, so it doesn't really earn a price tag that much higher. However, if you simply want the most luxurious and fastest Tesla you can currently buy, this is the only real choice.
Tesla and reliability are unhappy bedfellows. As a new car company building lots of parts for the first time, the brand has made more than its fair share of manufacturing errors, with inconsistent panel gaps and dodgy electrics being fairly common complaints among owners. However, we believe the cars have generally improved over the years, with far fewer quality control issues cropping up in more recent builds. Tesla also has the option to send out updates over the air, which means some problems can be fixed without even needing to visit a dealership. Just be aware that the company packs a lot of sensors into its bumpers and body panels, so dings and scrapes can be more expensive to repair than you might expect.
Which is best?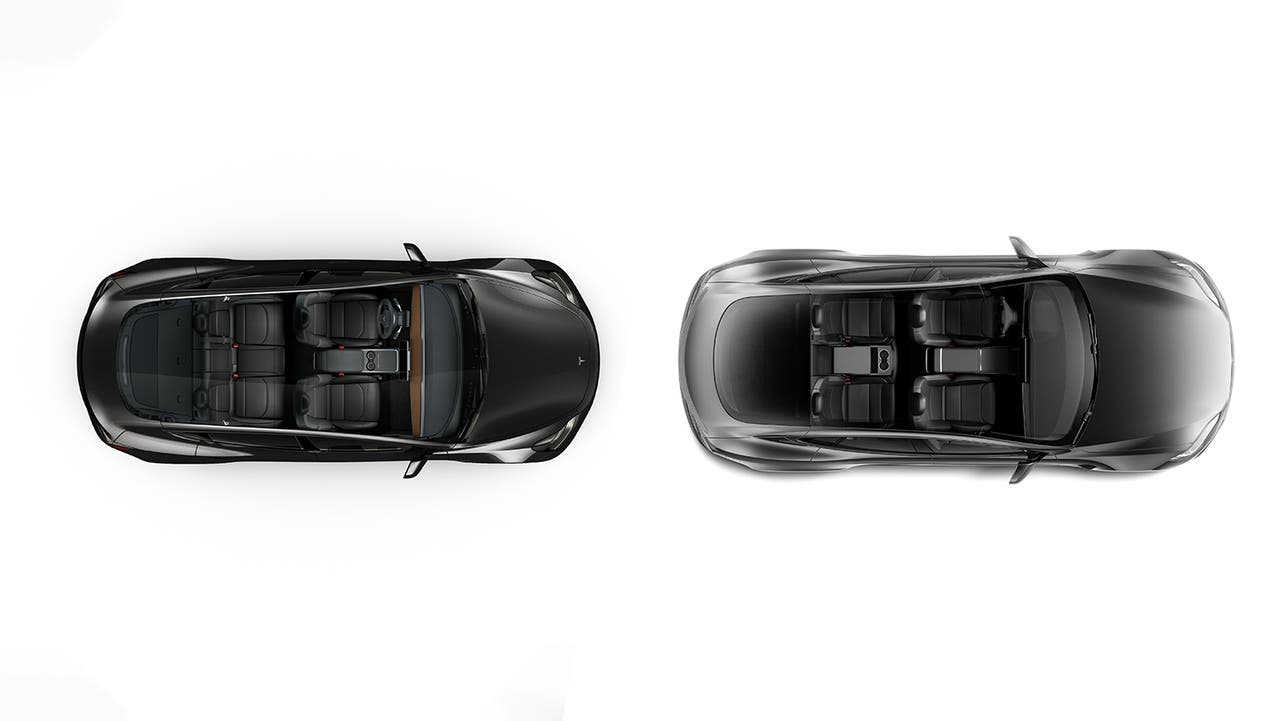 If you're in any way limited by budget, the Tesla Model 3 is probably the winner here. You get an awful lot of performance, range, space and technology for the price, putting it head and shoulders above nearly all its electric rivals from traditional brands. It's also much more widely available than the Model S, so it's easier to buy and replacement parts are less of a hassle to track down.
Where the Model 3 is an electric car for the masses, the Model S is something a little more special. There's more space for rear passengers to lounge about, and the bigger battery and motor combo means you can go even further on a charge. Plus – call us old fashioned – but we prefer having the driver's screen in front of you with your speed and range available at a glance, rather than off to the side as they are in the Model 3.
Finally, if you're like Dom in The Fast & The Furious and live your life 'a quarter mile at a time', nothing short of the full-fat Model S Plaid will have the bragging rights you need. There's simply no sensible reason to have a thousand horsepower on the public road, and that's what makes the bonkers Plaid such a thrilling option if you can afford it.
Chosen the Tesla saloon for you?
Why not shop Motorpoint's selection of nearly new electric cars to find great savings compared to the list price. If you're still not sure, check out our comparison of the Model 3 and its SUV counterpart the Model Y to see which is best for you.
Tesla Model 3 vs Model S FAQs