Ford hatchbacks are such a common sight on the UK's roads that it's hard to imagine that production of the Focus and Fiesta will be ending within the next few years. While we won't be seeing new versions of these models in coming years, there's still plenty of time to enjoy the long list of talents offered by nearly new models.
If you're looking for a hatchback, and you like the look and feel of Ford's lineup, should you choose the Focus or the Fiesta? Naturally, the Focus is the larger car, making it more practical, but the Fiesta is often more affordable, giving it a value-for-money advantage. This guide compares the two so you can decide whether to stretch to the larger Focus, or save money with the Fiesta.
Ford Focus vs Ford Fiesta compared
Ford Focus
Ford Fiesta

Pros:

Bigger rear seats and boot
A better long distance cruiser

Pros:

A little more fun to drive
More affordable like-for-like

Cons:

More expensive
Slightly less fun to drive

Cons:

Rear is cramped for three passengers
A tiny bit less comfortable
Styling and design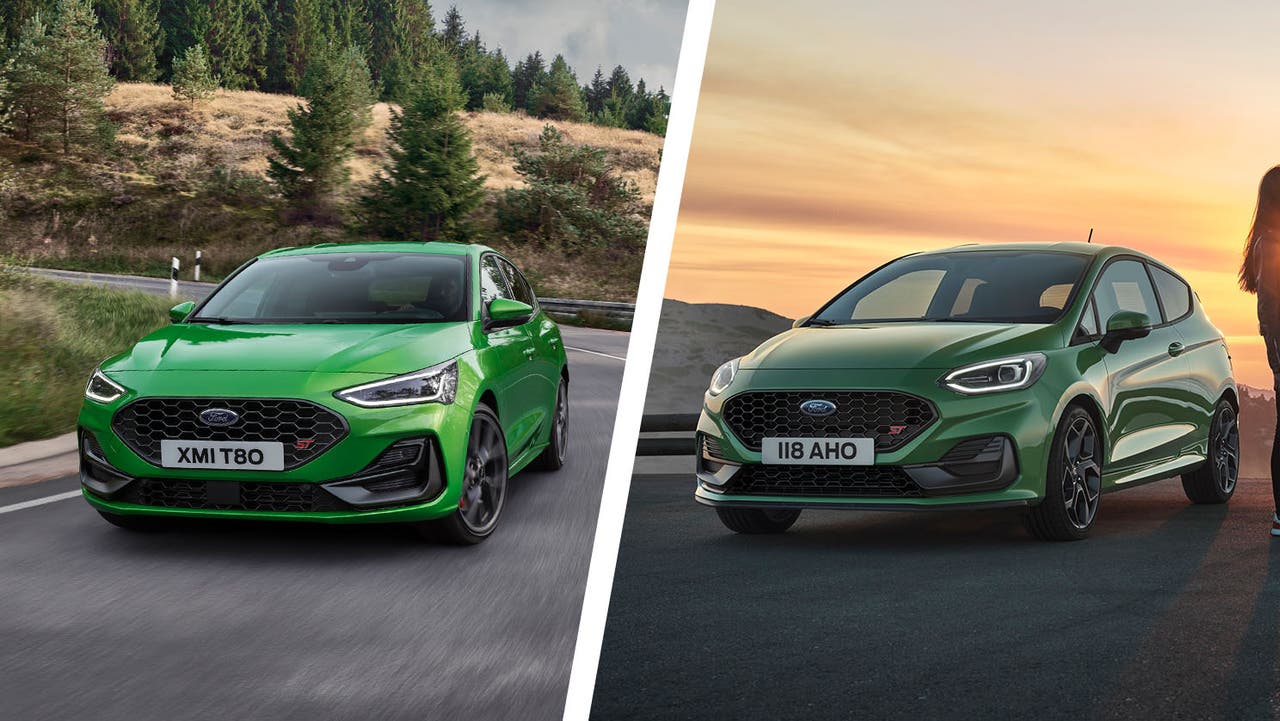 If you look at the Focus and Fiesta side-by-side, the family resemblance is immediately obvious. Both cars have Ford's current signature wide front grille with swept-back headlights on either side. There are also neat creases down both cars' sides to break up the bodywork and make them look more athletic.
Ford has recently facelifted both the Focus and Fiesta and the results, to our eyes, aren't totally successful. The new grille design is almost comically large and looks particularly oversized on the smaller Fiesta. Plus, the redesign has given the Focus slimmer, more pointed headlights, which we think look more cohesive, compared with the Fiesta's more 'wide-eyed' restyled lights that give it a perpetually surprised expression.
Interior and practicality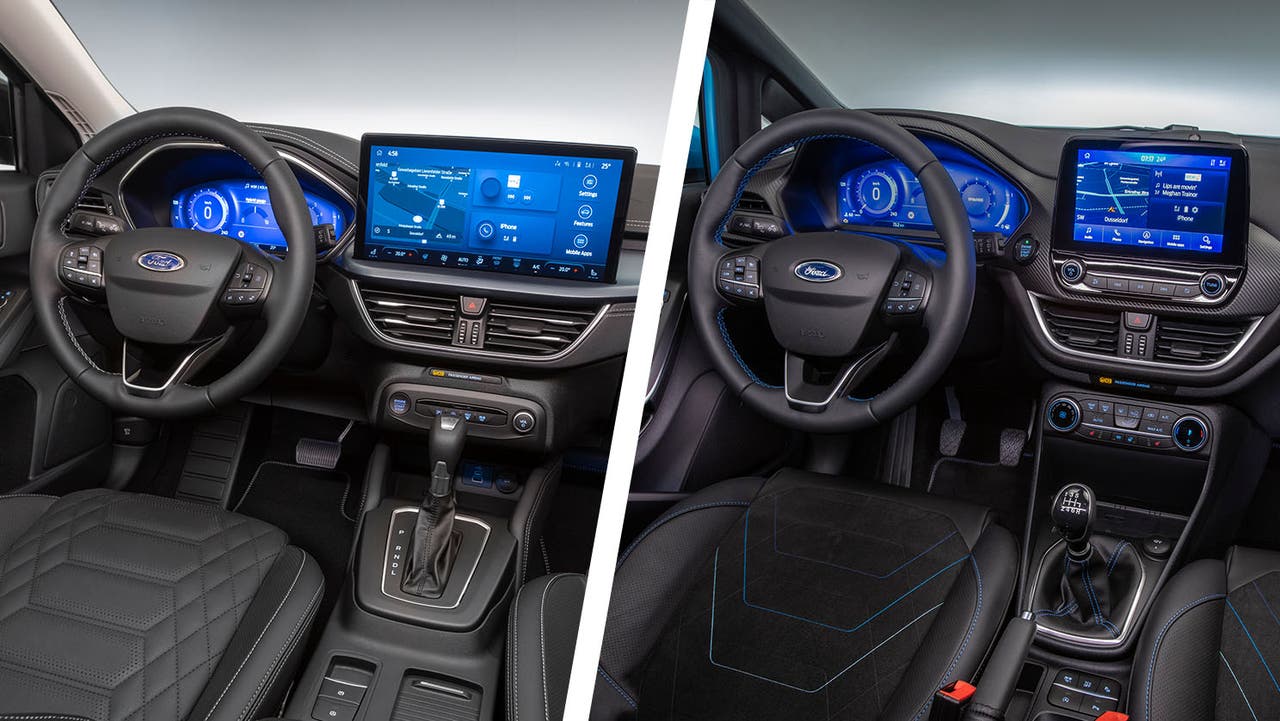 Hop into the driver's seat in either the Focus or the Fiesta and you'll be struck again by the family resemblance. Many controls including the steering wheel, window switches, and indicator and wiper stalks are directly shared between both cars. It's unsurprising, then, that the sense of quality in both models is at a similarly high level, with no creaks or rattles on the move, and soft-touch materials in the places you regularly see and touch.
In the technology stakes, the Focus sneaks the victory, but only just thanks to the wider central infotainment screen fitted to facelifted models. The Fiesta's screen is perfectly adequate with sharp graphics and fast responses, but can't match the extra real estate of the Focus's screen. You'll find identical digital driver's dials in both models that help their cabins feel more modern. The Fiesta does claw back a mark, however, for keeping physical heater and AC controls, while the updated Focus now confines these to the touchscreen, which we think is a little more fiddly. This isn't an issue for pre-2021 Focus models where the dash layout is much closer to the Fiesta's with physical heater controls.
As for practicality, it's little surprise that the larger Focus earns the win here. Four adults can fit in the Fiesta in reasonable comfort but adding a fifth to the rear row is really only feasible for very short trips as there's next-to-no space for the central passenger's feet and elbows. Not only is the Focus better for carrying passengers, but adults in the back get noticeably more room to stretch out, making longer journeys much more bearable. The Fiesta's 292-litre boot is a decent size for its class with square sides and a deep floor, but the Focus still edges the victory here with a longer 375-litre load area that'll comfortably take two large suitcases. You also have the option of a cavernous Focus Estate with a vast 575-litre cargo area.
Engines and performance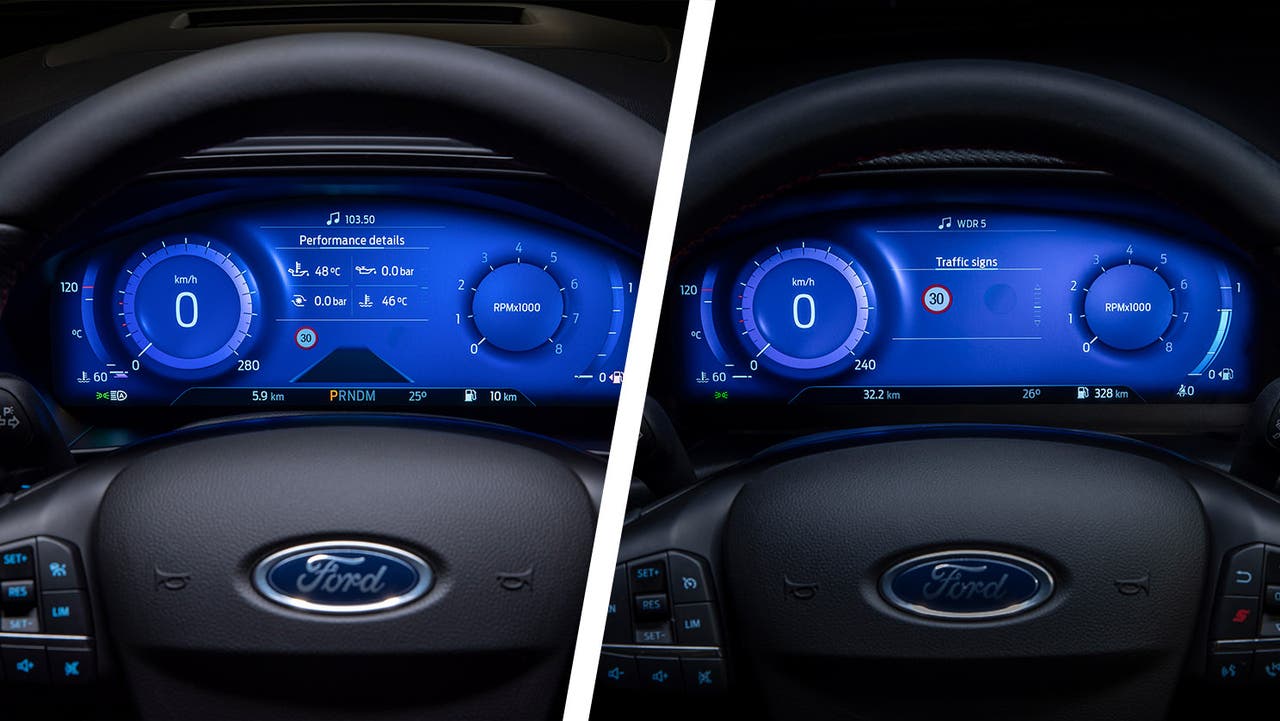 With both the Focus and the Fiesta hailing from the same company, it makes sense that many of the same engines are offered in both cars. In particular, Ford's 1.0-litre turbocharged EcoBoost petrol engines are widely used in both models in 100, 125 and 155hp outputs. With the Fiesta being the smaller, lighter car, it achieves more with less power – for example, 1.0-litre 100hp Fiestas are more than a second faster from 0-62mph than a Focus with the same engine. By the same token, Fiestas are also more fuel efficient on a like-for-like basis thanks to their lower weight.
However, if efficiency is your main concern, you might be better off selecting the Focus, because it's the only one of the two that's still offered with diesel engines. You'll find a 1.5-litre diesel with 95 or 120hp that should be able to return more than 55mpg if you drive gently, or a more potent 190hp 2.0-litre diesel in the Focus ST – a rare diesel-powered option in the hot hatch segment. Like all diesel cars, these engines are best suited to high-mileage drivers.
Speaking of hot hatches, the Focus and Fiesta are both some of the most highly rated examples of the breed. The Fiesta ST uses a 1.5-litre three-cylinder turbo petrol engine with 200hp, giving it potent acceleration for such a small car. But the petrol-powered Focus ST is even faster, with an even beefier 280hp 2.3-litre four-cylinder unit that launches it from 0-62mph nearly a second quicker than the Fiesta ST.
Driving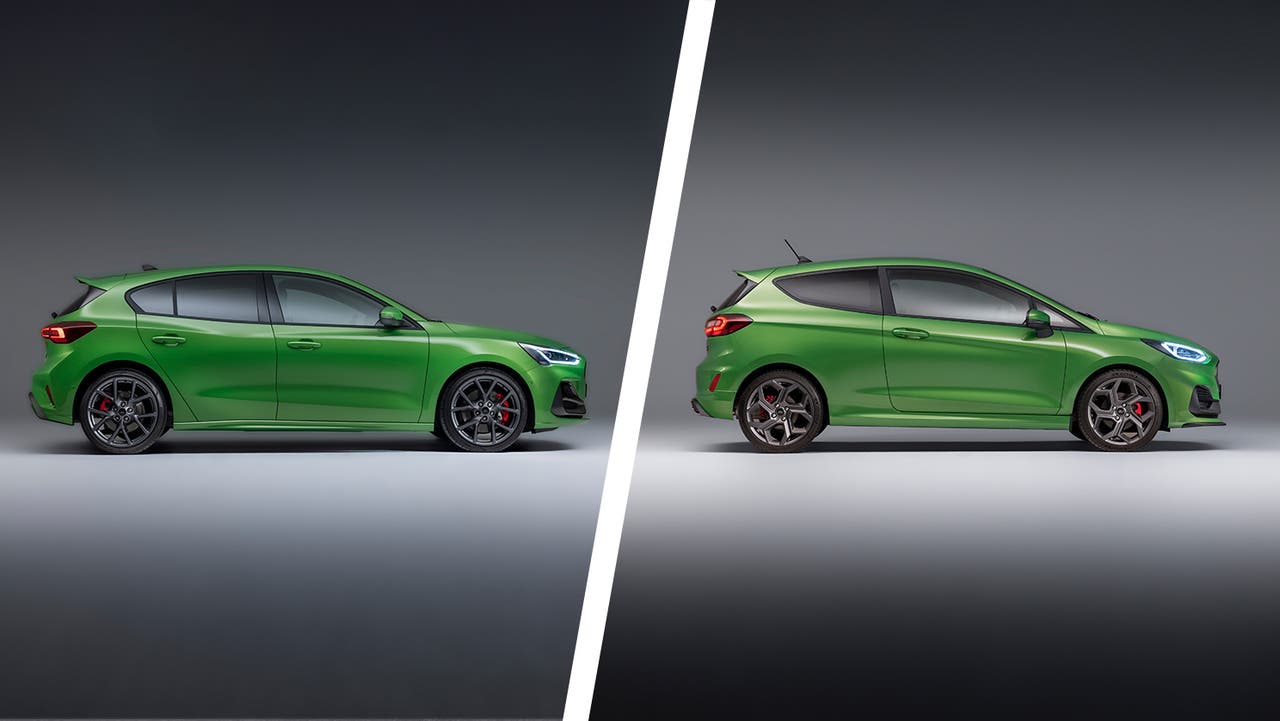 The good news here is neither the Focus or the Fiesta are bad choices in this category. Ford has built a strong reputation for creating sharp-handling cars with rewarding, accurate controls that also ride well over the UK's cracked road surfaces, and both cars uphold this tradition.
If we absolutely had to pick a winner from behind the wheel, however, it'd be the Focus by a tiny fraction. Its ride quality is a little better, more effectively isolating passengers from big bumps, and it has a hint less wind noise at higher speeds. The Focus is a heavier, longer car than the Fiesta, so can't quite match its more eager handling, but we think the slight boost in long-distance comfort makes the Focus a slightly better all rounder.
All that said, the Fiesta is still a fantastic car to drive. The controls are responsive and intuitive, and even entry-level models have a little of the hot-hatch-like feeling you get from faster versions. This difference is also apparent if you look at the ST hot hatch versions of both cars – yes, the Focus ST is faster, but the Fiesta ST's ultra-sharp steering and lower weight makes it feel like more of a hooligan on tight, twisty roads.
Value and reliability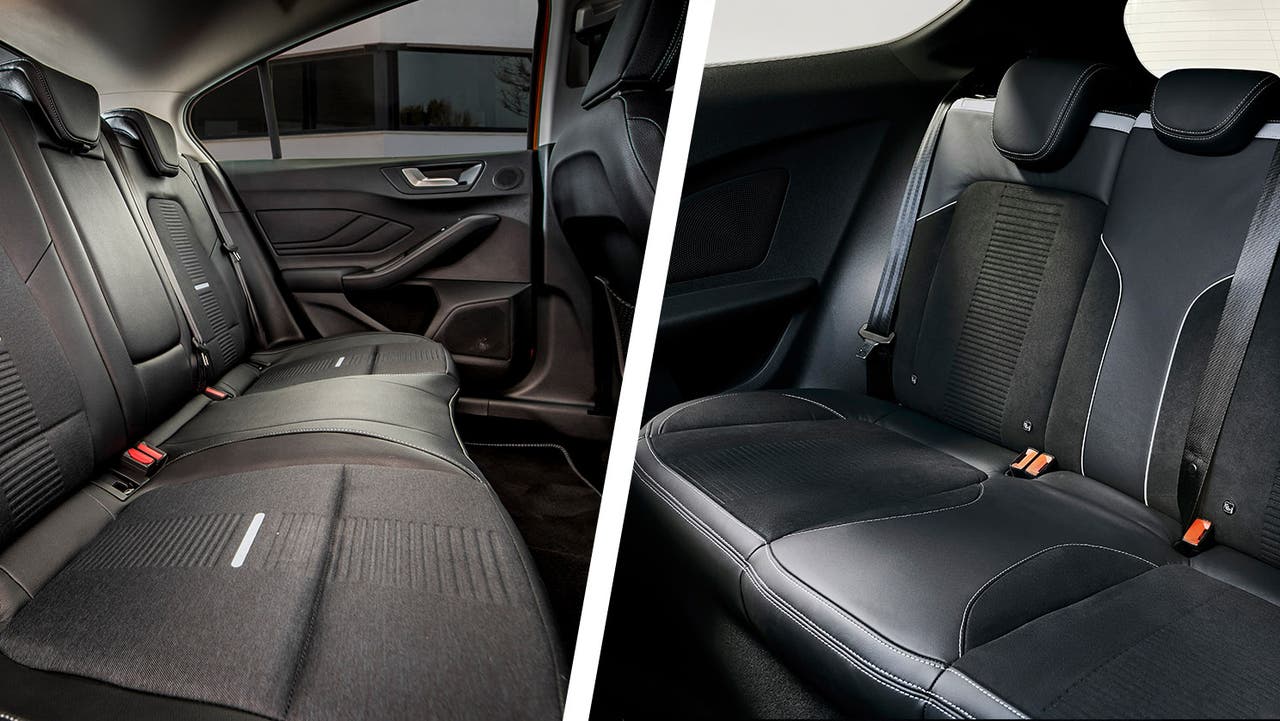 Fords are mass-market cars, which means the Focus and Fiesta are both reasonably abundant with competitive pricing. This, combined with their excellent handling and strong all-round practicality, means both cars represent good value for money. Of course, the Focus is more expensive to buy on a like-for-like basis, but this gap closes slightly once both cars reach the nearly new market, and the Focus has slightly better predicted residual values.
Ford's results across several reliability surveys reveals a middling performance. Repairs don't tend to be too expensive, but Ford cars can't quite match the dependability of the likes of Toyota and Honda. For ultimate peace of mind, consider adding an extended warranty to your car so you're covered should it need a costly unexpected repair.
Which is best?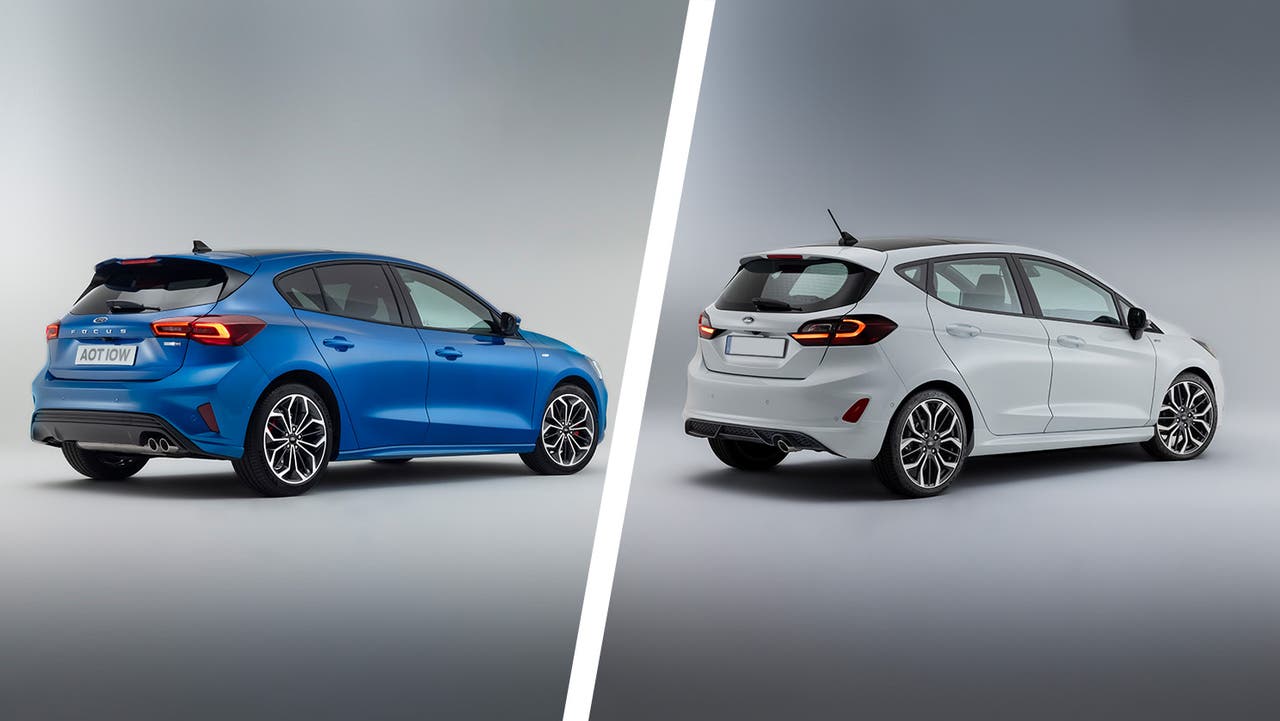 If your choice between the Focus and Fiesta is guided mainly by price, you can be confident that picking the more affordable Fiesta won't feel like going for a bargain-basement option. Its handling is simply sensational, the cabin is just about practical enough for day-to-day life, and the hilarious Fiesta ST hot hatch is easily one of the best-driving cars you can buy, full stop.
However, if you're weighing up whether to stretch your budget for the Focus, we think it might just be worth it thanks to the larger interior, smoother ride and larger infotainment screen. What's more, nearly new Focus models may represent slightly better long-term value thanks to better residuals and a narrower price gap to the Fiesta compared with brand-new models.
Which Ford hatchback is right for you?
If you've made your mind up, take a look at used and nearly new examples of the Ford Focus and the Ford Fiesta on sale at Motorpoint. For more options, check out our picks for the best used family hatchbacks you can buy.
Ford Focus vs Ford Fiesta FAQs