BMW's SUVs have proved to be such a huge success that the lineup has expanded from just the X5 to more than seven different models. As a result, used car buyers might find their budget covers several different options in the brand's SUV range.
If you have around £30,000 to play with, you might compare a top-of-the-range used BMW X1 against a low-to-mid-range BMW X3. In this case, should you get the smaller car with all the trimmings, or sacrifice some features for the bigger overall vehicle? Keep reading to make your mind up.
BMW X1 vs BMW X3 compared
BMW X1
BMW X3

Pros:

Much more affordable
A little sharper to drive 
Less engine noise

Pros:

More spacious
Softer suspension
Wind/road noise better suppressed

Cons:

Slightly less comfortable
Most versions are slower than the X3
Wind noise noticeable at speed

Cons:

Expensive compared to X1
Popular diesel engine is grumbly
Running costs will be higher
Styling and design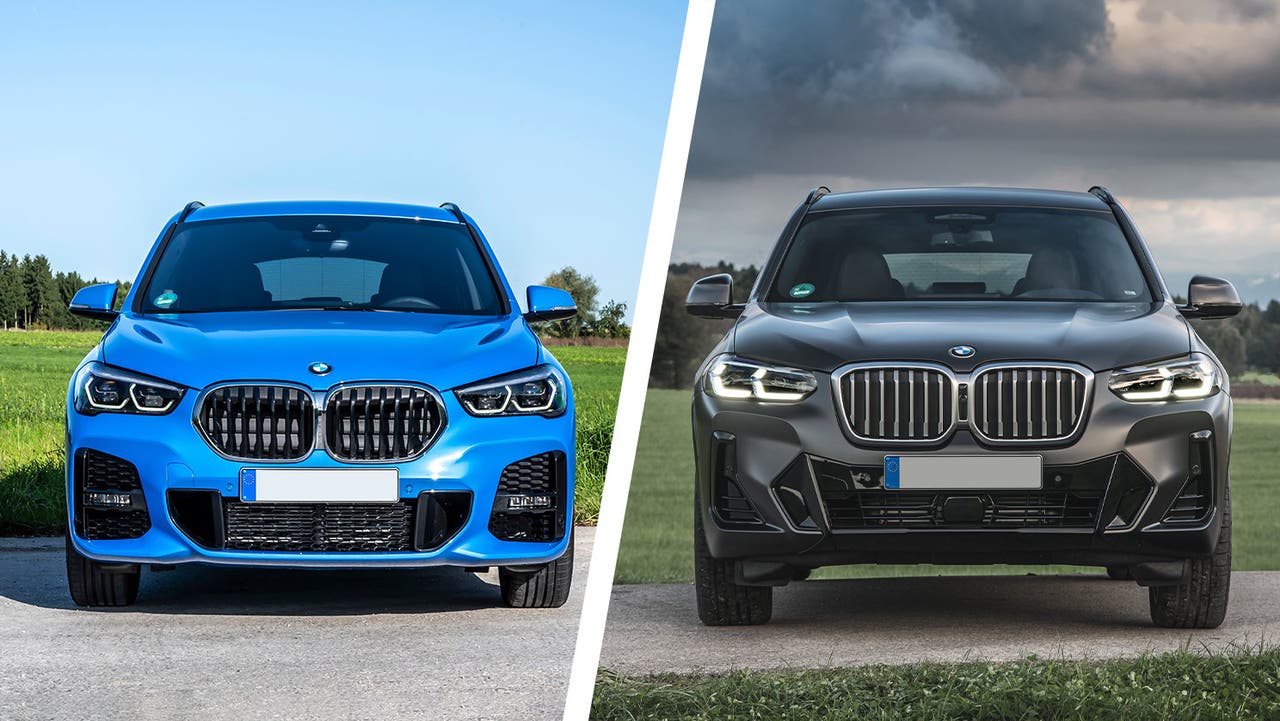 Considering the X1 and X3 both hail from BMW's SUV family, it's no surprise that they look very much alike. Both have the brand's distinctive twin 'kidney' grille with mean-looking, pointed headlights either side. Body work on both cars features subtle muscular strakes to break up the metal and disguise these models' extra height compared to BMW's saloons.
In person, the X1 looks smaller with a sportier poise, while the X3 is clearly a physically larger car, and is much more easily confused for the more expensive X5 at a glance. Side-by-side, you spot the X3's extra height over the X1, and its greater length mainly thanks to the larger rear-quarter window that sits behind the second row of seats. An entirely new X1 was launched in late 2022 but its styling is such a subtle evolution of its predecessor, you might struggle to tell them apart.
Interior and practicality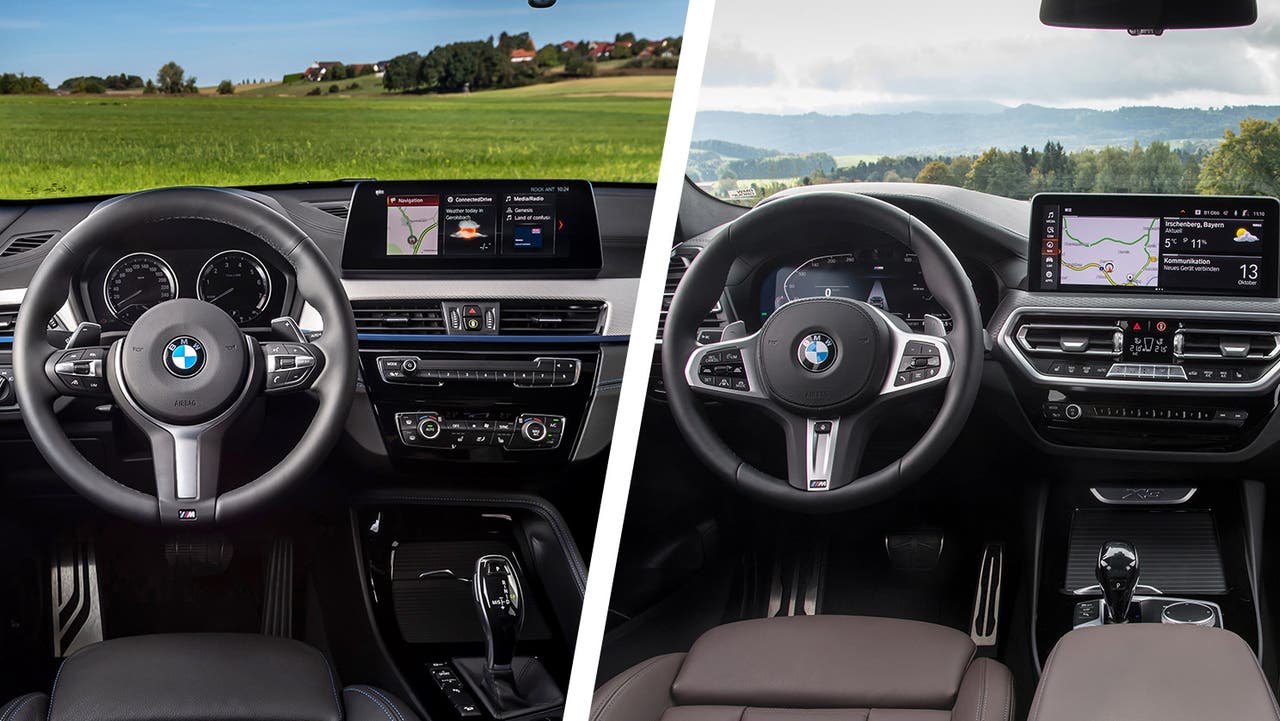 While there are clear differences between the two cars' interiors, the overall layout is broadly similar. Both have a raised centre console and a dashboard that's subtly angled towards the driver, helping cocoon you in the driver's seat with a cockpit-like viewpoint.
The X1's dashboard is dominated by a single strip of material – aluminium-effect or gloss black, depending on the trim level – running from one side of the car to the other. The rest of the controls are black plastic overlaid on more black plastic, which can feel a little gloomy if the sun's not shining. While the X3 is hardly a carnival in comparison, the dashboard and cabin styling is a little more intricate, with more aluminium-effect details to lift certain features out.
Both cars offer an impressive amount of practicality in their respective classes, although there's simply no arguing with the X3's larger size. You'll be able to seat four adults in comfort in both cars, but they'll have much more room to stretch out in the X3, and carrying a fifth on the rear row is slightly less of a squeeze in the larger car, too. The X1's 505-litre boot plays second fiddle to the X3's 550-litre space, but neither will struggle with a pushchair or a family's holiday luggage.
Engines and performance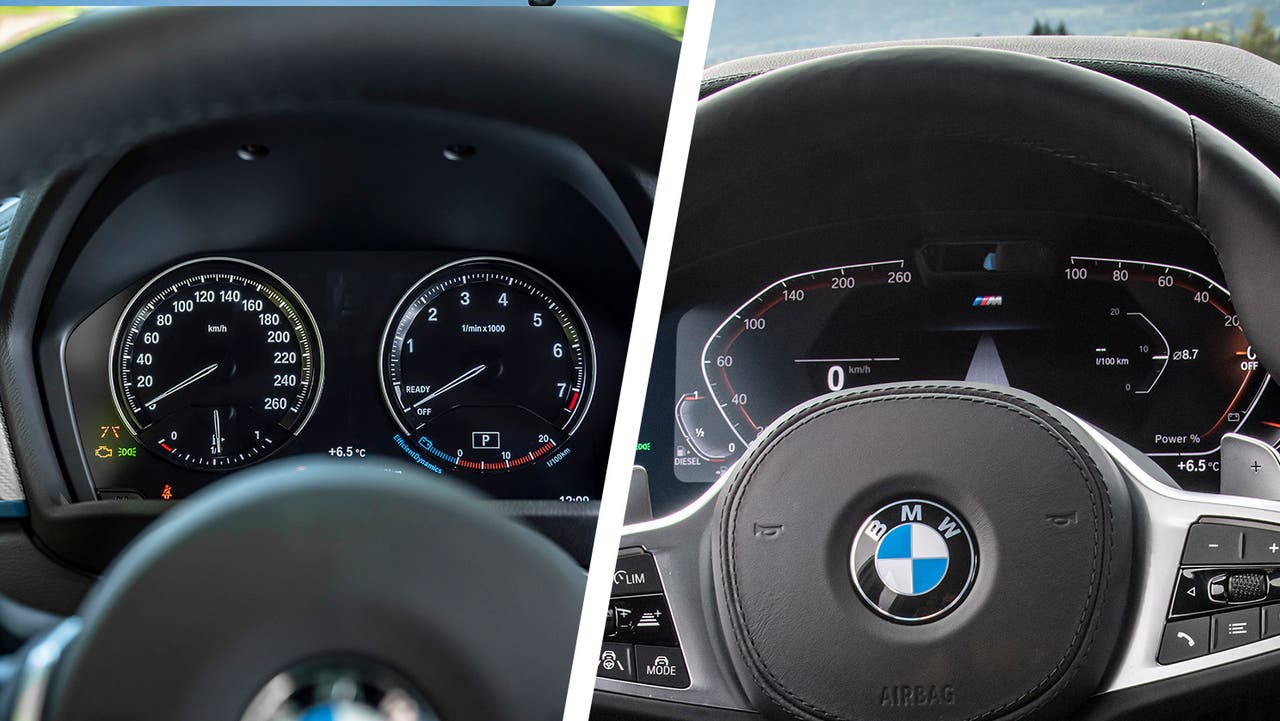 On the used market, petrol-powered X1s come with either an 18i and 20i engine. Both are more than a match for the X1's weight but the 192hp 20i feels much punchier when you put your foot down. Diesel buyers get the choice of 18d or 20d engines, again with the latter offering noticeably more power when you floor it. Most versions are branded sDrive, powering just two wheels for better efficiency, or you can select a car with the xDrive four-wheel-drive system, although most buyers won't notice the benefit in day-to-day driving.
The X3 is a larger, heavier car than the X1 and gets even more firepower under the bonnet to deal with the extra weight. Thanks to the more powerful engines, most X3s are quicker than an X1 in an equivalent position in the lineup. The penalty here is higher fuel consumption and more emissions, which mean your fuel bills will be higher than an X1 buyer. With the option of the 3.0-litre xDrive30d, M40i and M40d engines, buyers after serious performance will be better served by the X3.
There are also plug-in hybrid options for both cars. The X1 xDrive25e and X3 xDrive30e both dash from 0-62mph in less than seven seconds and claim to average more than 100mpg – though you'll need to keep the battery topped up to hit those numbers in the real world. You'll cover 31 electric-only miles in the X1 on a full battery, while the larger X3 will return only 28.
Driving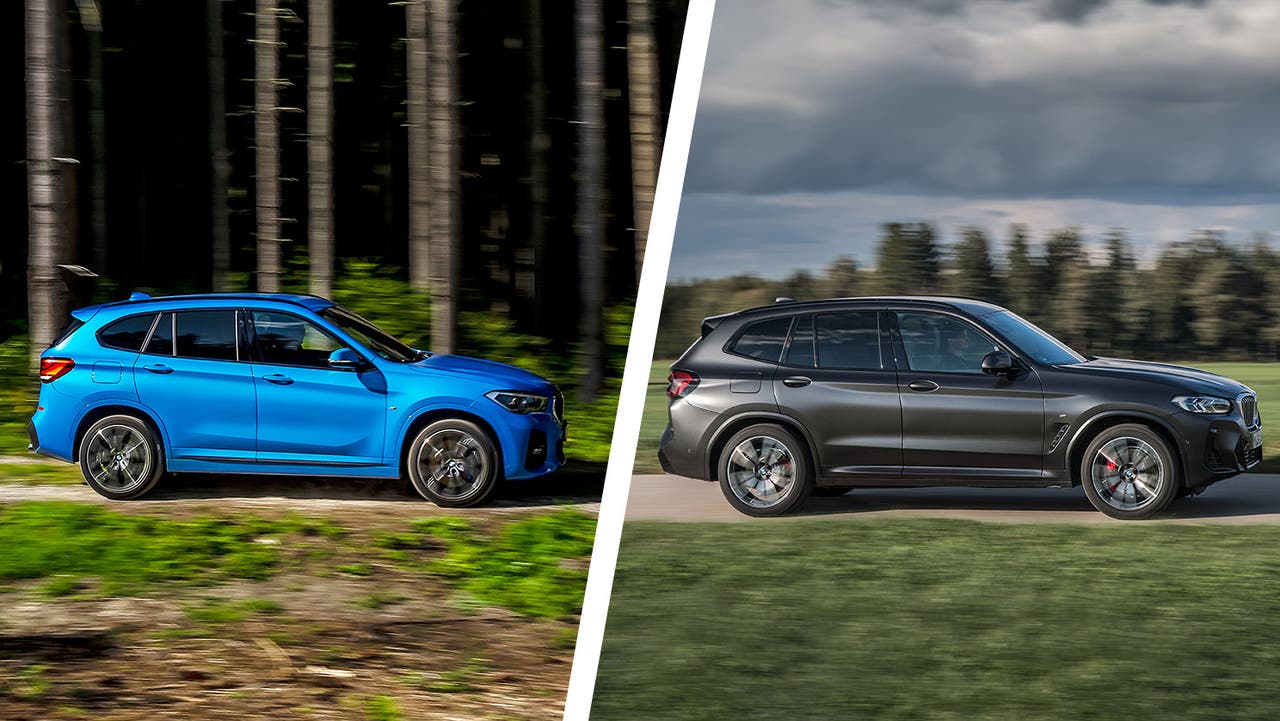 Both the X1 and X3 show why BMW is one of the companies to beat when it comes to great-handling cars. The controls in both are accurate and reassuringly weighted, and their chassis feel impressively agile through corners despite the height and weight of these cars. And, like the rest of the range, BMW has worked its magic on the suspension so you get all these qualities without compromising the comfort of passengers.
From the driver's seat, the X1 feels like a smaller car. You sit a little lower and you're aware of the car's faster reactions to changes of direction compared to the X3. As a result, it's slightly more fun to throw down a back road, partly because you're less concerned by the car's sheer size, and partly thanks to its keener handling.
While you might not want to drive the X3 as hard as the X1, there's something to be said for its greater sense of mass and composure. It's a little softer than the X1 and feels more like a luxury car, encouraging you to drive in a more sedate, dignified manner. This is made easier by the more powerful engines in the X3 lineup that make motorway journeys effortless.
Value and reliability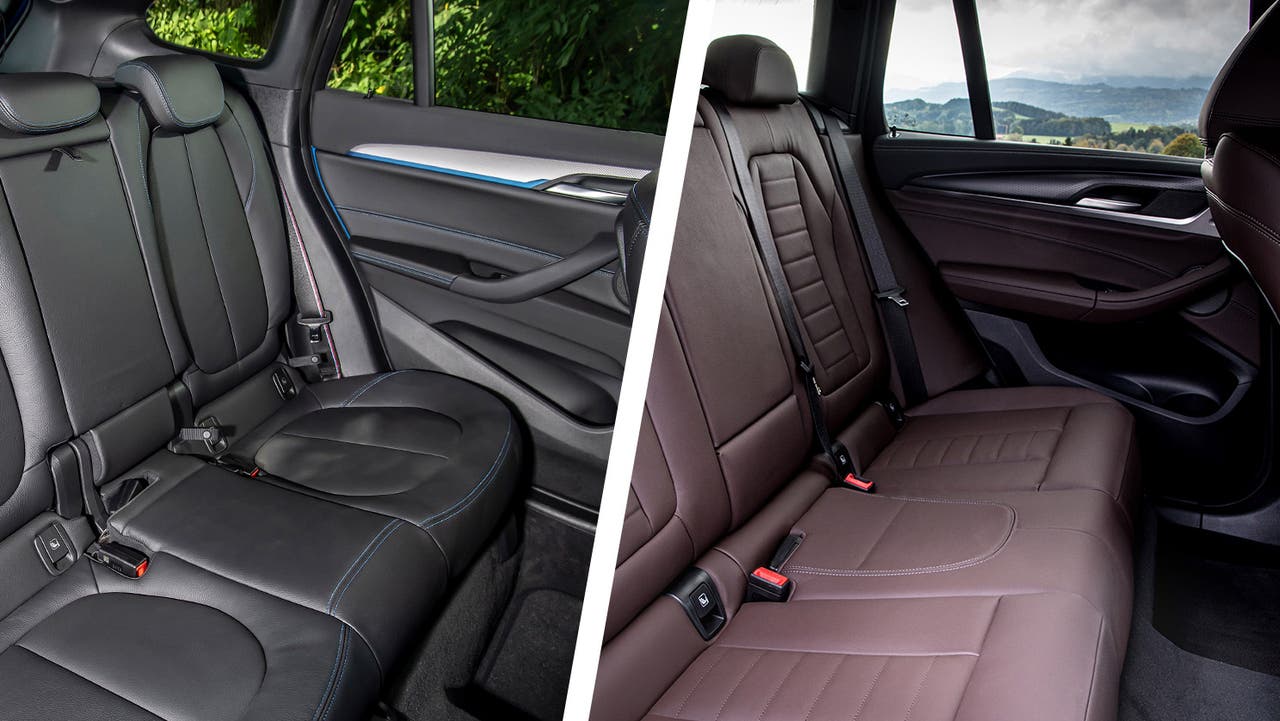 This is the most crucial distinction between these two cars. Looking at nearly new and used cars from the last few years, X1 models are as much as £10,000 more affordable than X3 models. That means, if you come in with a similar budget for both vehicles, you'll be able to get a much newer X1 with fewer miles in a range-topping trim like M Sport, whereas an equivalent X3 will be several years older and likely in a lower specification.
X1 models will also cost less to run than X3s, both in terms of the fuel needed to drive them and any servicing and repairs they might need. This is partly because the X1 shares parts and engines with smaller BMWs and Mini models, while the X3 has more in common with the BMW's larger, more premium cars.
BMW usually scores mid-table for reliability, although the brand has improved slightly in recent years. This is partly because BMW cars are premium models loaded with extra equipment, which means more potential points of failure compared with a cheaper, more simple alternative. You can kick these worries to the kerb by taking out an extended warranty when buying either the X1 or the X3, which covers you in the event of an unexpected mechanical or electrical failure.
Which is best?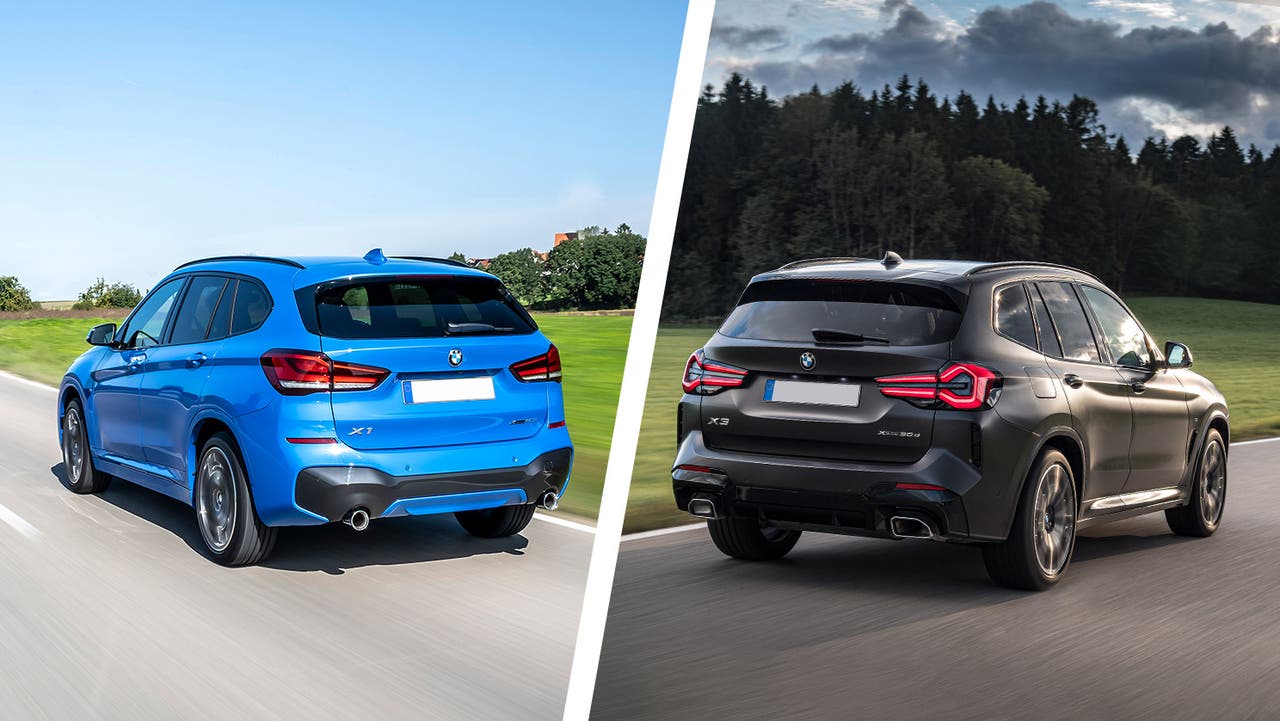 Chances are, your decision here will mainly be guided by your budget. With a substantial value advantage over the X3, the more affordable X1 has a much lower barrier to entry for buyers after a BMW SUV. Plus, the excellent driving and user experience mean you don't feel like you're settling for a substandard option.
However, the X3's more practical cabin, imposing presence and luxurious ride quality mean buyers who stump up the extra cash will notice the benefits. You'll also appreciate the extra shove when you poke the accelerator in the X3, with even more overtaking prowess than its smaller sibling.
Check out the savings on Motorpoint's huge selection of used BMW X1 and used BMW X3 cars – all with warranty coverage. For more options, take a look at our choices for the best used SUVs on sale.