Used-car buyers might find their budget covers both the Audi A3 and the larger A4. The size difference might be obvious, but the question of which offers better value for money isn't so clear.
You can buy a newer, lower-mileage used Audi A3 for the same budget as many used Audi A4 cars, so is it worth saving money with the smaller car, or splashing out for the larger one?
Audi A3 vs Audi A4 compared
Audi A3
Audi A4

Pros:

More affordable
Feels lighter behind the wheel
Smaller size makes parking a bit easier

Pros:

More practical – especially the Avant estate
Even more refined on the motorway
Slightly more comfortable

Cons:

Less passenger space
Can't quite match the A4's refinement
Cabin feels a spot less premium

Cons:

Older and higher miles for the same budget
A touch less easy to park
Running costs will probably be higher
Styling and design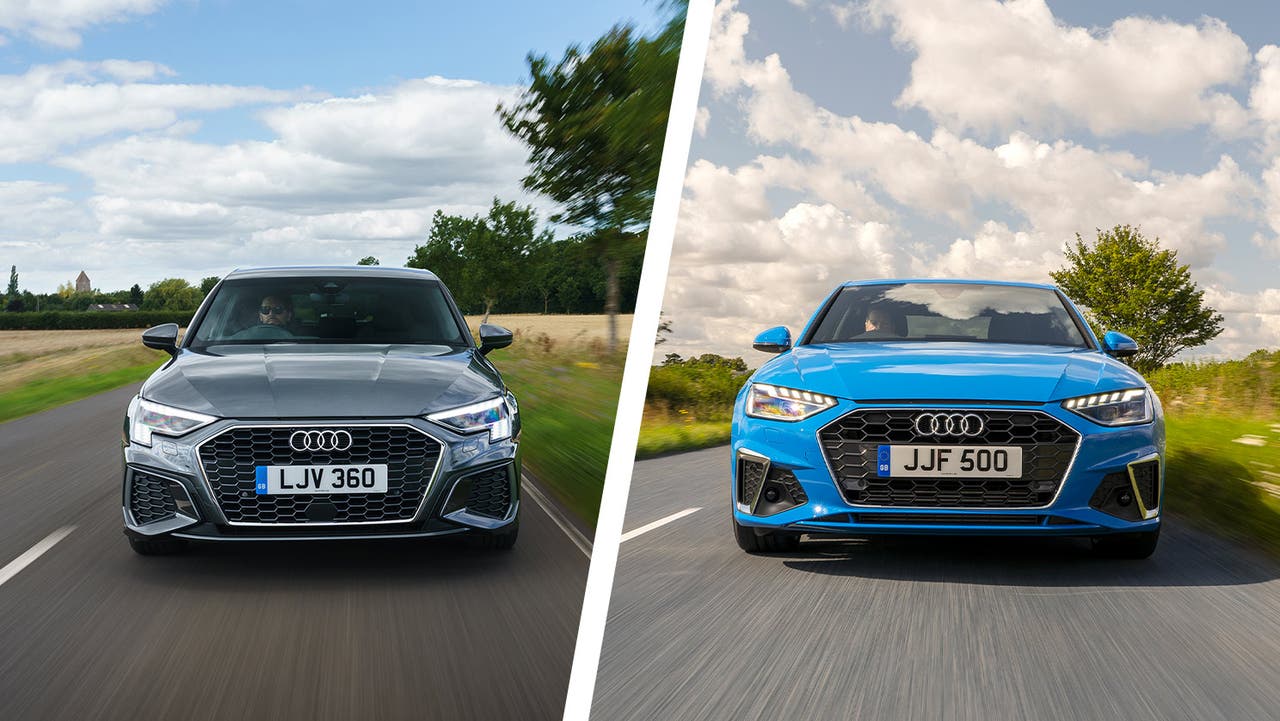 Audi is a brand with a familiar family face and neither the A3 nor the A4 have fallen far from the tree. Both feature the company's broad hexagonal grille with pointed headlights either side, giving them an imposing 'move-out-of-the-overtaking-lane' presence. Like the rest of the four-ringed range, each car has handsome, faceted bodywork that looks more upright in person than the swoopy styling you'll find on premium rivals from Mercedes and Mazda.
Your preference for body style might dictate which car you prefer here, considering their styling features are so similar. Hatchback buyers will prefer the five-door Audi A3 Sportback and estate drivers will want the Audi A4 Avant estate. Four-door buyers find themselves with a tougher choice, however, as the Audi A3 Saloon and Audi A4 Saloon could readily be mistaken for each other depending on how far away you happened to be standing.
Used buyers should note that an all-new Audi A3 arrived at the end of 2020 – you can tell the new car apart by its front grille mesh, which now uses a hexagonal pattern rather than the horizontal slats in the older A3. If you're shopping for A4 models, you'll see facelifted cars that arrived from early 2020 onwards. Changes are minimal with the most obvious being the simplified headlight shape, which loses the kink from the lower edge found on pre-facelift units, and a slightly wider front grille.
Interior and practicality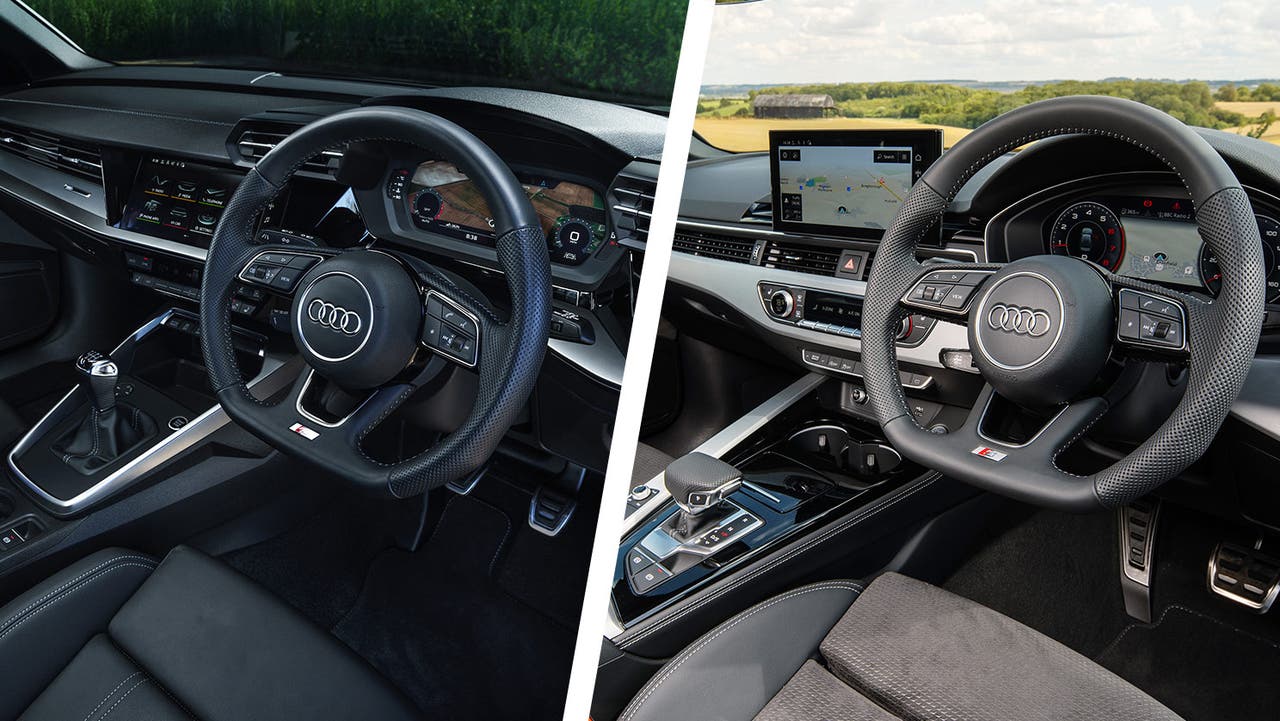 From behind the wheel, the overall layout is broadly similar between the two cars. A leather-bound steering wheel sits in front of digital dials on the majority of recent models, giving both cars a modern, high-tech feel. Most buttons have been eliminated from their dashboards, but you'll still find physical buttons for the climate control, audio volume and certain driving functions, which are easy to use on the move.
Material and build quality in both cars is excellent, but you notice the extra layer of sheen in the A4. Slick touches like the more extensive use of aluminium-effect trim and piano-style climate control buttons feel a cut above the A3. The latest A3 that launched in 2020 has also taken minimalism to the extreme, removing even more buttons than the A4. This, combined with the odd grey, plastic surface you'll find in the A3 means it can feel a little sparse compared to the A4. That said, we do like the dash-top vents either side of the A3's gauge cluster that give you a cockpit-like view out.
There are cars that compete in similar classes to the A3 and A4 that will outperform either for practicality – the Skoda Octavia and Skoda Superb immediately spring to mind. But, as far as premium cars go, neither the A3 nor the A4 should prove hard to live with. Four adults fit comfortably in both cars but, while five adults would be a squeeze in either, they'll have an easier time in the A4 thanks to its extra width. Rear passengers in general will notice the extra legroom in the A4, and this also makes it easier to secure kids in their child seats. Cargo room is fine for day-to-day family duties across all A3 and A4 bodystyles, but the A4 Avant estate is the best choice if you have a bulky pushchair or a canine companion.
Engines and performance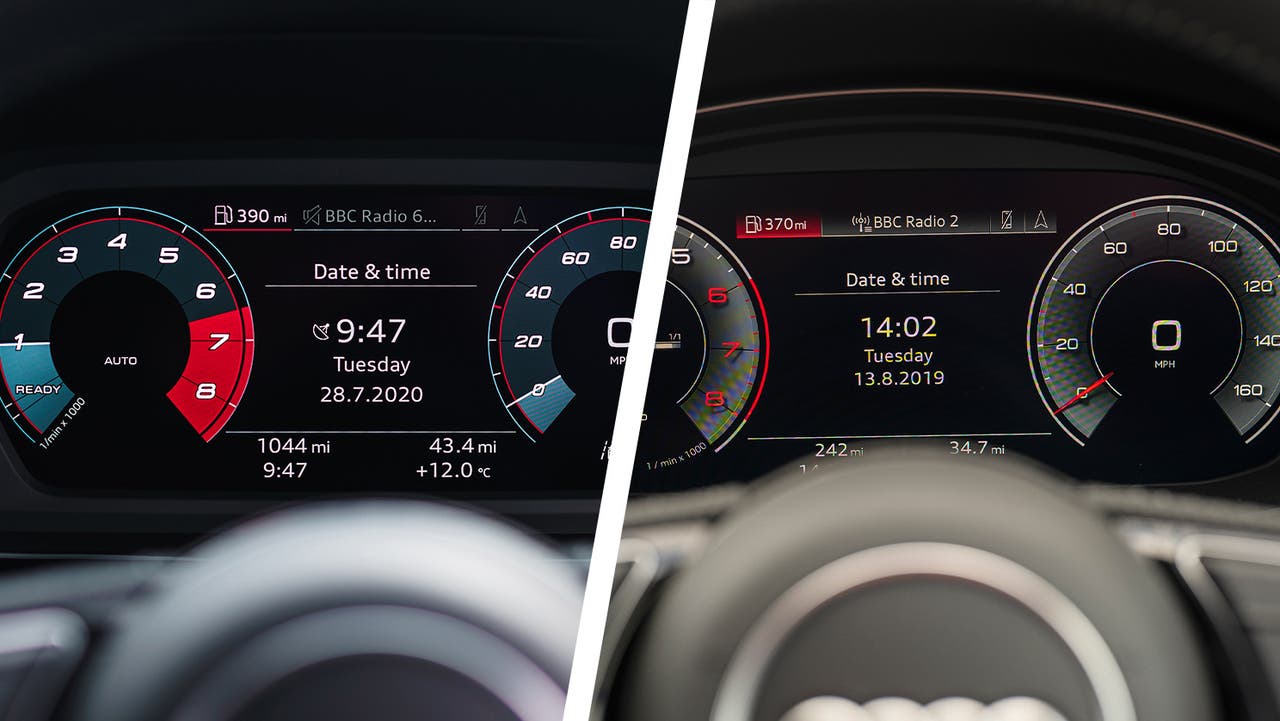 Audi has tarred both cars with its nonsensical engine badging system but, thankfully, there aren't really any weak choices in the lineup. In fact, the only options we might hesitate to recommend are the entry-level petrols in either cars' range – in this case, the A3 30 TFSI and the A4 35 TFSI. Neither are 'slow' and will easily keep up with regular traffic, but they have to be worked hard occasionally and can feel underpowered when overtaking. This isn't a problem for either car's entry-level diesel engines, which all have noticeably more pulling power.
Step up to the mid-range engine options in either lineup – A3s with the 35 TFSI or 35 TDI, and A4 models with the 40 TFSI or 40 TDI – and performance is substantially improved. Accelerating to motorway speeds feels more effortless and there's plenty of reserve overtaking power if you bury the throttle. Regardless of whether you're shopping the A3 or the A4, we'd recommend the S Tronic automatic gearbox, which shifts smoothly and suits Audi's trademark composed driving experience.
If your pockets are deep enough, lots of performance is available at the top of both cars' lineups. Red-eyed RS3 and RS4 models are rare and expensive, putting them out of reach for most punters. That leaves you with the 310hp S3 and 349hp S4, although the former is much more common on the used market. For our money, we'd stick with the S3 – it's already extremely fast, sprinting from 0-62mph in less than five seconds – and its smaller, lighter body makes it a little more fun to throw into corners.
Driving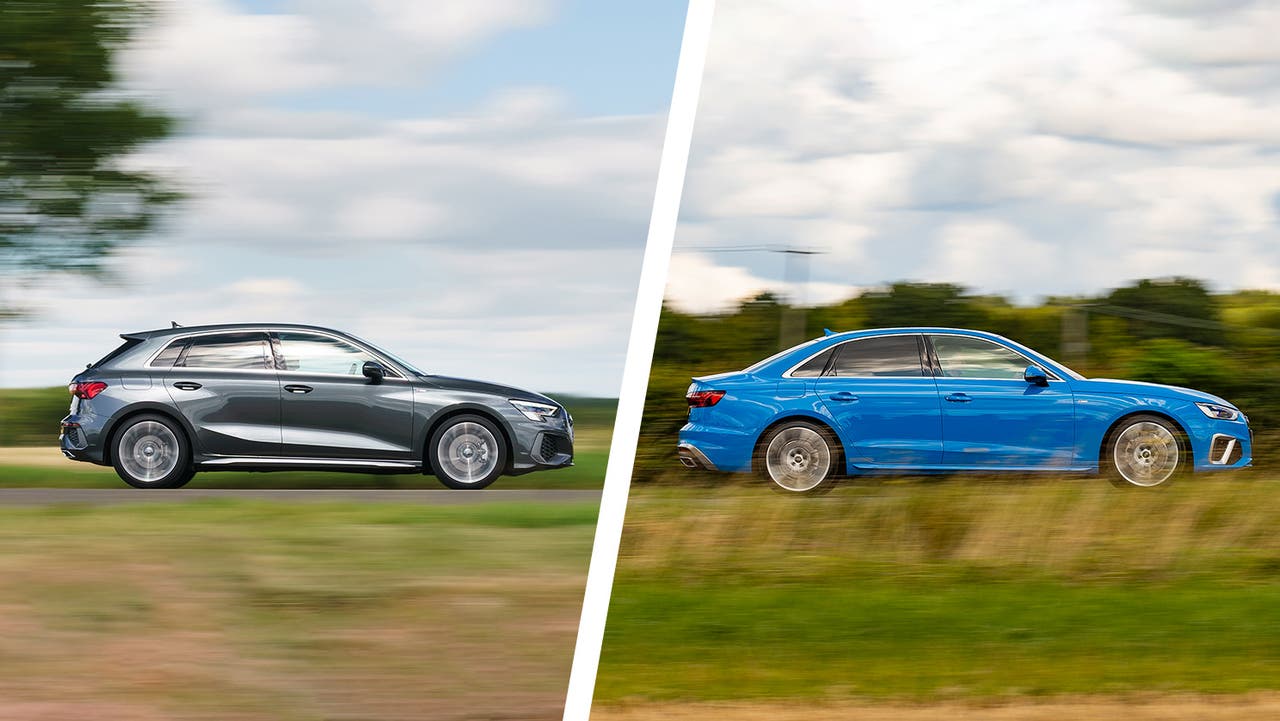 Test drive either the A3 or the A4 in isolation and you're unlikely to emerge with many complaints. Both cars take a similar approach to handling, aiming to give you the most composed, fuss-free driving experience possible. As a result, neither car is as sporty as the equivalent BMW it rivals, nor wafts like the equivalent Mercedes – instead picking a well-judged point somewhere between the two. However, differences do emerge when you compare them side by side.
The A3 isn't just physically smaller – it feels smaller, with less of a sense of shifting mass when you change direction. That makes it more agile and keener to turn into corners, aided by its smaller dimensions that slip more easily down tight British country roads. That's accompanied by an accomplished ride that remains level while tuning out a lot of nasty impacts through the suspension. You do, however, feel a few jiggles through the base of the seat over nasty surfaces at town speeds, and this is exacerbated slightly on sporty S Line cars with big alloy wheels.
In direct comparison, the A4 feels heavier than the A3 and, while it's impressively composed and agile, it can't match the snappier responses of the smaller car. That said, the A4 rides with even more composure, soaking up bumps across almost all surfaces, with its extra mass lending the car an imperious, unstoppable feeling that makes long-distance cruising nearly effortless. Put simply, the A3 is a tiny bit more fun, while the A4 is a fraction more comfortable, although neither car scores badly behind the wheel in any category.
Value and reliability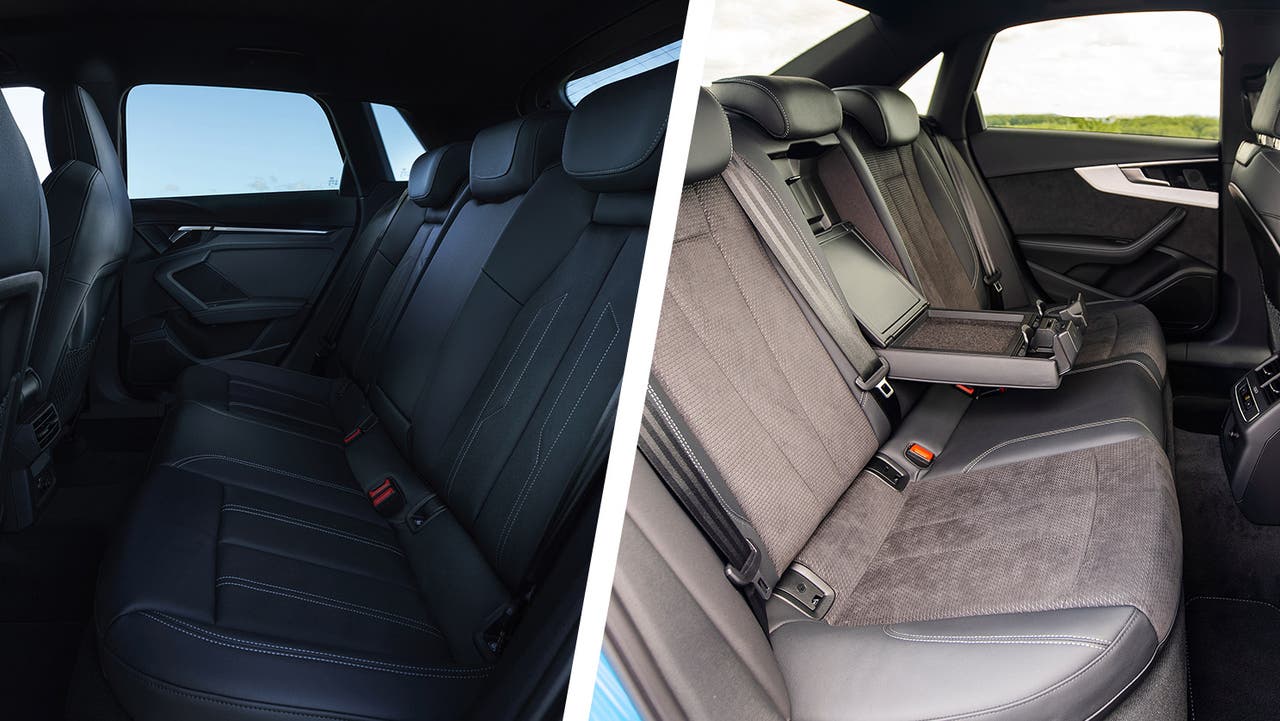 The answer seems pretty simple here – the A3 is cheaper and the A4 is more expensive – case closed. However, for used car buyers with a budget in mind, you might find options from both lineups in your price range.
At the time of writing, you can find lightly used previous-generation A3s from less than £15,000. Pushing your budget up to the £18,000-£20,000 range adds used current-generation A3s to your selection.
Looking at A4s, the current model has been on sale for the last few years, with a light facelift in early 2020 being the most recent development milestone. At the time of writing, you can find fairly recent A4 models in the £16,000-£18,000 price range, with the crossover for 2020 facelift models happening around the £21,000 point.
That means there's a lot of budget overlap between A3s and A4s above the £20,000 point – especially if you're looking at higher-end trims or more powerful engine options. Regardless of which car you choose, however, a used A3 that costs the same as a used A4 will almost always have fewer miles and/or be newer. So, while the price jump from an A3 to an A4 might not be that great, the latter will usually have a higher mileage with an older plate.
Audi, like its fellow German rivals at Mercedes and BMW, doesn't tend to top reliability surveys. There aren't widespread reports of issues with either the A3 or the A4 but, as often happens with cars loaded with on-board technology, more features can mean more things to go wrong. On the plus side, most mechanical parts come from the wider Volkswagen Group, so replacements shouldn't be too hard to find.
Which is best?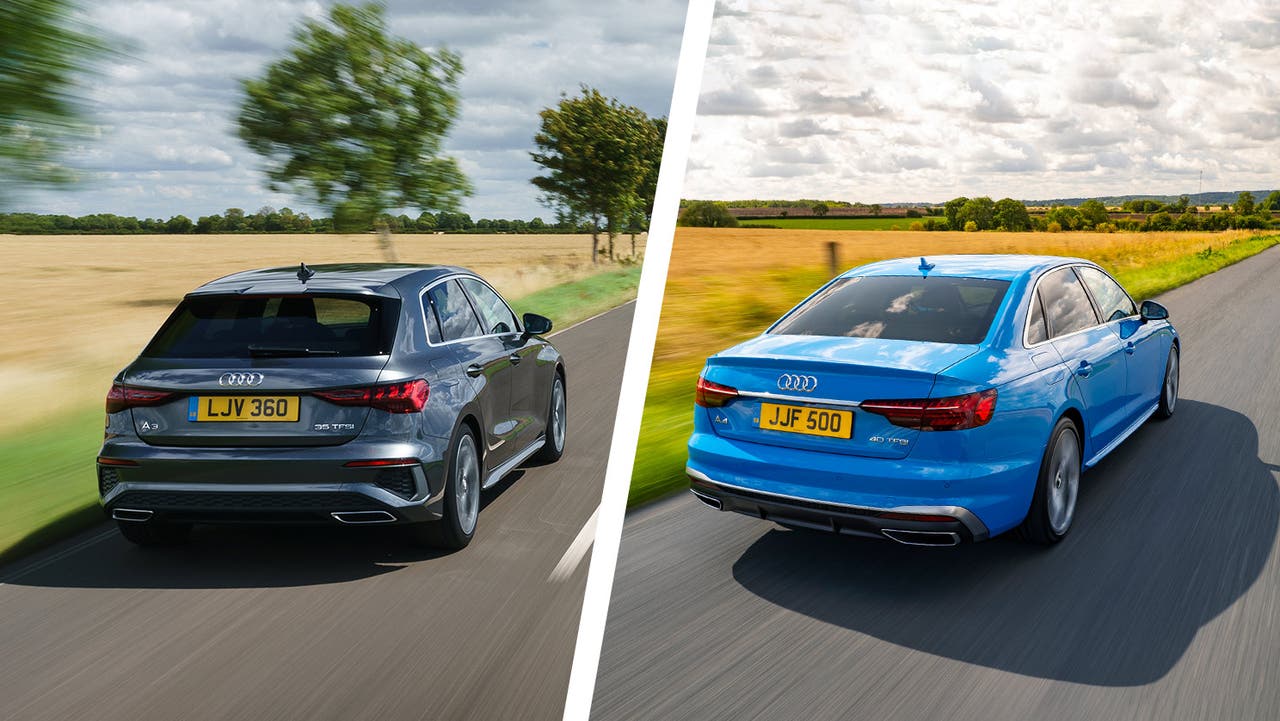 Your choice here will probably come down to where your priorities lie, along with how much money you have to play with. If you need a great all-rounder that'll work in urban environments and out on the open road, the A3 is a great choice. There's enough space for most small families and its position in Audi's range means you can usually get a newer, lower-mileage example for your money.
If, however, you want the supreme comfort and long-range touring ability that German executive cars are known for – along with even more space for passengers and cargo – the A4 might be a better choice. Plus, with the current A4 model being a little older than the latest A3 generation, the price difference between the two cars on the used market can be quite tight – often just a couple of thousand pounds or a few tenners more per month on finance.
Motorpoint has plenty of used Audi A3 and used Audi A4 cars for sale. Every car comes with a warranty and the reassurance of our Price Promise. For more practical family friendly options, check out our selections for the best estate cars you can buy.