The Mercedes E-Class is now on sale in the UK with a range of hybrid and electric engines. Here's how much it'll cost.
The latest Mercedes E-Class is now on sale in the UK. This sixth-generation car is once again available as a saloon or an estate, and buyers can choose from mild-hybrid and plug-in hybrid engines. There's no E-Class Coupe this time around – that's been replaced by the Mercedes CLE.
Prices for the BMW 5 Series and Audi A6 rival start from £55,290, which gets you a saloon in AMG Line trim with the E200 petrol engine. We'll cover full prices and specs in more detail below.
New Mercedes E-Class styling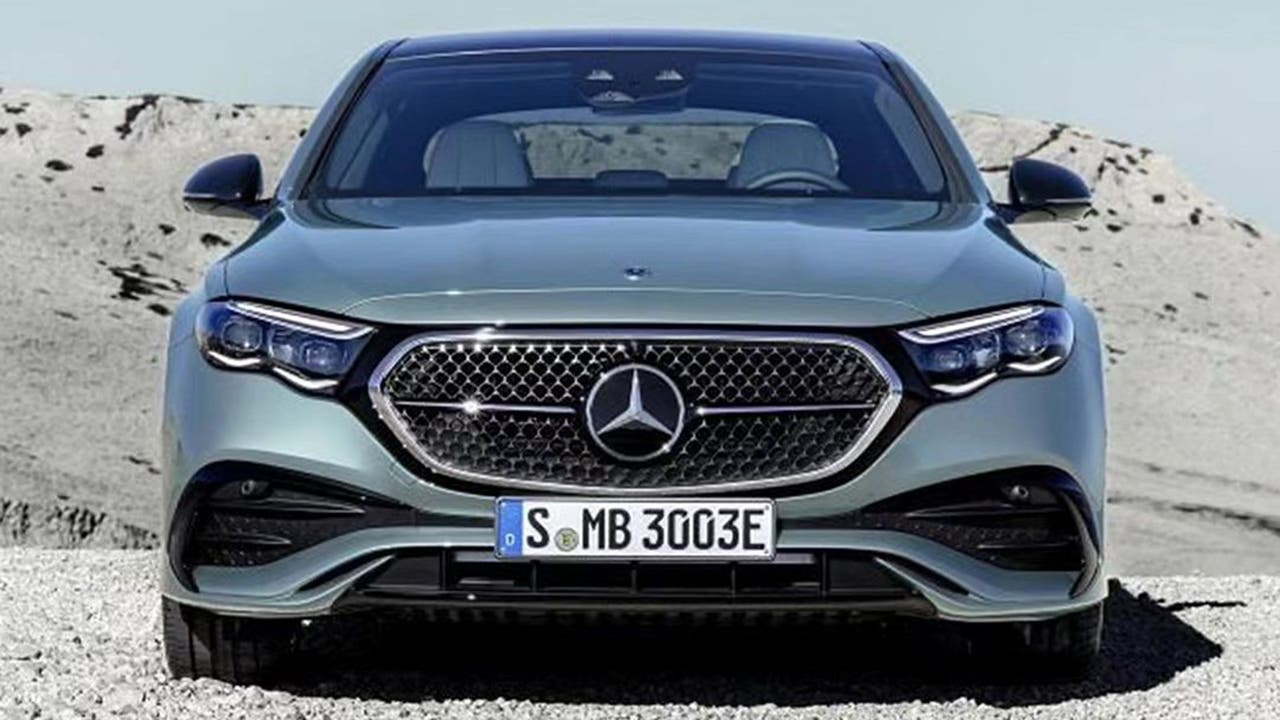 The new car's most eye-catching detail is the front end, which blends the headlights into the front grille on a single panel that contrasts the rest of the body. This look has already been seen on Mercedes' EQ electric vehicles such as the EQC, but this is the first time it's been seen on a car that still has a fuel-powered engine. This styling choice likely reflects the fact that every model in the 2024 E-Class lineup will be hybrid-powered to some extent.
The rear end isn't a huge departure from the design seen on the 2021-onwards E-Class and 2020-on S-Class cars, with thin brakelights connected by a chrome strip. However, the 2024 E-Class brakelight units include new triangular shaped light designs, containing the Mercedes three-pointed star emblem. We can also see pop-out door handles like the current S-Class, rather than the mechanical handles found on the outgoing E-Class.
New Mercedes E-Class prices and specs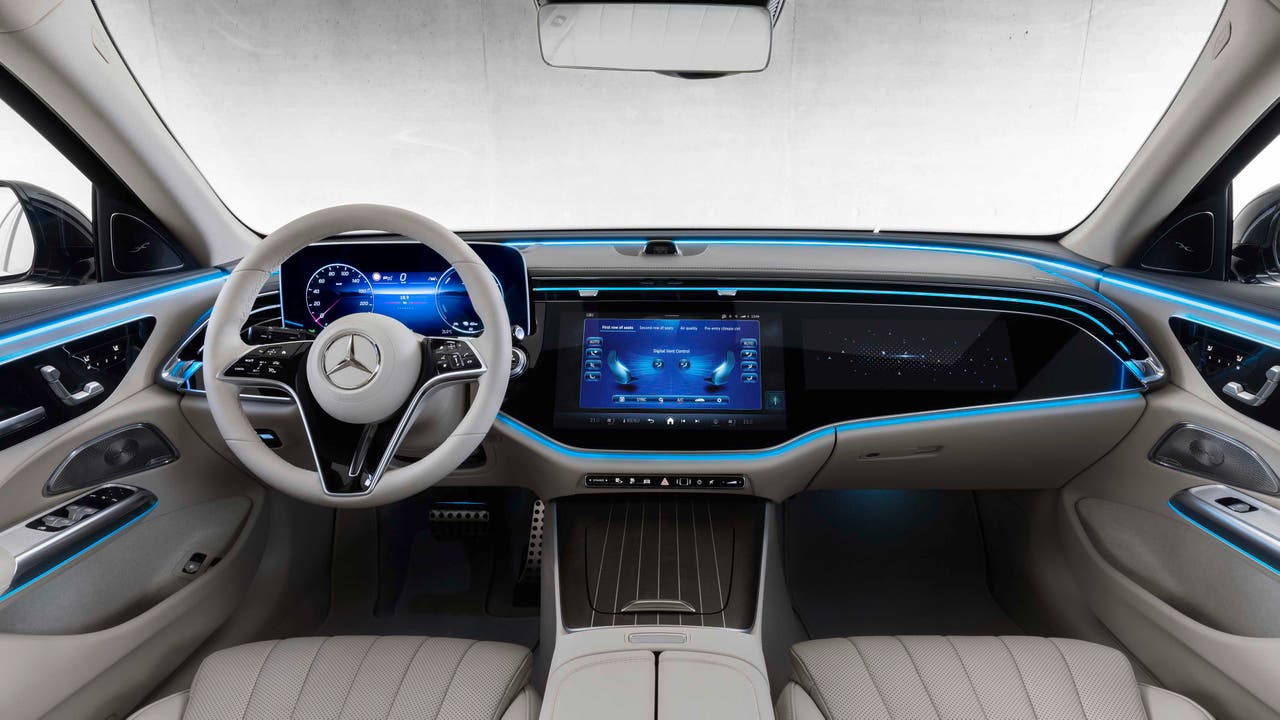 Given that most buyers bought the previous E-Class in one of the AMG Line trims, it's now the standard choice in the UK – there's no SE or Sport version any more. All cars therefore get a sporty body kit, while even the entry-level AMG Line trim features keyless start, LED headlights, heated leather seats, blind-spot assist, wireless phone charging and self-parking assistance.
AMG Line Advance trim ups the size of the wheels by an inch – albeit with the same design as the 18-inch alloys on the trim below. Upgraded headlights, four-zone climate control, augmented-reality sat nav and a 360-degree parking camera feature on this trim level, which costs £58,535.
AMG Line Premium is next at £61,415, and adds a Burmester sound system, noise-reducing glass and Mercedes' Superscreen – an impressive display that seems to take up the whole dashboard with an additional screen for the front passenger. Then there's AMG Line Premium Plus, with its 20-inch wheels, an illuminated grille, head-up display and a panoramic sunroof, which'll set you back £67,490.
Finally, we get to the top-spec Exclusive Edition, which drops the AMG Line styling for a more luxurious look. Mind you, this trim level boasts the biggest wheels available – 21 inches. This is an alternative take on the AMG Line Premium Plus trim and costs the same.
Across the range, the E-Class Estate costs approximately £2,500 more than an equivalent saloon.
New Mercedes E-Class engines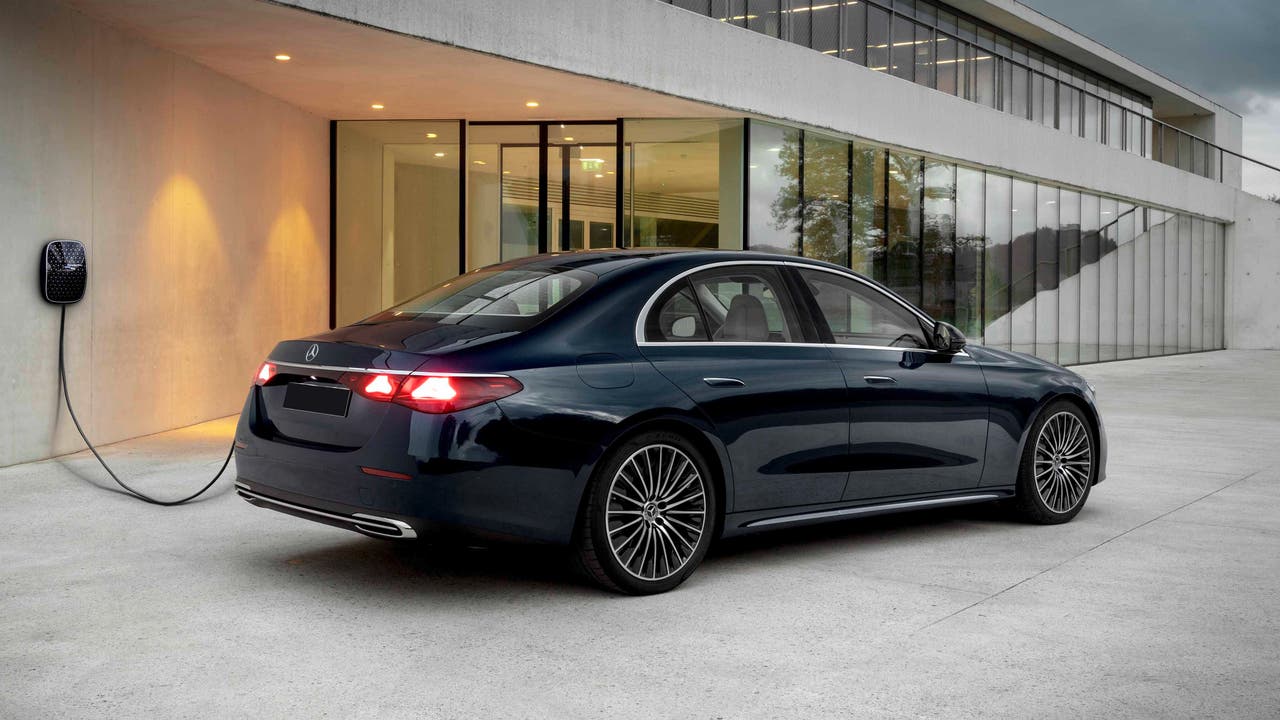 The lineup is entirely hybrid powered, with a choice of petrol or diesel engines to back up the electric motor. There will also be several plug-in hybrid versions able to cover a few miles on electricity alone – one, the E300e, is available from launch. Available in the middle three trim levels, the E300e costs from £68,020 to £76,585.
We have no confirmed details for the specs behind the high-performance AMG models but, like the current-gen E-Class, we expect two engine options similar to today's AMG 53 and AMG 63 cars. Sadly, the hilarious 4.0-litre turbo V8 from the current AMG 63 is unlikely to make it to the new model thanks to tightening emissions standards. In its place, we expect AMG to use a powerful plug-in hybrid setup like the latest C63, potentially backed up by a choice of turbo four and six-cylinder engines.
New Mercedes E-Class release date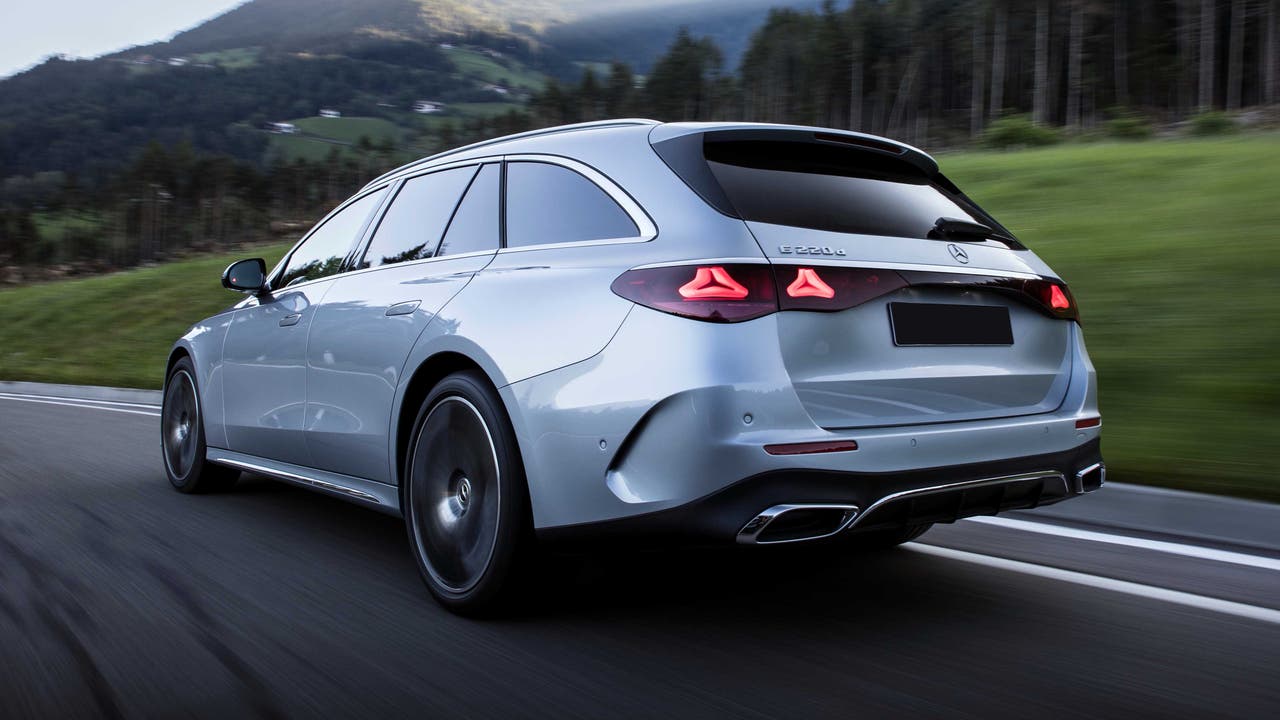 The new E-Class is now available, with first deliveries likely to take place in early 2024. Additional plug-in hybrid engines and the flagship AMG models will be on sale a little later.
Later in the model's lifespan, we expect a fully electric version to be added to the lineup. This should be capable of more than 300 miles on a full charge, with fast-charge capability.
When can I buy the updated Mercedes E-Class from Motorpoint?
With the latest-generation Mercedes E-Class due to arrive in 2024, nearly new examples should start appearing at Motorpoint in 2025 or 2026. If you need a posh set of wheels until then, you could take out a three-year PCP finance deal on a nearly new E-Class now, then put any equity left over into a finance deal in 2026 for the next-generation version.