Starting a business has never been easier. By taking your venture on the road, the savings can be enormous and the opportunities limitless. Here is how you can start your mobile business today
From mobile dog groomers to on-the-road barber shops, travelling food vans and pop-up jewellery stores, 2022 is the year of the mobile business. With sky-high rent prices, increased cost of products and an inflated cost of living globally, starting a new business can be a daunting venture, and turning something you are passionate about into a lucrative business in today's climate can seem impossible. That's why many budding entrepreneurs are taking their businesses on the road and ditching their traditional premises.
In this blog, we will discuss the numerous benefits of a van-based start-up, so you can take your first steps into the world of entrepreneurship.
Low start-up cost 
It is undeniable that the cost of a van-based mobile business compared to a traditional brick and mortar premises is considerably lower; across the board, a van-based business has a premises beat on cost. We take a look into the vital financial savings you can get your hands on when choosing a van-based business. 
Buying a van vs cost of commercial rent
One of the most prominent and important factors favouring ditching your work premises and taking your business on the road is the considerably lower start-up cost. 
It may seem like an expensive route to venture down, with the cost of buying a van usually being above the 10k mark. Still, on average, a business owner with a brick-and-mortar business will pay a similar amount or more in just one year on a commercial premise rental. 
In London, for example, on average, a business will pay annually £260 per square foot on a retail premise. The average premises for a small/medium size business is between 150-250 square feet. So on average, a medium London-based business could be paying up to £65,000 a year on rent alone. That's before you take into account other property fees and taxes that you may be liable to pay in your area.
The cost of almost all nearly new vans from Motorpoint will cost between £13,000-£30,000, and it is one initial payout; you'll never have to pay rent again!
Low overheads
Another aspect that will save you thousands of pounds a year is your operating overheads. Wave goodbye to sky-high electricity bills; gone are extortionate gas rates, and in their place, reduced expenditures and increased profit.
One of your main overheads will be the cost of fuel to run your vehicle. You can reduce this cost by investing in either an electric van or a fuel economy van. 
One of the best and most fuel-efficient vans to run on the market is the Ford Transit. Ford is understandably proud of the efficiency offered by its excellent Euro 6.2 EcoBlue diesel engines fitted to the Transit (and the Ford Transit Custom). What's most astonishing is that the 130PS, 170PS & 185PS versions of the engine all allow the Transit to achieve this excellent fuel consumption figure while still providing torque outputs of up to 415nm. 
When you consider how affordable a Ford Transit already is and that you also save money on fuel costs makes it a near-unbeatable choice to start your business with.
Less equipment or inventory
Another budget-friendly difference between a brick and mortar premise and a van-based business is the amount of equipment or inventory you will require. It's pretty simple; the less space you have, the fewer things you need. 
That being said, many van-based businesses do still need substantial space to function at optimum capacity. The Renault Trafic Business Plus is a fantastic option when it comes to creative use of space for an on-the-road business.
Changes to the Renault Trafic engine in recent years haven't come at the expense of fuel efficiency. In fact, the new units are more economical than the ones they're replacing. Motorpoint often has the 145 dCi engine business plus model in stock, which has official figures of up to 40.9mpg. For maximum economy, the Renault Trafic also comes with an eco mode button to keep your fuel costs low, and with an 80ltr fuel tank, you should be able to drive around 600 miles before having to fill up again. 
The load capacity for the Renault Traffic is the real selling point, with even the smallest model being able to carry 11 standard plasterboards. The business-plus model has the handy feature of bulkhead loading, giving the van a maximum load length of 4.15 metres.  
In terms of safety and security, each van is fitted with a deadlock system, immobiliser and alarm to ensure your business and income are safe and sound when you are taking some much-deserved time away from your business.
Factors to consider when starting a mobile business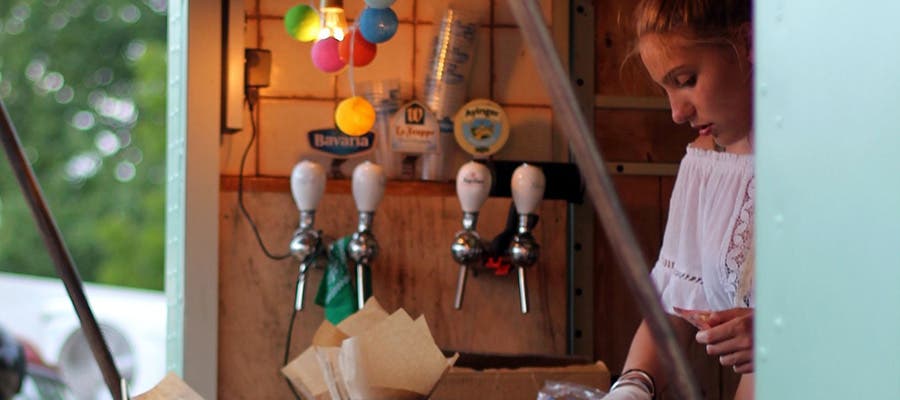 There are some key things you do need to consider before jumping into the van-based business world. As in all business ventures, there will be hurdles and hoops to jump through when getting a van-based business off the ground. With a bit of consideration and know-how, these mountains will seem like molehills in no time.
Marketing 
Since you won't have a permanent location, you won't be able to list your business space on Google Maps or similar tools that make it easy for customers to find you. This means that you may need to do a little more marketing to ensure that the right people can find you at the right time. 
This could be a headache, but with social media, it is getting much easier to market your company locally to the right audience. You will need to do this diligently to see results, though, so hiring a social media manager could be a good idea if digital marketing isn't your personal strong suit. 
Another fantastic marketing tactic not so readily available to traditional brick businesses is that your premise is free advertising. Driving around your region in your branded wrapped van in an automatic way to reach the interest of your potential customers, and at no extra cost!
Maintenance 
We all know that the cost of maintaining a vehicle can be a considerable expense, and you want to keep your van in tip-top conditions so your business is able to function at maximum efficiency. 
Although you do need to consider the ongoing cost of maintaining your van, when you take into consideration the money saved from not having to pay rent on premises and the tax and legality that come alongside that, the overall cost is still lower.  
For more information regarding the vans we have talked about, or to resolve any queries you may have about purchasing an almost new second-hand van, contact Motorpoint today.