You don't need a passport to have the adventure of a lifetime – even in the UK, you can find beautiful vistas and stunning scenery – here's where to find them
We love a roadtrip here at Motorpoint. There's something about loading up the car and setting the sat-nav to somewhere far away that evokes feelings of adventure, exploration and… the joy at having an excuse to eat Greggs' sausage rolls for lunch.
While there's undoubtedly something special about driving onto a ferry or train and exploring the continent, we've found some truly remarkable places in our own fair lands over the years – so without further ado, here are 5 UK roadtrips we think you should try this summer.
The North Coast 500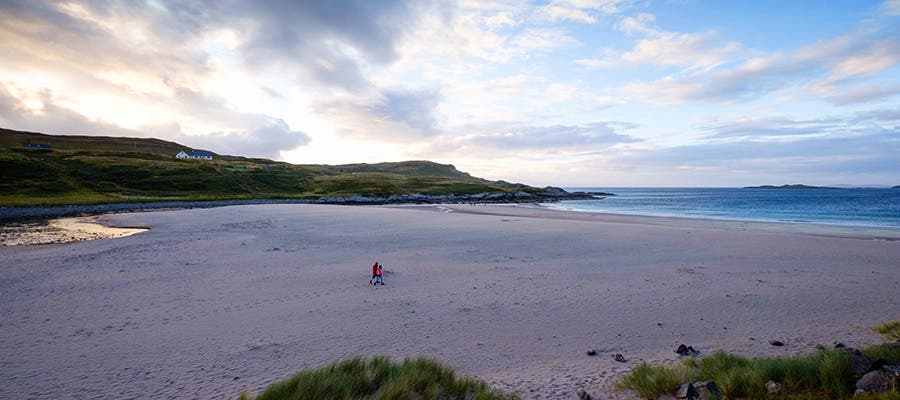 Straight in at number one has to be the roadtrip that's going to demand the most driving. The North Coast 500 is a 500-mile loop that takes in the northernmost roads in mainland Britain, skirting the rugged Scottish coastline. You'll gasp as the scenery changes from turn to turn – one moment you're edging along rugged coast roads with turquoise-blue waves crashing beneath you, only for the vista to give way to hillsides so dramatic you'd swear you were in Game of Thrones. Scotland is an epic driving destination, and this route takes in the best of it. We'd tackle the NC500 in something like a Land Rover Discovery Sport – it's roomy, comfy and has the reassurance of four-wheel drive should the weather turn.
Find a used Discovery Sport at Motorpoint.
The North York Moors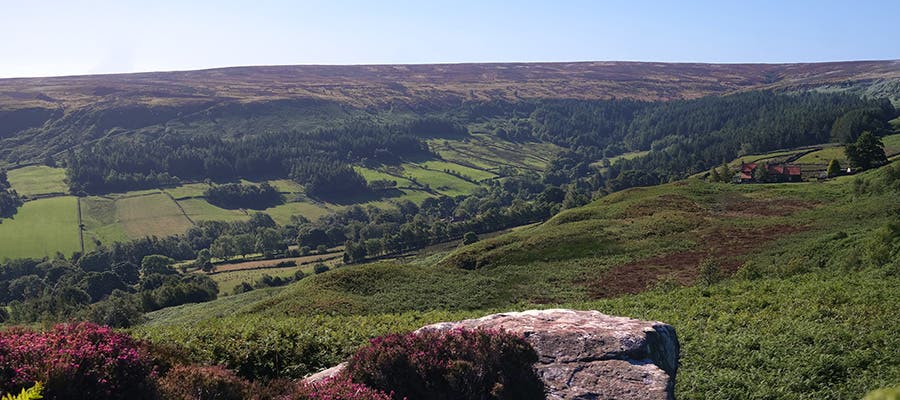 If you like big scenes, huge skies and tonnes of things to do besides coo at all the heather, then you've simply got to explore the North York Moors. It's a designated national park so you know it's going to be dramatic, but nothing quite prepares you for the sense of scale as you wind your way along the region's stunning roads. It feels as though the North York Moors is what most people envisage when they think of the British countryside, and when you pull over in one of the many laybys to start a hike and see a steam locomotive trundling along the valley floor, you can't help but feel a bit patriotic. Then it's time to nip down to York for roast dinner wrapped in a Yorkshire pudding (mind the gravy splashes) or over to Whitby for some excellent fish and chips.
If we didn't have kids we'd be taking a Mazda MX-5 to make the most of the twisting roads – or a Nissan Qashqai to carry all the walking equipment and umbrellas for the little (and not so little) ones.
The Black Mountains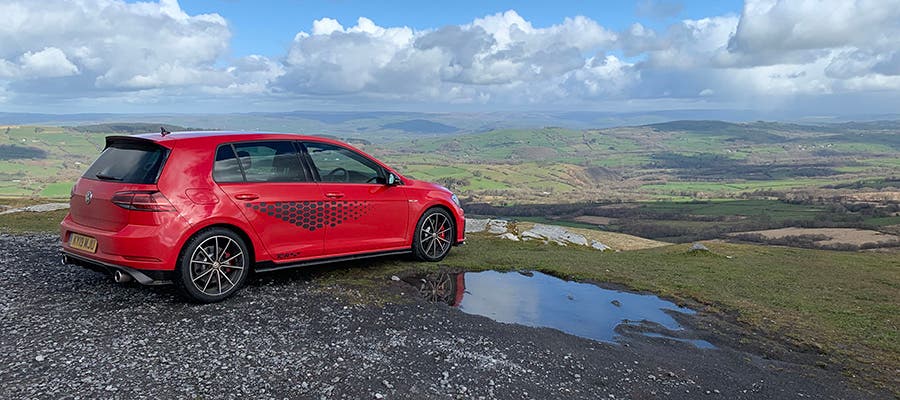 Again, this one sounds like something from the brain of George R.R. Martin, but the only dragons you'll be seeing on a roadtrip through the Black Mountains are those on the many, many Welsh flags outside the excellent pubs and restaurants that'll tempt you out of the car and into a burger. The Brecon Beacons National Park is home to some epic driving roads and some equally astonishing walking. The A4069 is famous among petrolheads for its scenery and stunning twists and turns, and you'll likely recognise it from many old Top Gear films. We'd recommend a hike up Pen y Fan for some epic views – the climb is tough but so, so worth it. You could spend a week trundling across the mountains of the Brecon Beacons without running out of things to see and do, and you're never short of a friendly pub for a nice pie and a pint at the end of the day. 
Any car is at home in the Brecon Beacons, so a solid and roomy family SUV such as the Kia Sportage would do the trick, or if you're looking for a sportier adventure, you can't go wrong with a Porsche Boxster.
Lake District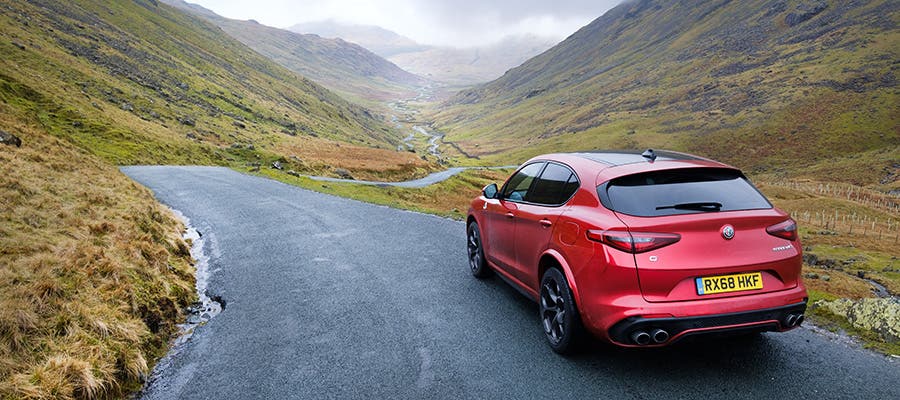 Think of driving in the Lake District and you probably conjure images of being stuck in five-mile tailbacks behind motorhomes and caravannists – but there are some amazing roads that are a little clearer of traffic thanks to being a bit… terrifying. 
One of our favourite passes in the Lakes is the Hardknott Pass – a narrow squiggle of Tarmac that starts near Ambleside at the north end of Windermere and runs west towards Eskdale. It's not for the faint of heart given how tight and narrow its turns can get, but the reward is stunning valley views that make you feel as if you're the only person on the planet. Factor in a Roman fort along the route as well as a narrow-gauge steam railway that runs to the coast at Ravenglass, and there's plenty to make this a properly good roadtrip – and something to do when you're fed up clambering up soggy mountains.
We'd tackle the pass in something with four-wheel drive and space for the family, such as an Audi Q5, or a Fiesta ST if you're not carrying the whole family and want a bit of fun on the way.
Atlantic Highway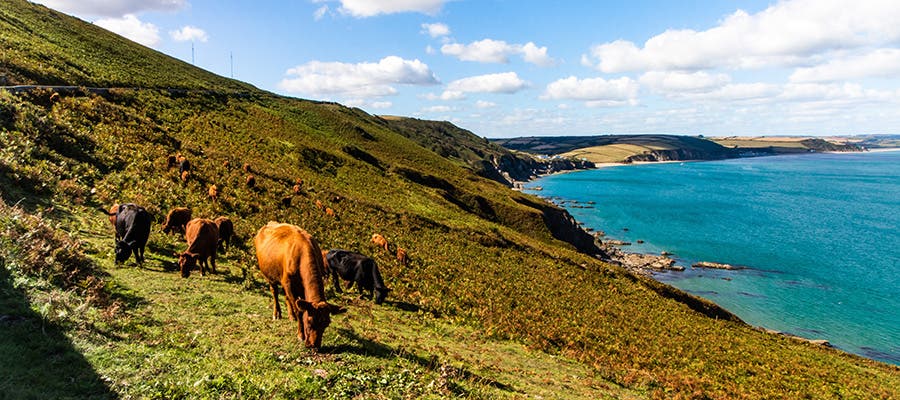 No, we've not got ourselves in a muddle and opened a Motorpoint store in New England – the UK has its own Atlantic Highway that runs from Barnstaple in Devon down to Newquay in Cornwall. Most of the way you'll be on the A39, which offers views of the Atlantic coast as you wind your way South. It's not the longest drive – it'll take you about two hours – but there are so many places to stop off on the way that you could turn it into a week-long adventure if you fancied. We adore the massive beach at Widemouth Bay, while the remnants of Tintagel Castle are perfect for letting the kids run around for a bit.
We'd pack everything up into a BMW 3 Series Touring, letting the massive boot swallow wetsuits, changes of clothes and perhaps strapping some bikes to the roof. Heaven.