10 of the best used soft-top convertibles you can buy
15 July 2022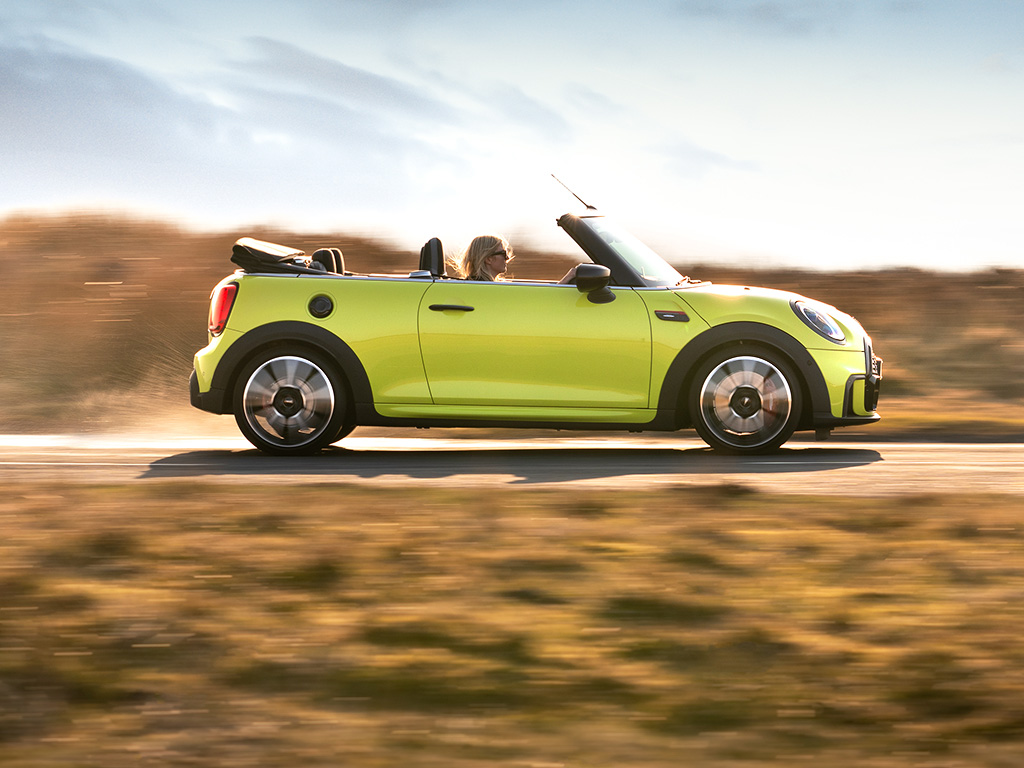 Photos © 2022 Manufacturer photos
Fancy a convertible but don't want to break the bank? Step right this way
Convertible, cabriolet, roadster, spyder, spider… soft-tops might go by more names than an Interpol fugitive, but whatever they're called, the premise is the same: drop the roof to soak up the sun, then raise it again before you get a soaking. That's particularly true when driving about under our skies, but it hasn't stopped Britain becoming the convertible capital of Europe. Besides, with modern insulated roofs, toasty heated seats and even headrests that blow hot-air onto your neck, convertibles have plenty to offer no matter the weather. This guide focuses on convertibles with fabric roofs, so read on to discover our top picks for top-down motoring…
Mazda MX-5
At a time when most cars are piling on the pounds (both £ and lb), the MX-5 strips it all away to focus on affordable, lightweight fun. Weighing a feathery 950kg, this rear-wheel-drive roadster doesn't need a whole lot of power to be a breath of fresh air, which is just as well because you can only choose from 1.5 or 2.0-litre engines – our pick's the post-2019 2.0, which bumps performance from 158bhp to a much healthier 184bhp. The fabric roof isn't electrically operated, but it's easy to just unclip one latch and toss it over your head. Unusually though, the MX-5 is also available with a folding metal hardtop as the 'RF' model, which adds a little weight and cost, but improves refinement. Nice, but less is more, we say.
Find a used Mazda MX-5 at Motorpoint
Porsche 718 Boxster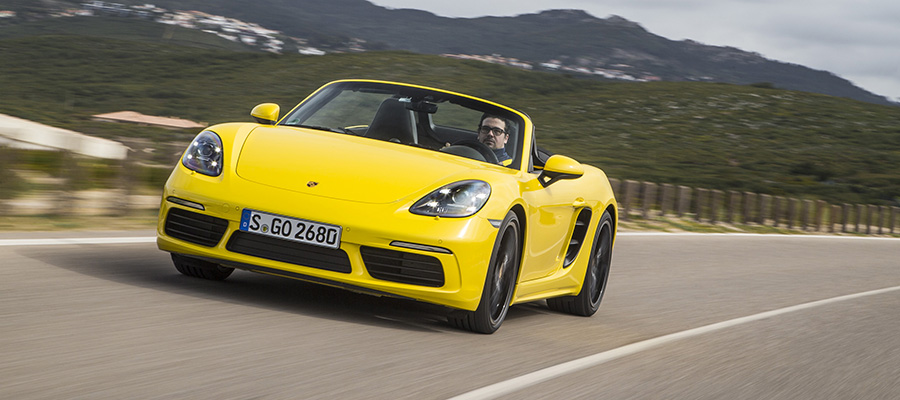 The best driver's car in our line-up, the Porsche Boxster is as sharp to drive as it is to behold, with a sublime mid-engined balance, engaging rear-wheel-drive handling and plenty of performance. A fabric roof lowers electrically in less than 10 seconds and can do that when you're driving at almost 40mph, and the Boxster's pretty practical for a two-seater too, with luggage space under the bonnet as well as the boot. Four-cylinder engines don't sparkle like the previous flat sixes, but internet riots encouraged Porsche to bring them back for the 4.0 GTS and GT4. If you can make the stretch, these are the ones.
Find a used Porsche at Motorpoint
Audi TT Roadster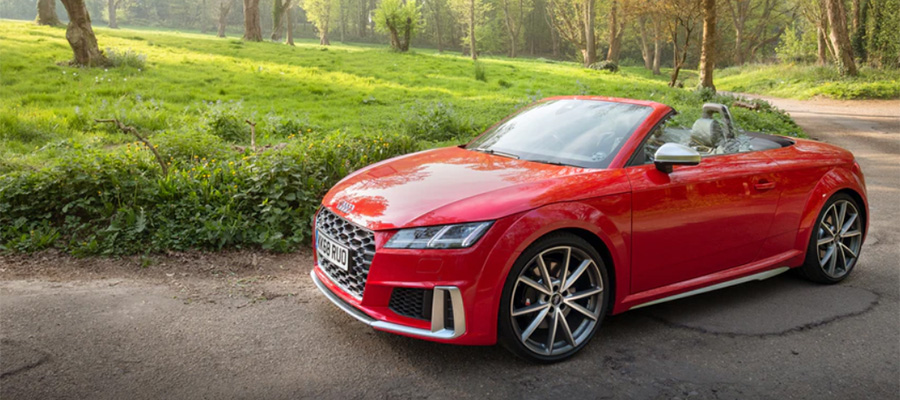 The TT Roadster is a have-your-cake-and-eat-it convertible. It ticks all the premium boxes with head-turning looks, a luxurious interior and cutting-edge tech, but because the TT shares underbits with a Golf it can be surprisingly affordable to run, and doesn't spit you off the road the second it rains – especially if you get quattro all-wheel drive. The TTS is the sweet spot between affordability and performance, but we vote TT RS for all-out thrills, courtesy of a five-cylinder turbo engine. Just remember that the Roadster is strictly a two-seater – only TT coupes get the two small rear seats. Soz kids.
Find a used Audi TT Roadster at Motorpoint
Mini Convertible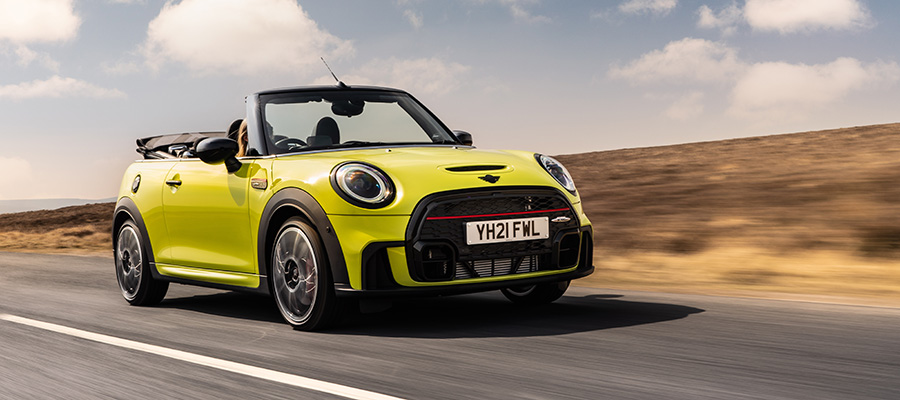 A veritable Michael Schumacher and Lewis Hamilton of convertibles, the Mini Convertible has won consumer website Carbuyer's Best Convertible five years running, and scooped its Best Used Convertible gong in 2022 too. No wonder the four-seat drop-top often tops Britain's convertible sales charts. Coopers use a frugal 1.5-litre three-cylinder engine, but Cooper S and John Cooper Works models get increasingly feisty versions of the 2.0-litre turbo. Whatever you choose, the fabric roof drops at a button-push in 18 seconds while you drive at up to 18mph. Hold out for the early 2021-on models if you can – they get a Navigation Plus 8.8-inch touchscreen as standard.
Find a used Mini Convertible at Motorpoint
Range Rover Evoque Convertible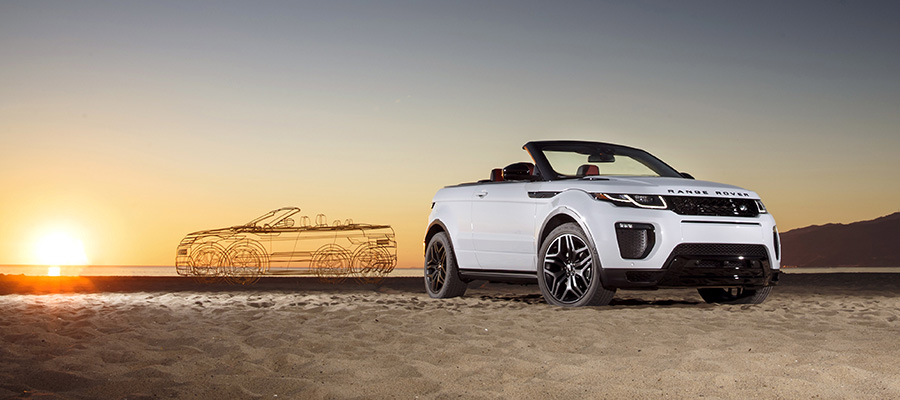 Early Land Rovers and Jeeps always had fabric roofs, but these days crossovers/SUVs and convertibles usually mix like oil and water. The Evoque Convertible changed that, becoming the world's first luxury convertible SUV. It's a full four-seater inside, and the Z-fold roof electrically lowers in 18 seconds when you're driving at up to 30mph. Pick a diesel for super-low running costs, but whichever engine you choose, this soft-top Rangie is so good off-road you can scoot between hair appointments without ever seeing tarmac. Five-door only version of second-gen Evoque meant the Evoque Convertible ceased production, but there's still a good selection used.
Find a used Range Rover Evoque Convertible at Motorpoint
Volkswagen T-Roc Cabriolet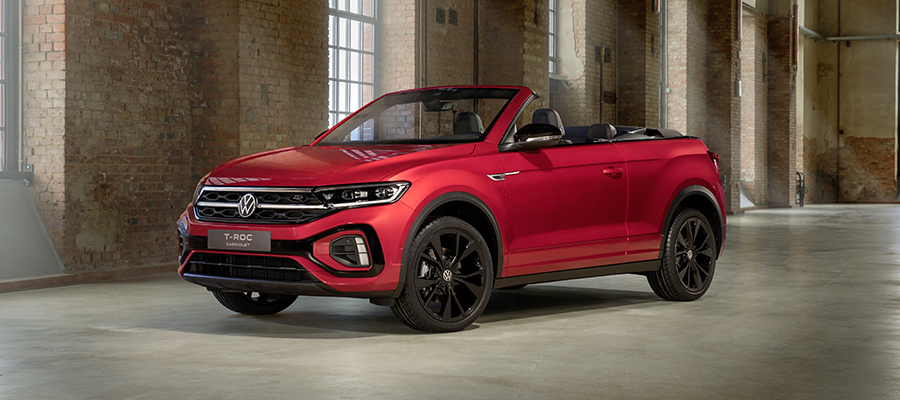 Picking up where the Evoque Convertible left off and still on sale today, the T-Roc Cabriolet is a roofless version of Volkswagen's compact SUV. It's not just a T-Roc with a roof chop, though - this is the only two-door T-Roc and actually features a 40mm longer wheelbase (the gap between the front and rear wheels), giving decent space inside the four-seat interior. Pick from Design and R-Line trims, and 1.0-litre or 1.5-litre petrol engines, neither of which will set your hair on fire, but who cares about the 0-60 time when you can drop the roof in just nine seconds - twice as fast as the Evoque!
Find a used VW T-Roc Cabriolet at Motorpoint
BMW Z4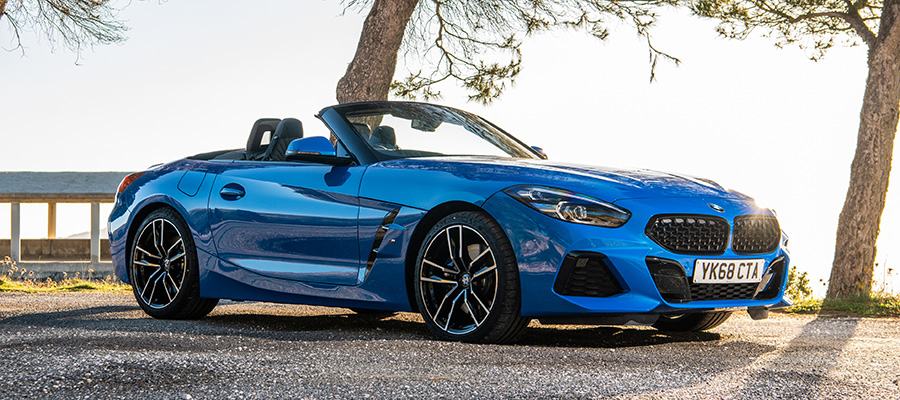 For a brand synonymous with sportiness, it's perhaps surprising that the Z4 is BMW's sole two-seat sports car. A more luxurious, cruise-friendly alternative to the Porsche Boxster, the Z4 is available only with a fabric roof that opens or closes in just 10 seconds, and can be had with either BMW's famously smooth 3.0 six-cylinder turbo engines, or a 2.0-litre turbo. The 3.0 is our pick, but the 2.0 strikes a great compromise between affordability and excitement – it can sprint from 0-62mph in just 6.6 seconds, still returns around 40mpg and looks basically identical to its pricier, pokier siblings. All Z4s have slick-shifting auto gearboxes and rear-wheel drive.
Find a used BMW Z4 at Motorpoint
Abarth 124 Spider
Abarth's roots are in hot-rodding Fiats, and these days it's an official Fiat car brand with a range of re-badged and souped-up Fiat 500s. The 124 follows the same logic, with a basic Fiat 124 Spider complemented by a hotted-up Abarth 124. The twist is this Italian is actually Japanese underneath because it was developed in conjunction with the brilliant Mazda MX-5. Clearly the design is all-new, but the Fiat/Abarth also gets a unique chassis set-up and – crucially – a Fiat-supplied 1.4-litre turbo engine with a bucket load more torque than the Mazda. Sadly withdrawn from UK sale in 2019, but there are fantastic used deals to be had.
Find a used Abarth 124 Spider at Motorpoint
Fiat 500 C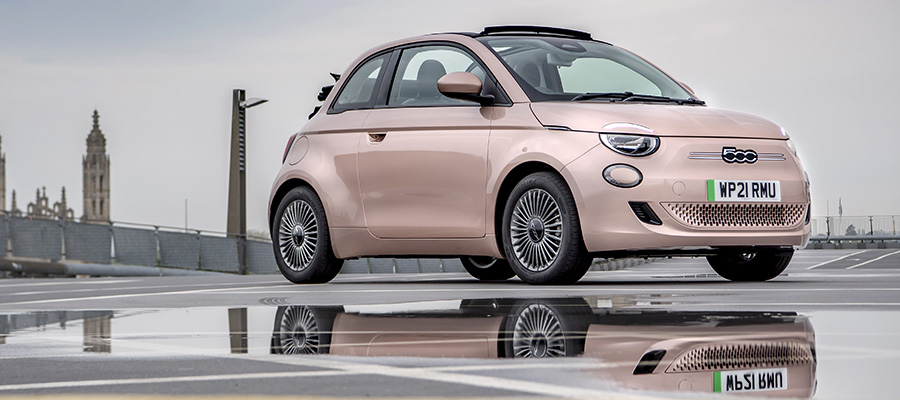 Zero-emissions and al-fresco motoring should go together like sunbeds and suncream, but right now your pure-electric soft-top options basically boil down to the Fiat 500C, which is thankfully very good indeed. Despite looking a lot like the 500 that's been knocking about for aeons, this all-electric version is totally new under the skin and comes only with the larger of two batteries offered on hatchback 500s (which is the one you want anyway, given the 188-mile range isn't huge). The soft-top is more like a very long sunroof than a full-blown cabrio, but that didn't prevent the Fiat 500C from scooping Best Convertible for Value at the 2022 What Car? Of The Year awards.
Find a used Fiat 500 C at Motorpoint
Jaguar F-Type Convertible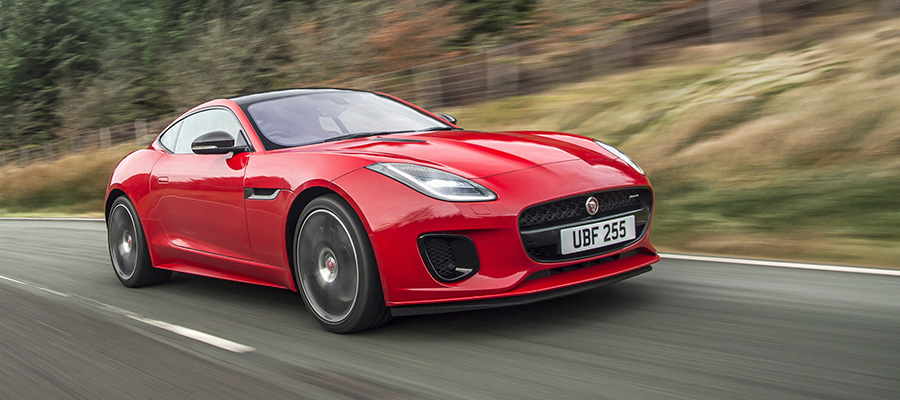 The F-type Convertible is Jaguar's modern-day successor to the iconic E-Type and its answer to the Porsche Boxster (and 911 for higher spec models). V8- and V6-powered versions are thunderously fantastic but pricier and thirstier, so don't overlook the entry-level P300 with its 2.0-litre turbo. That makes it 52kg lighter than a V6, which helps to offset the 40hp performance deficit (a P300 has 300hp), plus it's 6mpg more frugal with a very respectable 35.8mpg. Visually a P300 is just as sexy as other F-types too, with only the central exhaust and smaller alloys giving the game away (and plenty of owners spec larger wheels anyway).
Find a used Jaguar F-Type Convertible at Motorpoint