Offering a perfect blend of space and low running costs, these hybrid estate cars are great family cars and load luggers
Estate cars aren't just available with petrol and diesel engines these days. An increasing number of these big-booted models are offered with a hybrid or plug-in hybrid engine, which can lower your running costs – especially if you often drive in built-up areas.
To get close to the stratospheric mpg figures promised by plug-in hybrids, you'll need to diligently recharge the car to top up the battery. With a full charge, these cars can typically manage 20-30 miles of electric-only driving. On local trips or short commutes, you can drive without using a drop of fuel. But you've also got an engine as a backup for longer journeys.
Depending on how and where you drive, a hybrid estate car could be the best of both worlds. If you're up and down the motorway on a regular basis, however, a diesel estate might be more efficient.
Here are our top choices for the best hybrid estate cars to buy:
1. Skoda Octavia iV Estate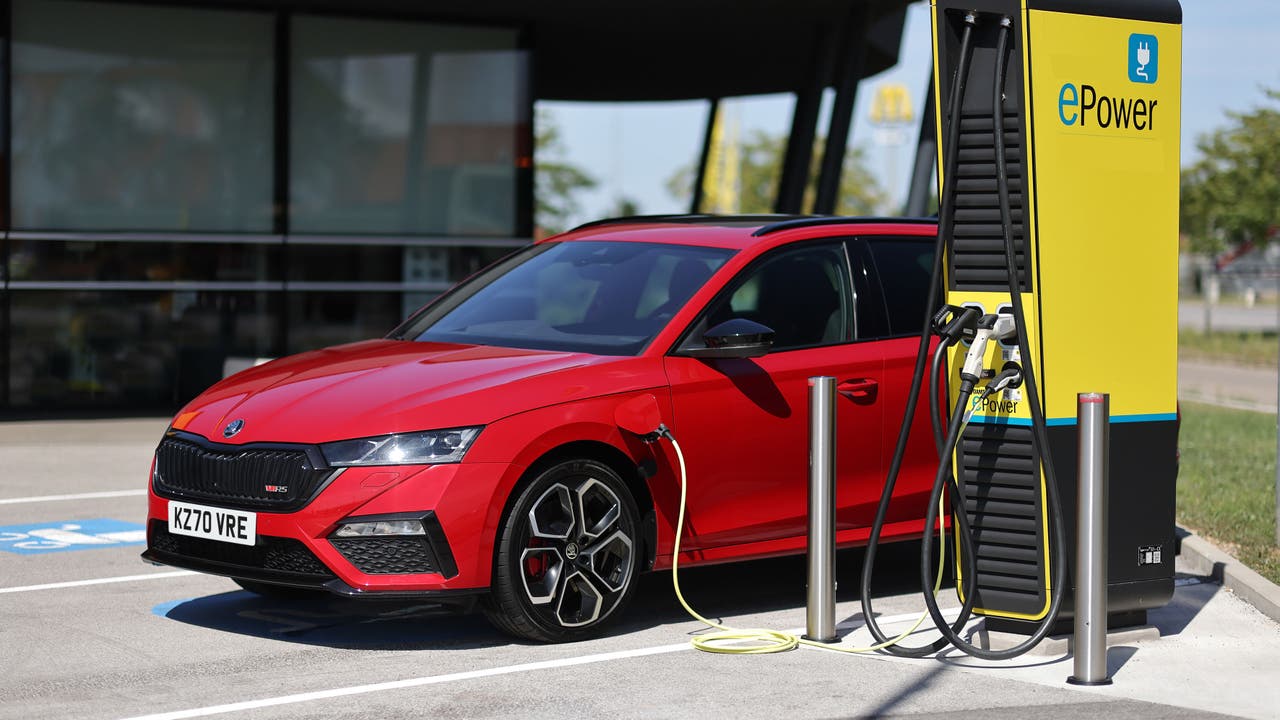 Electric range: up to 42 miles
Boot space: 490 litres
The Skoda Octavia Estate is a supreme all-rounder – it's hugely spacious, good to drive and capable of chomping up hundreds of miles in one go. Add in a plug-in hybrid powertrain capable of over 40 miles of electric driving and you have a perfect family car. The electric mode is ideal for round-town trips and the school run, while the petrol engine is well suited to longer journeys. There's also a more powerful plug-in option for the Octavia vRS, just in case you were worried you might have to sacrifice performance in a PHEV!
2. Skoda Superb iV Estate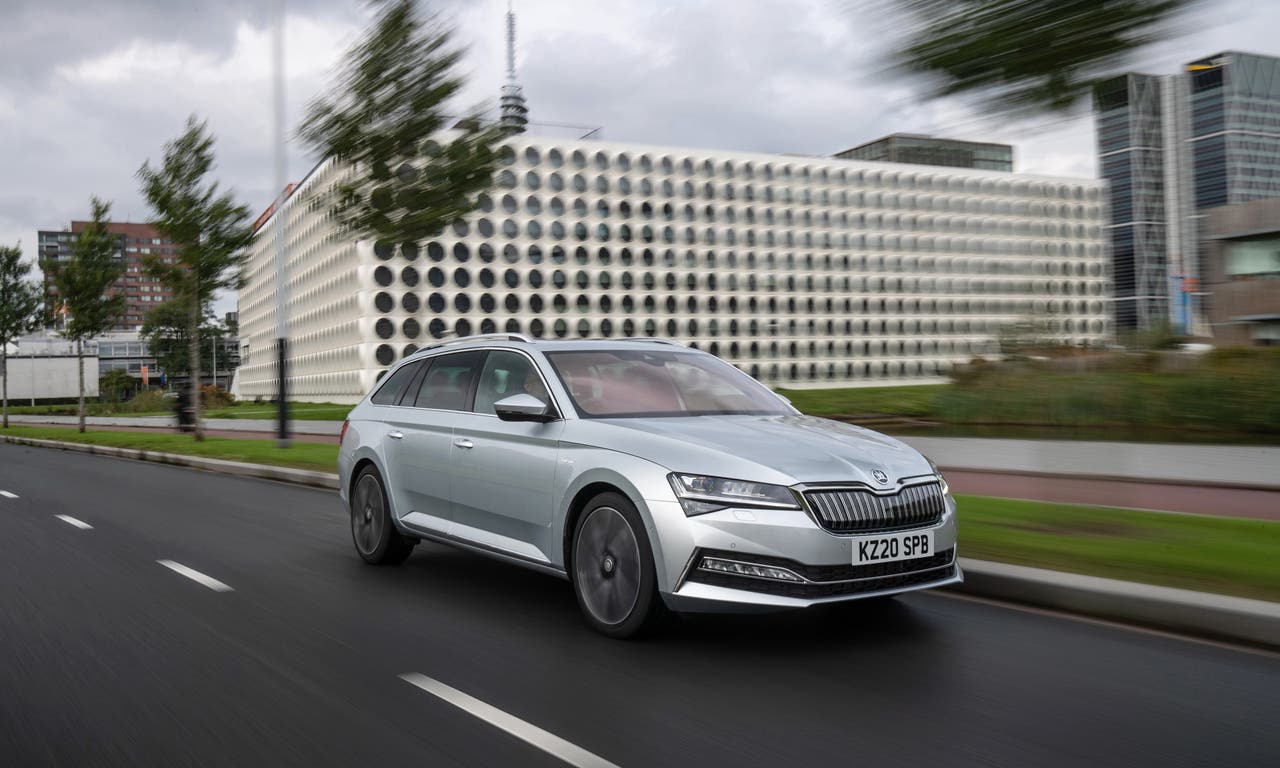 Electric range: up to 35 miles
Boot space: 510 litres
Using the same 1.4-litre petrol engine, battery and electric motor as the Octavia, the Skoda Superb Estate trades a bit of efficiency for a bit more space. The extra room is more noticeable in the rear seats than in the boot, so the Superb is a better choice for loading kids into their car seats. There's room under the boot floor to stash the charging cables and a home wallbox will fully recharge the battery in five hours.
3. BMW 330e Touring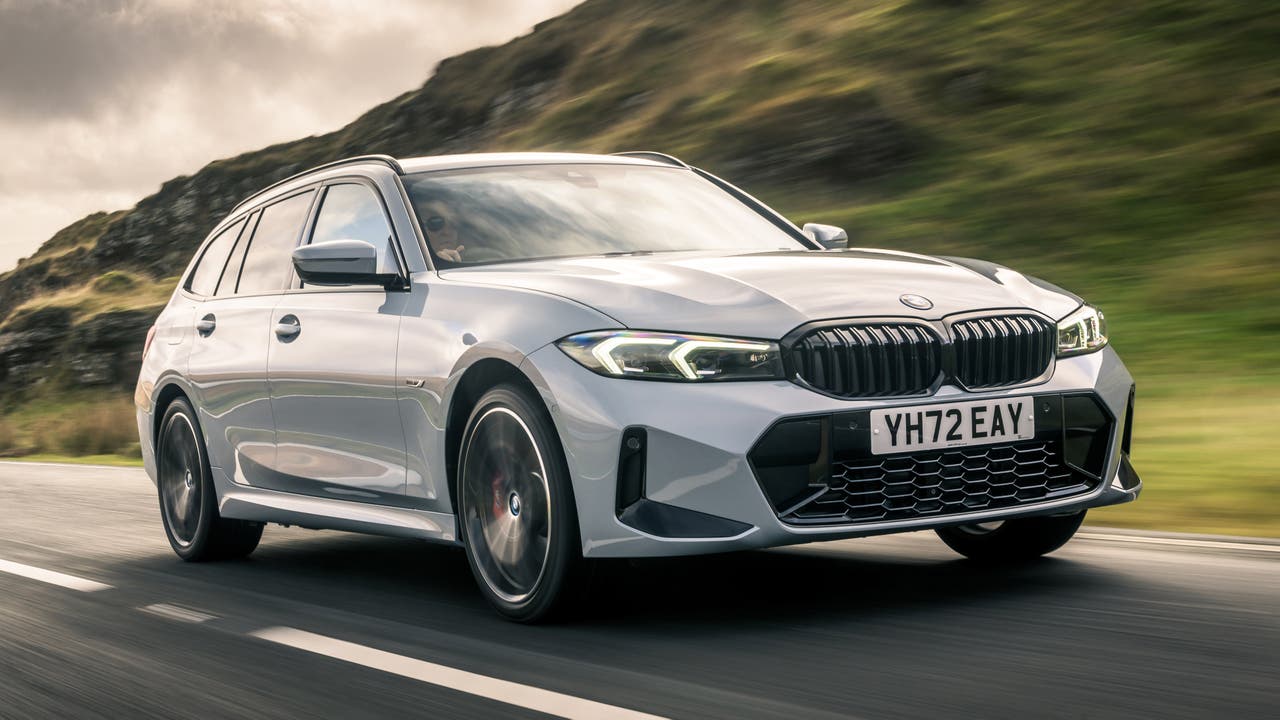 Electric range: up to 37 miles
Boot space: 410 litres
The 320d diesel is no longer the king of the BMW 3 Series Touring range. Many buyers are switching to the 330e plug-in hybrid, which offers the flexibility of fully electric driving with a traditional petrol engine backing it up. It might weigh a little more than other 3 Series models, but the 330e is still excellent to drive. One of the few downsides is that the boot is a bit smaller than the other cars on this list – the 3 Series isn't the biggest estate anyway – although it does have a handy opening rear window to save opening the whole boot lid.
4. Toyota Corolla Touring Sports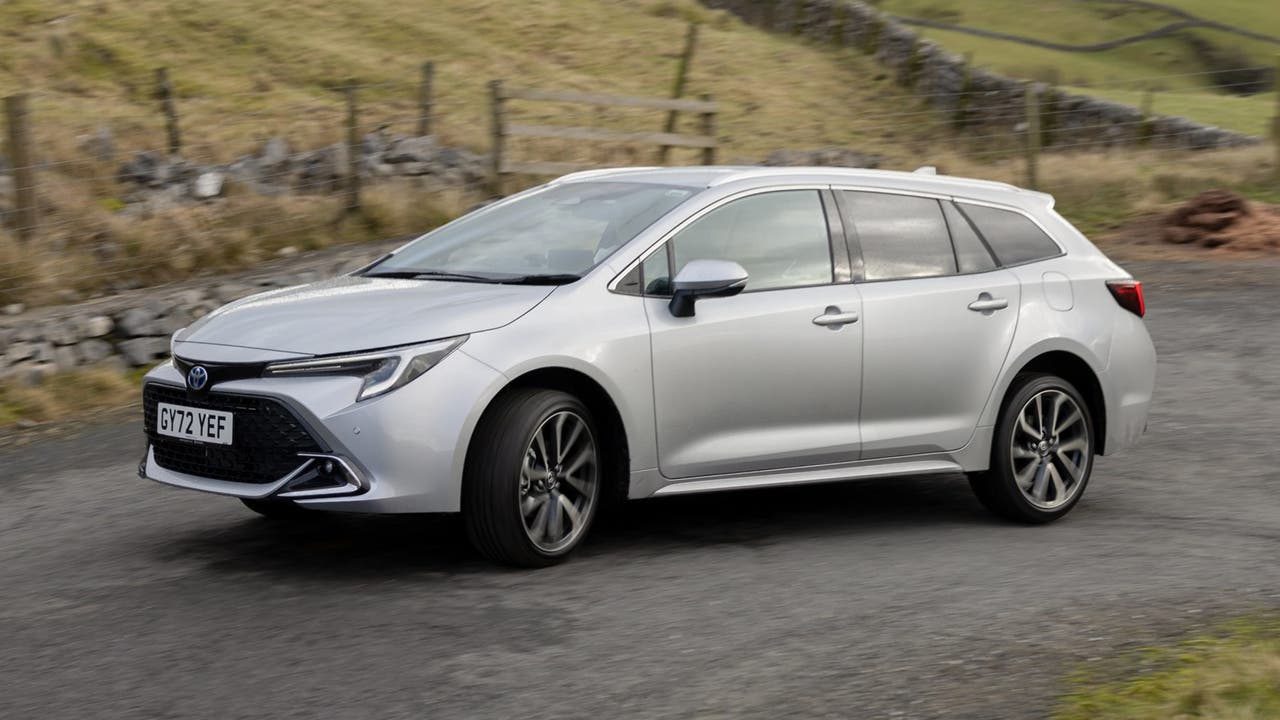 Electric range: N/A
Boot space: 596 litres
Unlike the rest of the cars on this list, the Toyota Corolla Touring Sports doesn't need to be plugged in, and its battery is only recharged by the engine or when slowing down. That means that it doesn't have a long electric range but, at low speeds, the electric motor can take over from the petrol engine. As a result, it's really efficient around town, where you could achieve more than Toyota's 62mpg estimate. Plus, the fact that it doesn't come with a plug will appeal if you don't have access to a charger. Fancy the same car with a Superman-like S badge? The Suzuki Swace is a rebadged Corolla estate.
5. Mercedes E-Class Estate E300de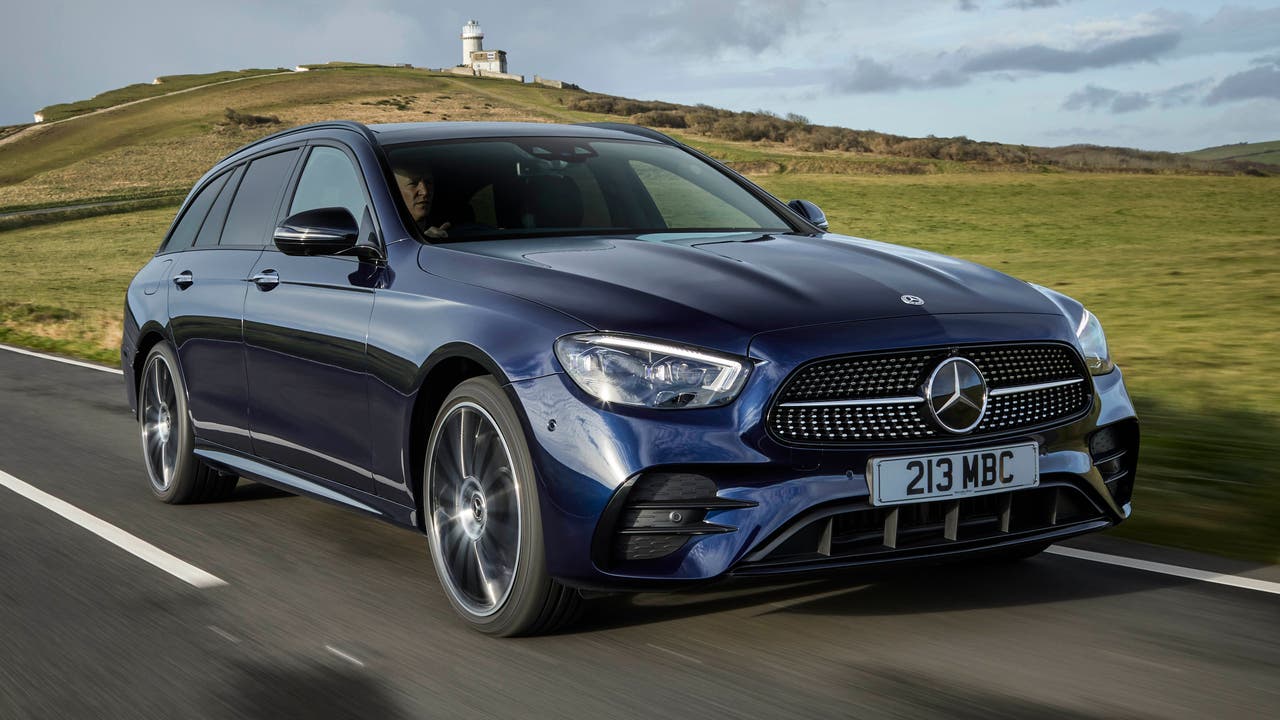 Electric range: 32 miles
Boot space: 480 litres
The Mercedes E-Class Estate is just fantastic – it's luxurious, comfortable and absolutely vast. Diesel engines really suit the long-legged cruising ability of the E-Class, which makes a diesel-engined plug-in hybrid a smash hit. It's the only diesel-engined PHEV engine you can currently buy, and combines the long-distance efficiency of a diesel engine with zero-emission driving around town. It'll do 200mpg and 0-62mph in six seconds, albeit not at the same time. The only downside is that you'll have to pull over to recharge it regularly if you want to achieve its lofty claimed efficiency.
6. BMW 530e Touring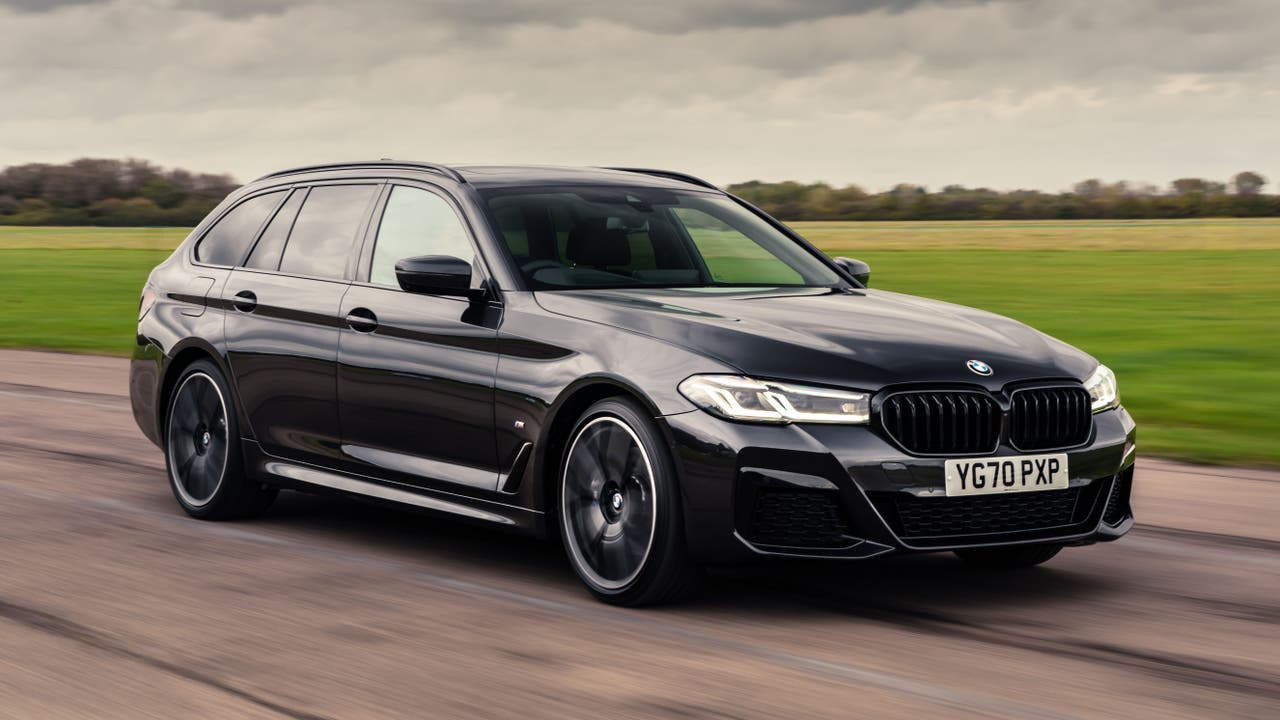 Electric range: 35 miles
Boot space: 430 litres
The E-Class' arch rival, the BMW 5 Series Touring, also offers a plug-in hybrid option called the 530e. This uses a petrol engine to support the electric motor, which is more conventional but perhaps a little less economical – although the fuel economy you actually get will fully depend on the type of driving you do and how much you use the battery power. Despite its size, the 5 Series Touring is brilliant to drive, both on twisty roads and on seemingly endless motorway schleps.
7. Volvo V60
Electric range: 54 miles
Boot space: 519 litres
Volvo is known for its load-lugging estates and the V60 is no different. It might be one of the most handsome estate cars on the road, but it has a larger boot than the BMW 3 Series and Mercedes C-Class – and the gap increases when you compare plug-in hybrid models. With the electric motor mounted underneath the middle of the car rather than under the boot floor, the Volvo V60 is one of the only PHEVs not to lose any boot space to petrol or diesel versions. Throw in a plush interior, a sub-5.5-second 0-62mph time and a massive towing capacity, and the V60 leaves few boxes unticked.
8. Cupra Leon Estate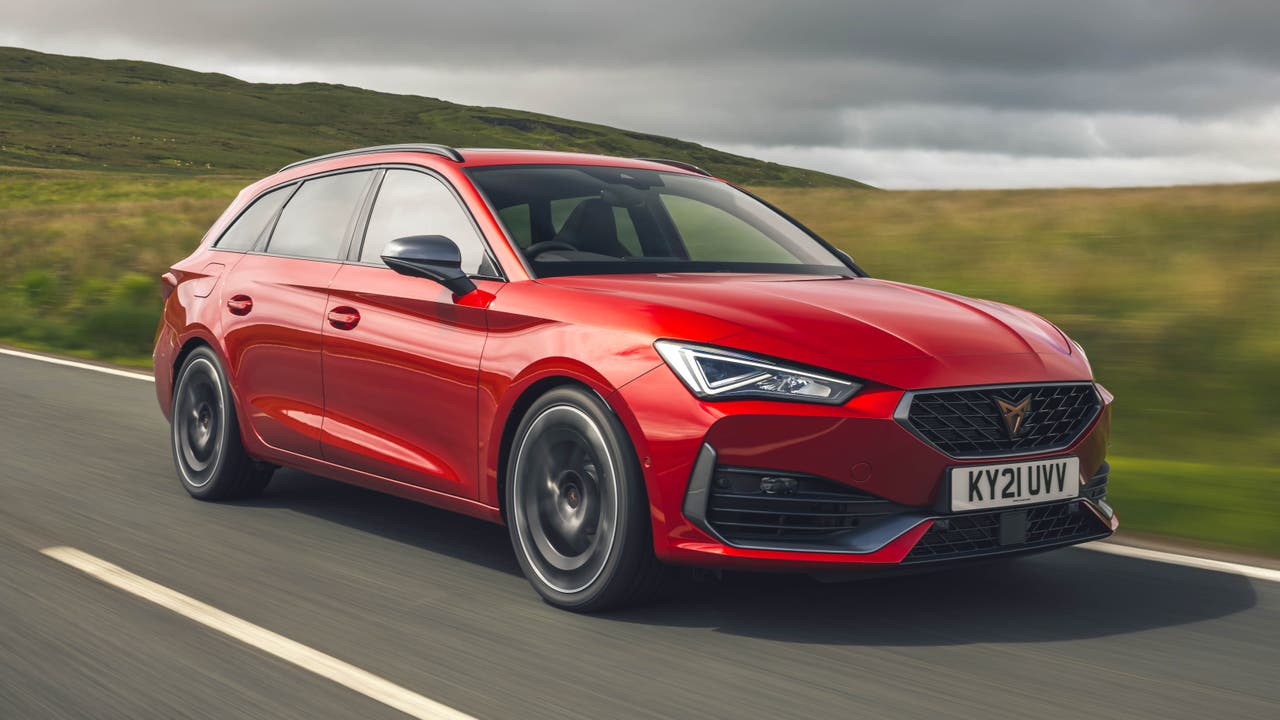 Electric range: 35 miles
Boot space: 470 litres
If you'd rather have a plug-in hybrid estate that's all about sporty looks and handling, the Cupra Leon Estate e-Hybrid should be on your shortlist. Not only does it stand out with its copper detailing and big wheels, but it packs in an awful lot of tech – plus a powertrain that offers up to 35 miles of silent EV driving and 0-62mph in seven seconds. Short of the fiery 310hp petrol range-topper, the e-Hybrid is the quickest Leon estate available. But, if you can do without the in-your-face styling, a slightly less powerful plug-in-hybrid setup is offered in the SEAT Leon Estate.
9. Peugeot 508 SW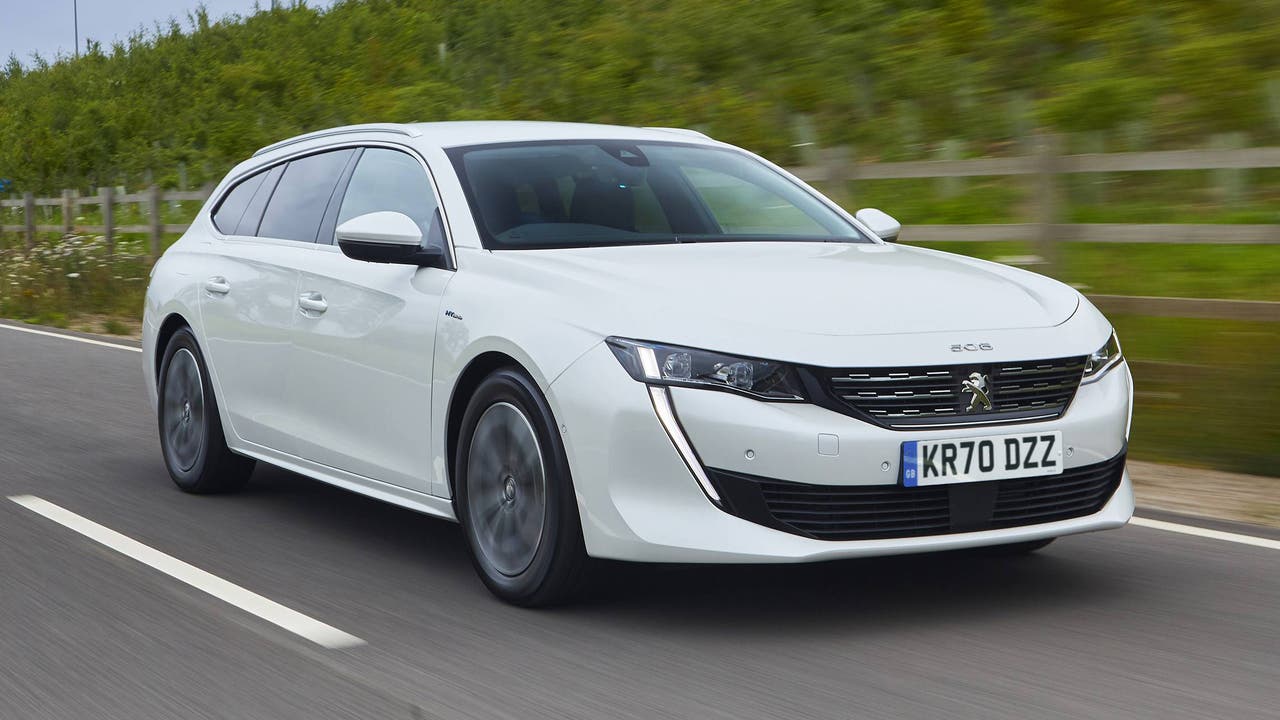 Electric range: 26-39 miles
Boot space: 530 litres
Thought the Cupra Leon was quick? Wait 'till you hear about the Peugeot 508 SW PSE and its 360hp output. Zero-to-62mph takes 5.2 seconds so it's sports-car quick, yet offers a usable real-world electric range. The PSE range topper is fairly expensive and a pretty niche choice too, so most drivers will be better off with the standard 508 SW plug-in hybrid (pictured) – it's still quick off the line with a longer electric range and is considerably less expensive. Peugeot now offers the 308 SW with a similarly impressive hybrid option as well.
10. Mercedes CLA Shooting Brake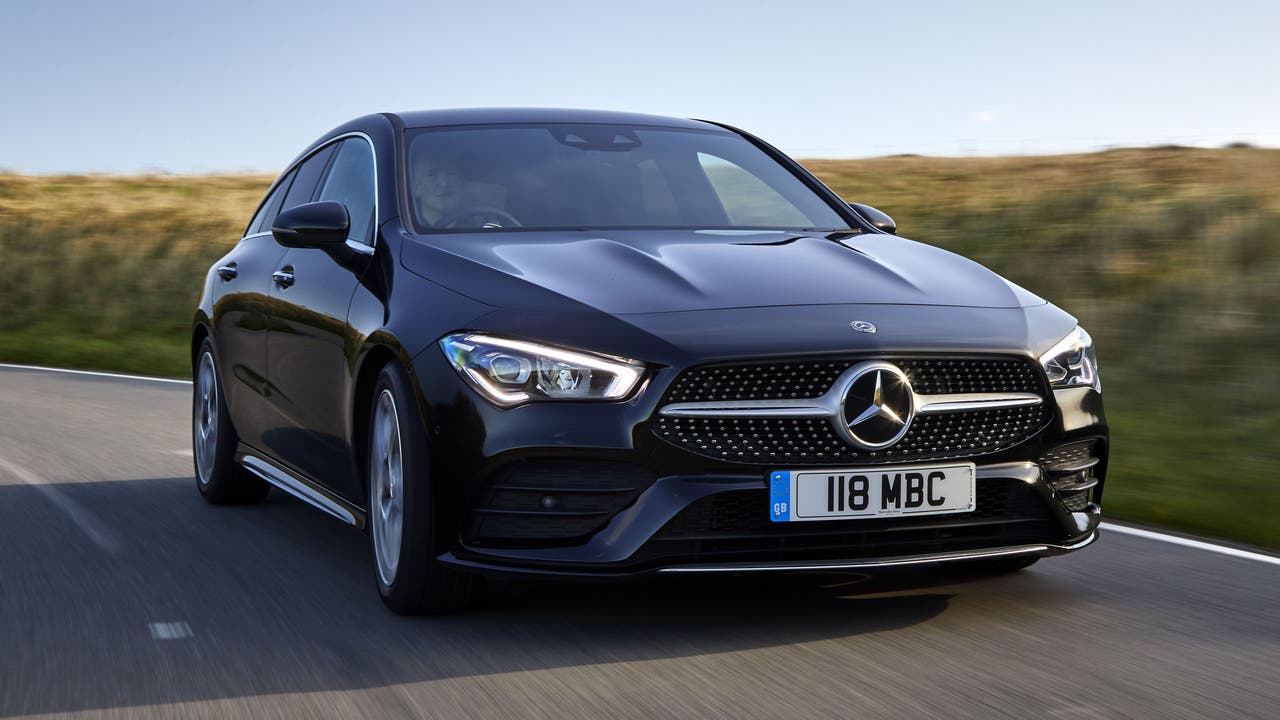 Electric range: 39 miles
Boot space: 454 litres
An estate car is sometimes called a Shooting Brake if it emphasises style over absolute practicality, and you can't deny the Mercedes CLA Shooting Brake serves up a lot of style. The interior looks high-quality and flash, while refinement is boosted by the CLA 250e insistently running on electric power as much as possible. A fully charged battery enables nearly 40 miles of silent 'leccy driving, which could cover the UK's average daily commute without using a drop of fuel.