BMW 4 SERIES Car Review
The sportier and sleeker version of the 3 Series
Did BMW really need the 4 Series model when the similarly sized and priced 3 Series is already an outstanding car?
The answer is probably not but the reason is that the 4 Series allows BMW to stretch the range and sell even more cars, although its basically the replacement for the old 3 Series Coupe and Convertible models.
Although the differences between the 3 and 4 Series are very subtle, they are just enough to persuade people to hand over a few thousand pounds more for the privilege and moving a step up the BMW ladder.
The 4 Series is slightly longer and as a Coupe it looks sportier and sleeker than the 3 saloon, especially the more dramatically sloping roofline, but with two doors is slightly less practical. On the inside its hard to spot many changes because the cabin just feels like a typically classy Beemer, although the two rear seats are more sculpted and the low roofline makes it feel more intimate.
The 4 and 3 Series share the same range of petrol and diesel engines, and in truth only a driving expert would notice any real difference in the way they drive and handle, both of which are very good. If I had to single one out then it has to be the 420d thanks to a strong mix of performance and over 50 mpg fuel economy, plus low C02 for a coupe that gives you close to sports car driving capabilities.
* Sleek design * Premium if predictable interior * Good to drive * Diesel engine great for economy *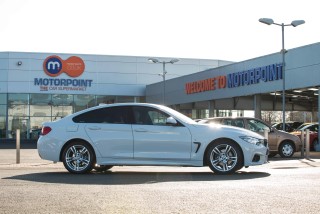 ---